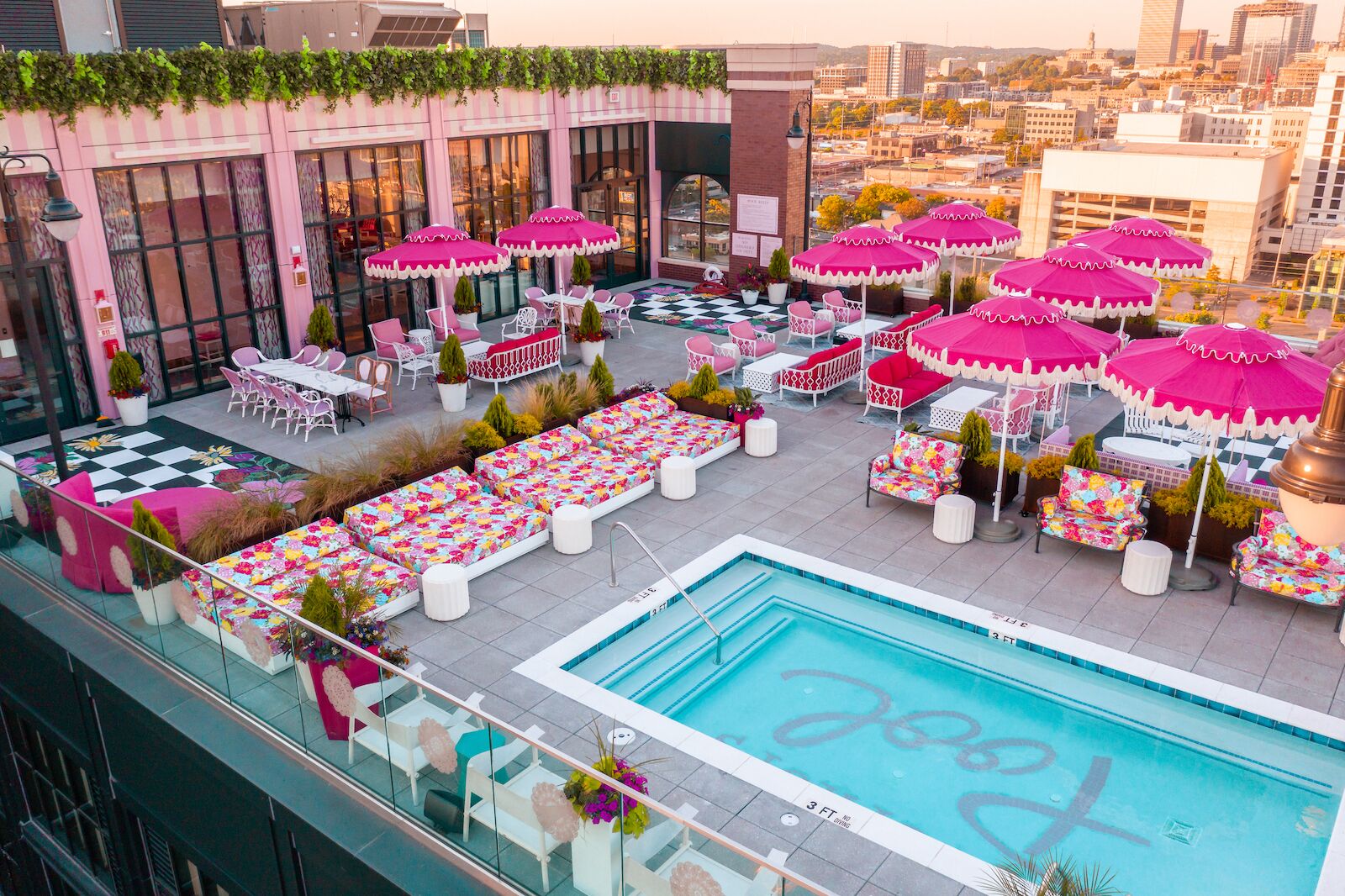 Nashville is usually known as Music City. But it also has a new moniker: NashVegas. Of all the things the two party cities have in common, a rotating mob of bachelorette parties is high on the list, especially around Lower Broadway in downtown Nashville. All that BBE — big bachelorette energy — is part of what makes NashVegas the perfect place to celebrate your bride to be. But first the bride (and her party) need to figure out which Nashville bachelorette bars to visit on their trip/
Second to finding the perfect Airbnb for your bachelorette getaway, scoping out the bar scene is the most essential agenda item when it comes time to plan the ultimate girls trip. From honky tonks to party buses, these are the best Nashville bars for a bachelorette party.
---
---
The best honky tonks in Nashville for a bachelorette party
The Stage
Bars soundtracked by live country music are squeezed together like sardines on Broadway Street downtown, which explains why you see so many bachelorettes honky-tonk-hopping along Nashville's very own strip. The Stage is one venue you should be sure to hit. Country superstars including Blake Shelton and Toby Keith have been known to take the stage here. The venue has two floors and a rooftop patio, and they all host musicians.
Where: 412 Broadway, Nashville, TN 37203
Tootsies Orchid Lounge
Located across the alley from the Ryman Auditorium, the former home of the Grand Ole Opry, Tootsies Orchid Lounge on Broadway is just as much of an institution. The likes of Willie Nelson, Patsy Cline, and Waylon Jennings have all graced halls of the legendary honky-tonk — just take a peek out the Wall of Fame for proof. Tootsies is so iconic that there's even an outpost in the Nashville airport nowadays, in case your group needs one last hoorah before you go home.
Where: 422 Broadway, Nashville, TN 37203
Legends Corner
A stone's throw from The Stage and Tootsies, Legends Corner is another giant on the Honky Tonk Highway. The no-frills establishment has maintained a dive-y vibe despite becoming one of the most famous bars in Nashville. But the beer's cold, the music's unforgettable, and you can arrange VIP rooms if your bachelorette party wants a private slice of the honky-tonk scene.
Where: 428 Broadway, Nashville, TN 37203
Miranda Lambert's Casa Rosa
Miranda Lambert made history when she opened Casa Rosa, becoming the first female country artist to start a honky tonk on Lower Broadway. It's like she designed it with the stereotypical bachelorette party in mind, from the plush pink booths in the Tex-Mex dining area, to the flashing lights that beckon you inside, to the decorative wall of yellow roses. If you're a fan, you'll get a kick out of all the Miranda Lambert insignia decorating the space. And if you're not, who can complain about a tacos-and-tequila-themed bar?
Where: 308 Broadway, Nashville, TN 37201
The best rooftop bars in Nashville for a bachelorette party
White Limozeen
Dazzling from the rooftop of the Graduate Hotel in Midtown Nashville, this all-pink indoor-outdoor bar looks like a Barbie Dreamhouse come to life. But with a giant bubblegum pink bust of Dolly Parton by the pool and the same name as her 29th studio album, it's really more of a tribute to the Queen of Country than Mattel's most iconic doll. Optimal for daytime drinks, the patio is exclusive to walk-ins while the pool and dining tables require reservations. White Limozeen stays open until midnight and becomes a 21+ venue starting at 7 PM.
Where: 101 20th Ave N, Nashville, TN 37203
L.A. Jackson
This swanky bar crowning the Thompson Hotel epitomizes the stylishness of The Gulch neighborhood where it's located. Far enough from downtown Nashville to escape the roar of Broadway Street if you're in the mood for an elegant ladies night, but close enough to walk there if you change your mind after a few drinks, L.A. Jackson is a no-brainer for sipping craft cocktails, nibbling on small plates, and staging photoshoots before you really let your hair down.
Where: 401 11th Ave S, Nashville, TN 37203
Famous Nashville
Famous Nashville could have made this list as an upscale honky tonk you'd be remiss to skip, but it's most famous for its rooftop bar. With misters and frozen drinks for sweltering days and heaters and a partial roof covering for chillier nights, the sky-high drinking venue atop Famous Nashville is a no-brainer no matter when you're having your bachelorette party. Brunch, lunch, and dinner are also served alfresco, so you can plan your visit for any time of day.
Where: 110 2nd Ave N, Nashville, TN 37201
L27 Rooftop
If you haven't caught on by now, hotels are the way to go if you're looking for Nashville's best rooftop bars. L27 sits atop the Westin Nashville, taking its name from its location on the building's 27th floor. It's considered fancy as Nashville bars go, with a glamorous interior space as well as an Insta-perfect infinity pool. Work your way through the long list of craft cocktail while browsing the Southern-leaning menu, and reserve roped-off seating to feel like a true VIP.
Where: 807 Clark Pl, Nashville, TN 37203
The best karaoke bars in Nashville for a bachelorette party
Cross-Eyed Critters
A somewhat hard-to-find venue inside Graduate Nashville, Cross-Eyed Critters represents everything weird and wonderful about Music City. It's what you might call a karaoke dive, with a house band made up of animatronic puppets. The trio of humanoid critters that occupy the stage may not actually be playing the music you hear — that'll depend on the songs you and the rest of your bachelorette party request to belt along to — but they certainly help to set the vibe. Cross-Eyed Critters is open Thursday through Saturday from 8 PM to 2 AM.
Where: 101 20th Ave N, Nashville, TN 37203
Wanna B's Karaoke Bar
Karaoke's serious stuff in Nashville. From aspiring singers to Country Music Hall of Fame inductees, you never know who's going to grace the stage at a place as illustrious as Wanna B's. Expect all-out performances here, complete with a raised stage, professional lighting, more than 200,000 songs to choose from, and slick karaoke jockeys to emcee in between.
Where: 305 Broadway, Nashville, TN 37201
The best late-night bars in Nashville for a bachelorette party
The Valentine
The Valentine is made up of four floors, including a rooftop patio that overlooks Lower Broadway. All that space means there's most likely something your bride will love: a rollicking honky tonk on the main floor, a Dollywood-inspired mezzanine on the second floor, a relatively quiet space on the third floor, and an open-air bar with its very own DJ platform up top. No stranger to private parties, the venue even has three Broadway Bach packages you can book: the Hot Mess Express, the Nash Bash, and the Final Rodeo.
Where: 312 Broadway, Nashville, TN 37201
Whiskey Row
Where many of the best Nashville bars for a bachelorette party shutter between midnight and 2 AM, Dierks Bentley's Whiskey Row keeps the party going until 3 AM. The venue describes itself as an "American gastropub like no other" because Southern-style food and signature cocktails are only a fraction of what it serves. A floor up from the main restobar is a dance floor where DJs spin, and above that sits the tallest rooftop bar in Nashville. Crowded and rowdy, Whiskey Row offers VIP table service for bachelorette parties.
Where: 400 Broadway, Nashville, TN 37203
The Big Bang Bar
Nashville's lone dueling piano bar, The Big Bang is only open Thursday through Saturday from 8 PM to 2 AM. The show is a mix of live entertainment, comedy, and audience participation, including all-night song requests and stage cameos. Located inside of The Whiskey Shot — a restaurant, bar, music venue, and indoor laser gun range — The Big Bang is a popular spot for bachelorette parties, with private tables available upon request.
Where: 209 Printers Alley, Nashville, TN 37201
The best mobile bars in Nashville for a bachelorette party
Honky Tonk Party Express
In Nashville, bars aren't contained to four stationary walls; they also come on four wheels. Honky Tonk Party Express is the premier party bus operator in Music City with a dedicated bachelorette party service. Every bus is custom-built and open-air with room for up to 30 people to cruise the streets in style. You'll have to bring your own booze, but the bartender is provided, along with ample seating, 40-plus high fidelity speakers, and an LED-lit dance floor.
Where: 1343 Lewis Street, Nashville TN 37210
Cruisin' Tikis Nashville
Cruisin' Tikis Nashville's motto is "Why go bar hopping when you hop on the bar!" It's a particularly great question for a built-in group like a bachelorette party. Each floating tiki bar can ferry six people, with the option of booking two tandem tiki bars to accommodate up to 12. Private groups can book three-hour Party Cove Excursion cruises that float around Old Hickory Lake, BYO-drinks-and-snacks-style. Swimming is allowed, and fun is mandatory.
Where: 727 Marina Pvt Dr, Gallatin, TN 37066