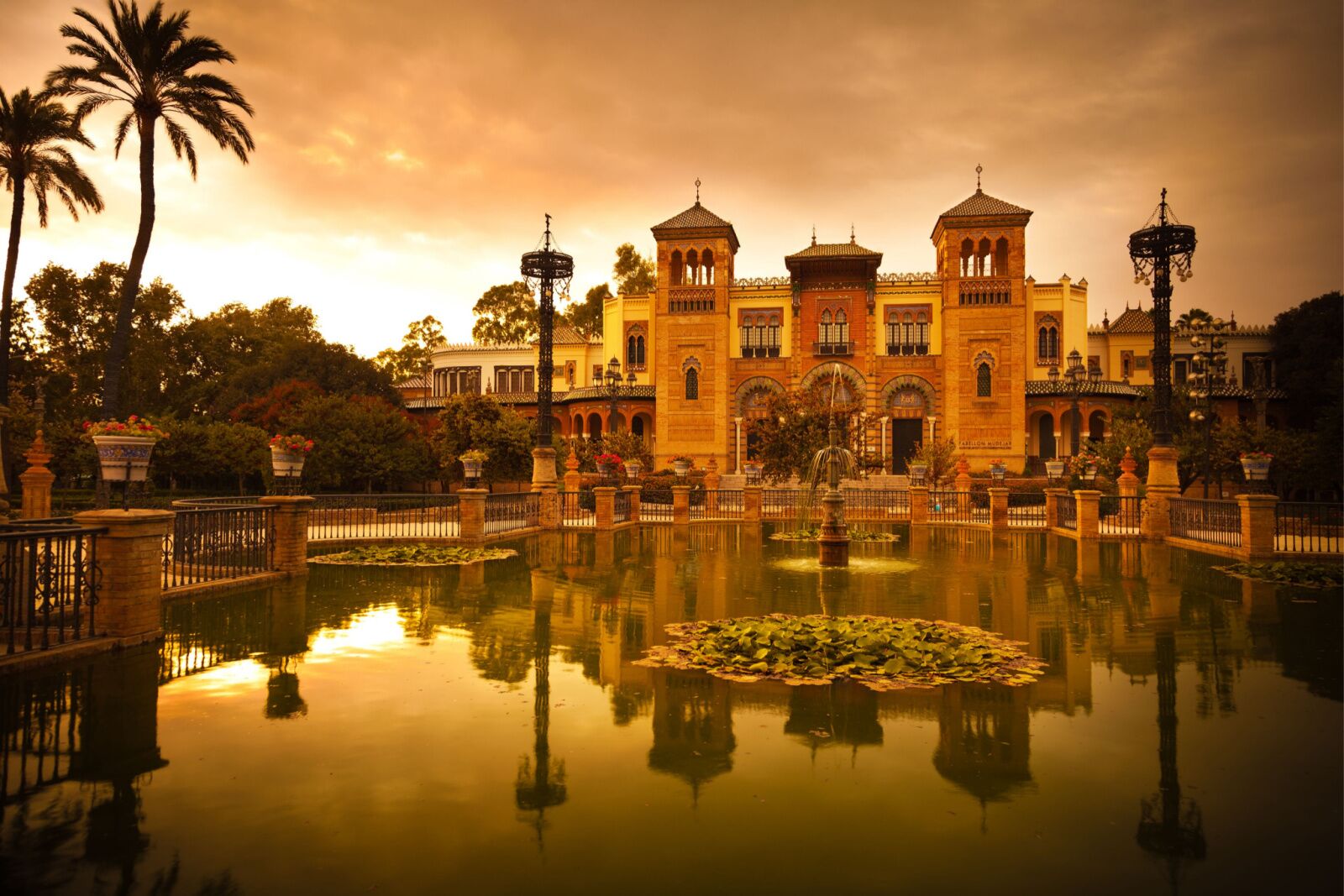 Often considered the cultural heart of Spain, Seville oozes with history and a diversity of people, cultures, arts, and languages. With its warm climate, easy access to other parts of Spain, and colorful town squares filled with the sounds and aromas of busy restaurants, the town's centuries-old streets are filled with travelers almost year-round. But the best time to visit Seville is probably autumn, when the crowds slightly decrease, the weather remains comfortable, and restaurants take advantage of fresh spoils available just after the country's primary harvest season.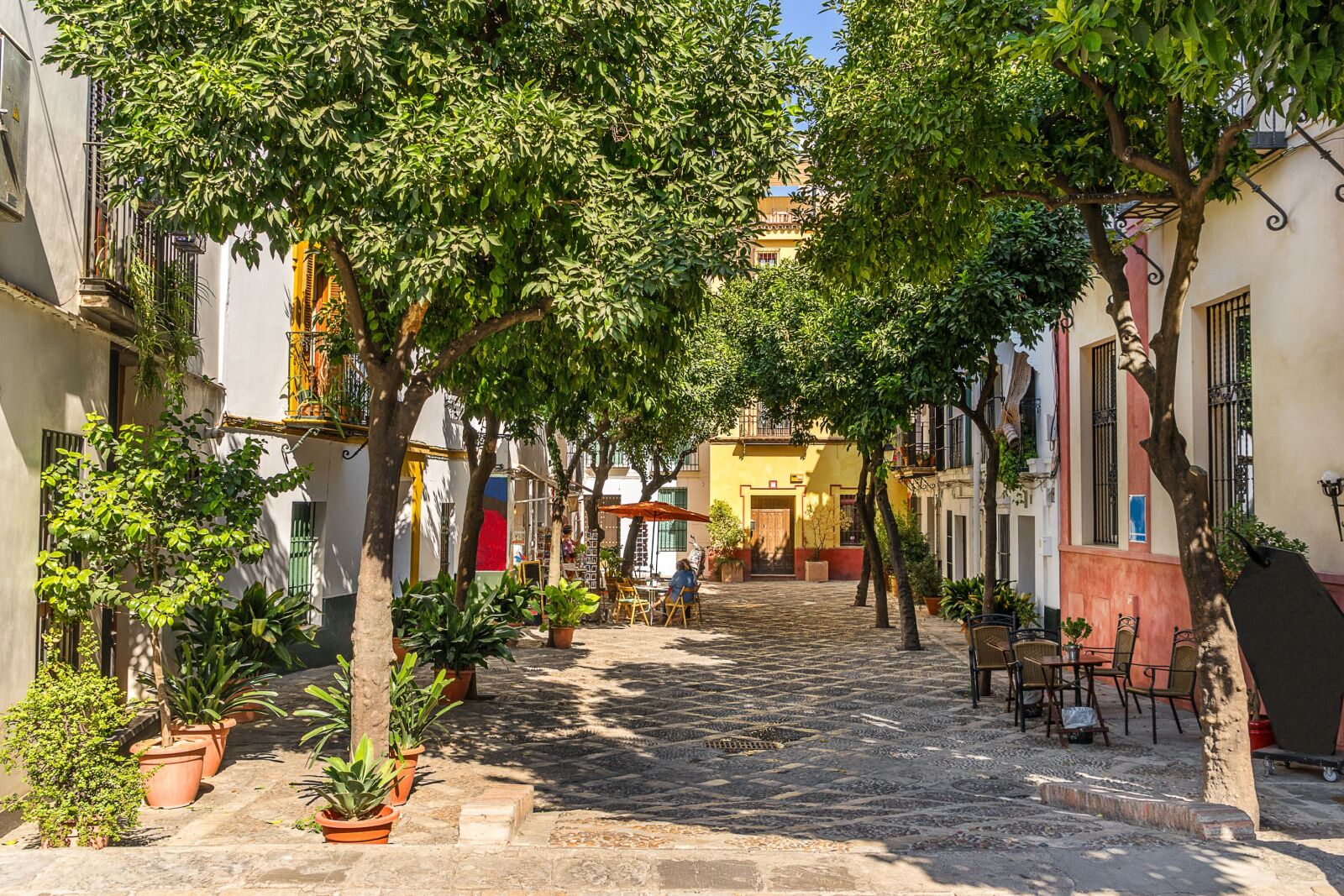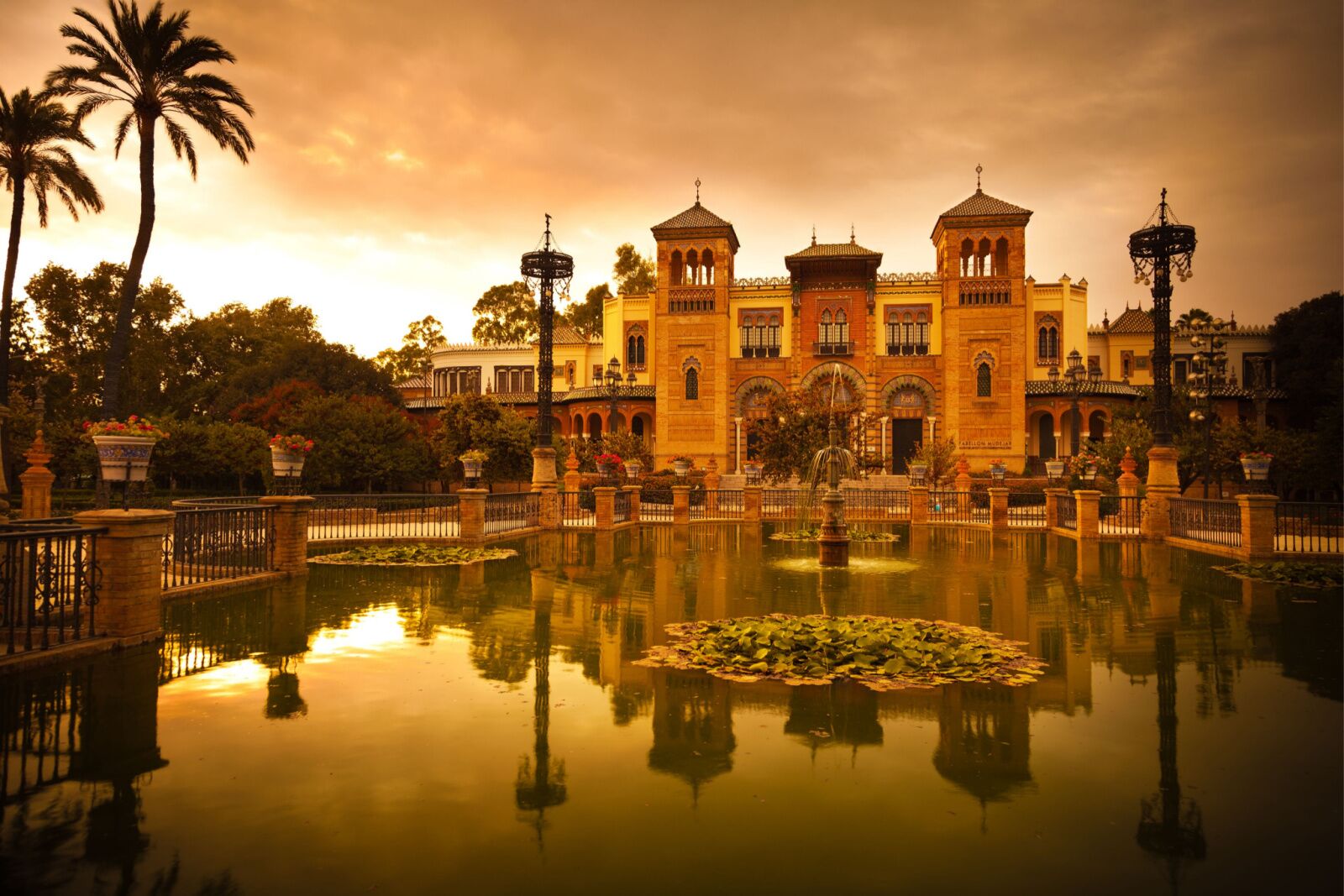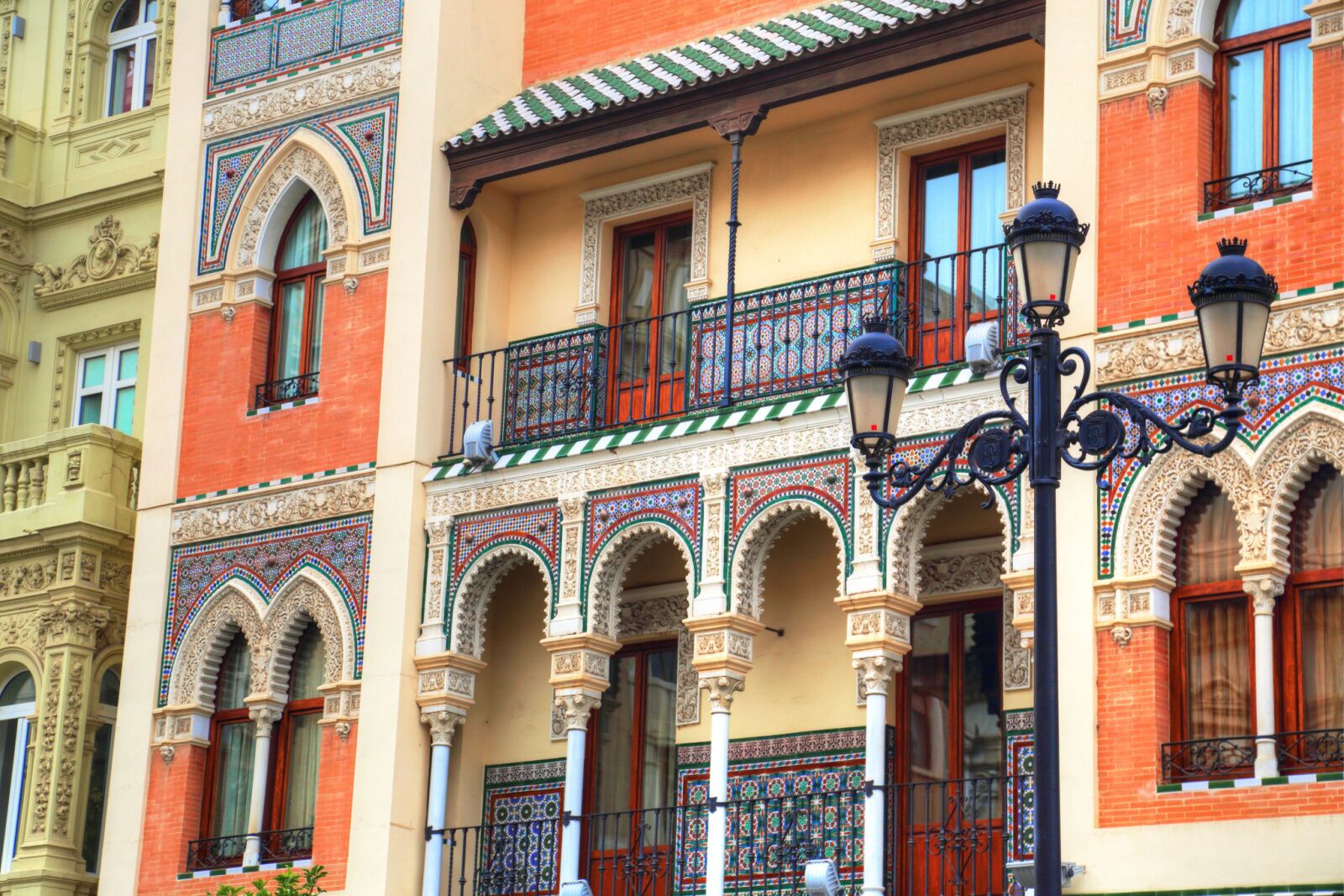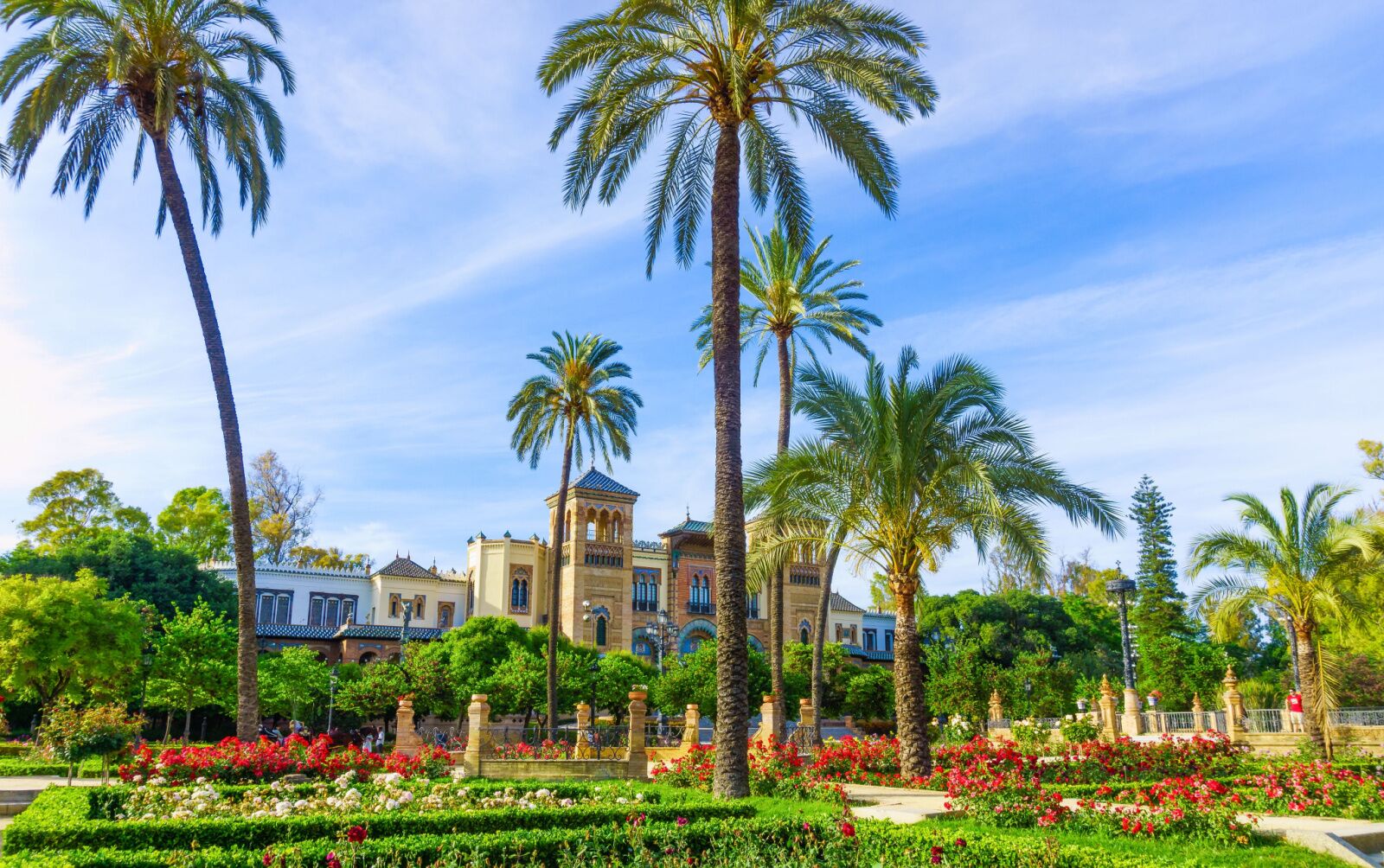 Seville is in southwestern Spain and serves as an ideal base camp for travel through Europe. It's convenient to the rest of southern Spain (and anywhere on the EuroRail system) and close to the Portuguese border. That makes Seville, known as the "Pearl of Andalusia," a fantastic place to start or end a trip through Morocco, Spain, Portugal, or countries even further afield. That's especially true if you travel via trains, which are comfortable, roomy, equipped with Wi-Fi, and pass through some of the most beautiful parts of western Europe.
Seville is the perfect city for travelers who want to experience an array of Spain's unique experiences, cuisines, and cultures. Here's where to start if you're planning your upcoming trip.
What to do in Seville, Spain
From day tours to museums to food tours, shopping, and historic sites inside and outside the city, you won't have to look far to find something to do. But here are a few must-do activities for anyone keen on getting a taste of the city's culture.
Make traditional ceramics
Visitors can become a ceramist for the day in central Seville at the BarroAzul Ceramic Studio. Around 1492, the city saw an influx of artists relocating from conflict in other parts of Europe and North America. One of those artists was Italian Francesco Niculoso Pisano, who introduced Seville to the arista mosaic technique and began a widespread movement; soon, the city was filled with alluring tiles.
BarroAzul Ceramic Studio was started by local artists Paula Felizon and Antonio Librero, and offers locals and visitors the chance to learn about this particular discipline by joining ceramic classes or workshops. The studio is about a 15-minute walk from the city center, making it easily accessible from most hotels in the city.
Classes begin with lessons on the step-by-step process of tile-making, followed by free to exercise creative freedom and make your own mosaic – it's a unique souvenir to remember Seville with far more meaning than your average overpriced tourist knick-knack. Classes are relatively affordable and range from short afternoon sessions to weekend workshops.
Take a city walking tour
There's so much history in Seville, so to get a good overview of the city before you start exploring more, start your trip with a walking tour. Tours usually visit the narrow streets of the Jewish quarter, will stop to admire the enormity of the Catedral de Sevilla (home of the tomb of Christopher Columbus), leave plenty of time to take photos in front of the colorful Plaza de Espana and its enormous reflecting pool, and appreciate the architecture and intricacies of the 10th-century Royal Alcazar Palace.
Plenty of companies offer group tours, but depending on where you're staying, you may be able to book a private tour from your hotel (such as the Querencia de Sevilla, detailed below). Depending on the tour, some hotels may have special partnerships with various locations, including the chance to skip the line, extended access, or visits during off-hours.
Attend a Flamenco show
Said to have begun in the 15th century, Flamenco remains a huge part of Spanish culture. The first Flamenco bar in Seville opened around 1885, and the art quickly spread through the country as viewers showed enthusiasm for the history and art of the age-old tradition.
To feel the pulse of authentic Flamenco music and dance to the beat of tapping shoes, plan to see a show at Tablao Flamenco El Arenal. Three tickets are available, depending on whether you want just to see the show or would prefer to come early for dinner or traditional tapas and drinks ahead of time. The food is delicious, but when the lights dim and the show begins, it's all about the vibrant dresses, swift movements, and musical art of the performers. Tablao Flamenco El Arenal is in the city center, and reservations are strongly suggested, as the shows tend to fill up rather quickly.
Where to eat and drink in Seville
It's no secret that Spanish food offers a wide array of variety and flavors, many of which are influenced by the country's proximity to North Africa. And perhaps the most well-known globally is Spain's tapas culture. Almost an art form, tapas are small dishes – so you'll certainly order at least three or four – usually made fresh with locally-sourced ingredients from around the country. They're a favorite for many locals and visitors alike and lend themselves well to sharing and socializing.
The Terrace
View this post on Instagram
If you live for a good rooftop cocktail, look no further than The Terrace at The Corner House. The open-air bar is an ideal place for an expertly made cocktail or local glass of wine if you're near Seville's Alameda Square. While you can grab a table, you can also relax on a bean bag chair, swinging porch chair, or a cozy couch overlooking the city. Outdoor space is weather dependent, so swing by on a spring day if you're hoping for a relaxed afternoon in the sun.
La Maestría
The vibrant La Maestría is in the Querencia de Sevilla hotel and serves highly-rated dishes celebrating the traditional flavors of Andalusia, especially its Mediterranean side. Especially noteworthy here are the interiors, designed with a modern take on Seville's culture, as evidenced by details like the woven bullheads mounted on colorful flowered wallpaper.
Throughout the restaurant, small details bring the city's outdoor vibrance to the dining experience through the pops of colors, books, handmade pieces, and unique art filling the walls. From the royal-blue couches to the colorful pops of pink fabrics and finishes, the restaurant offers an inviting space for guests to enjoy traditional Sevillian flavors.
Perro Viejo
This tapas restaurant infuses centuries-old cooking techniques with modern ingredients to create mouthwatering dishes with exceptional presentation. Sit on the outside patio to enjoy people-watching along the buzzing street, or opt for an inside table to admire the moody and natural interiors, rough brick walls, tiled floors, and exposed wood features and high ceilings. Menu highlights include classics like croquetas de jamon Iberico (Iberian ham croquettes) and the tuna ceviche. Not surprisingly, there's also a long wine menu.
La Casa de Maria
View this post on Instagram
This restaurant in Seville's Tirana neighborhood on the city's Guadalquivir River is the best place to watch the city come to (night)life during sunset. The fabulous location offers picturesque views of Seville – and the kitchen serves up mouthwatering plates.
The buzzing restaurant has a menu filled with various delicious tapas options, but the shining light of La Casa de Maria is the paella dishes. Offering vegetable, meat, and seafood options, there are few better places in the city to try the saffron-heavy rice dish.
Where to stay in Seville
Seville is a huge city with all manner of lodging options, so the recommendations below are hardly extensive – but they are some of the best options, which is saying a lot in a city filled with lovely options.
Querencia de Sevilla, of the Marriott Autograph Collection
Opened in April 2022, Querencia de Sevilla, part of the Marriott Autograph Collection, was designed to reflect Spanish culture and history throughout its rooms and common spaces. It's just steps from the city's central Plaza de San Francisco and in an optimal spot for easy access to explore the best sights around the city. The sophisticated rooms have pops of greens and purples, much like the actual city. There are even handpicked scents for the rooms based on Seville's culture; the orange blossom is particularly welcoming.
The hotel's restaurant offers a fabulous breakfast, and the outdoor pool is a welcome respite on hot summer days. It's an especially nice choice if you want to enjoy the city after dark as the outdoor spaces are the perfect place for enjoying a cocktail as the sounds of the city echo around you.
Hotel Casa del Poeta
If you love the idea of staying at a historic property, book a room at the Hotel Casa del Poeta. It's a small hotel is in a former mansion from the 17th century. Rooms open to central courtyard with balconies or patios, and though it has modern amenities like Wi-Fi, an art gallery, and live Spanish music every night, it retains much of its centuries-old feeling. While the rooms are roomy, comfortably, and richly furnished, they're also bright and modernized, so you get the feel of a historical property but all the comfort you expect in the 21st century.
Meliã Lebreros
If you prefer to sleep in modern surrounds, consider Meliá Lebreros, a modern, minimalist, and borderline avant-garde place to rest your head in Seville. In addition to plenty of right angles and black-and-white finishes, the downtown hotel has a huge pool and sundeck, plus three on-site restaurants (including La Dehesa Tavern, which does have quite a traditional feel). Guests less concerned about budget will want to book a room on "The Level" floor, which comes with a private reception area and access to an indoor/outdoor lounge.
How to get to Seville
TAP Portugal offers the fastest route to Seville for US travelers visiting from the East Coast, requiring just a short layover in Lisbon. TAP Air Portugal also offers a stopover program to visit cities in Portugal on the way, which is an amazing add-on for travelers with extra time. Otherwise, you'll likely want to fly into a central European hub like London, Munich, or Paris, and book a quick and inexpensive connecting flight to Seville. There are direct flights to Seville from nearly every major European airport.
If cost isn't a concern, the lie-flat seats, four-course meals, and comfort of TAP Portugal's business class may be worth the splurge to ensure you get some much-needed rest before your trip and can hit the ground running when you arrive. You could also take a high-speed bullet train from Madrid, which takes only 2.5 hours, despite the long distance.
How to get around
No one knows exactly when people first started living in the area that would become the city of Seville, but it was certainly on the map by the 3rd century B.C.E., when it became part of the Roman Empire. You don't need a Ph.D. in history to know that means the city was established when people had to do all of their shopping, errands, and travel on foot, and that remains the best way to see the city to this day.
Many of Seville's most beautiful streets and alleys are best appreciated when you're moving slowly, and the top sights in the city are within a roughly one-mile radius, including the UNESCO World Heritage sites of the old town.
Cycling is a popular way to explore the city as well, and the city runs a bike share program. Cycling tours around the outskirts of the city are quite popular as well. Otherwise, there's a reliable and extensive bus system and the "The Metro-Centro" – a tram system that makes a half-dozen stops around the Seville Cathedral and nearby areas.