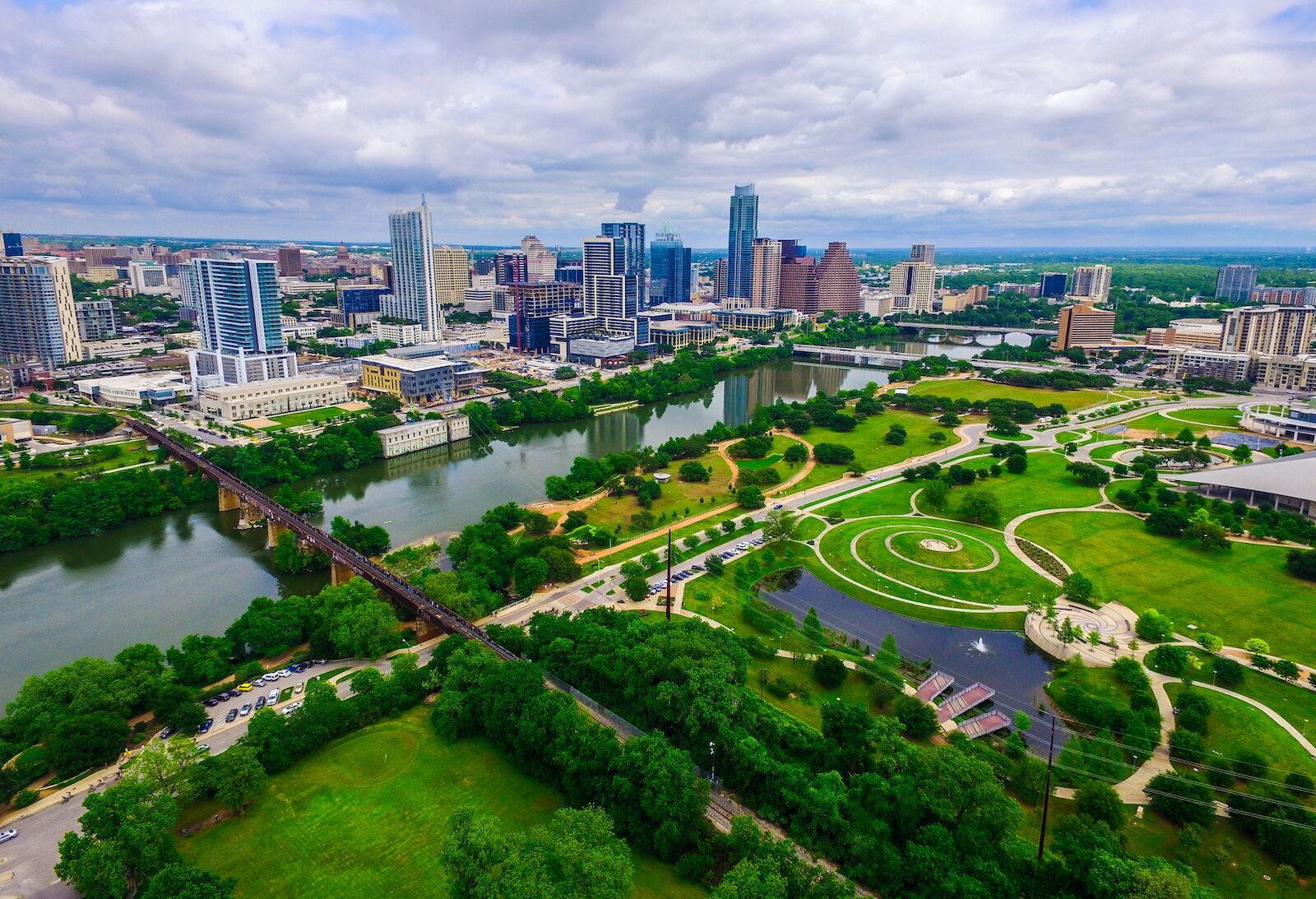 A trip to Austin can feel rejuvenating. The amount of time visitors spend outdoors, swimming and boating, and eating all the Tex-Mex cuisine their hearts desire, invites both adventure and relaxation. From taking long walks in the parks to listening to live music, to biking around the city, there is so much Austin has to offer. Even though it's a relatively small town, it can be difficult to cram in all the activities available to out-of-towners. That's why we put together this list, so you know where to stay, what to do, and where to find the very best breakfast taco in Austin – and then maybe go try seven more.
---
---
How to Get Around Austin
Austin is so spread out that you'll likely need to rent a car if you're visiting. This will also give you access to the surrounding towns and parks. Renting a car at the airport is your best bet.
However, if you don't want to rent a car, you can use a ride share app like Uber or Lyft. The town itself isn't walkable, and the public transportation is lacking, so this will be your main way around from spot to spot.
While Austin is a bike-friendly town, it's probably not the best method of transportation—unless you have really strong legs. The hilly streets will start to take a toll after a while. There are plenty of electric scooters like Lime and Bird littered around the city that people frequently use, and these can be good for short distances, but again, renting a car is the way to go.
The Best Views in Austin
It's actually a misconception that Austin is flat, like the rest of Texas. It's actually located in the Hill Country, and features gorgeous views and rolling hills. The Texas sky still looms large, but that just makes the views you can get in this town even better. Here are some spots that offer expansive views of the city.
Mount Bonnell
This hike up 106-stairs is well worth it. Mount Bonnell at Covert Park, allows for the best views of the city and is a great way to start your trip, or just work up an appetite for breakfast tacos. As the highest point in the city, it overlooks Lake Austin and you can spend hours up there, watching boats motor by.
Where: Mt Bonnell, Austin, TX 78731
The Oasis
If hiking isn't your thing, there's an option for you, too. The Oasis is a little restaurant on the shore of Lake Travis. Every table has a great view of the lake, so you'll get a good spot for watching the sunset. With a margarita in hand, you'll enjoy the view without getting winded.
Where: 6550 Comanche Trail, Austin, TX 78732
Congress Avenue Bridge
After you're done shopping, head to the Congress Avenue Bridge to catch sunset over Lady Bird Lake. If you come during the summer, be sure to arrive right at dusk to witness up to 1.5 million Mexican free-tailed bats emerge from underneath the bridge. You can also rent a boat and be out on the water for this legendary event, but the bridge has a better view, and is free.
Where: Congress Ave., Austin, TX 78704
The Best Museums in Austin
Heading to a museum is a great way to get out of the sun, which can be sweltering in Austin. Plus, rich Texas culture and history is worth learning about. Austin has plenty of museums scattered around the city, whether you're looking to learn about art, Hispanic culture, or past presidents.
The Blanton Museum of Art
The Blanton is one of the largest university art museums in the United States. Part of the University of Texas at Austin's campus, it features an excellent collection of both modern and colonial-era paintings. But the thing you can't miss here is the chapel Ellsworth Kelly designed, featuring stained glass panels.
Where: 200 E Martin Luther King Jr Blvd, Austin, TX 78712
The Contemporary
The Contemporary has two locations—a downtown gallery, and a sculpture garden called Laguna Gloria uptown. Make the sculpture garden your priority. It surrounds Lake Austin and is a beautiful spot to take in nature and an interesting collection of contemporary art.
Where: 3809 W 35th St, Austin, TX 78703
LBJ Presidential Library
Celebrating the 36th president of the United States, the LBJ Library will take you back to the 1960s. Check out what Johnson's oval office looked like, learn how legislation enacted in the 1960s still affects us today, forget to stop and don't forget to stop by Beyond the Wildflowers, an exhibition dedicated to his wife, Lady Bird Johnson.
Where: 2313 Red River St, Austin, TX 78705
The Best Places to See Live Music in Austin
Austin is the live music capital of the world, second perhaps only to Nashville. There's so much music to see here, it'll be hard to fit in every show you hear about. Most bars, breweries, and even some restaurants, host musical acts late into the night, but if you're looking to go to some of the classic spots in town, check out these venues.
The Mohawk
The Mohawk is one of the best concert venues in the country because no standing spot is a bad one. With a raised staircase in the back, you can show up to a concert late and still get a great view of the band. Check out the venue's list of acts before you arrive in Austin, and book your tickets ahead of time—you'll need them for this spot. When you're there, check out Stubb's across the street, another classic venue.
Where: 912 Red River St, Austin, TX 78701
The Continental Club
Located on Congress Avenue, the Continental Club features local acts and rarely requires booking tickets in advance. Stevie Ray Vaughn played it way back when, and there's hardly a better spot in town to see country, bluegrass, or jazz acts on a whim.
Where: 1315 S Congress Ave, Austin, TX 78704
The Broken Spoke
If you want to go two-stepping, the Broken Spoke is the place to do it. Featuring local musicians  and cold beer, it's a famous dancehall located in south Austin that's definitely worth popping into to scoot your boots. If you're looking for a chicken fried steak, they make a great one.
Where: 3201 S Lamar Blvd, Austin, TX 78704
The Best Parks in Austin
Even though it's hot, Austin is still one of the best cities for outdoor adventures. With green spaces and trails scattered around the city, spending time in public parks is a great way to cool off and spend the day taking in the fresh air.
Barton Springs
Austin is hot but Barton Springs is the perfect place to cool off. The natural pool is huge, and since it's fed by natural springs the water is a cool, crisp 68 degrees year-round. If you come in the winter, it's actually more like a hot spring, but in the summer, it's the perfect spot to escape 100 degree weather. Barton Springs has always drawn a cool crowd, so you might want to stake out your spot on the lawn early. Lounge on the grass until you're ready, and then jump right in.
Where: 2201 William Barton Dr, Austin, TX 78746
Zilker Park
Featuring a lawn that's capable of hosting a music festival and sweeping city views, Zilker Park is the very best park in town. Perfect for running, dog walking, people watching, or picnicking, this wide open space features ample shade and ample parking. Take some time off from your busy itinerary and go for a leisurely walk here.
Where: 2207 Lou Neff Rd, Austin, TX 78746
Deep Eddy Pool
A less-crowded alternative to Barton Springs, Deep Eddy Pool has two areas: one body of water filled with spring water, and another filled with regular pool water. Both are great options for swimming, but if you'd like to swim laps—or just watch some really great swimmers swim laps—this is the spot to check out.
While you're here, be sure to walk up the street to Pool Burger, which serves delicious burgers and tiki drinks, and then stumble a few more steps into the acclaimed Deep Eddy Cabaret, an acclaimed local dive bar that's been serving cheap beer and offering relief from the Texas sun since 1951.
Where: 401 Deep Eddy Drive, Austin, TX 78703
Ann and Roy Butler Hike and Bike Trail
Encircling Lady Bird Lake in the center of town, the Hike and Bike Trail is a 10-mile loop that connects the entire city. It gets busy on weekends, and is filled with runners, bikers, and people just walking their dogs. Each section is different, but they all feature gorgeous views of the lake and the city.
The Best Restaurants in Austin
Austin is inarguably one of the best food cities in the country, offering Tex Mex, barbecue, tacos, and breakfast tacos. There is so much good food to eat you'll have to pace yourself or risk spending your entire vacation eating (but maybe that's a good thing). And while anyone in Austin will give you a list of the best breakfast taco or barbecue spots, this list is an excellent jumping off point for each main category of food you'll have to eat while you're in town.
Terry Black's Barbecue
If you came to Austin to get up early and wait in line for Franklins, by all means do that. But if you don't want barbecue to take up your entire day, head to Terry Black's for your fix. This spot serves up mouth watering brisket, jalapeno-cheese stuffed sausages, ribs, and all the sides to go with it. Save room for dessert: the banana cream pie is a can't miss.
If you're looking for barbecue that's not classic Texas-style, but just as good, check out LeRoy and Lewis or Valentina's.
Where: 1003 Barton Springs Rd, Austin, TX 78704
Nixta Taqueria
Nixta is the closest thing to a fine dining restaurant you need to go to in Austin. Located on the bustling East Side, Nixta is run by Edgar Rico and his partner Sara Mardanbigi. They serve up delicious tacos from a tiny kitchen that seems too small for the alchemy they're cooking up.
The corn is sourced locally and nixtamalized in the kitchen, and the focus on local ingredients is both surprising and inspiring. Rico is one of, if not the most creative and daring chef in the city, and the duck carnitas and tuna tostada will convince you. Wash it all down with any bottle from the natural wine list; the staff will help you pick one that goes perfectly with everything.
Where: 2512 E 12th St, Austin, TX 78702
Matt's El Rancho
You need to have one Tex-Mex meal in Austin. Matt's El Rancho. To start, order the famous Bob Armstrong dip. While you'll find queso that's pretty good almost anywhere else, this dip features queso, sour cream, ground meat, and guacamole, and when stirred together, might just be the most delicious dish in Austin. Matt's also serves some excellent margaritas, and the Knockout Martini is always a great option. Pair this all with a sizzling plate of fajitas or some carne guisada for the perfect Tex-Mex meal.
Where: 2613 S Lamar Blvd, Austin, TX 78704
El Primo
Ask any Austinite about breakfast tacos, and you're likely to get a passionate response. Tamale House East is a classic, fourth generation spot, for this iconic Texas dish, and Veracruz All Natural is arguably the most written up spot in the city (and they serve vegan queso). Tacodelis are littered across neighborhoods serving up simple yet delicious tacos (get them in the airport), and some will point you to Jo's, a classic with a mural that people love to take photos in front of.However, on this list, El Primo is the top pick, a truck run by one man in the center of town that serves up delicious breakfast tacos every morning. The tacos are simple, customizable, greasy, and served with salsas that amp up all the flavors. If you try one breakfast taco in Austin, make sure it's this one.
Where: 2101 S First St Brg, Austin, TX 78704
The Best Bars in Austin
If you want to go partying or find all of the bachelors and bachelorette parties, head to Rainey St. or 6th St. Just about any bar will do the trick if that's what you're looking for. But if you're looking for excellent cocktails, maybe a little live music, and some Austin classics, check out these spots instead.
Donn's Depot
Donn's is an Austin classic. Part piano bar, part saloon, part railroad car, part honkey-tonk, Donn's is also, incredibly, Christmas-themed. Come for the live music, stay for the cheap beer, and make sure you hit the dance floor while you're there.
Where: 1600 W 5th St, Austin, TX 78703
Tiki Tatsu-Ya
Recently opened by the same folks who run the best ramen shop in town, Tiki Tatsu-Ya is a playful take on a tiki bar that is reminiscent of Rainforest Cafe. The drinks are much better, and the experience is way more fun. Go here with a group, pick a drink from the illustrated menu, and the effects will start to go off—we're talking smoke machines and strobe lights. Just go see it for yourself, and you'll understand why it's a can't-miss Austin experience.
Where: 1300 S Lamar Blvd, Austin, TX 78704
Small Victory
If you're looking for a nice cocktail, step up the stairs and into Small Victory. A little speakeasy located downtown, this bar always has a christmas tree with the lights turned on. The bartenders are also masters of the martini. In fact, if you order one, they'll ask you about a dozen follow up questions, so be prepared. If martinis aren't your thing, they have a spin on just about every classic cocktail there is, and can whip it up for you.
Where: 108 E. 7th St, Austin, TX 78701
Where to Stay in Austin
There is no shortage of hotels in Austin, the only problem is finding the right one. While I'm normally an advocate of a chain hotel, Austin's boutique hotels are well worth it. Here are some that will make your stay in Austin even more enjoyable.
Hotel Saint Cecilia
Located just a little off of South Congress, Hotel Saint Cecilia is a great place to stay if you want to be right in the middle of all the action – from shopping to music venues. Don't worry, it's plenty quiet, nestled away behind the busy shops just a few steps away, but features spacious rooms and excellent hospitality.
Where: 112 Academy Dr., Austin, TX, 78704
The Carpenter Hotel
Featuring a chic design, a restaurant that you should go to even if you're not staying there, and a luxurious swimming pool, the  Carpenter Hotel is a great place to stay. The facade of the building looks like an old school house, but inside you'll find a fully renovated beautiful and airy space. If you want to stay within walking distance of Zilker Park and Barton Springs, book a room here.
Where: 400 Josephine St, Austin, TX 78704
Hotel San José
Hotel San José, located on Congress, is where all of the musicians stay. Each room is a little bungalow style apartment that feels like you're living in the tiny homes Austin is famous for. Featuring a luscious garden and plunge pool, the only issue with the San José is you might never want to leave it.
Where: 1316 S Congress Ave, Austin, TX 78704

More like this