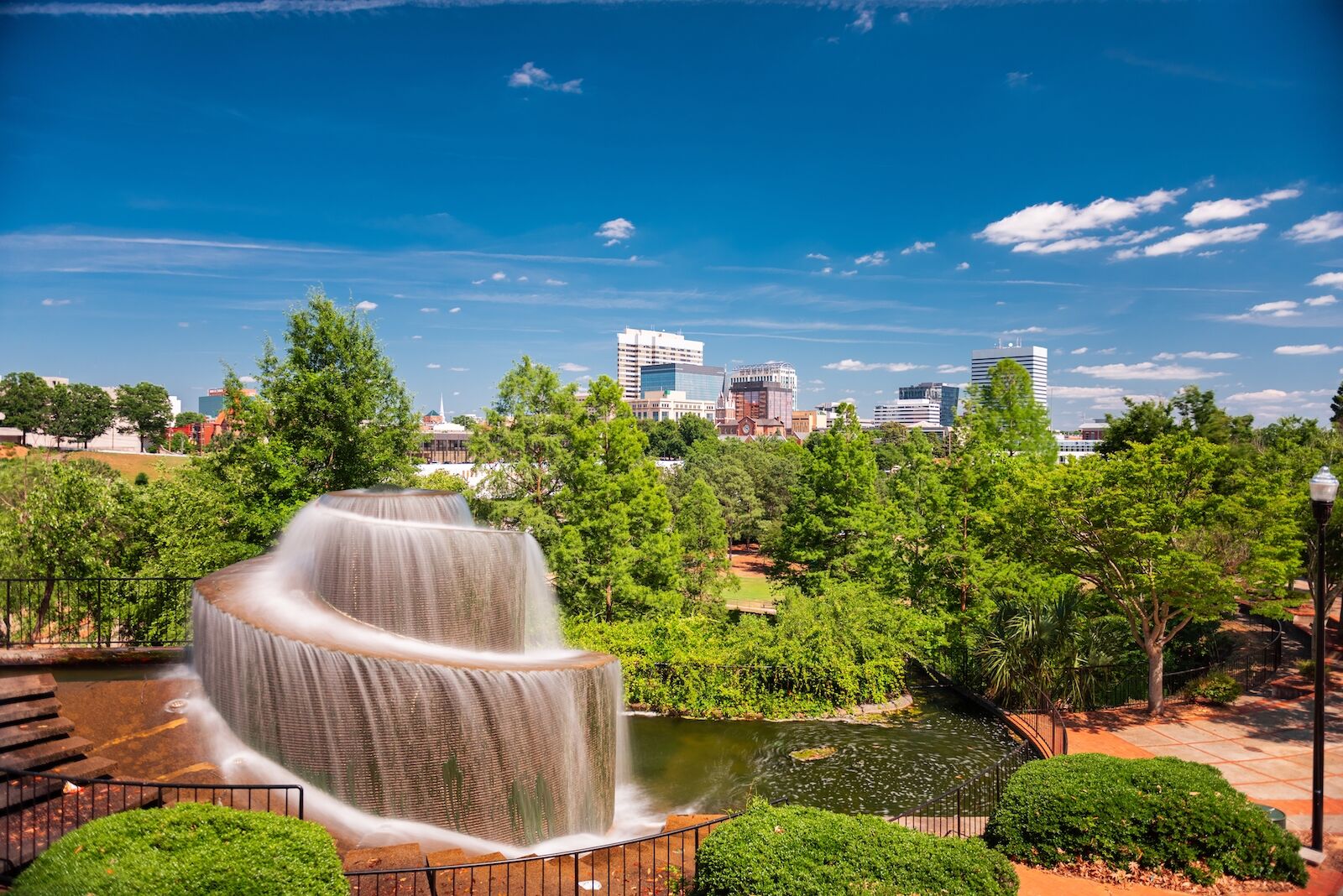 Columbia is an essential stop for understanding the history and ethos of South Carolina. Halfway between Charleston on the coast and Greenville in the foothills of the Appalachian Mountains, Columbia is home to one of the South's largest university systems, the University of South Carolina. But Soda City's charms extend well beyond tailgating Gamecocks football games and hitting up rowdy college bars.
There are many draws to the town. You can find delicious Southern classics like loaded grits and barbecue, but the city also stands out for upscale dining and innovative chefs leveraging South Carolina's unique ingredients and foodways. Columbia also has one of the Southeast's best craft beer scenes, with local breweries like Steel Hand and Hunter-Gatherer garnering national buzz. For the outdoorsy type, Congaree National Park offers seemingly endless opportunities for kayaking, fly fishing, and hiking. Finally, while historical sites frankly acknowledge the sins of the city's past, the Columbia of 2022 celebrates diversity and extends its delightful Southern charm to all communities.
The best things to do in Columbia, South Carolina
Congaree National Park
Congaree National Park is about 25 minutes by car from Columbia and covers thousands of hectares of protected old-growth forest crisscrossed by the Congaree River and its tributaries. The Congaree River is one of the few places in the world where you can raft white-water rapids under canopies of billowing Spanish moss. The guides at Palmetto Outdoors, who know the park like the back of their hand, can arrange tours for kayaking, rafting, or fishing. While the aurora borealis might be thousands of miles farther north, the synchronous fireflies of the Congaree produce a similarly mesmerizing natural light show. During certain times of the year, the phosphorescent insects are so dense as to form blankets of yellow light that morph and shimmer just above the forest floor.
Where: 100 National Park Rd, Hopkins, SC 29061
Soda City Market
Every Saturday from 9 AM to 1 PM, the city closes traffic on Main Street for the Soda City Market, a farmer's market with scores of vendors selling prepared food, produce, and crafts. The smorgasbord of enticing eats at Soda City seems limitless, but whatever you do, start your tour of the market with a beverage from Indah Coffee's food truck. The brick-n-mortar shop is a local institution for perfect espresso drinks, and its truck at Soda City is just as good. You can enjoy superb Southern fare at stalls like Rambo's Fat Cat Biscuits or Kiss My Grits Cafe, but some of the market's most memorable bites include Nepalese momos, Brazilian pão de queijo, and "Southern-style Paella."
Where: 1300-1600 Main St, Columbia, SC 29201
Explore the nightlife in Five Points
As you would expect from one of the South's great college towns, Columbia has no shortage of fun bars and spirited nightlife. If you're feeling nostalgic for your college days, the Five Points neighborhood is the go-to spot for sweaty dance floors and cheap vodka shots. The college crowd seems to have a particularly strong penchant for Bar None and Jake's in Five Points. For a more low-key night, head over to The Joint on Main Street after dinner to listen to some of the city's most talented musicians play the Blues and jazz.
The Hampton-Preston Mansion
The Hampton-Preston Mansion is a historically preserved antebellum manor in Columbia's leafy Elmwood neighborhood. Perfumed by the sweet fragrance of tea olive trees, the property's stately gardens and fountains warrant at least half an hour of exploration. Placards throughout the garden's walking paths teach about the trees, flowers, and shrubs from around South Carolina. The museum offers a glimpse of the lavish lifestyle of the antebellum South's upper crust but also emphasizes that such luxury came at a brutal cost, namely the enslavement of African Americans. The museum does a commendable job of telling the stories of both the beneficiaries and the victims of the Old South's economic system.
Where: 1615 Blanding St, Columbia, SC 29201
The Museum of the Reconstruction Era
Within walking distance of the Hampton-Preston Mansion is the Museum of the Reconstruction Era, which is housed within the childhood home of President Woodrow Wilson. The exhibits describe the years following the Confederacy's defeat in the Civil War, a time when emancipated African-Americans looked forward to the promise of equal rights, but ultimately were forced to face the horror and indignity of Jim Crow and segregation. Like Hampton-Preston Mansion, the gardens of the Reconstruction Museum are worth strolling through after touring the exhibits.
Where: 1705 Hampton St, Columbia, SC 29201
Where to eat and drink in Columbia, South Carolina
The War Mouth
Named after a type of sunfish in South Carolina, The War Mouth is one of the most creative restaurants in Columbia. Chef Harold Pendleton uses downhome Southern ingredients (think pig ears, cheese straws, and pickled okra) to create delicious plates with a gourmet flair. A French-Canadian by birth, Pendelton has lived in South Carolina for most of his life, and his menu blends elements of both celebrated culinary traditions. Go with the crawfish beignets, delicate fritters slathered with a peppery cream sauce, or the oxtail poutine.
Where: 1209 Franklin St, Columbia, SC 29201
Motor Supply Co. Bistro
Chef Wesley Fulmer and Eddie Wales renovated a historic engine supply store near the Congaree River to create one of Columbia's most beloved restaurants, Motor Supply Co. Bistro. The menu changes frequently to include seasonal ingredients, but the charcuterie board, piled with cured meats, pickles, and cheeses from around the Palmetto State, is always a sure bet. For entrees, try the duck duo, succulent and coated with a sweet apple-bourbon glaze, or the shrimp and grits that's made with locally milled grits and heirloom okra. With an impressive wine menu, rotating craft cocktail list, and local beer selection, the libations at Motor Supply Co. Bistro match the high quality of the food.
Where: 920 Gervais St, Columbia, SC 29201
Bourbon
For whiskey lovers, drinking and dining at Bourbon is reason enough to plan a trip to Columbia. The Main Street restaurant has a wall-to-wall collection of curated bourbons, and the knowledgeable bartenders are happy to talk about their favorite pours and help you find the perfect pairing for your meal. Bourbon's menu centers on Cajun and Creole cuisine, and the shrimp etouffee, topped with South Carolina shrimp and pancetta, is a showstopper. Save a little room after the drinks and entrees for the spectacular banana pudding, studded with Nilla Wafers and spiked, of course, with plenty of whiskey. Chef Kristian Niemi also helms nearby Black Rooster, which has a menu that reinterprets the cuisines of the French empire's far-flung colonies.
Where: 1214 Main St, Columbia, SC 29201
Railroad BBQ
Although not as famous for barbecue as Texas or North Carolina, South Carolina has its own distinctive tradition of smoked meat, characterized by a tangy mustard sauce. Employing slow-smoldering hickory and fruit-tree woods, the pitmasters at Railroad BBQ create culinary alchemy with cuts of brisket, pork, and chicken. All of the barbecue is succulent and flavorful, and the restaurant makes its sauces — mustard-, vinegar-, and tomato-based — in house. Sides like mac and cheese, baked beans, and chow-chow (a medley of pickled tomato, bell pepper, and cabbage) are almost as memorable as the smoked meat. And if you're eager to sample more South Carolinian 'Q, Hudson's smokehouse, about 30 minutes from Columbia in the town of Lexington, is another local favorite.
Where: 2001 Hampton St, Columbia, SC 29204
Hunter-Gatherer Brewery
Constructed inside a former WWI aircraft hangar on the outskirts of Columbia, Hunter-Gatherer brews some of Columbia's finest suds. The best play when visiting Hunter-Gatherer is to grab a beer flight and then head to the brewery's patio to watch the prop planes take off from the adjacent airfield. The sour, brewed with raspberries, and Child of Zeus IPA are among Hunter-Gatherer's best beers. (Note: the brews here are strong, often clocking in at over 7 percent ABV.) Columbia punches above its weight for craft beer in general, and other solid breweries include Steel Hands, Columbia Craft, and Peak Drift Brewery.
Where: 900 Main St, Columbia, SC 29201
Where to stay in Columbia, South Carolina
The handsome and compact Hotel Trundle, just off Main Street, is a boutique hotel created from three adjoining historic buildings. Owners Marcus and Rita intentionally kept the weathered brick walls exposed on the façade and the interior, and the lobby, decorated with works from local artists, has quiet and well-lit tables for working or reading. Wi-fi is robust and free throughout the hotel. Don't forget to enjoy your complimentary glass of wine (the hotel has an impressive selection) from the front desk during your stay. Rooms are comfy and spacious, and the staff diligently keeps them clean while you're out. Hotel Trundle doesn't have a restaurant, but you can order breakfast sandwiches or bowls of grits the night before. Marcus, one of the owners and a stalwart booster of all things Columbia, will gladly talk to you about the city's history or point you to his favorite spots for a drink or bite.
Where: 1224 Taylor St, Columbia, SC 29201
How to get around Columbia, South Carolina
The twin hearts of Columbia, the USC campus and the South Carolina State House, are within easy walking distance of Main Street, the area of the city with the highest density of shops, bars, and restaurants. Soda City Market, the weekly farmer's market on Saturday, also takes place on Main Street. Columbia's Blue Bikes, a bike-share program with docking stations all over the city, provide a great way to explore the city. With a Blue Bike you can easily cycle from Main Street to places like the Hunter-Gatherer Brewery or the Five Points Neighborhood. Congaree National Park is one attraction that does require a car. Uber and Lyft are ubiquitous across the city, with fares refreshingly low compared to those in major metropolitan cities.
How to get to Columbia, South Carolina
Flights to Columbia Metropolitan Airport (CAE) from major East Coast cities like New York or Washington DC typically hover around $300 roundtrip. Driving from Charlotte, the Carolinas' largest airport, takes about 1.5 hours. If you're planning a road trip through the South, Columbia is about two hours by car from Charleston, 1.5 hours from Greenville, and three hours from Atlanta. Augusta, Georgia, home to the Masters Tournament, is also within easy driving distance of Columbia.