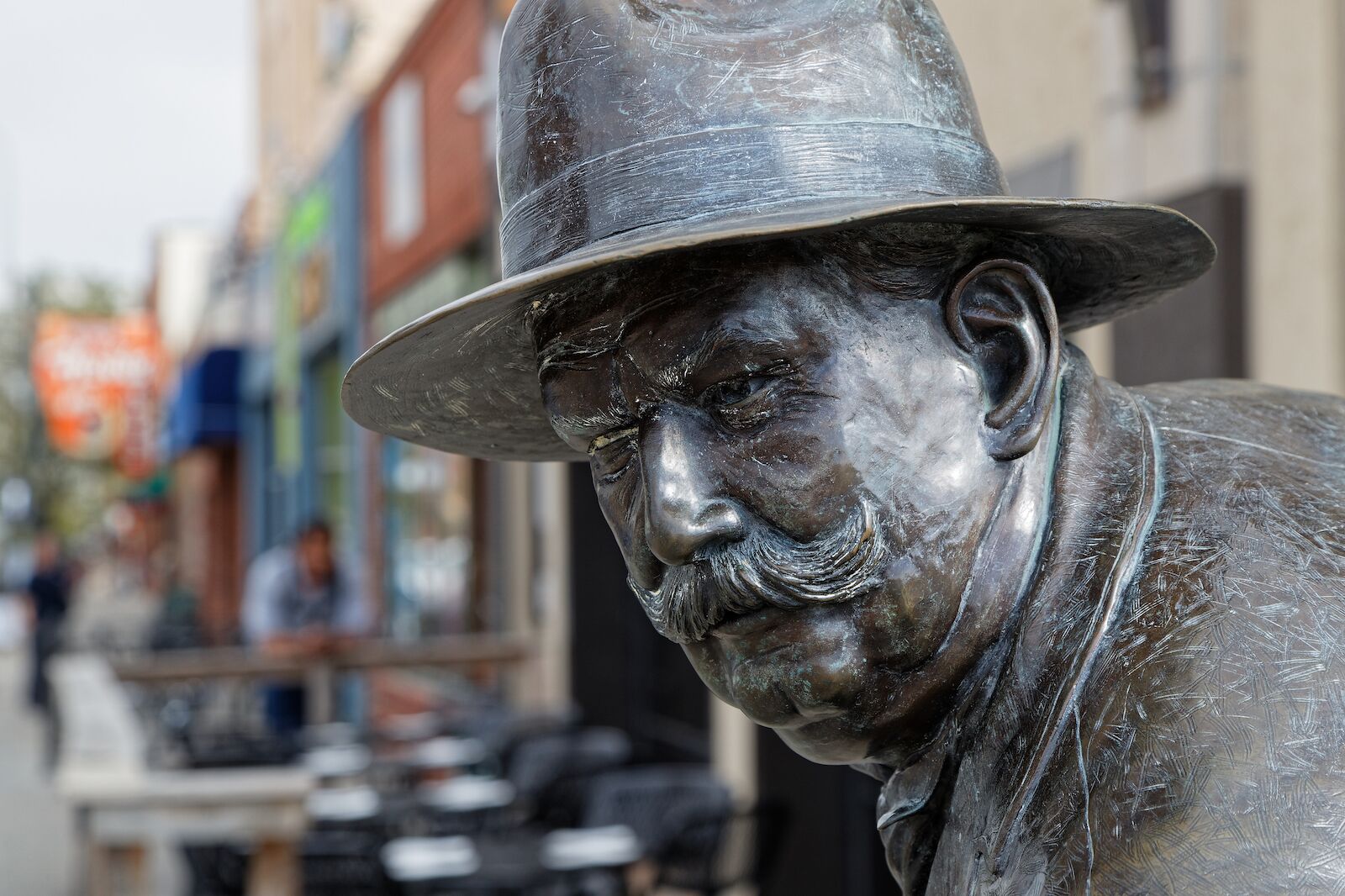 Rapid City, South Dakota, is the launching point into the Black Hills with easy access to both Mount Rushmore and Crazy Horse Memorial. It also has a thriving art scene of its own, as well as lively restaurants and bars, plenty of local businesses to shop from, and a thriving geological history with dinosaur fossils and meteorites. It's also a town where you can learn about the region's Native American culture and history — if you make it in the second week of October, you can experience Indigenous Peoples Day (Native Americans' Day in South Dakota), which is one of the largest of such celebrations in the country with a parade, arts expo, dances, and games.
With all of the things to do in Rapid City, it's become a regional destination for people looking to explore what South Dakota has to offer. The walkable town has a robust public transportation system, and it's also easy to get to from the Midwest and western half of the United States. Rapid City Regional Airport has direct flights from Salt Lake City, Phoenix, Minneapolis, Las Vegas, Denver, Dallas-Fort Worth, Chicago, and Charlotte. Though making Rapid City a stop on a road trip through the Black Hills is the more scenic way to get there.
When you go, here's where to stay, what to do, and where to eat and drink.
Things to do in Rapid City
Explore local art in downtown Rapid City
Downtown Rapid City has many things to explore, and one of the things that you'll notice as you walk Main Street and St. Joseph Street are the numerous presidential statues. They're part of the City of Presidents Walking Tour, which includes 43 life-sized bronze statues of past United States presidents, from Barack Obama to James Buchanan to Ronald Reagan. It might not be as famous as South Dakota's other presidential monument (hello, Mount Rushmore), but you can get up close and personal with these sculptures.
While on St. Joseph Street, stop by the Suzie Cappa Art Center, which was founded in 2001 to support artists of all abilities. The beautiful space houses more than 20 full-time and part-time artists who take and teach classes, make art, and sell their creations at the gallery.
For insight into Native American music and culture, stop into nearby Dakota Drum Company on Main Street. Owner Sonja Holy Eagle has curated a shop filled with locally made buffalo hide, drums, and other Native American art over 30 years of business, with 20 years at the downtown location. Close by is Prairie Edge Trading Company & Galleries. The company started in the 1980s and calls a two-story, half-a-block-long building home. Here, you can learn about preserving the culture of the Northern Plains Native American tribes as well as buy work from Northern Plain artists at a fair price.
A walk down Art Alley, which has been around since 2003, is a great way to wrap up a tour of downtown Rapid City in a bright and colorful way. Here, residents can secure a permit to spraypaint the walls of the alley, creating an ever-evolving portrait of important cultural, political, global, and community issues.
See dinosaur fossils and meteorites at the Museum of Geology
Located inside the South Dakota School of Mines and Technology, the Museum of Geology has collected and displayed fossils since 1885. Dinosaurs, mammals, marine reptiles, and fish are classified and mounted. Life-sized dioramas of rare fossils from the White River Badlands are on full display. Besides skeletons and fossils, the museum also has a huge collection of South Dakota minerals, meteorites, and a fluorescent mineral room. Admission is free, with donations accepted.
Visit South Dakota's landmark statues
What is a visit to Rapid City without venturing into the Black Hills to see statues that tower many times over the life-sized presidents in town? Mount Rushmore National Memorial is about a 30-minute drive from Rapid City. The faces of George Washington, Thomas Jefferson, Abraham Lincoln, and Theodore Roosevelt took 14 years to carve into the mountain, and were completed in 1941.
About 30 minutes from Mount Rushmore is Crazy Horse Memorial, a privately owned monument — the world's largest mountain carving — that was started in 1948 and is still under construction. It depicts Oglala Lakota warrior Crazy Horse, riding his horse and pointing out toward the land. The monument started with a collaboration between Chief Henry Standing Bear and sculptor Korczak Ziolkowski. Ziolkowski made the monument his life's work, along with his wife and 10 children. No trip to Rapid City is complete without a stop at this breathtaking site.
Visit South Dakota's largest state park
Custer State Park is South Dakota's first state park, and it's also the largest with 71,000 acres of preserved area. There are areas for hiking, camping, mountain biking, and rock climbing. The park is home to four lakes, including the picturesque Sylvan Lake, making it the perfect place for swimming, fishing, boating, kayaking, canoeing, and paddle boarding. It's not just a warm-weather destination, either. In the winter, cross-country skiing and snowshoeing are available. With four scenic drives, be sure to give yourself plenty of time to explore the terrain. Needles Highway is one stand out. The 14-mile loop includes a tunnel that's only eight feet wide and under 10 feet tall. The park also includes nine campgrounds, each one equipped with free hot showers. Keep your eyes out on the drives through the park: Custer State Park is known for its abundance of bison.
Where to eat and drink in Rapid City
Fireouse Brewing Co.
This brewery gets its name because it's housed in an historic building built in 1915 that was the original Rapid City firehouse. Firehouse Brewing itself is also historic — it opened in 1991 as South Dakota's first brewpub. The food menu includes brewpub staples such as soup, sandwiches, and barbecue, as well as local buffalo in both its lasagna and burgers.
Prairie Berry Winery
Prairie Berry Winery is known for its award-winning Red Ass Rhubarb. Rather than traditional grape wines, this winery incorporates local produce to create delicious fruit wines. The fifth-generation winemaker, Sandi Vojta, also handcrafts traditional wines based off of her great-great-grandmother's recipes. For food, there are soups, salads, and sandwiches that wash down well with a glass of vino.
Windsor Block Bar
This is an exceptionally chic place to grab a drink. Located in the historic Windsor block of downtown Rapid City, the Windsor Block Bar specializes in craft cocktails and fine spirits. With a seemingly endless number of spirits to choose from, as well as wine, beer, and a non-alcoholic cocktail list, there's something for everyone. Warm lighting, historic photographs, and dark walls make the Winsor Block Bar the perfect place to cozy up in on a cool fall or winter day.
Black Hills Bagels
Black Hills Bagels is located just outside downtown Rapid City and has been open since 1977. It now puts out about 2,000 bagels each day. Order an egg and bacon sandwich on a sourdough bagel, which is quite possibly the best bagel sandwich I've ever had.
Harriet & Oak Coffee Shop
Harrier and Oak in downtown Rapid City makes quality coffee and tea drinks that are the perfect accompaniment to strolling the city streets.
Colonial House Restaurant & Bar
Colonial House is known for its Colonial Bake Shop, which serves up caramel, cinnamon rolls, pies, bread puddings, cookies, and bars. On the restaurant side, Colonial House is open for breakfast, lunch, and dinner and serves classic diner food with a contemporary twist.
Tally's Silver Spoon
This upscale restaurant downtown highlights local ingredients. On a recent visit to Tally's Silver Spoon, I sampled both pheasant and bison, and both were phenomenal. This modern restaurant is open for breakfast, lunch, and dinner, and it's the perfect spot for date night or a night out with friends.
Where to stay in Rapid City
The Rushmore Hotel
The Rushmore Hotel & Suites, a Best Western Premier Collection hotel, in downtown Rapid City is known for its themed rooms and eco-friendliness. The beds are comfy, the woodsy themed rooms eclectic, and the lobby area is filled with beautiful art such as an intricate marble inlay of Mount Rushmore. The hotel also includes an outdoor patio area with fires that are perfect for cozying up to during the cooler fall temps.
The Alex Johnson
The historic Hotel Alex Johnson has been open since 1928, and today it's a member of the Curio Collection by Hilton. This Germanic Tudor-inspired architecture hotel has a Starbucks, Irish pub, and rooftop restaurant.