The Vök Baths are perhaps the best hot springs in Iceland — and my personal favorite. I don't say that lightly; I've been to about a dozen of Iceland's pools!
A spectacularly designed geothermal spa on the banks of beautiful Lake Urriðavatn, the Vök Baths somehow manage to do everything right — plus a lot of surprises.
For starters, this part of the country isn't known for its geothermal activity. Eastern Iceland could not be more different from the Golden Circle, a major geothermal destination with spas in every direction.
But locals in the East always knew there were patches on Lake Urriðavatn that didn't freeze during the long Arctic winters. Vök (plural vakir) is the Icelandic word for ice-free patches of water. Surprise! There was always geothermal power here!
The Vök Baths opened in July 2019 with geothermal floating pools above these vakir, bright turquoise hexagons in the inky-blue lake, each boasting an infinity view. In fact, they're the first and only floating pools in Iceland!
You get the same benefits as many of the other famous hot springs in Iceland. An in-pool bar? Check. Sauna? Check. Cold tunnels with a chilly mist, like the Sky Lagoon? Check.
But what makes the Vök Baths unique? The fact that you can jump into the lake from the floating pools! That, and you can put together a custom tisane at the tea bar, order some fabulous pork belly bao, or sip a neon red and blue slushy like you're a kid again.
What I loved about this place is that they get everything right.
Let's take a look at what makes the Vök Baths so awesome. You can book your ticket here.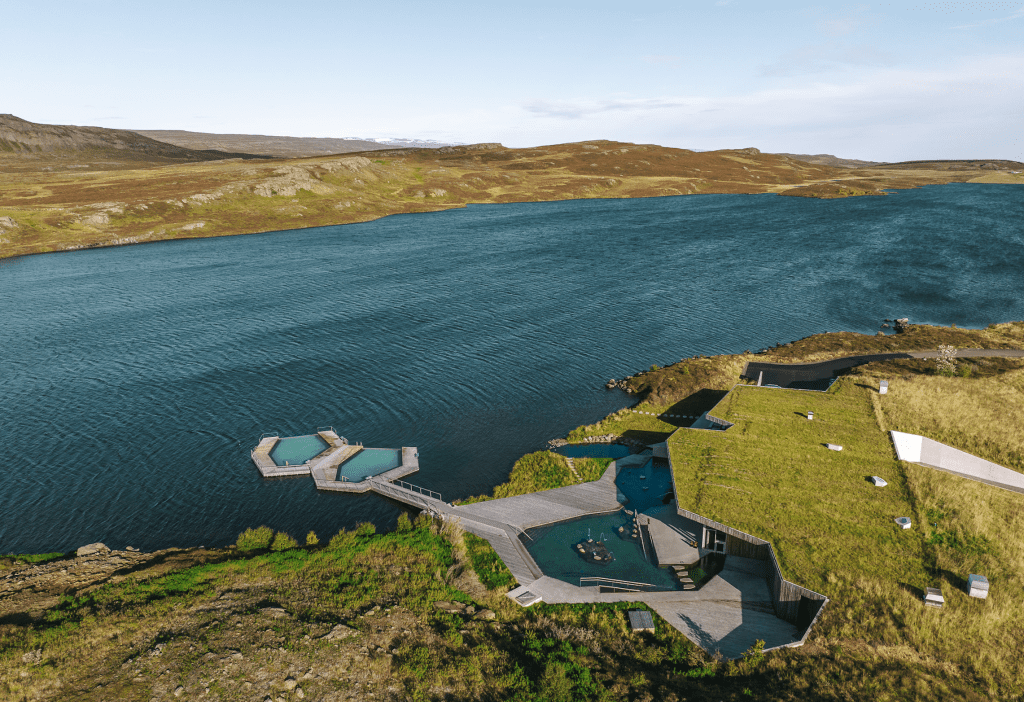 Visiting the Vök Baths, Iceland
What first struck me about the Vök Baths was how striking the building is. Designed by Reykjavik-based Basalt Architects and Design Group Italia, it's a modern masterpiece that blends seamlessly into the untouched landscape.
Begin by descending into the building. Yes, you walk downhill into the ground here, a luxurious hobbit-like hideaway topped with a grass roof.
The setting is Nordic design at its best: warm wooden walls, large glass windows, plants and quiet calmness.
To your left, the infusion bar — a bar where you can put together your own custom tea. Hot or iced, choose from local herbs like birch or angelica, black current or nettle. It's free and unlimited for visitors.
And the water that makes the tea is geothermal water from Lake Urriðavatn! This is actually the only certified drinkable hot spring water in Iceland.
To your right, the on-site restaurant, Vök Bistro, serves a variety of small plates made with local ingredients. More on that below.
You sign in and get your wristband. Like most Icelandic spas, this serves as your locker key and credit card.
You take your shoes off on the way into the changing room, undress and shower thoroughly, throw your bathing suit on, and from there, step directly into the warm water.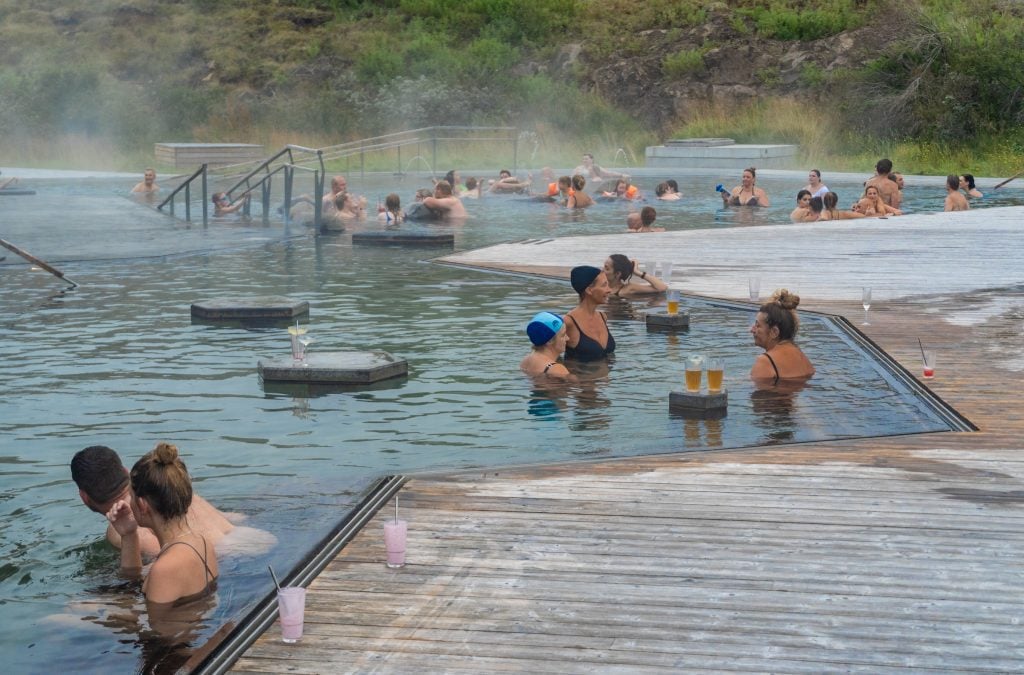 Geothermal Pools at the Vök Baths
There are several pools at the Vök Baths. From the changing rooms, you enter the main pools adjacent to the building. These are technically one big pool with a small passage connecting the two, and the temperature ranges from 38-38.5 C (100.4-101.3 F).
These pools are adjacent to the outdoor pool bar, and you can easily leave the pool to go to the steam bath (which is 50 C/122 F) or the cold water spray tunnel (10 C/50 F).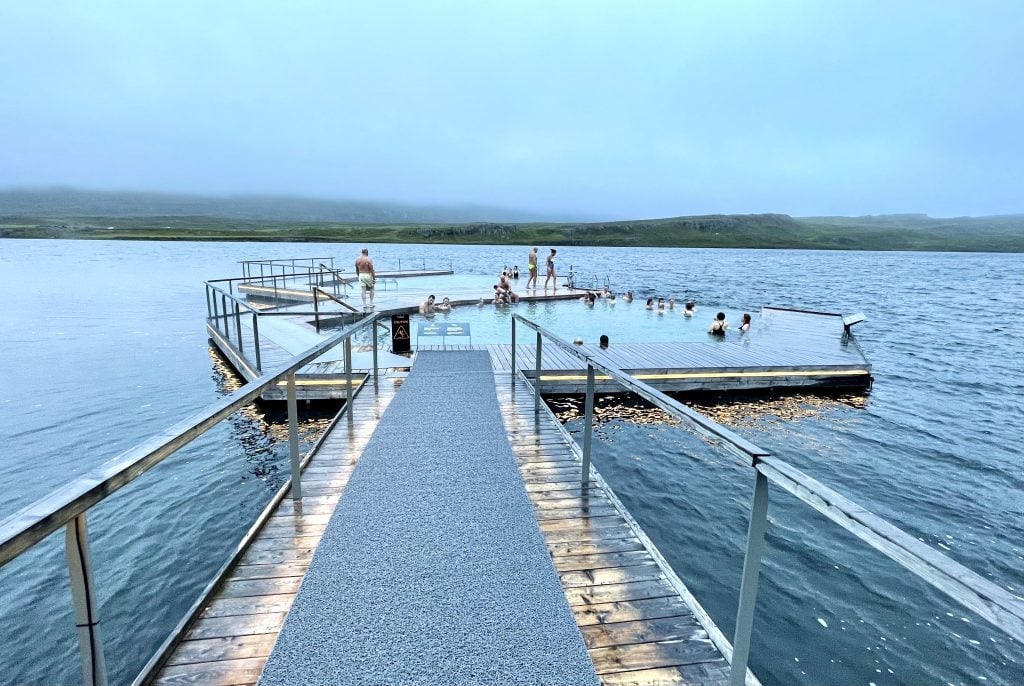 Further back are the pathways to the two floating pools. Prepare to get chilly if it's a rainy day like the day I visited! The raindrops will feel like tiny needles piercing your skin!
But you'll be relieved as soon as you get into the hot water, because these are the hottest pools at the Vök Baths — the first one is 39-40 C (102.2-104 F) and the further one is 41 C (105.8 F).
Both of the pools have infinity edges, and yes, you can jump into the lake! There is a ladder on the deck between the two pools, giving you easy access out of the water.
Of course, keep safety in mind at the Vök Baths, especially if you've never gone swimming in cold water before.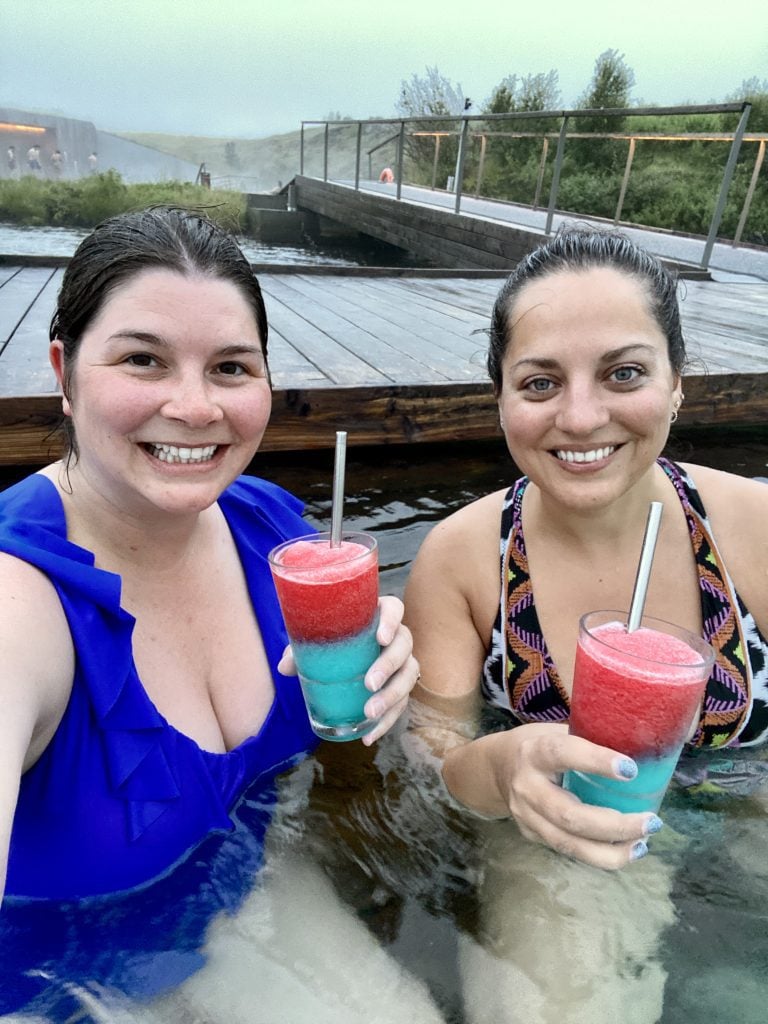 Vök Baths Swim-Up Bar
Yes, the Vök Baths have an in-water pool bar, so you don't have to leave the warmth of the water to grab a drink. Most hot springs in Iceland have this, along with the usual drinks: beer, champagne, Collab sodas.
But this time my friend Amanda spots kids drinking slushies — bright red and blue frozen drinks. OH HELL YES, WE'RE GETTING TWO OF THOSE.
And while I doubt I would grab a slushy on my next trip to 7-11, there's just something magical about consuming a frozen drink while in toasty warm water! Definitely a unique bathing experience.
Vök Bistro
Yes, the Vök Baths have a restaurant on site — the Vök Bistro. If you're arriving after a busy day, like we did, this is a great option for dinner.
The restaurant serves dishes made with primarily organic ingredients from local producers.
Here they serve a variety of small plates, and recommend that two people share at least two dishes.
Some of the dishes include hummus with pine nuts, pomegranate and pita; soup of the day with bread; baked "brie" (a local soft cheese similar to brie) with grapes, lemon thyme, and walnuts; chicken wings; pork and chicken bao buns; and a charcuterie plate.
There is also a children's menu: mini pizzas, chicken nuggets, fries, etc.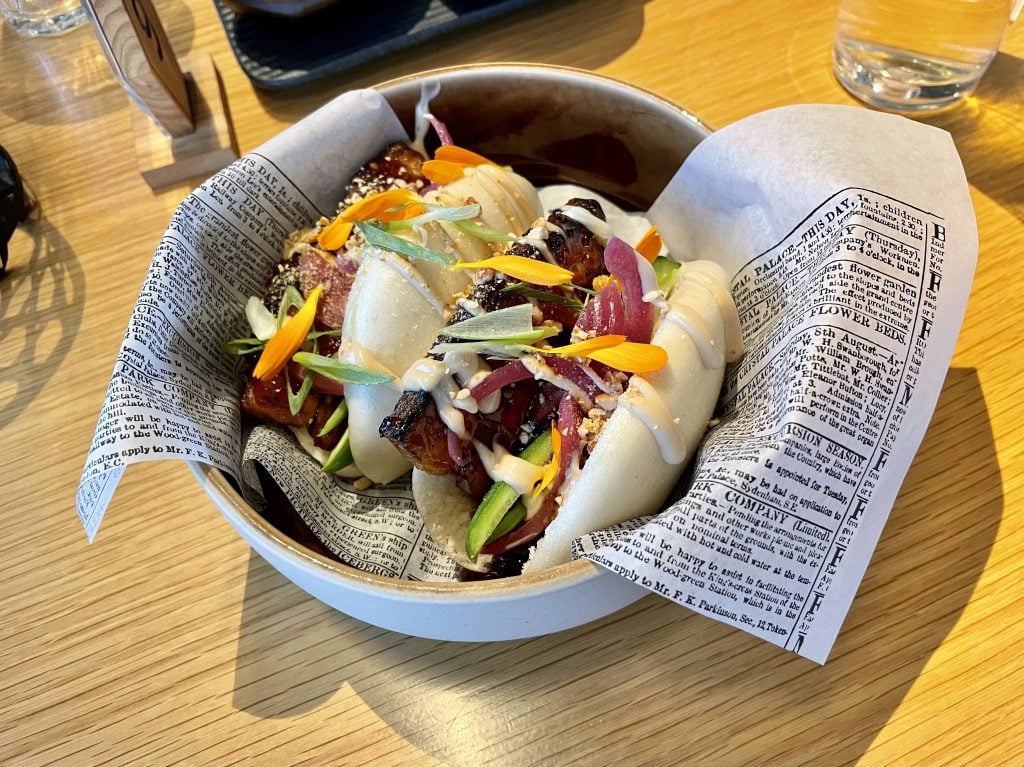 Amanda and I ordered the pork belly bao bun and the Vök premium plate (the charcuterie plate). And a few Collab sodas, of course!
The pork bao buns were fantastic. Well-made, bursting with flavor, and very different from what you usually see in Iceland.
We enjoyed these so much, we promptly ordered another plate of fried chicken bao buns! They were also delicious.
As for the Vök premium plate, some of the meats and cheeses were tasty, and others were quite unremarkable. If you're used to eating lots of tagliere in Italy (yep, that would be me), you'll probably be a bit disappointed. Go with the bao instead!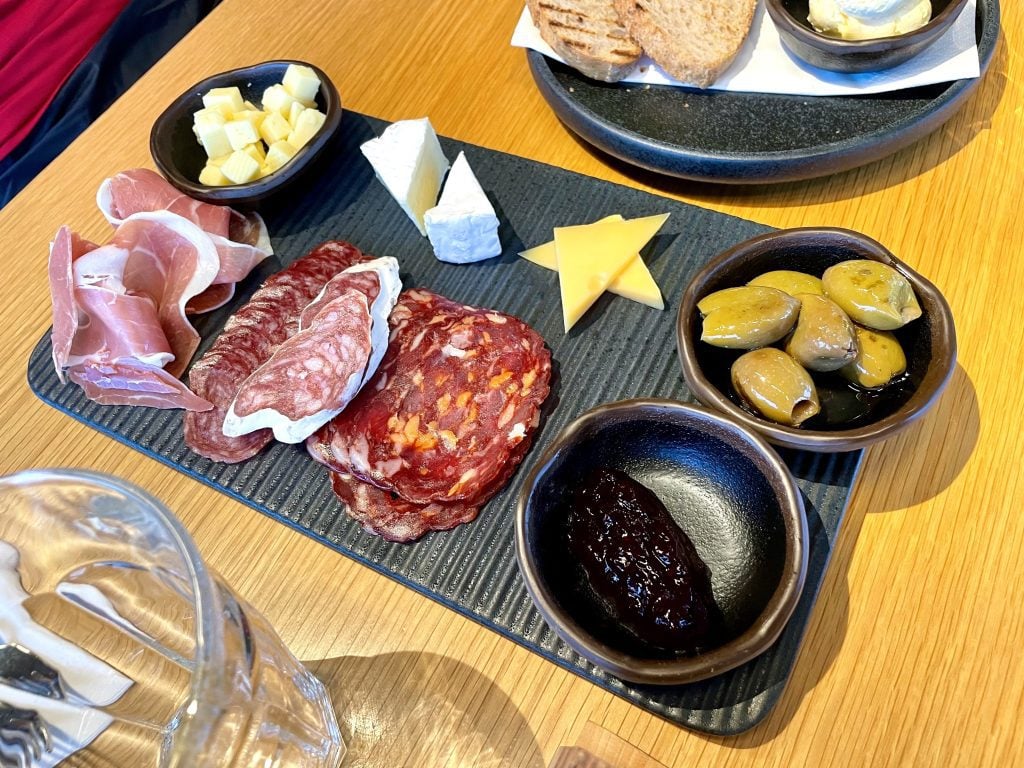 Changing Rooms at the Vök Baths
Most of Iceland's hot springs and swimming pools have communal changing facilities and open-air showers. Public nudity is part of the culture in Iceland, and changing out in the open is nothing to be ashamed of.
So what are the changing rooms like at the Vök Baths? For the most part they're open air, with lockers and benches. You take your shoes off on the way in. Your wristband functions as a locker key, both opening and locking it.
However — there are plenty of closed shower stalls that offer privacy for both changing and showering. This is unusual in locker rooms in Iceland, so take advantage! The showers offer shampoo, conditioner, and body wash.
You must shower naked and wash yourself before going into the pools. This is a strict rule throughout Iceland. No exceptions.
You enter the first hot pools from the changing rooms, and there are racks by the exit where you can store your towel.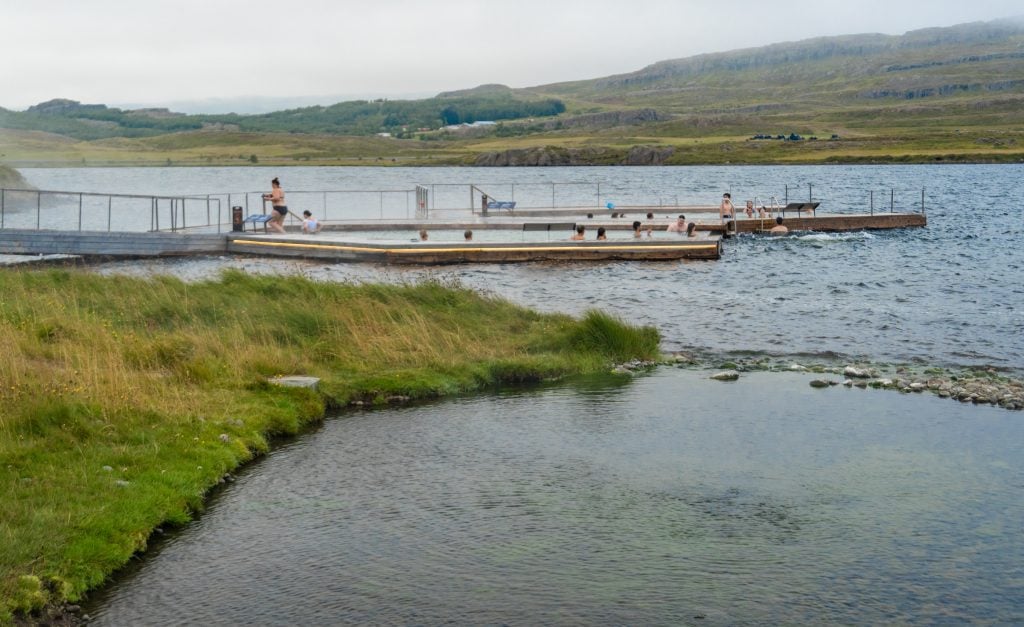 Vök Baths Price and Packages
The Vök Baths have three different levels of pricing:
Standard admission costs 5,990 ISK ($41 USD) and includes admission and tea drinks from the tisane bar. You can book a standard admission ticket here.
Comfort admission costs 6,890 ISK ($47 USD) and includes admission, tea drinks from the tisane bar, and a drink from the pool bar (selected drinks only).
Premium admission costs 9,990 ISK ($69 USD) and includes admission, tea drinks from the tisane bar, a drink from the pool bar (selected drinks only), and a premium platter at Vök Bistro.
Which package is best?
Standard admission is best here, in my opinion. I added up the prices and it doesn't save you any money to buy the more expensive packages.
At some geothermal spas, it can be good value to upgrade, but it doesn't make a difference at the Vök Baths.
Just buy the cheap ticket and get the food and drinks you actually want. You can book standard admission tickets here.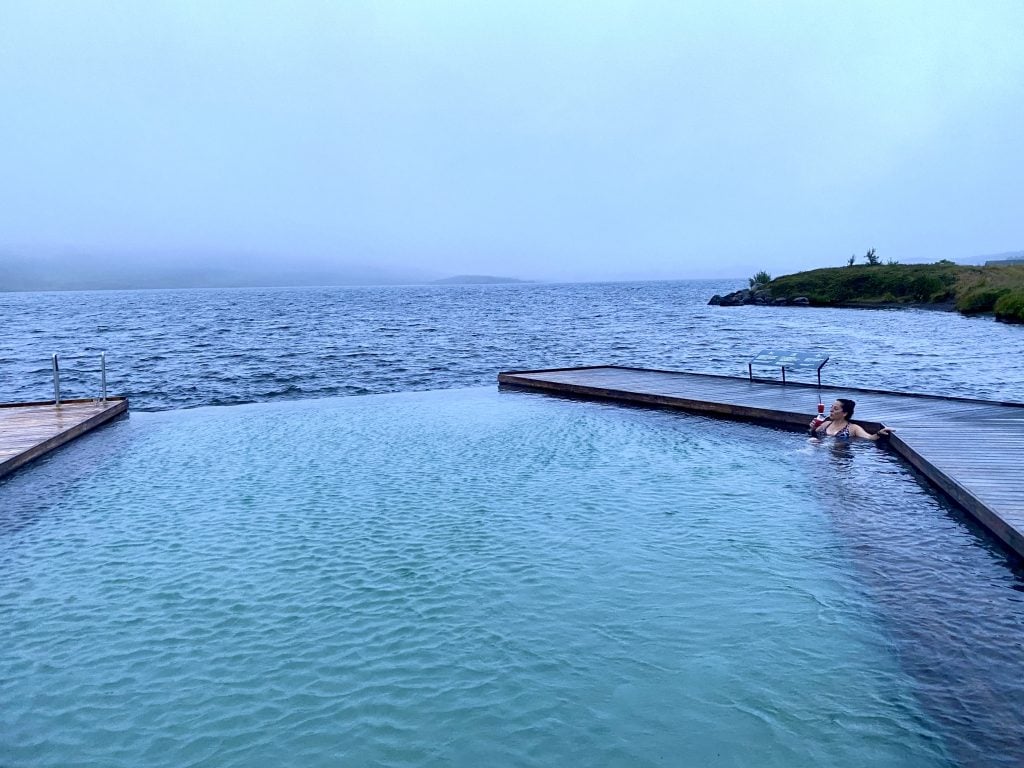 What to Bring to the Vök Baths
All you need to bring is your bathing suit and a travel towel, though you can rent either of those for 900 ISK ($6) each. Some people bring flip-flops, but you go straight into the water from the changing room, so I don't think they're necessary. Toys are not allowed at the Vök Baths.
Looking to do some photography? You'll probably want a dry bag for your DSLR, as again, you go straight into the water from the changing room. You can also bring a waterproof phone protector if your phone isn't waterproof.
Finally, the Vök Baths are a very popular place to drone, thanks to the juxtaposition of the turquoise hexagonal floating pools with the inky-blue lake.
Droning at the Vök Baths is prohibited during opening hours, and the staff requests you contact them before you drone.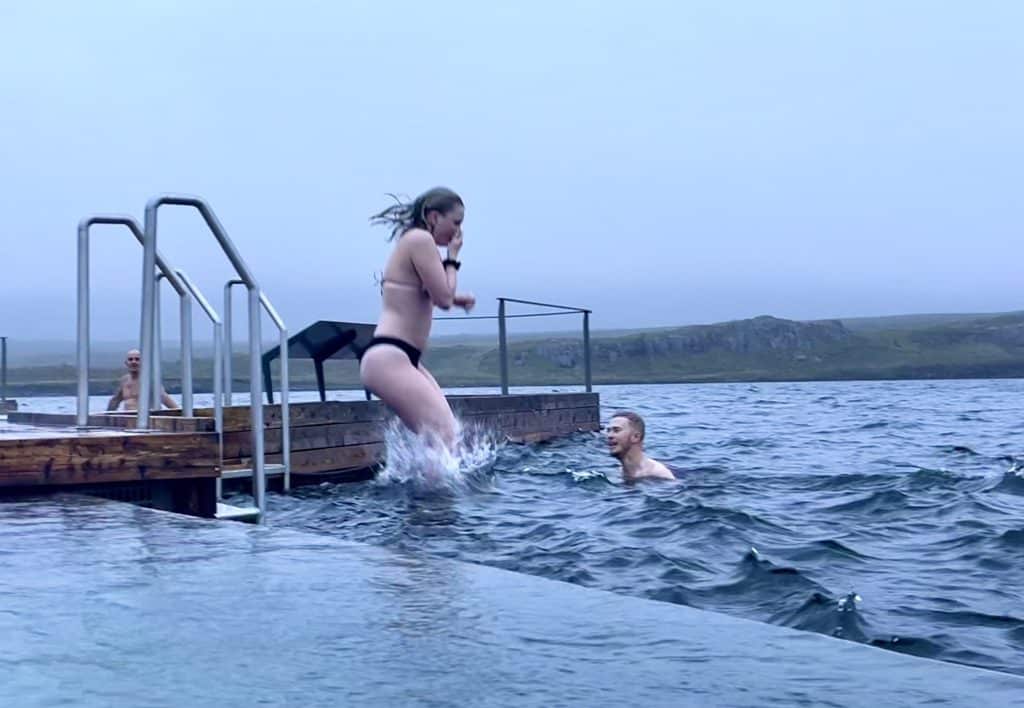 Vök Baths FAQ
Do you need to book tickets in advance to the Vök Baths?
You must book tickets in advance between June 1 and August 31. It's a good idea to book tickets ahead of time, regardless of season. You can book them here.
Are kids allowed at the Vök Baths?
The Vök Baths have no age restrictions, but children under 16 must be accompanied by a parent or guardian. Bring the whole family!
How much do the Vök Baths cost?
Standard admission is 5,990 ISK ($41 USD) per person, and you can book here.
How warm is the water at the Vök Baths?
Temperatures in the pools range from 38-41 C (100.4-105.8 F) and the floating pools are hottest.
Can you rent a towel or swimsuit from the Vök Baths?
Yes. Towel or swimsuit rental is 900 ISK ($6 USD). They also rent warm hats, which are recommended on freezing days, for 500 ISK ($3.50 USD).
How do you get to the Vök Baths?
The Vök Baths are a five-minute drive from downtown Egilsstaðir, 500 meters from the Ring Road (Route 1). I recommend spending the night in Egilsstaðir.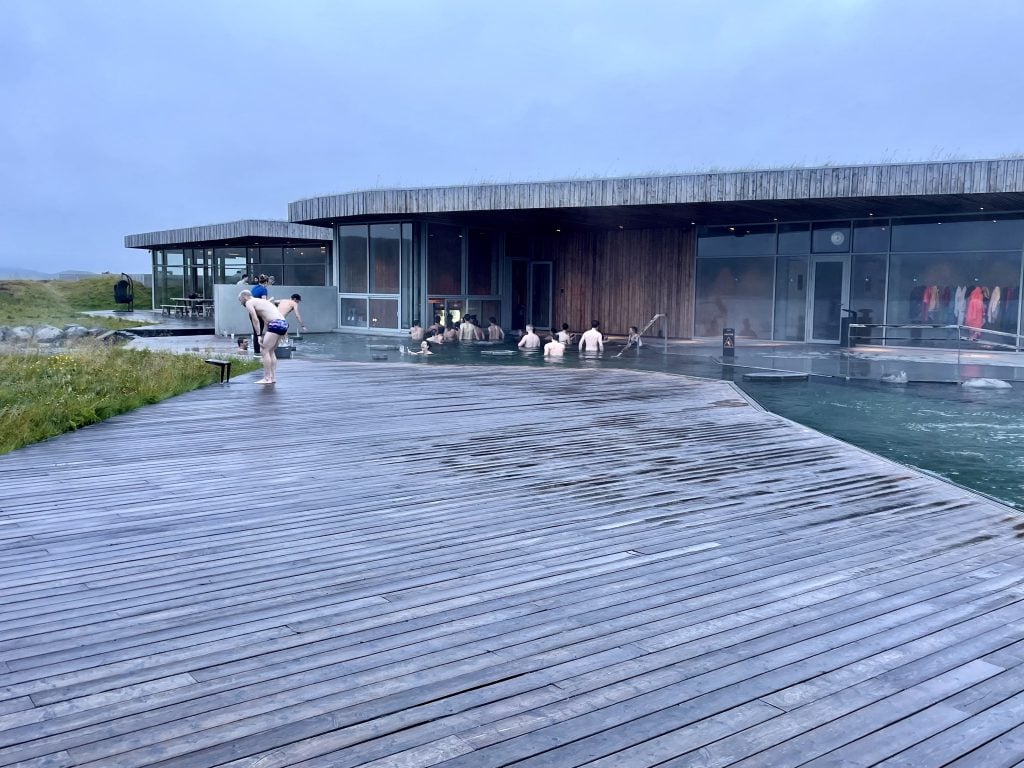 Where to Stay in Egilsstaðir
Egilsstaðir is an essential stop when driving the Ring Road in Iceland. This is the largest settlement in a sparsely populated part of Iceland, and it's a wise place to spend the night before continuing your road trip.
If you're on a budget: Lyngás Guesthouse. I stayed here and it reminded me of a college dorm, but in a good way. Clean simple rooms, a kitchen on each floor, plenty of shared toilets and showers. The next morning, grab breakfast at Skálinn Diner, the 50s-style American diner across the street!
If you want something a bit nicer: Hérað – Berjaya Iceland Hotels. This hotel features rooms with ensuite baths and comfy beds, a cozy lobby area, and a restaurant dishing up delicious breakfasts and dinners.
See more places to stay in the town of Egilsstaðir here.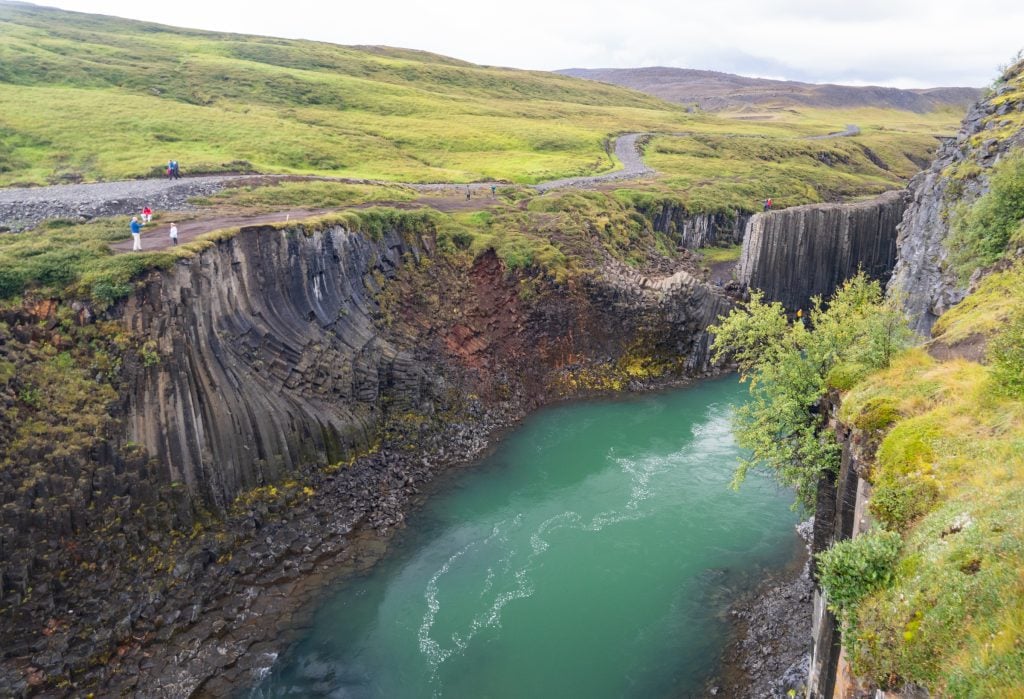 More Things to Do in East Iceland
I was surprised how much I adored East Iceland. I think it's my favorite area in Iceland! The Eastfjords are some of the most gorgeous driving I experienced in Iceland.
Stuðlagil Canyon is the coolest place in the surrounding area — a recently discovered canyon with a bright turquoise river. Well worth the hourlong hike each way along the east side, or just visit the west side for a quick photo op. I wrote a whole post about it here.
Seyðisfjörður is absolutely adorable. This small town and artsy commune is perched on a fjord, just 30 minutes from Egilsstaðir. The drive there is a bit of an adventure.
Cool waterfalls abound in the East. Gufufoss and Fardagafoss near Seyðisfjörður, Rijúkandi and Stuðlafoss near Stuðlagil Canyon, Folaldafoss and Nykurhylsfoss (Sveinsstekksfoss) near Djúpivogur…you're spoiled for choice. And some require no hiking at all.
Petra's Stone Collection is a lovely little museum a few hours south of Egilsstaðir, featuring an incredible rock and mineral collection put together by one badass woman. It's a cool place to pop into while driving through the spectacular Eastfjords.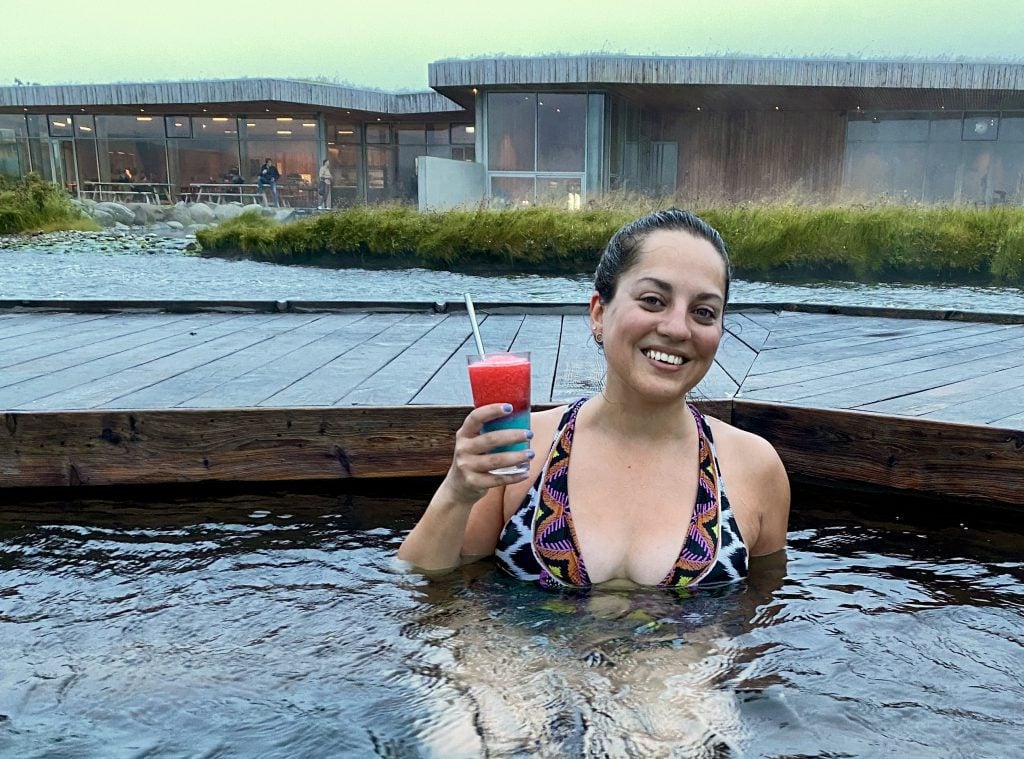 Are the Vök Baths Worth It?
Let me tell you something: the Vök Baths are SO worth it that if you're only visiting one hot spring in Iceland, I would choose here. Seriously.
The Blue Lagoon and Sky Lagoon are cool, but not as cool as the Vök Baths. And it's significantly better than the Myvatn Nature Baths.
Book your ticket to the Vök Baths here — and enjoy every minute! I can't wait to go back.
More Hot Springs in Iceland:
More on Iceland:
My Favorite Places in Iceland: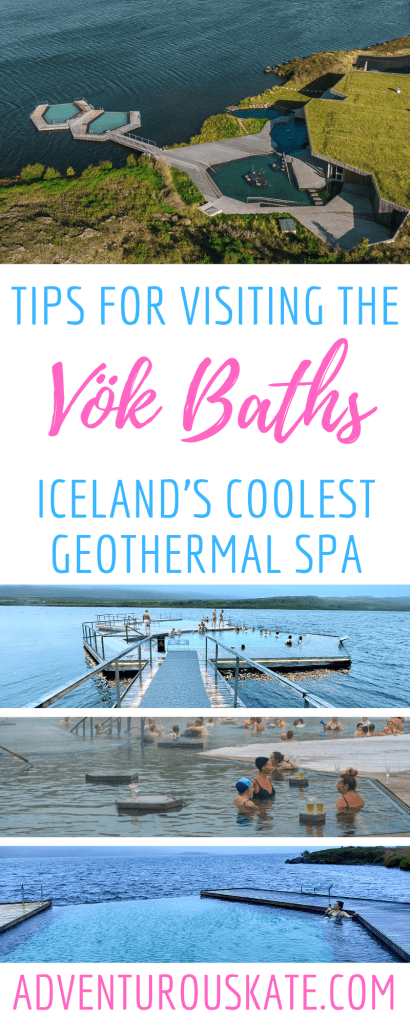 Have you been to the Vök Baths in Iceland? Any suggestions?
The post Are the Vök Baths Iceland's Best Geothermal Spa? appeared first on Adventurous Kate.