Describing Whistler as a ski town is simplistic at best and ignorant at worst. While, yes, it's the biggest ski resort in North America, and, yes, it was the main stage for the 2010 Olympic and Paralympic Winter Games, it certainly isn't a ghost town during the rest of the year. Even when there's no snow on the ground, visitors make their way to Whistler en masse because there's an awful lot to do before and after ski season. And you don't have to be outdoorsy to enjoy the town — even the least athletic person can have an outstanding weekend if you know where to look.
---
---
What are the best times of the year to visit Whistler, Canada?
There's no such thing as the best time of the year to go to Whistler. If you want to play in the snow, schedule your visit when Whistler Mountain and Blackcomb Mountain, the two ski resorts in the town, are open. In the 2022/2023 season, that means late November to the end of May. But if you just want to take in the atmosphere and have a relaxing, lazy getaway, go whenever you want — Whistler is lovely at any time of the year. My personal favorite time is to visit in early fall (late September or early October) during weekdays. The weather is usually still warm during the day, there are a lot fewer visitors, and the colors of the trees are just starting to change.
It goes without saying that it gets very busy during school vacations and the holidays. If you want to avoid the crowds, and all the kiddos roaming about, plan a trip at a different time.
How do I get to Whistler, Canada?
The easiest way to get to Whistler is to make it to Vancouver first. From there, you can drive, take the bus, or take a regional flight.
Driving to Whistler
Rent a car from Vancouver's airport (YVR) or take your own vehicle on the Sea to Sky Highway that links Vancouver to Whistler. If you start from YVR, it'll take you over two hours; if you start from downtown Vancouver, it'll be a 90-minute ride — but in both cases, that's only if the traffic is good. On Friday afternoons, when everyone's getting out of the city for the weekend, it can take a lot longer. Check out the traffic report before hitting the road.
The Sea to Sky Highway is one of the most stunning drives out there, but remember that you need to keep your eyes on the road. The scenic road was upgraded and made safer for the 2010 Olympics, but it's still quite windy.
Buses to Whistler
There are two bus companies offering daily rides from Vancouver to Whistler: Skylynx and Epic Rides. Both are very reasonably priced, super comfortable, and take about two hours to make the trip between downtown Vancouver and Whistler. Both Skylynx and Epic Rides also service YVR, but the ride from/to the airport is obviously longer and a little more expensive. Make sure to book your bus ticket in advance as the buses fill up quickly.
You can also opt to take the Whistler Shuttle, which does the exact same thing in nicer vehicles for three times the price.
Flights to Whistler
There are few better ways to make an entrance in Whistler than arriving by seaplane. From May to October, Harbour Air flies between Whistler and Vancouver's Coal Harbour and Victoria Harbour on Vancouver Island. It's pricier than the bus, but also much quicker and more scenic. You'll land or depart from beautiful Green Lake, about 1.8 miles from Whistler Village. Note that Harbour Air flights fill up quickly, so booking early is strongly recommended.
How do I get around Whistler, Canada?
You don't need your car in Whistler, especially if you're staying at a hotel in the village. Everything is easily walkable for all fitness levels and most hotels offer free shuttle service to get you to specific locations. If you come with a vehicle to Whistler, the best thing to do is to park it and not touch it until you leave.
Is Whistler, Canada, really that expensive?
The bus ride to get to Whistler is probably the cheapest thing you'll encounter during your time there. Whistler is a playground for the wealthy, especially those coming from ever-richer Vancouver, and that means that hotels, restaurants, and activities tend to be pricey. There are very few ways to make a trip to Whistler cheap, so don't come with empty pockets or a stingy attitude.
Things to do in Whistler, Canada, for non-outdoorsy people
While those who like to exert themselves are skiing, snowboarding, hiking, biking, or god knows what else up and down the slopes, you can take it easy.
Spend a few hours, or the whole day, at Scandinave Spa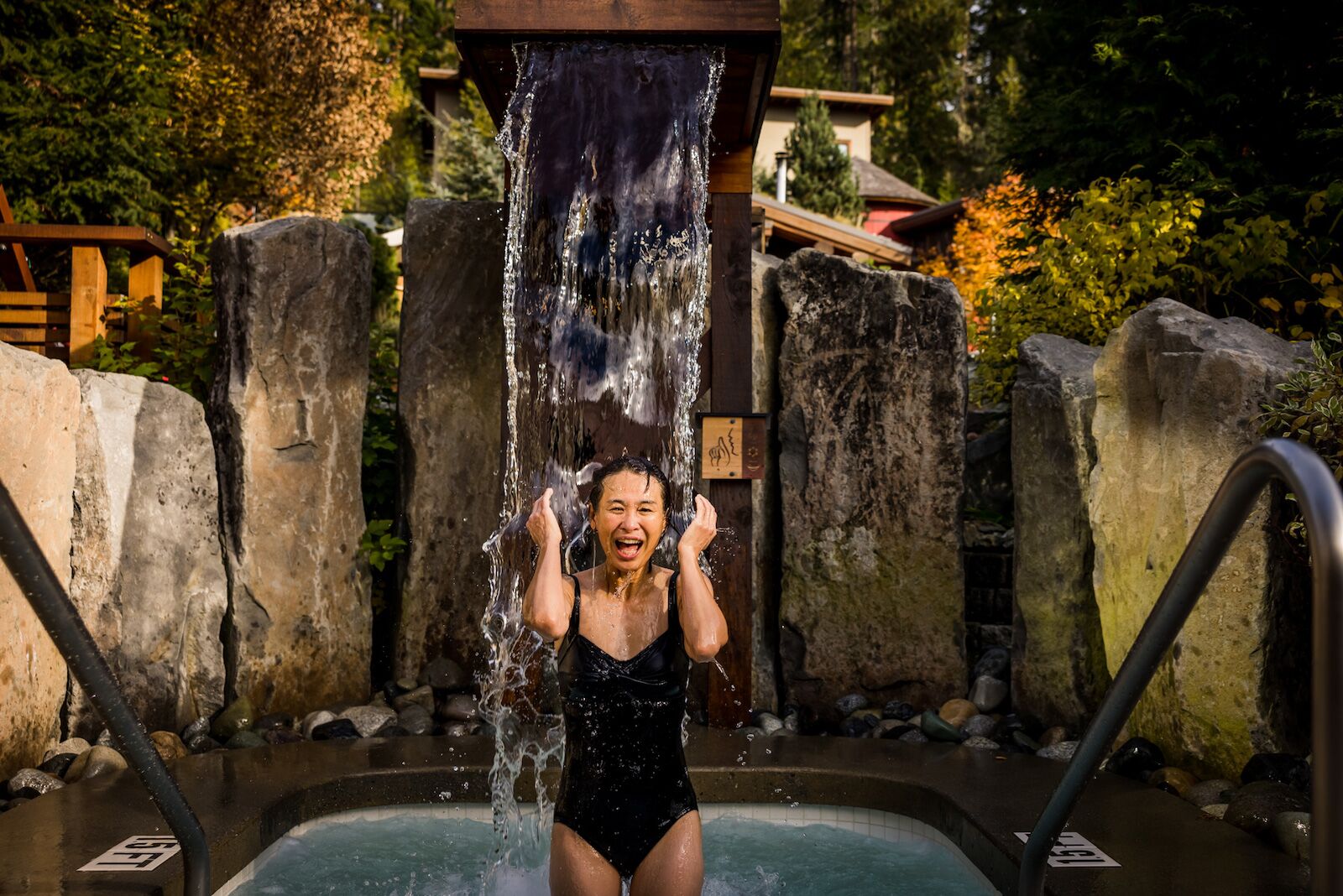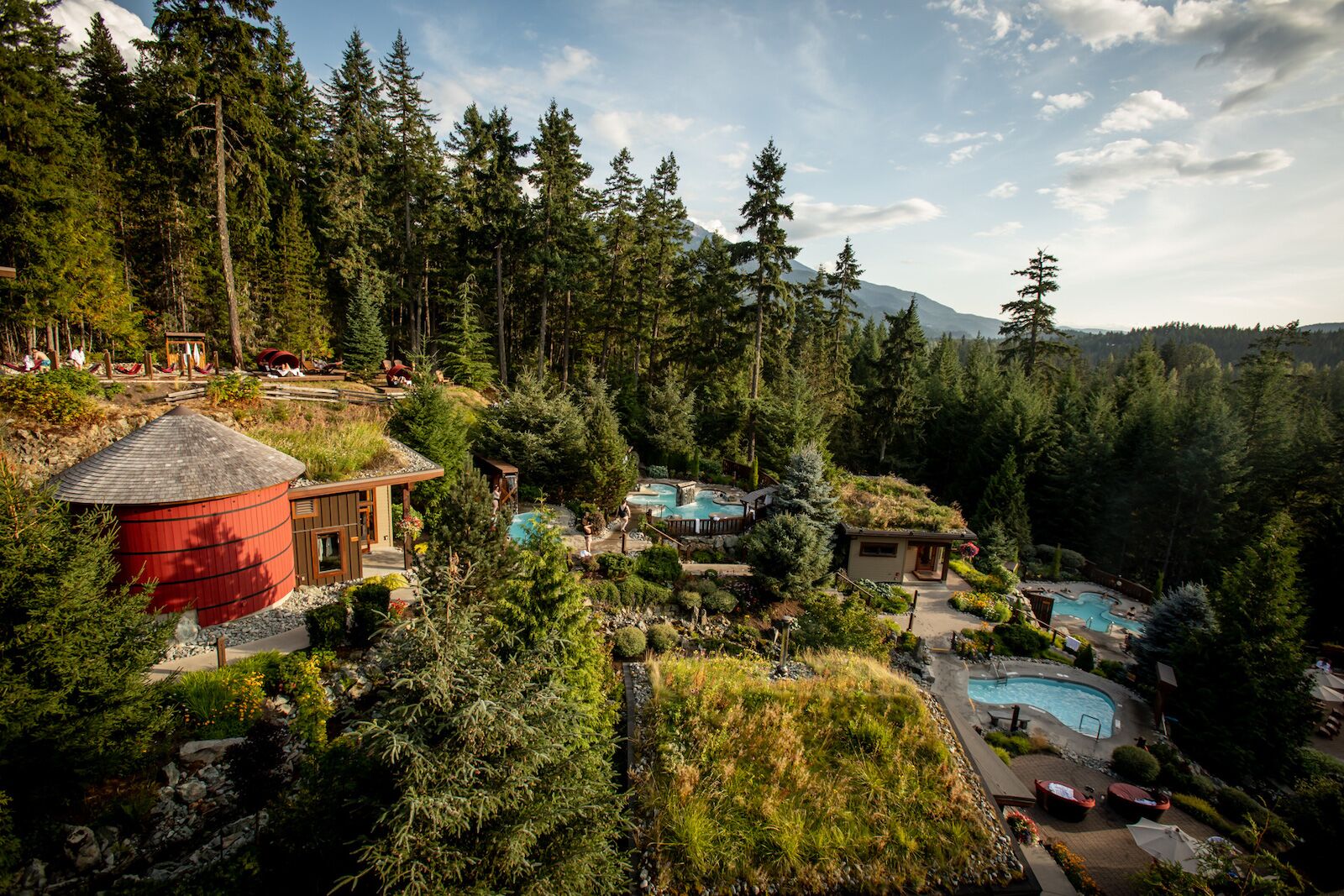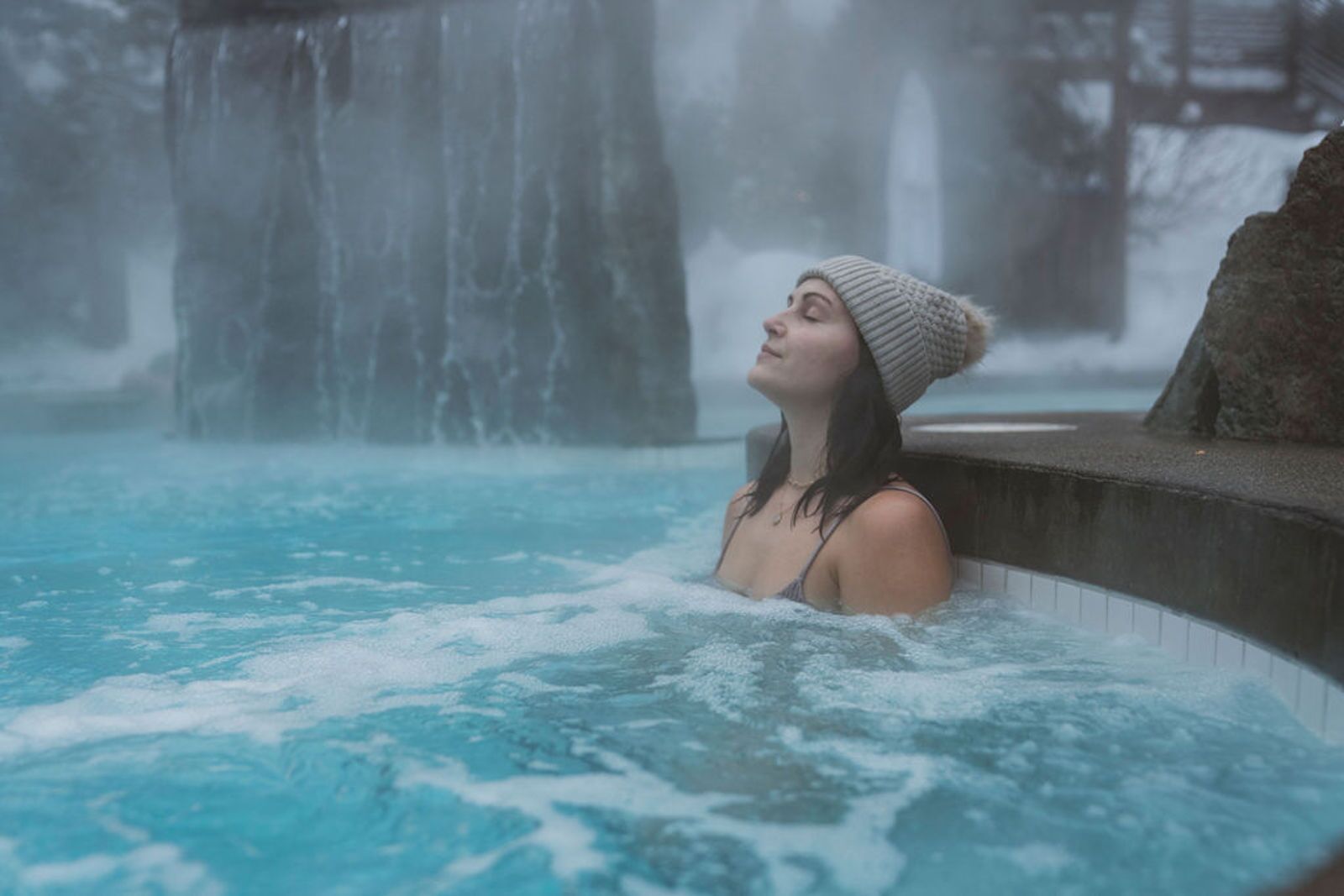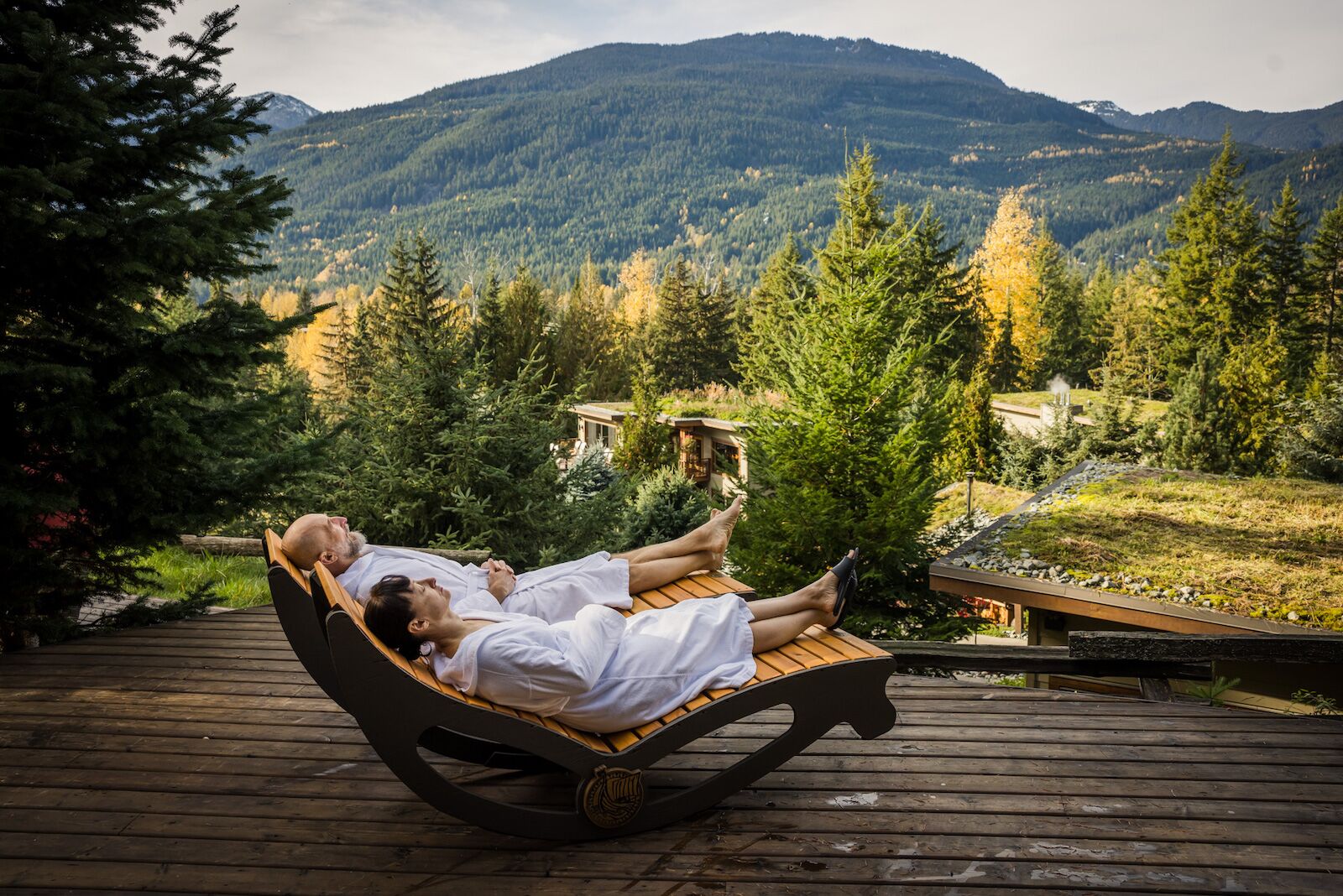 Possibly the most scenic and peaceful spa in the whole of Canada, Whistler's Scandinave Spa is a fantastic place to spend a couple of hours, or the whole day if you want to make the most of the steep entry fee.
Set outdoors in an immaculately maintained garden-like location, Scandinave is a silent spa focused on hot and cold therapy. Guests (all adults above 19) go from spending 10-15 minutes in hot installations like heated pools, steam rooms, saunas, to a few seconds in cold ones, like chilly pools and Nordic showers and waterfalls. While it may sound like torture, it's surprisingly enjoyable. After the cold session, guests spend 15-20 minutes relaxing in hammocks and lounge chairs located on panoramic decks, around fire pits, or in solariums before starting the hot-cold-relaxation cycle all over again.
Phones are banned in the spa and people are very good at keeping silent. Some guests bring books to read in the relaxation areas, others fall asleep or just rest by doing nothing but staring into space. When hunger strikes there is a little cafe where you can purchase drinks and food (all in your bathrobe), so you never have to leave this bubble of joy.
Make a reservation to have access to the entire spa. Included in the reservation is two bath towels, a bathrobe, and a padlock for the locker. The price of a reservation is around $100, but it changes depending on the day you wish to visit. Note that Scandinave Spa also offers massages at an additional price.
Where: 8010 Mons Road Whistler, BC, V8E 1K7. Scandinave Spa is two miles outside of Whistler Village, but your hotel shuttle should take you there if you don't want to walk.
Enjoy the mountains without breaking a sweat in the Peak 2 Peak Gondola
The concept of the Peak 2 Peak Gondola is simple. You hop in a gondola that takes you up the ski slope (either up Whistler Mountain in Whistler Village for 25 minutes, or up Blackcomb Mountain in Upper Village for 18 minutes depending on your choice and what's open at the time of your visit). Once up the ski slope, you get into another gondola that links the two mountains. Yes, that means you're dangling in between two giant peaks (7160 feet elevation for Whistler Peak and 7494 feet elevation for Blackcomb Peak) for 11 minutes, so maybe this isn't the best option if you're scared of heights. Once on the other side, you ride down the mountain you are on in its corresponding gondola. The views are expectedly gorgeous, and they'd better be because it will cost you about $60 per person to see them. There's a restaurant on each peak so you can have a drink and a meal and take in the view. Make sure to check the Peak 2 Peak Gondola's website for specifics at the time of your visit and ensure it's running.
Walk the flat trails around whistler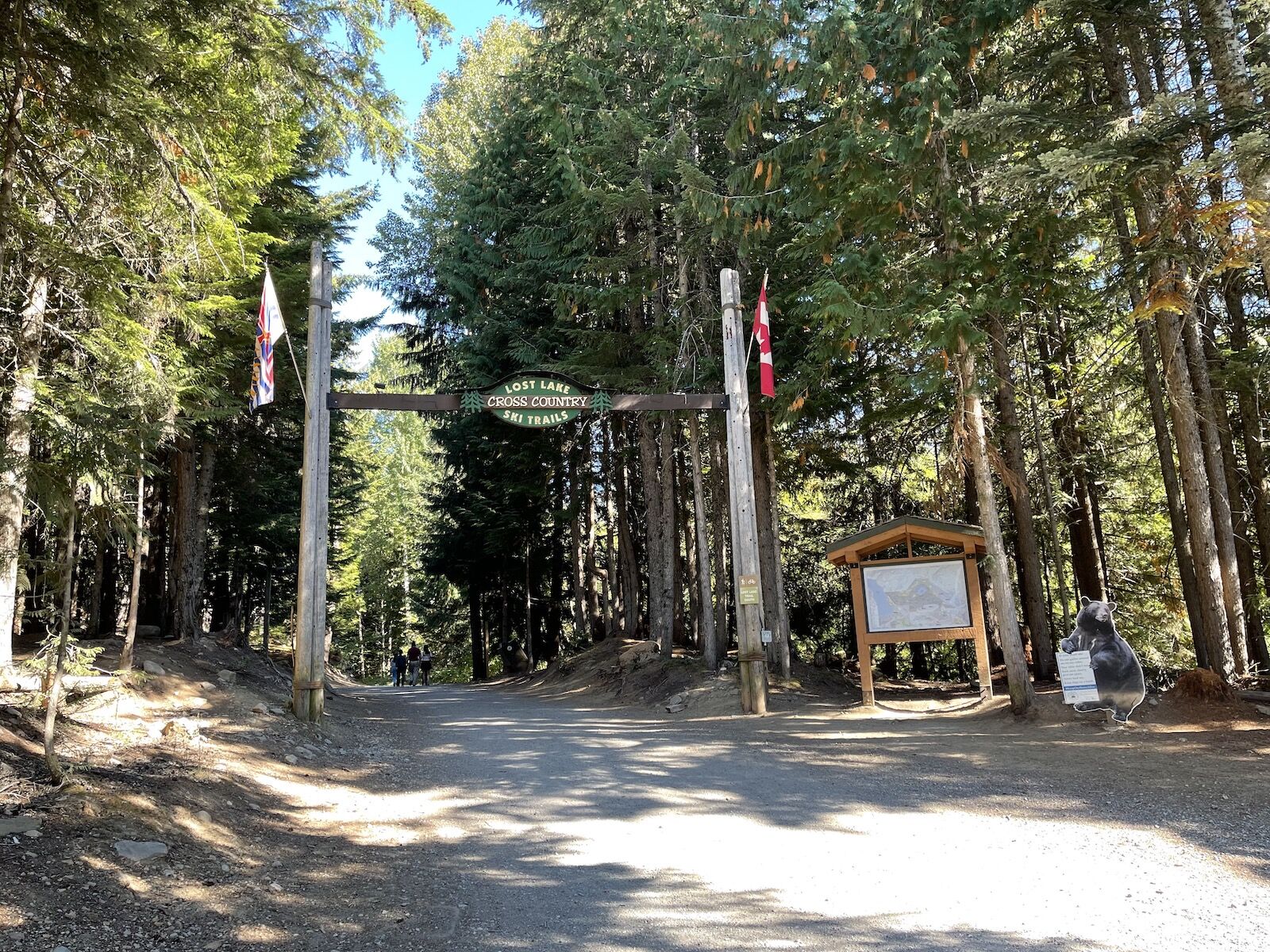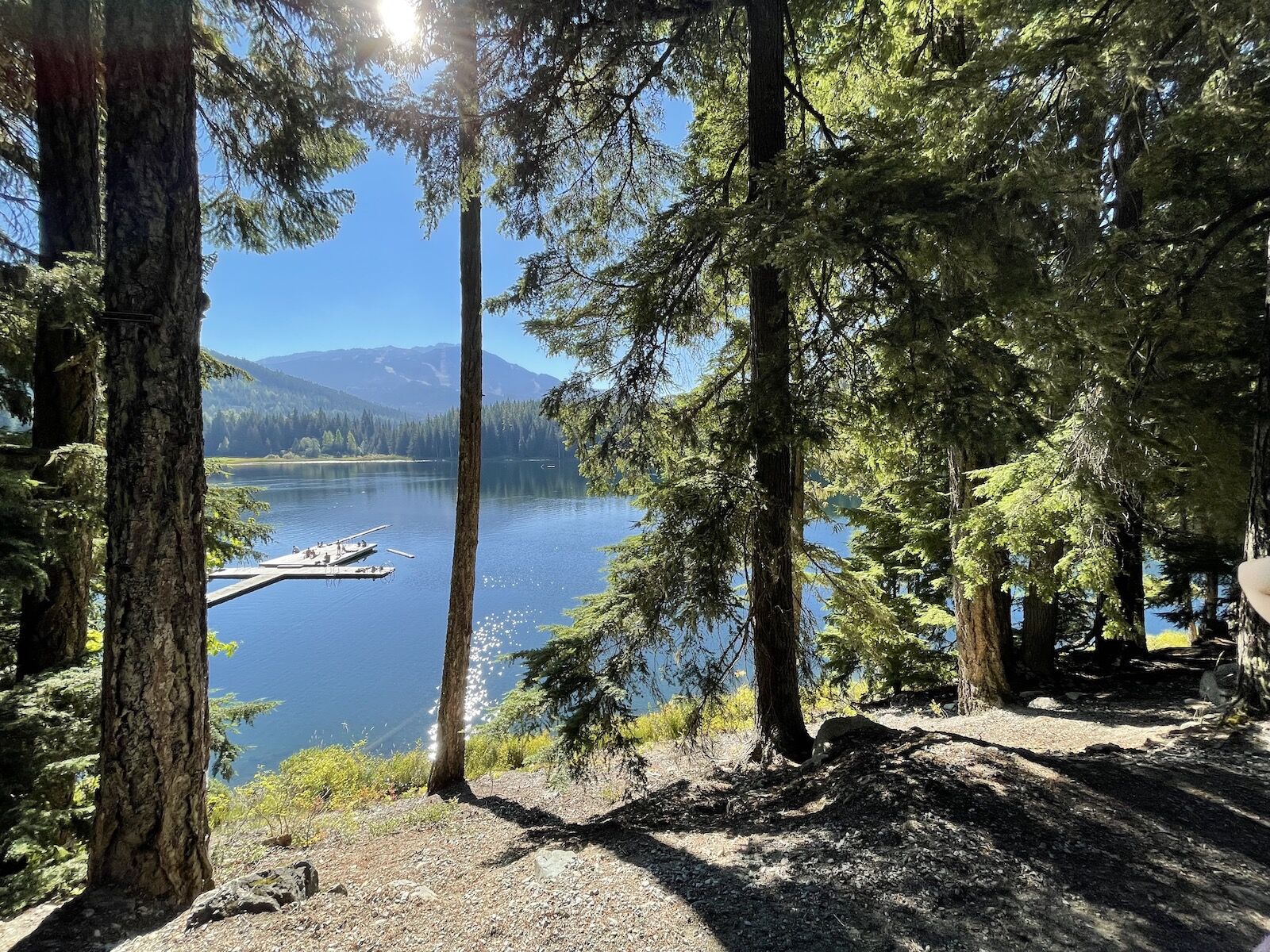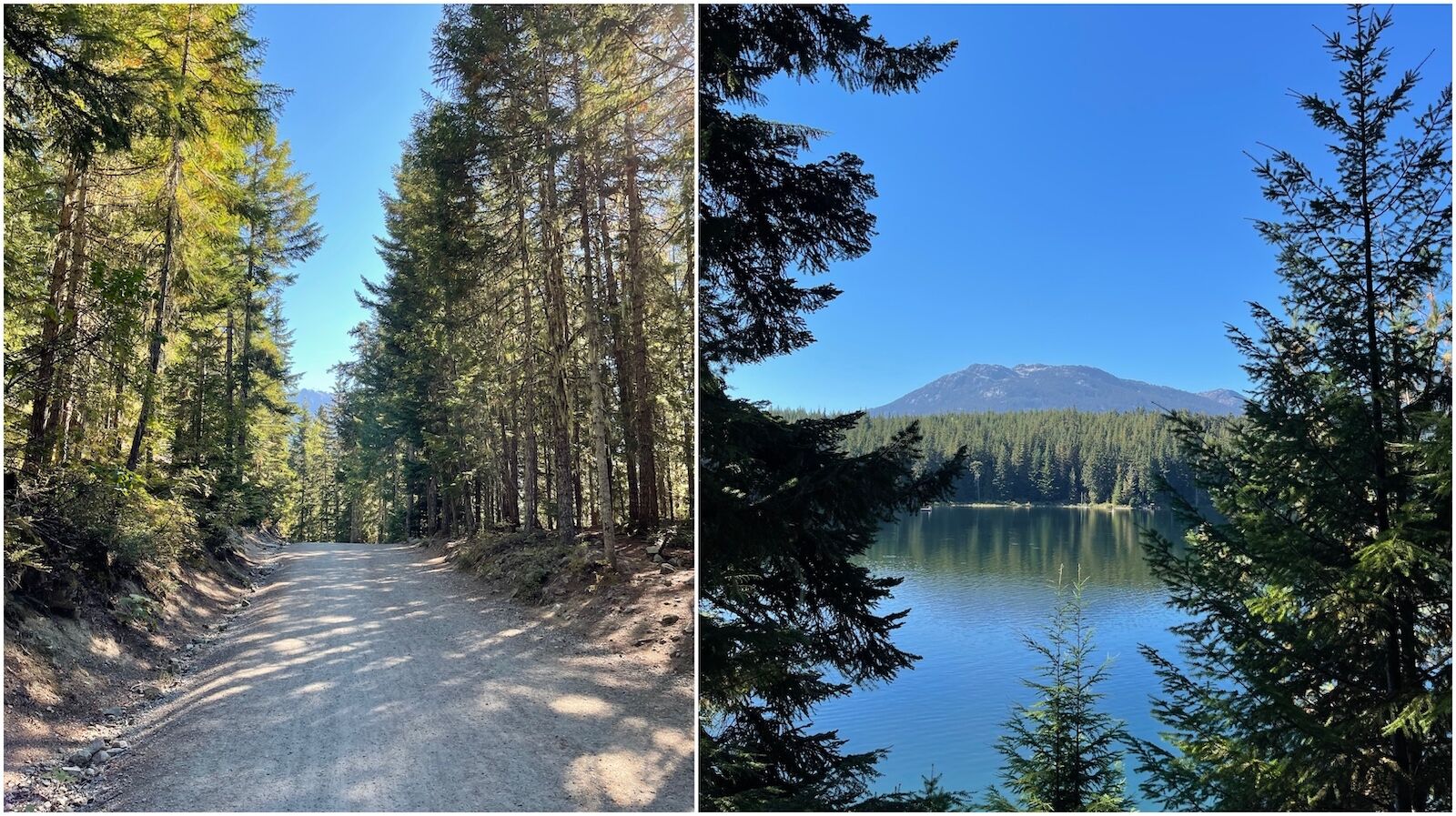 The Lost Lake Trails that link Whistler Village to Scandinave Spa, among other spots, are flat and scenic — perfect for an easy walk with lake and forest views. You certainly won't get tired after meandering on those trails, but you'll have seen some beautiful spots like Lost Lake and its beach where you can swim. There are signs everywhere indicating the length of the trail and where it leads. If you choose to go for the Lost Lake Loop, it's a 3.1-mile walk.
Attend the most magical light show you've ever seen
If there's only one thing you need to do during your time in Whistler, it's going to see Vallea Lumina. While it's advertised as a multimedia night walk, I prefer to call it the most magical walk in the forest you'll ever take. Set in the woods of Cougar Mountain (don't be scared away by the name), the light show centers around the story of two hikers, a young girl and her grandpa who got lost while hiking in the forest. As you follow the trail and the several stations set along it, you slowly learn what happened to the pair. Far from being scary, the walk and the story, told with music and light, transport you somewhere fantastical that may just bring tears to your eyes.
Vallea Lumina is a 15-minute car ride from the village, but you don't have to drive. There's a free shuttle that leaves the Whistler bus station (called Gateway Loop) to take you there.
Note that because Vallea Mumina is outdoors and at night, you should bring some warm clothes with you for the 1.5 to two hours you'll be there. Also, while not strenuous, the trail is uneven, there are some stairs, and it's not all flat, so people with mobility issues might find it difficult or need more time to complete the circuit.
To make it even better, Vallea Lumina is reasonably priced: $25 from June to October and $22 November to April. Book your ticket in advance.
Where to eat and drink in Whistler, Canada
Breakfast
For a light, fruit-based breakfast, head to one of the several smoothie and juice places in Whistler, including Freshii (cheap), Hundo-P (great flavors on offers), and The Green Mustache (pricey but organic). All are located within the village.

Freshii: 4295 Blackcomb Way, Whistler, BC, V0N1B4

Hundo-P: 4211 Sunshine Pl, Whistler, BC, V0N 1B0

The Green Mustache: 122-4340 Lorimer Road, Whistler, BC, V8E 1A5
If it's good coffee and buttery pastries you're craving, head to Purebread, a family bakery established in Whistler that now has six locations in the region. There are dozens of delicious options, from almond croissants to blueberry and custard danishes, and the coffee is excellent (note that they don't serve decaf.) It's affordable and the quality is top-notch.

Purebread:4338 Main St #122, Whistler, BC, V0N 1B4
Lunch or dinner
If it's cheap stuff you're after, you can grab pizza by the slice at Avalanche pizza for just $2.90. It's probably the most affordable meal you can get in Whistler, so if you're short on cash, this is the place to hit.

Avalanche Pizza: 4320 Gate Way Dr UNIT #104, Whistler, BC, V8E 0Z8
The best value for money in Whistler, and one of the tastiest options, is La Cantina, a Mexican restaurant that has tacos, burritos, quesadillas, salads and more on the menu. Perfect for those with a large appetite, including vegans, La Cantina packs in the flavors and is very affordable.

La Cantina: 129-4340 Lorimer Rd, Whistler, BC, V0N 1B4 and 7015 Nesters Rd #209, Whistler, BC, V0N 1B7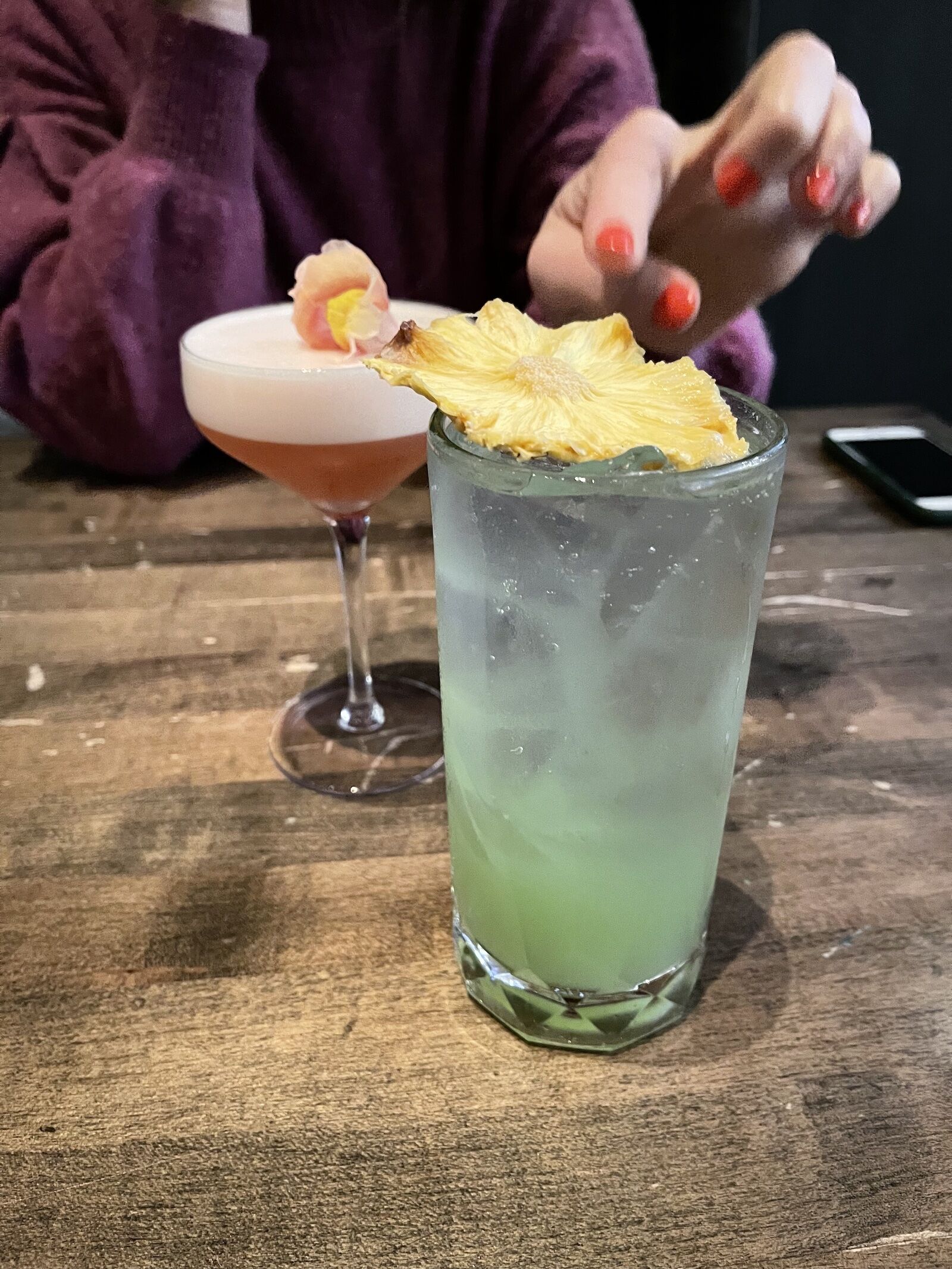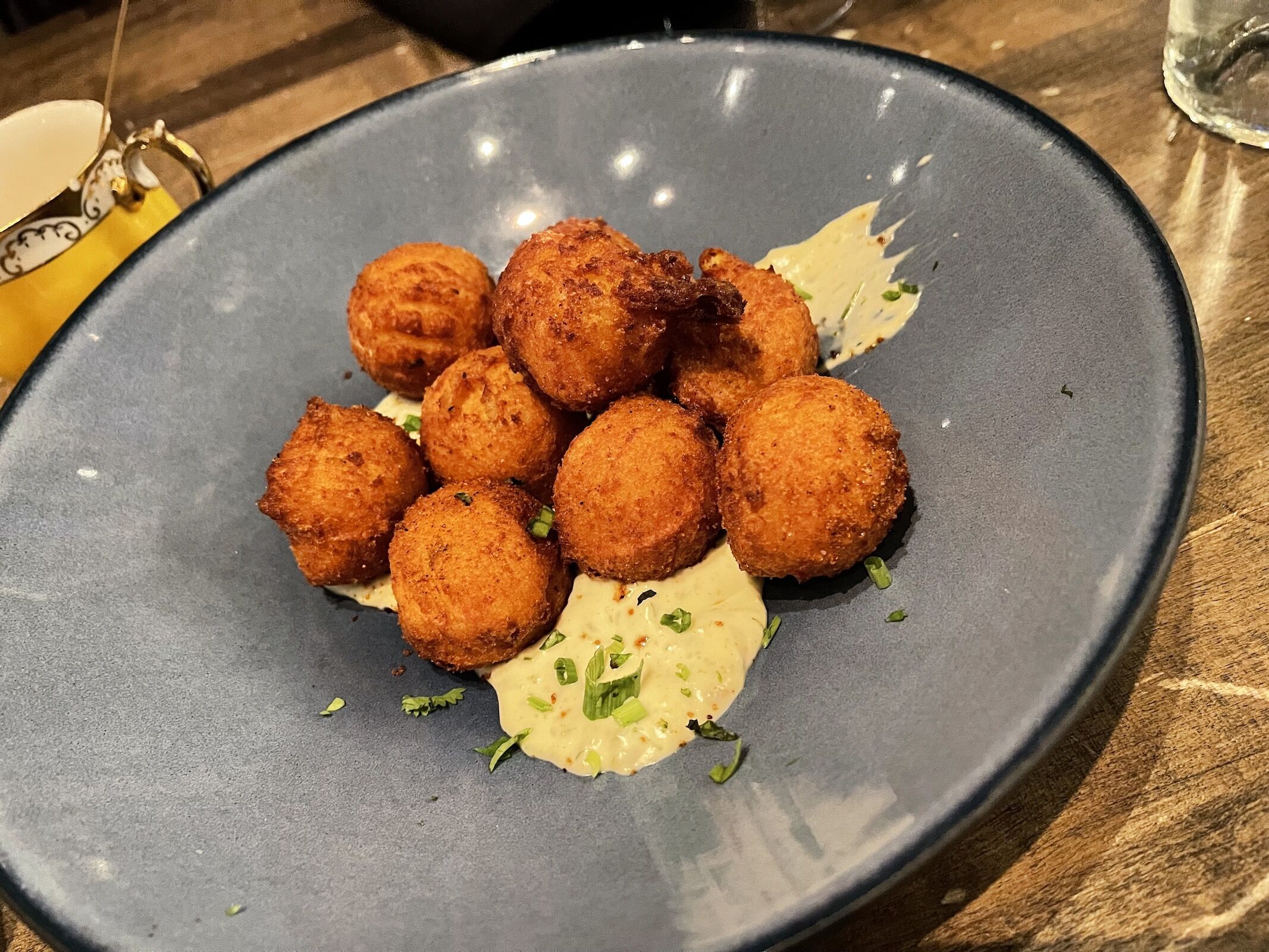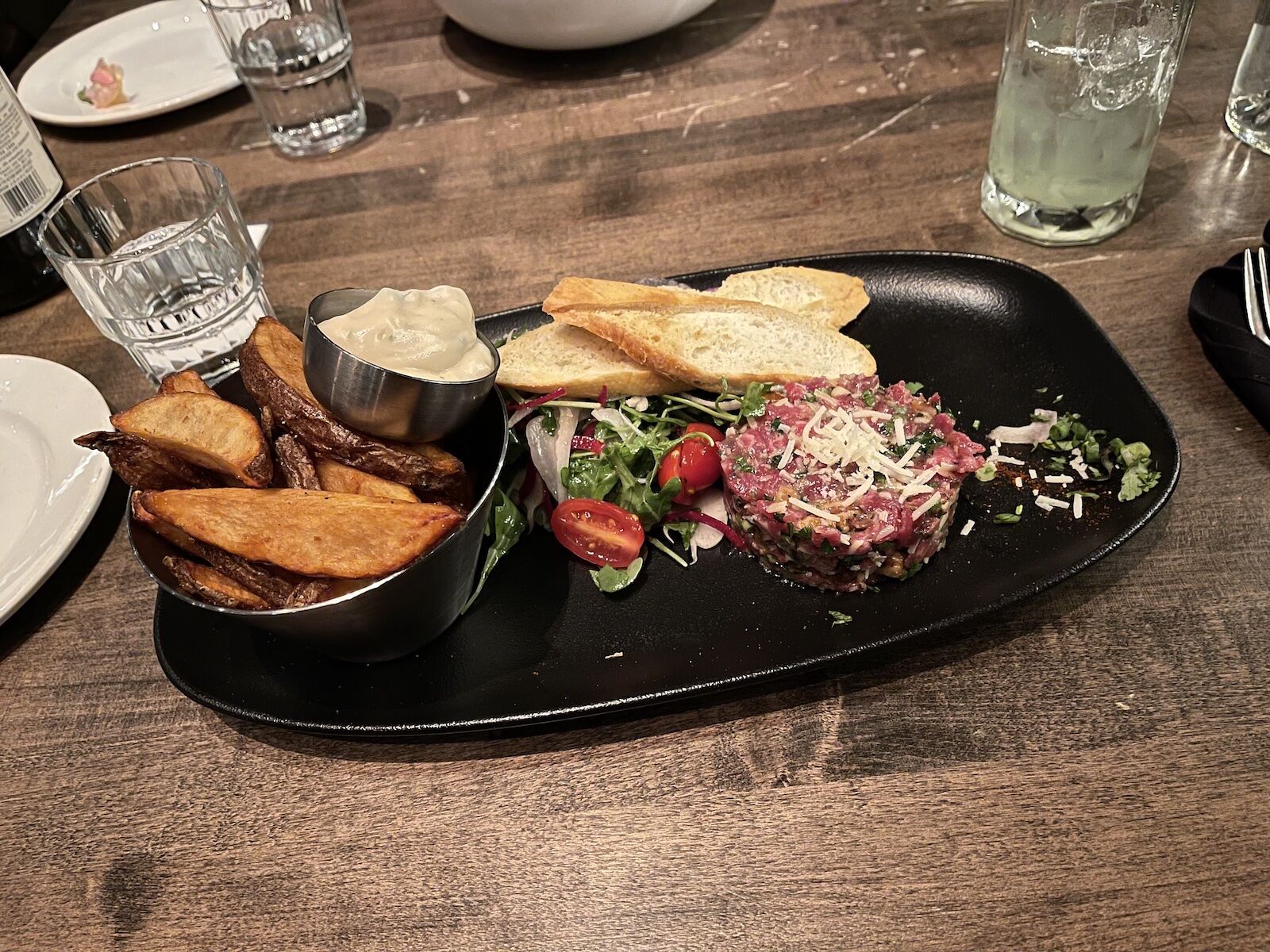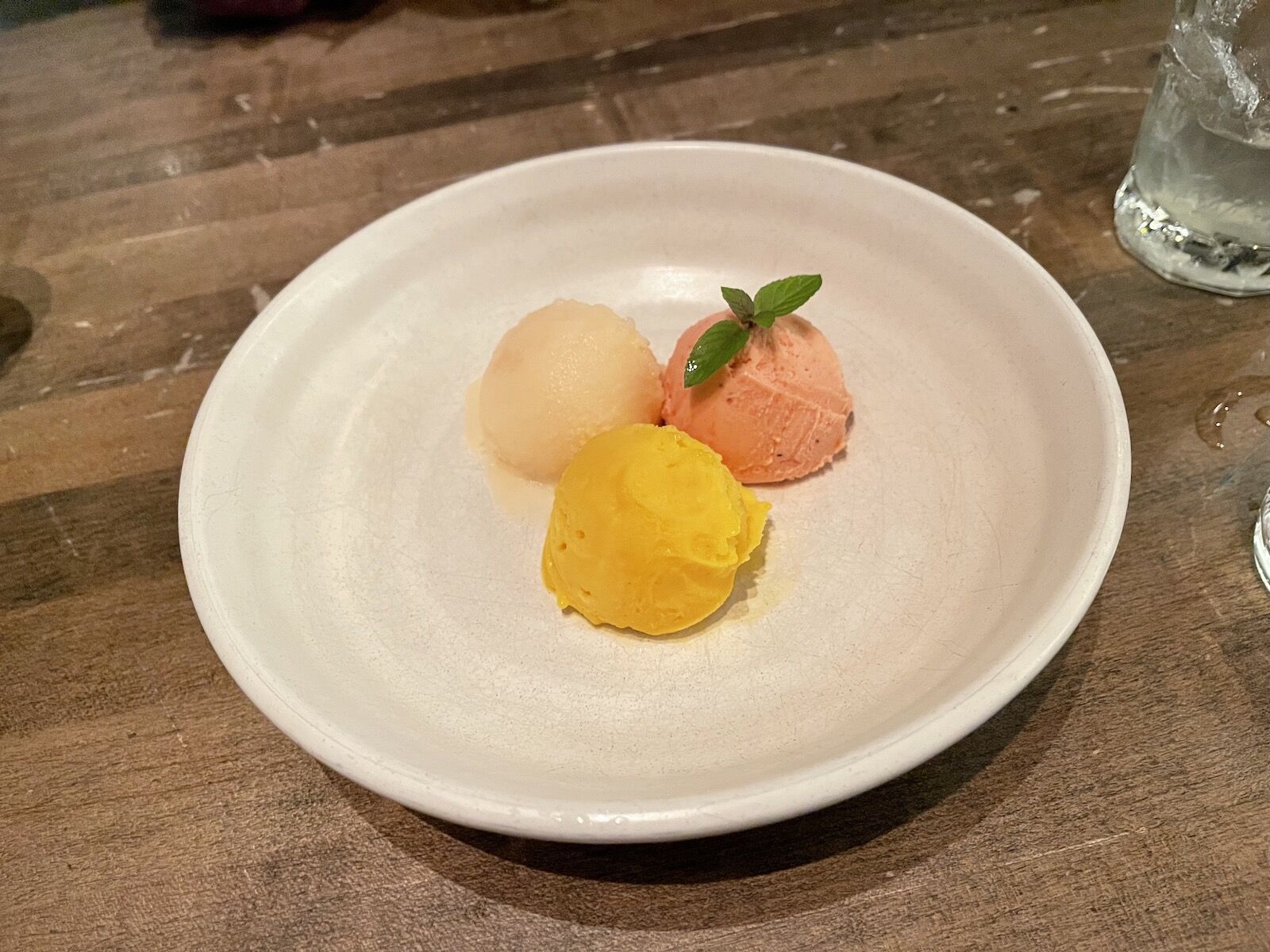 For something a little more upscale but still reasonable, head to The Raven's Room. Their specialty are cocktails (the bar is impressive), but if you don't drink alcohol they'll make you a delicious virgin anything — all you need to do is ask. With your drinks, ask for a plate of potato puffs, crispy mashed potato balls with roasted jalapeño ranch dip. For the main, if you're a meat-eater, there's a yummy beef tenderloin tartare, and if you're a vegan, go for the Vietnamese noodle bowl. Note that the portions are large, so pace yourself. For desert, try out the sorbet trio — the prosecco scoop is a delicious surprise.

The Raven's Room: 4299 Blackcomb Way, Whistler, BC, V0N 1B4
Where to stay in Whistler, Canada
We hope you love the hotel we recommend in Whistler! Just so you know, Matador may collect a small commission from the links on this page if you decide to book a stay. Listed prices are accurate as of the time of publication.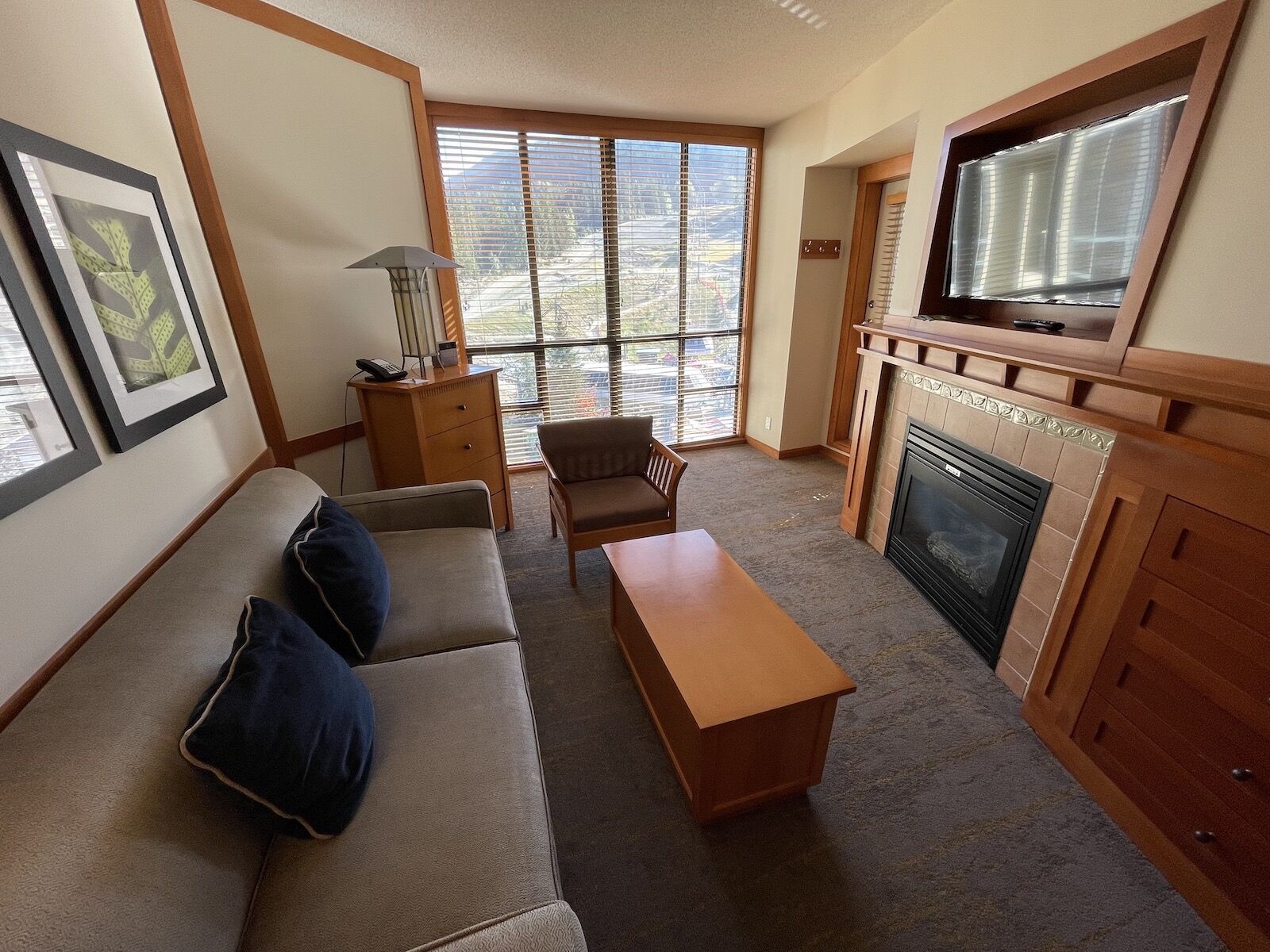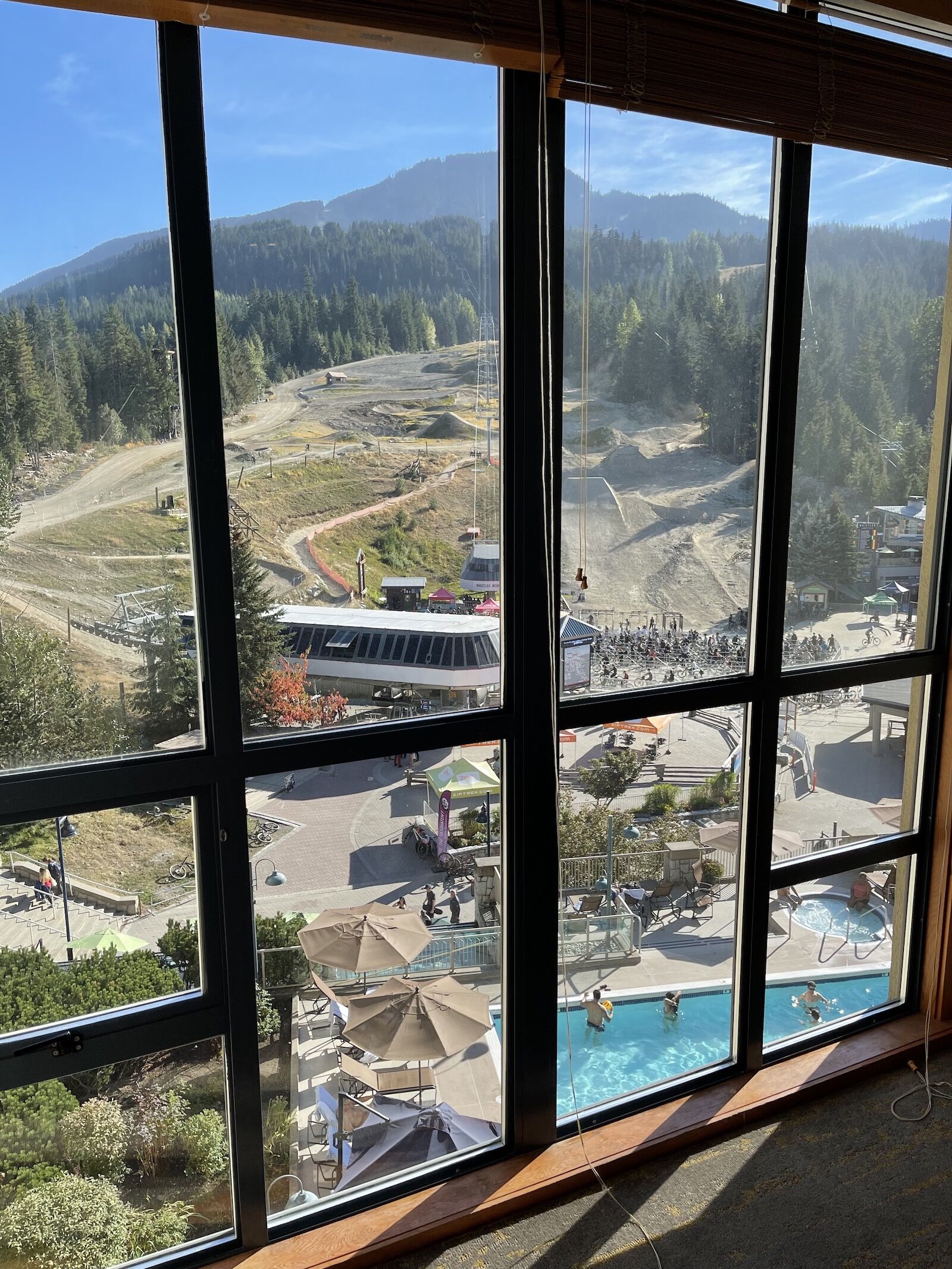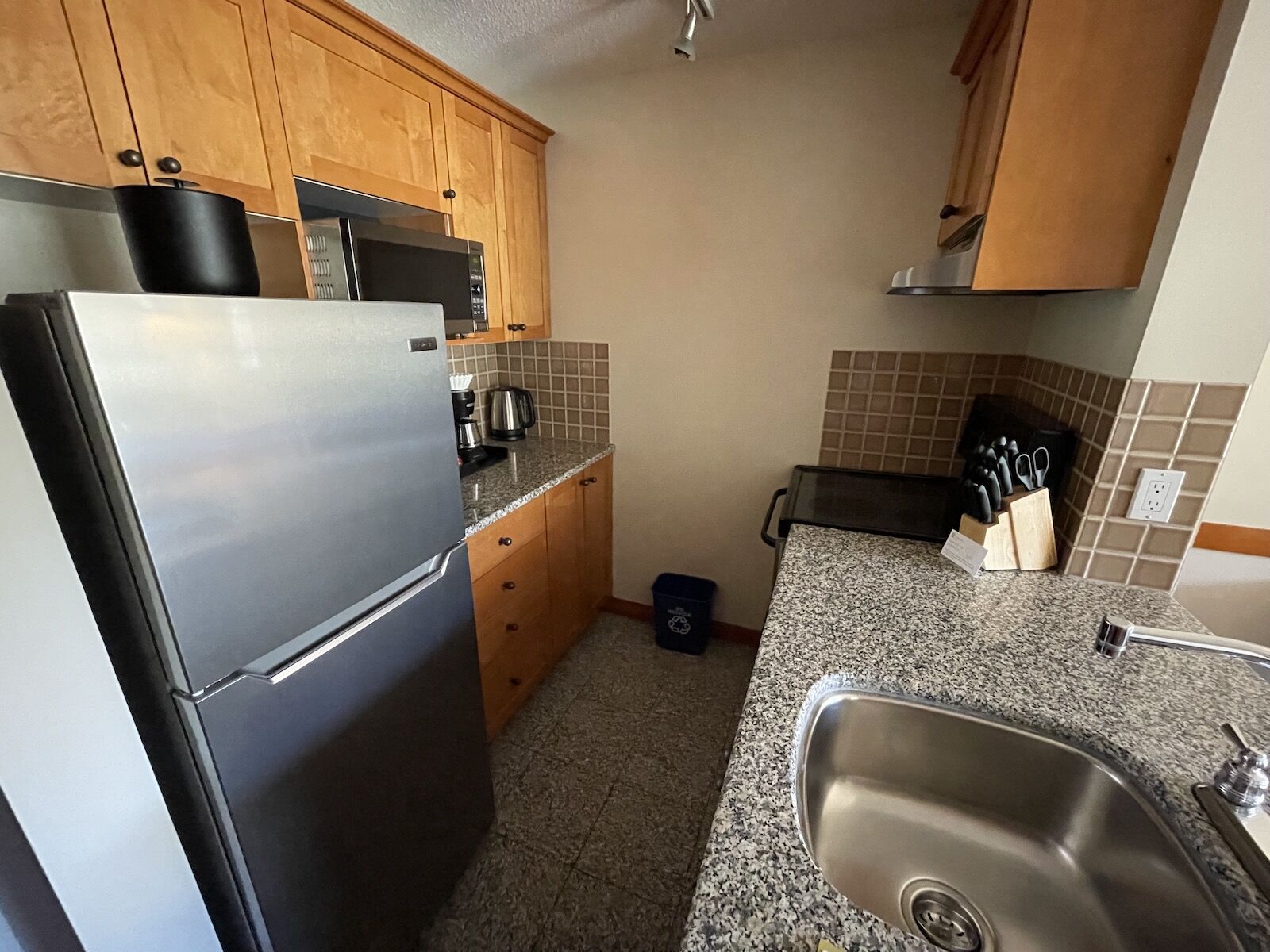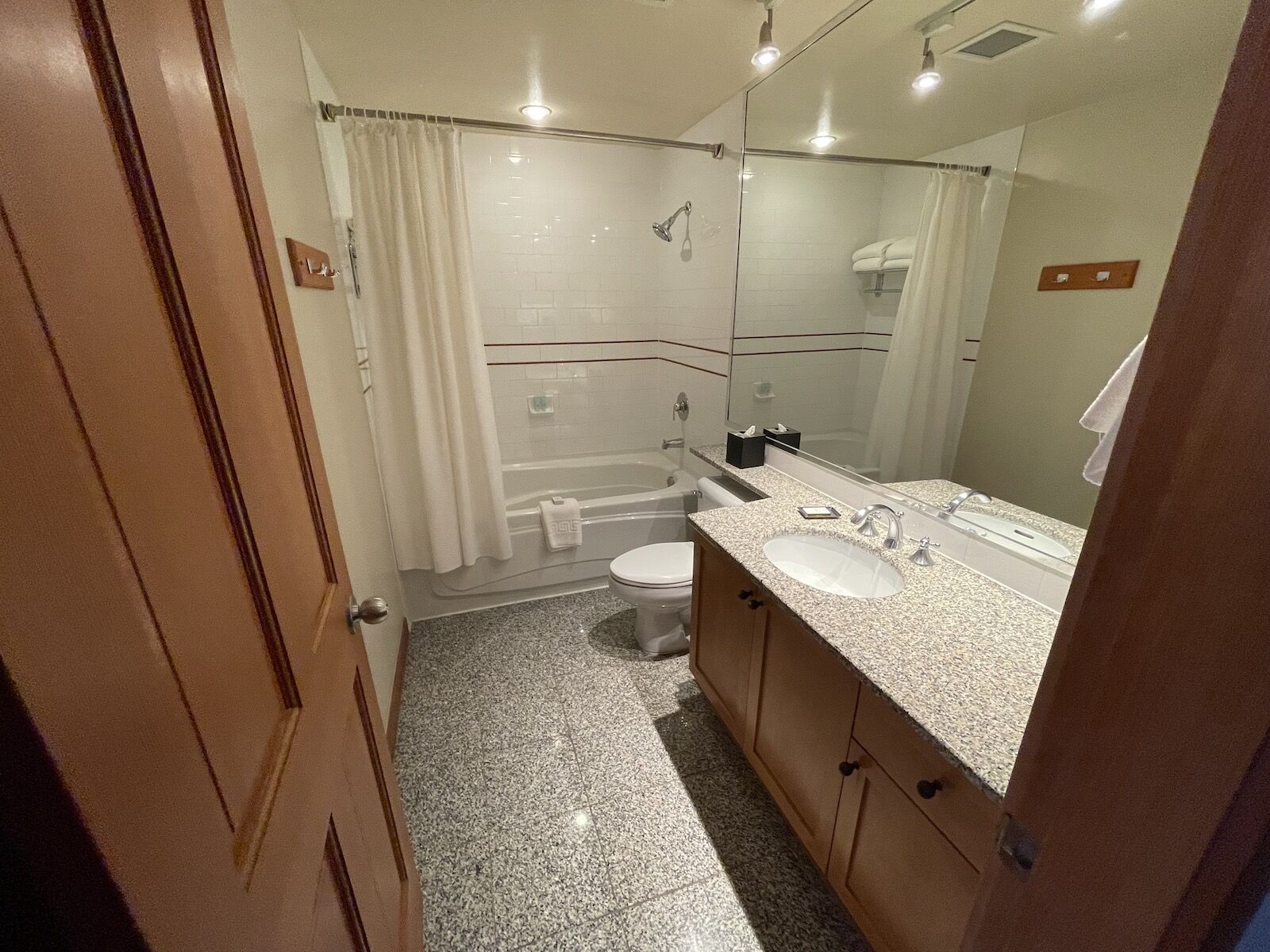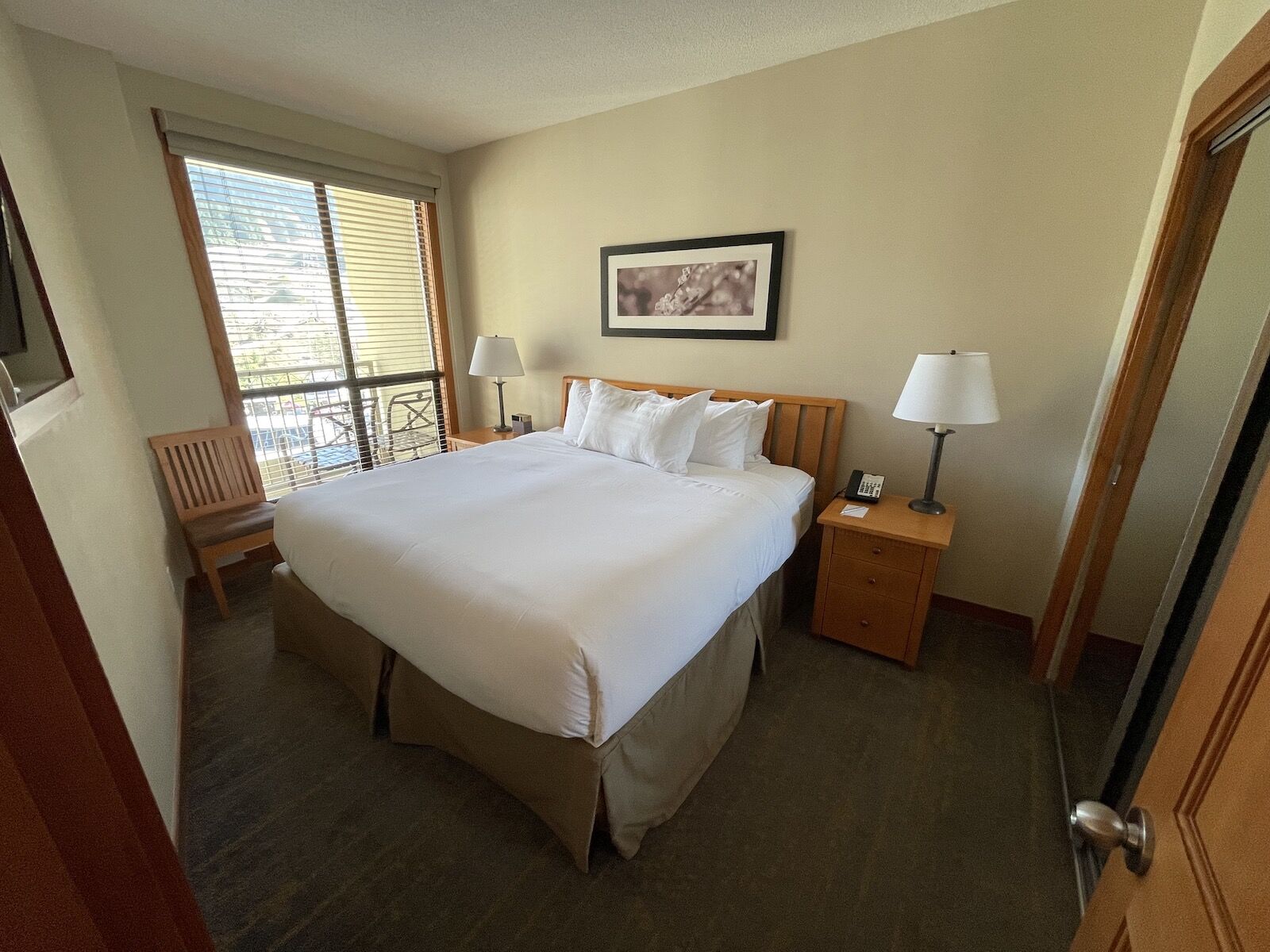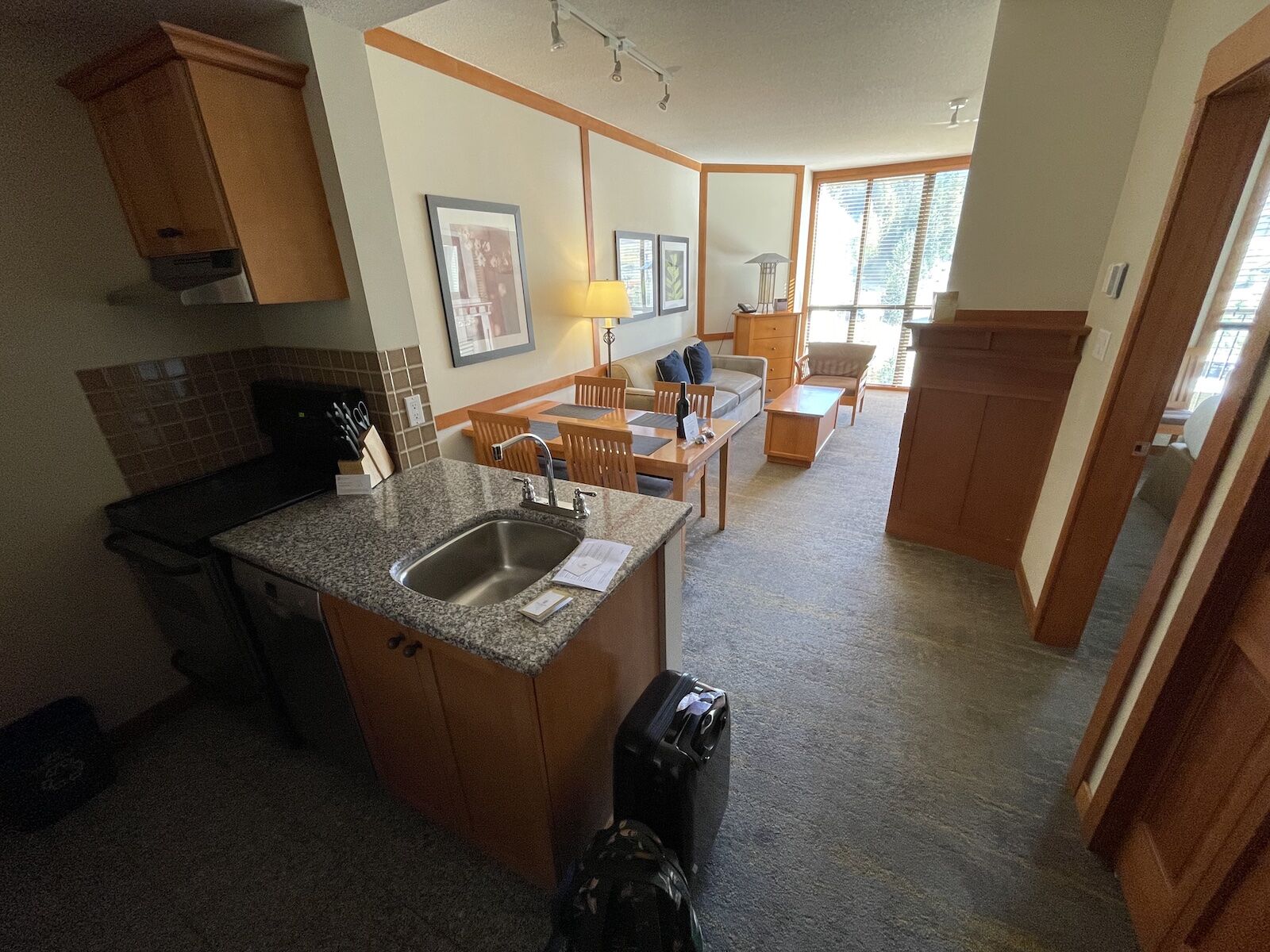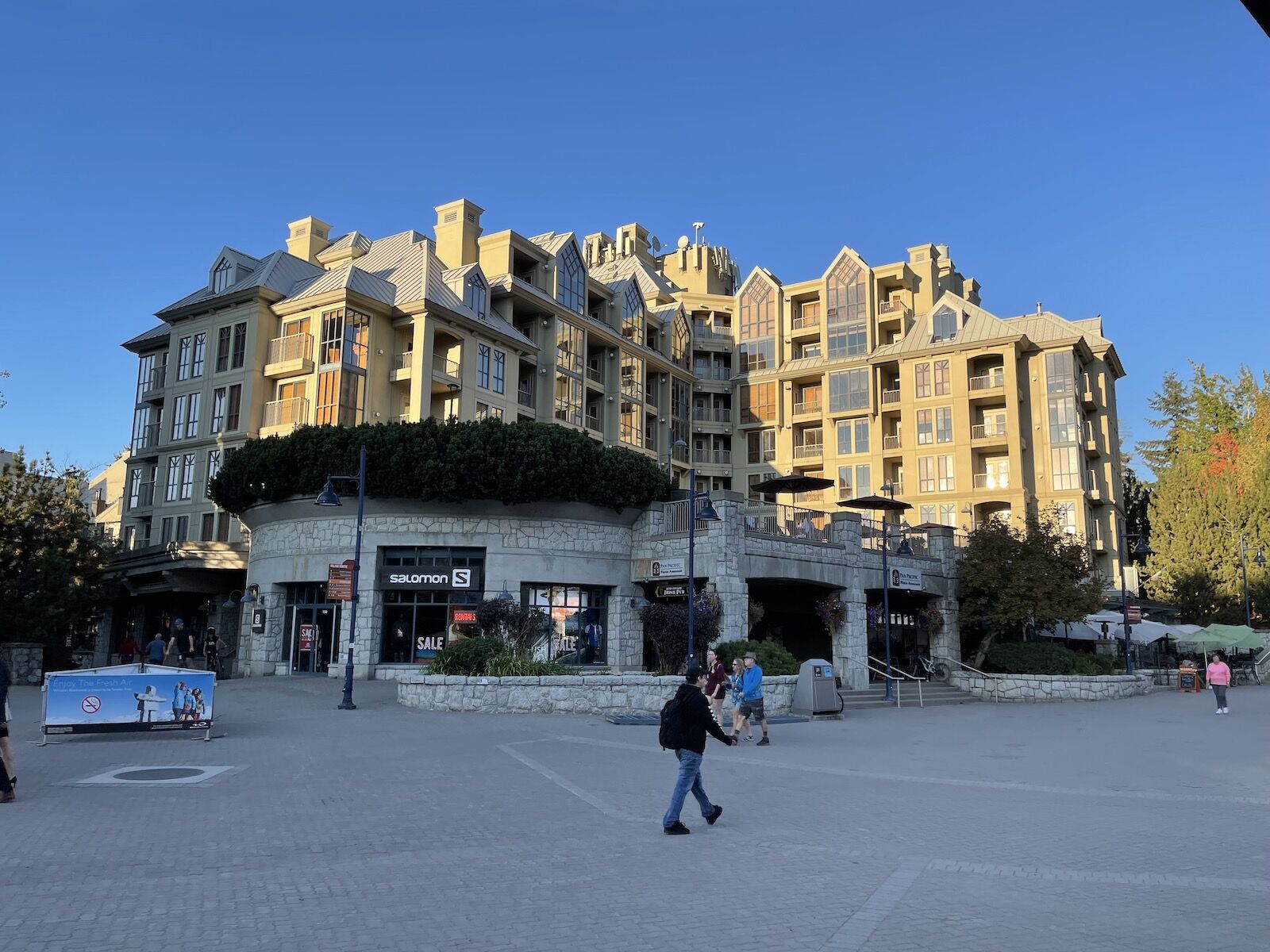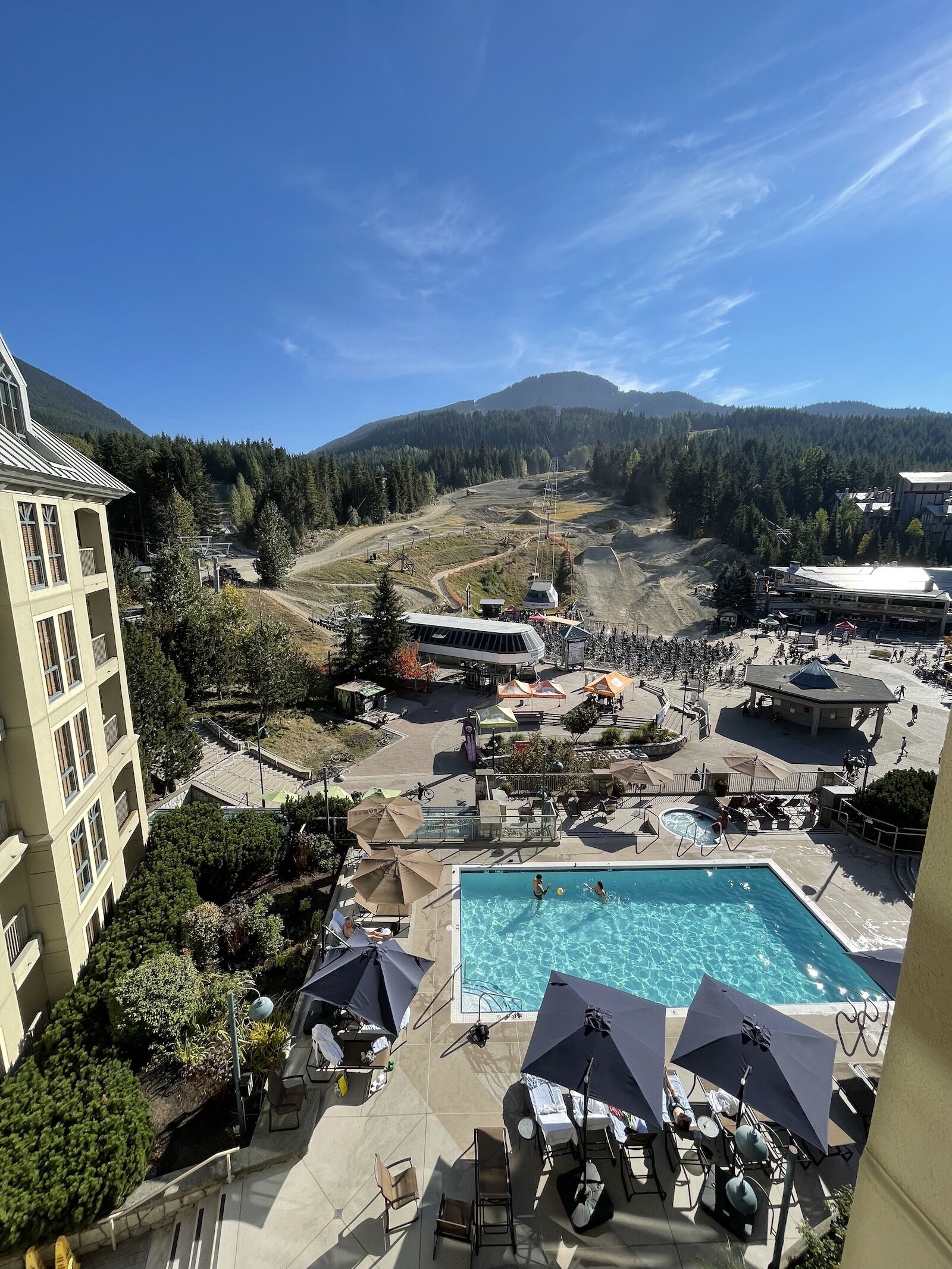 Whistler is full of hotels, many of them very luxurious and very expensive. While having all the amenities of a luxury hotel, and the absolute best location in Whistler Village, the Pan Pacific Whistler Mountainside is surprisingly affordable. A mountain-view suite fitted with a sitting room, a well-appointed kitchen, a large bathroom, a bedroom with a king-size bed, and a balcony is priced at only $263, which is a bargain for the amount of space and the unbelievable views you get — the hotel is at the foot of the ski slope. The Pan Pacific Whistler Mountainside has a heated saltwater pool and a couple of hot tubs from where you can see all the outdoors enthusiasts waiting for the ski lift while you soak. There's also a Eucalyptus steam room near the fitness center, which you can use even if you never stepped on the treadmill. The shuttle service is free and very convenient if you want to go to Scandinave Spa or Green Lake, for example. The Pan Pacific Whistler Mountainside has even cheaper rooms, starting at $170 for a lower-floor studio suite with a Murphy bed.
Pan Pacific Whistler Mountainside: 4320 Sundial Crescent, Whistler, BC, V8E 1G6