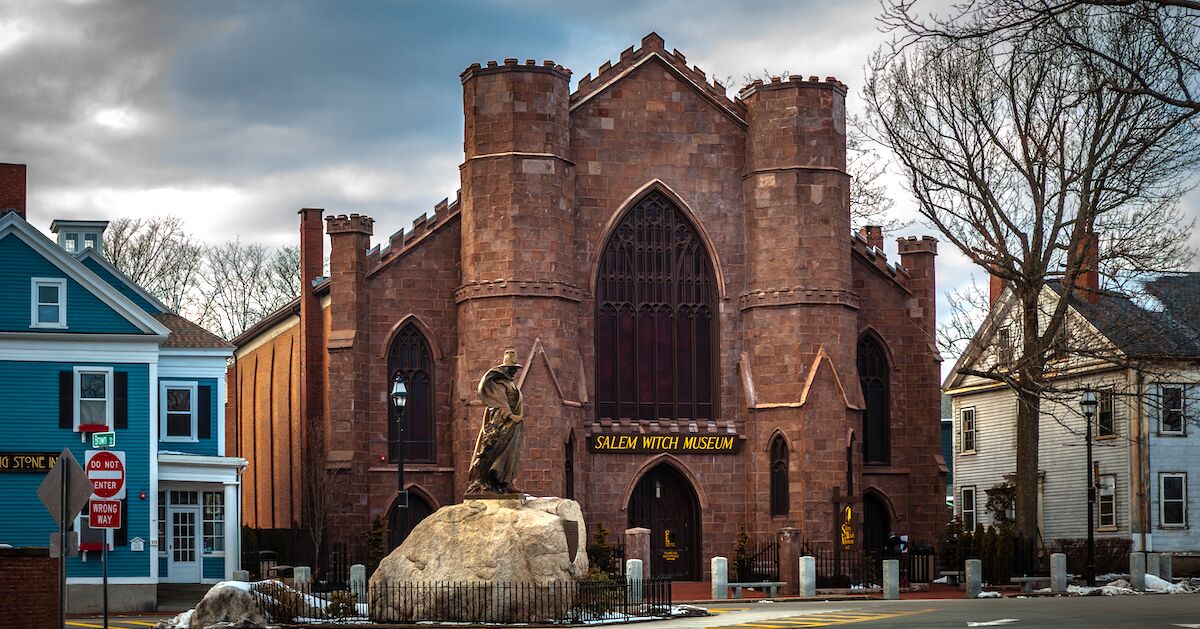 If you were asked to name just one town in the United States that's associated with magic, there's a good chance that Salem, Massachusetts, comes to mind. The town of about 43,000 people is well known for the Salem witch trials and a turbulent history dating back to 1626 when the town was founded. Today, it's become a tourism destination — especially in October around Halloween and for people looking for a day trip from Boston. There are many things to do in Salem for every type of traveler, whether you're a history buff, interested in modern magic, or just want to take a small-town escape in the Northeast.
The best things to do in Salem, Massachusetts
Visit the Salem Witch Trials Memorial and witch museums
The memorial is located at the end of Charter Street, in a small park surrounded by trees. This single stone sculpture of two witches on broomsticks has an inscription that reads, "In memory of those who suffered due to false accusations of witchcraft." It honors the 20 people who were put on bogus trial and killed in 1692. A bench for each victim has the name, how they were executed, and the exact date of their death along with direct quotes from court transcripts.
Unsurprisingly, there's no shortage of witch-themed museums to visit in Salem. At the Witch History Museum, a live presentation kicks of tours of the forest and Old Salem village. The Salem Witch Museum has historical presentations about the trials and the modern day witch.
Live what life was like in 1630
While going back in time to actually live in 1630 would be disastrous, it's a different story when you get to stop by Pioneer Village to just see what life was like back then. Pioneer Village is the oldest living history museum in the US, and you can chat with staff and living history actors on self-guided tours.
Go to the Witch House
Though history is everywhere you look in Salem, only one has direct ties to the infamous witch trials: the Witch House, owned in the 17th century by Judge Jonathon Corwin. Take a self-guided tour where you can talk to staff who can provide more insight into specific parts of the former home. Just note that you have to purchase tickets in advance.
Take a haunted tour
Maybe you've taken similar tours in other cities and know what really goes on during a ghost tour. Things just hit different in Salem. There is a long list of options to choose from, including Salem Ghosts (pub crawls as well as ghost and daytime tours), historian-led tours with Bewitched, nightly Haunt and History tours, two-hour walking tours, and the Forest Lore Tour that takes you away from the city and into the woods.
Participate in a witch trial reenactment
While a lot can be learned from reading plaques and visiting museums, few things match the experience of a live reenactment. One of the women were who sentenced to death, Bridge Bishop, lives on through the trial reenactment in Derby Square called Cry Innocent.
Visit a magic shop
Take some of Salem's magic history with you back home after getting a taste of the events that gave Salem its reputation. At Pentagram: Witchcraft and Magick Shoppe, you can purchase things like pentagram wood carvings and rings, magic oils, books on paganism and divination, and a whole load of other magic-related items. The Witchery has workshops where you can build your own spell book or dream journal complete with custom binding and charms.
Take a boat tour
While witches get most of the fame in Salem, the town also has a rich seafaring history. Experience the modern day version for yourself on a tour that gets you out on the water. Bakers Island Light Station tours on the Naumkeag run seasonally to see the lighthouse there, or you can take a ride on the schooner Fame to see the ships popular in the 17th and 18th centuries. Looking for an ocean experience that's more landbound? Stop by the Salem Maritime National Historic Site to learn more about the town's shipping history or the Pirate Museum for something a little more lawless.
Tour the House of Seven Gables
This house on Salem Harbor was built by the Turner family in 1668, and has had an illustrious history since then. The House of the Seven Gables is the same one made famous by Nathaniel Hawthorne's 1851 novel and was designated a National Historic Landmark District in 2007. Tours are available every day, with special events around Halloween.
Hit the beach
October isn't the only time to visit Salem. In warmer months, Winter Island Park has been a spot for beach activities like boating, fishing, swimming, and sunbathing for centuries (though visiting Waikiki Beach today is much different than it was in the Puritanical past). Note that parking for non-residents is $10 on weekdays and $15 on weekends.
Pay your respects at a cemetery
What's a visit to a ghostly town without a trip to the cemetery? Charter Street Cemetery is the town's oldest and was founded in 1637, and it's conveniently located next to the Witch Trials Memorial. Howard Street Cemetery is believed to be where Gile Corey was pressed to death during the 1692 Witch trials. On the other side of the spectrum, you can see the graves of the people who put the innocent victims to death at Broad Street Cemetery. Just look for the white obelisk that marks the grave of brothers George Corwin (High Sheriff of Essex County in 1692) and Jonathon Corwin (Witch House resident and trial magistrate).
Go to The Satanic Temple
Head to the Salem Art Gallery to see the headquarters of the famous Satanic Temple. This international, non-theistic organization has garnered its fair share of infamy thanks to the massive Baphomet statue out front, but you can get more than a picture if you visit in person. The gallery has art from The Satanic Temple's gallery, and occult library, and, of course, a gift shop. Check the website for seasonal exhibitions and features.
Stop for craft beer or cider
Notch Brewing started in 2010 and bills itself as the first brewery in the US to focus exclusively on session beer. That means you can count on there being an option to quench your thirst after all the walking tours you've done while still being able to continue on after. The Salem outpost has a biergarten with food and a rotating list of beers.
At Far From the Tree Cider, you can get a taste of true hard cider made from local apples made with respect to tradition. Full pours and to-go bottles are available at the downtown Salem taproom.

More like this