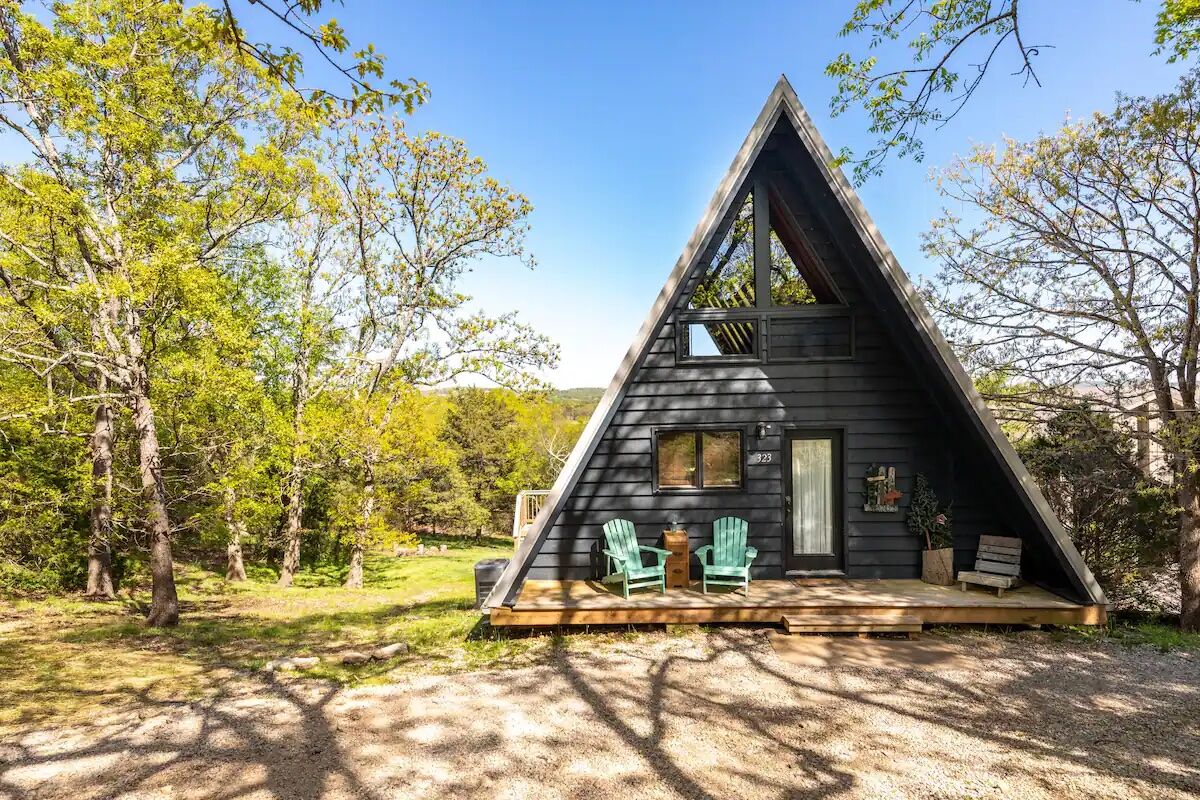 Ensconced within the Ozark Mountains in Southwest Missouri, Branson stuns with pristine nature and exciting attractions for all types of traveler. Spend days exploring Table Rock State Park and clinging on for dear life at the Silver Dollar City amusements before catching the equestrian spectacle at Dolly Parton's Stampede. Here are the best Airbnbs Branson, MO, that place you near the Landing and right on the cusp of Table Rock Lake.
Matador's

guides to

the best of Airbnb Categories:
We hope you love the Airbnbs in Branson, MO, we recommend! Just so you know, Matador may collect a small commission from the links on this page if you decide to book a stay. Listed prices are accurate as of the time of publication.
Airbnbs in Branson on the lake
New treehouse at Indian Point with an amazing lake view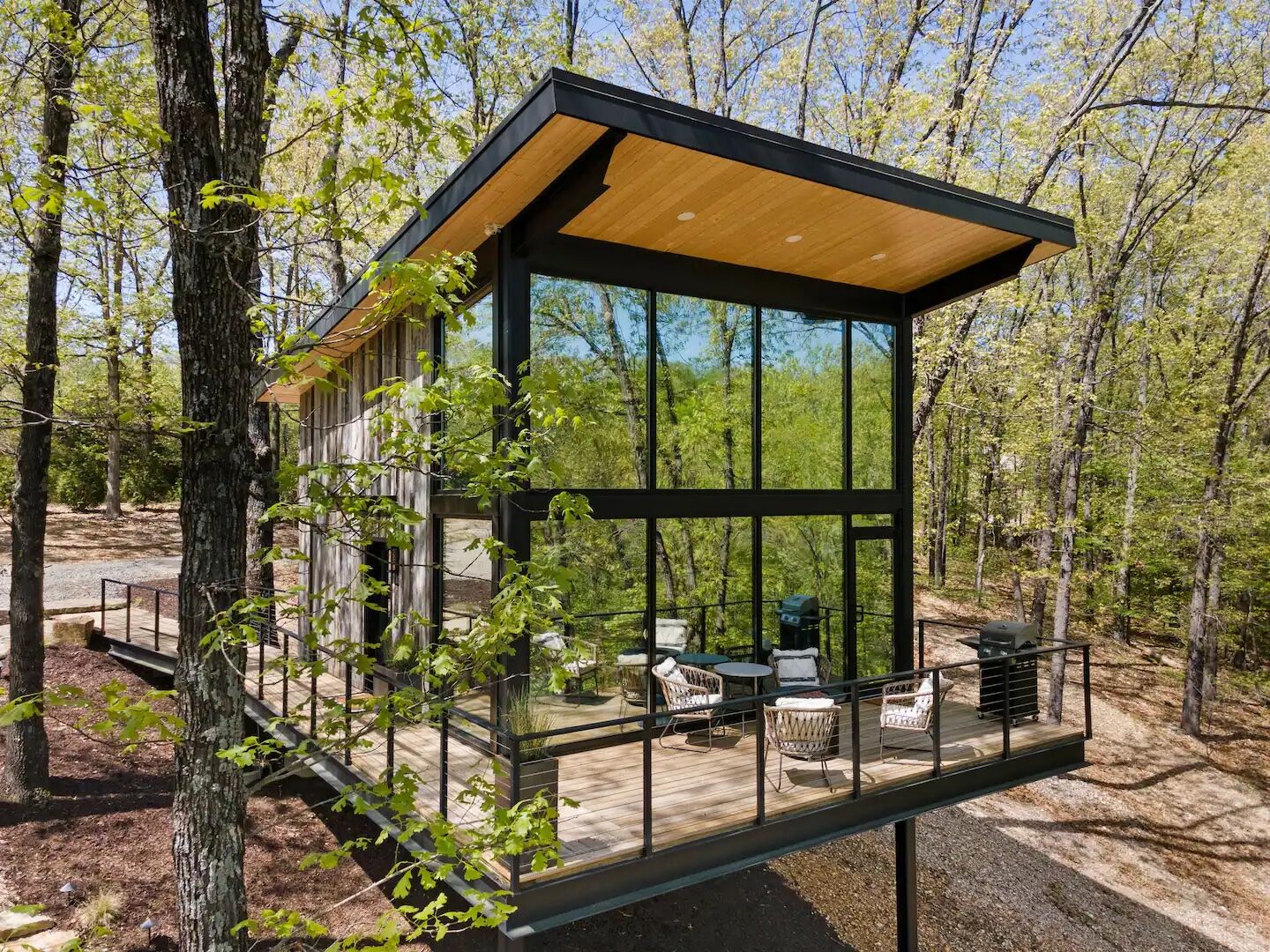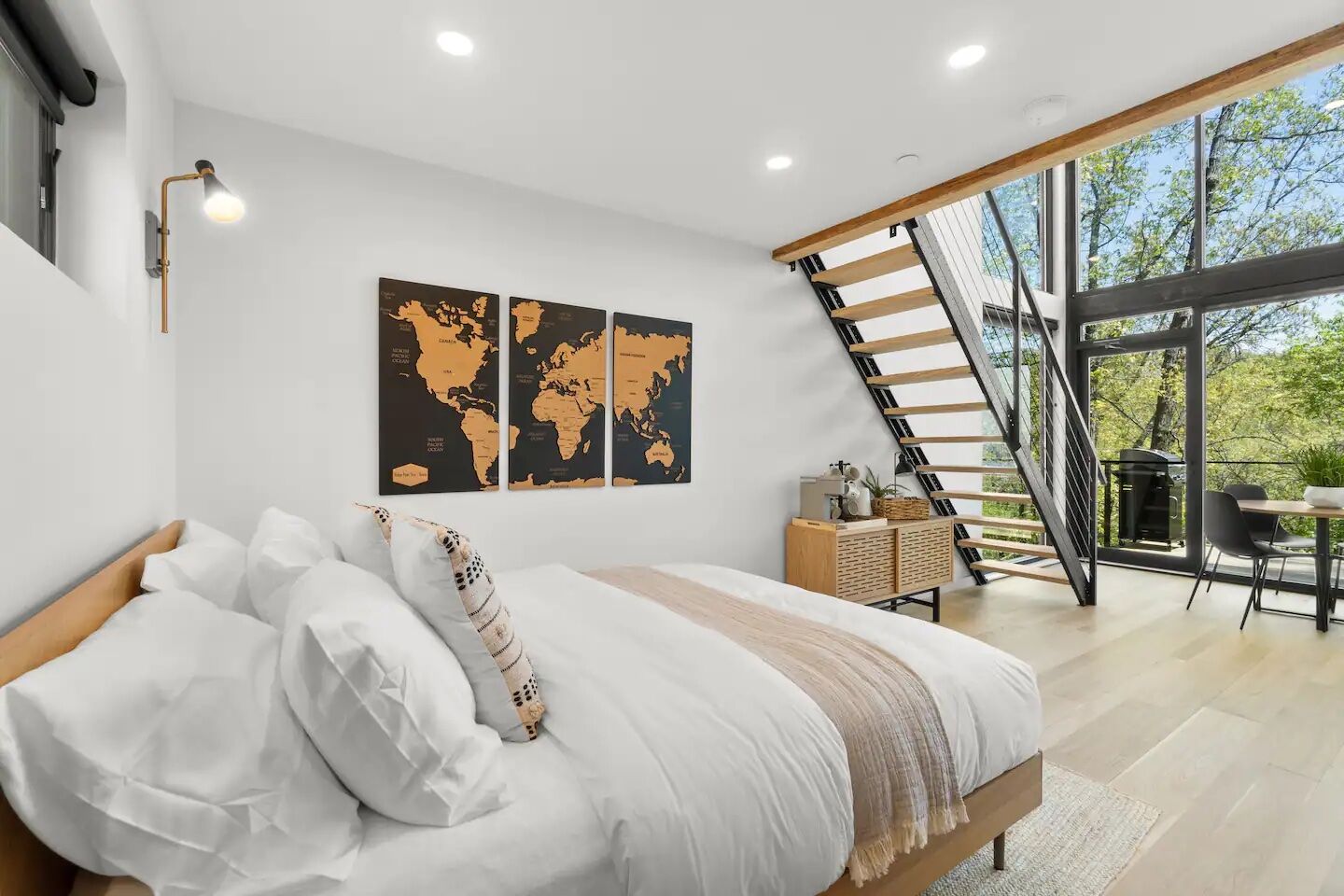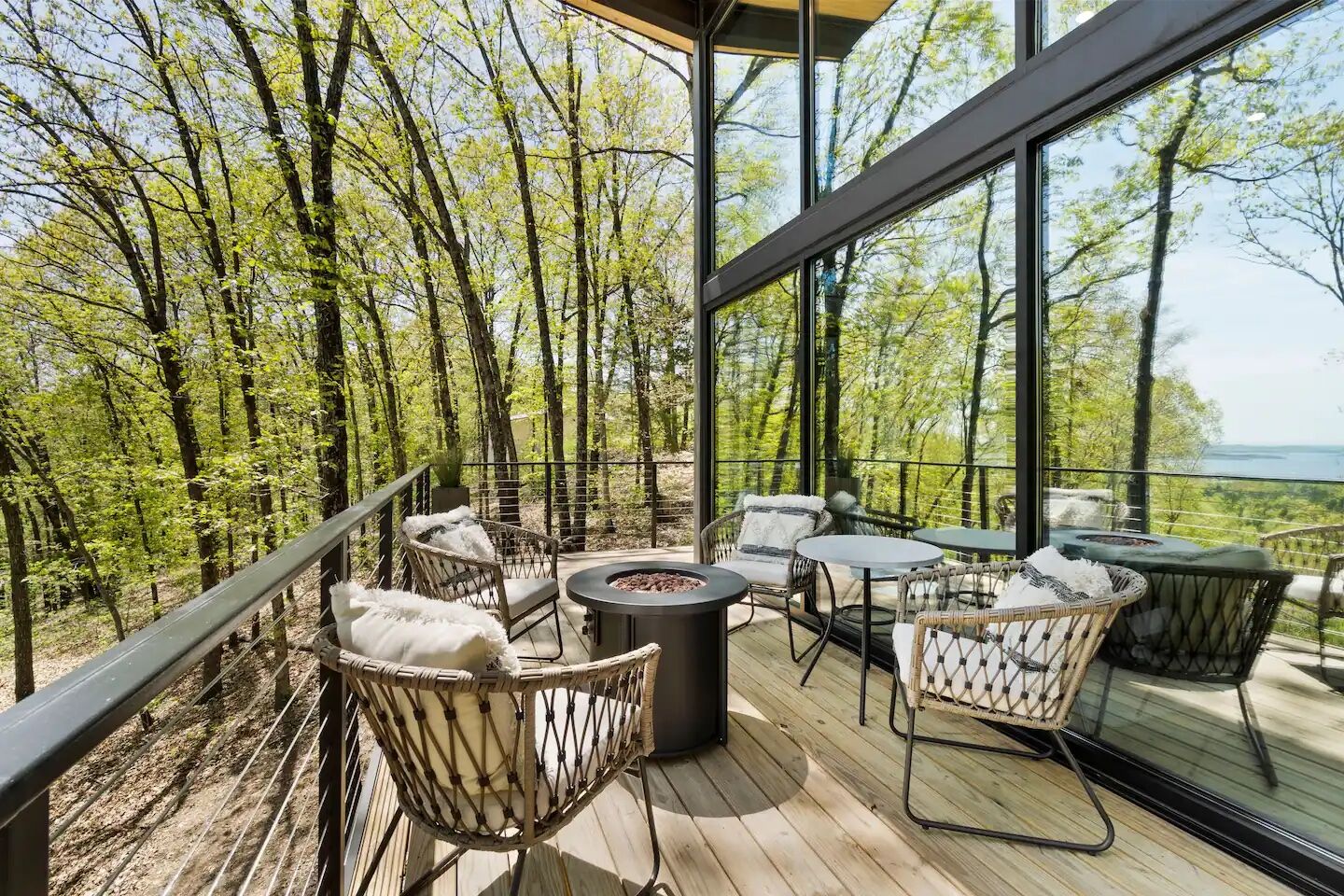 This custom-built treehouse in Branson, MO, Airbnb on the lake is camouflaged among the pine trees with anti-reflective glass providing an "invisible" effect. High ceilings and double-story windows provide a phenomenal view of Table Rock Lake from the lounge while the patio puts you closer to nature. Spend evenings around the fire pit or the external wood burner before hunkering down for a peaceful night in the loft bedroom.
Four guests, two bedrooms
Price: $279 per night
Lakefront cabin retreat – fire pit and pool table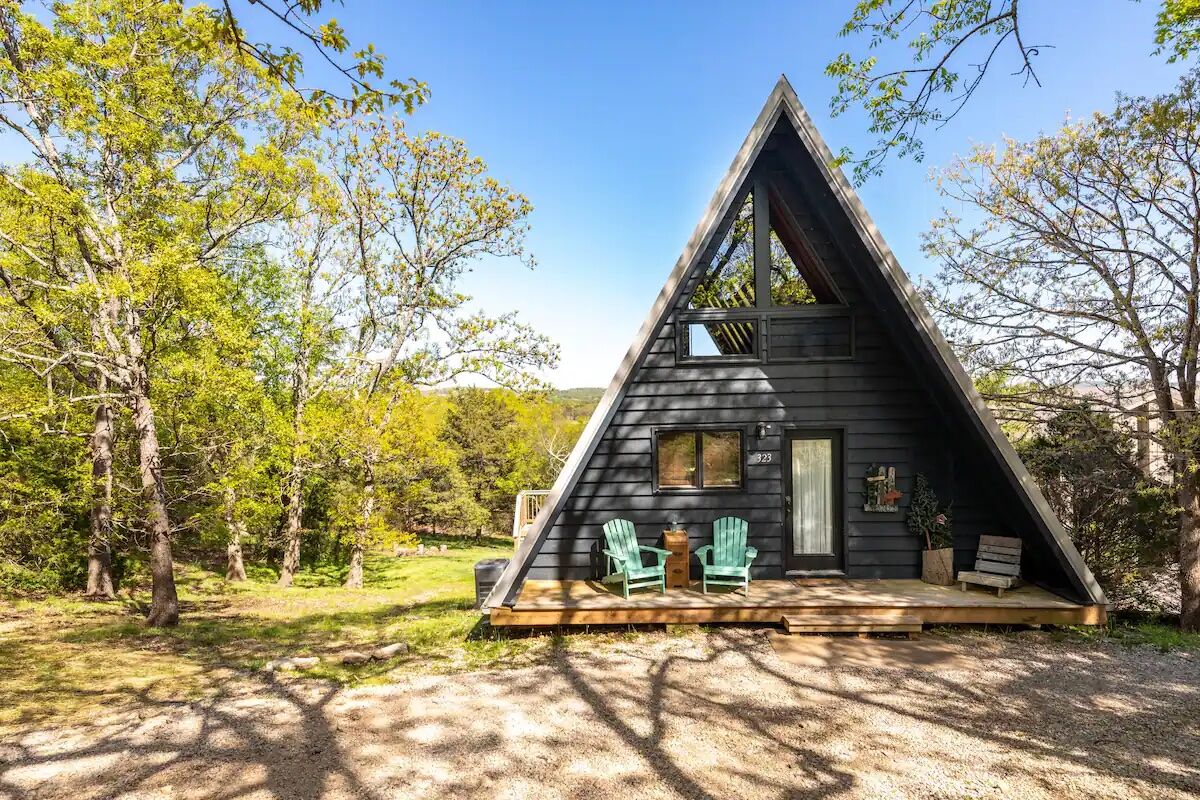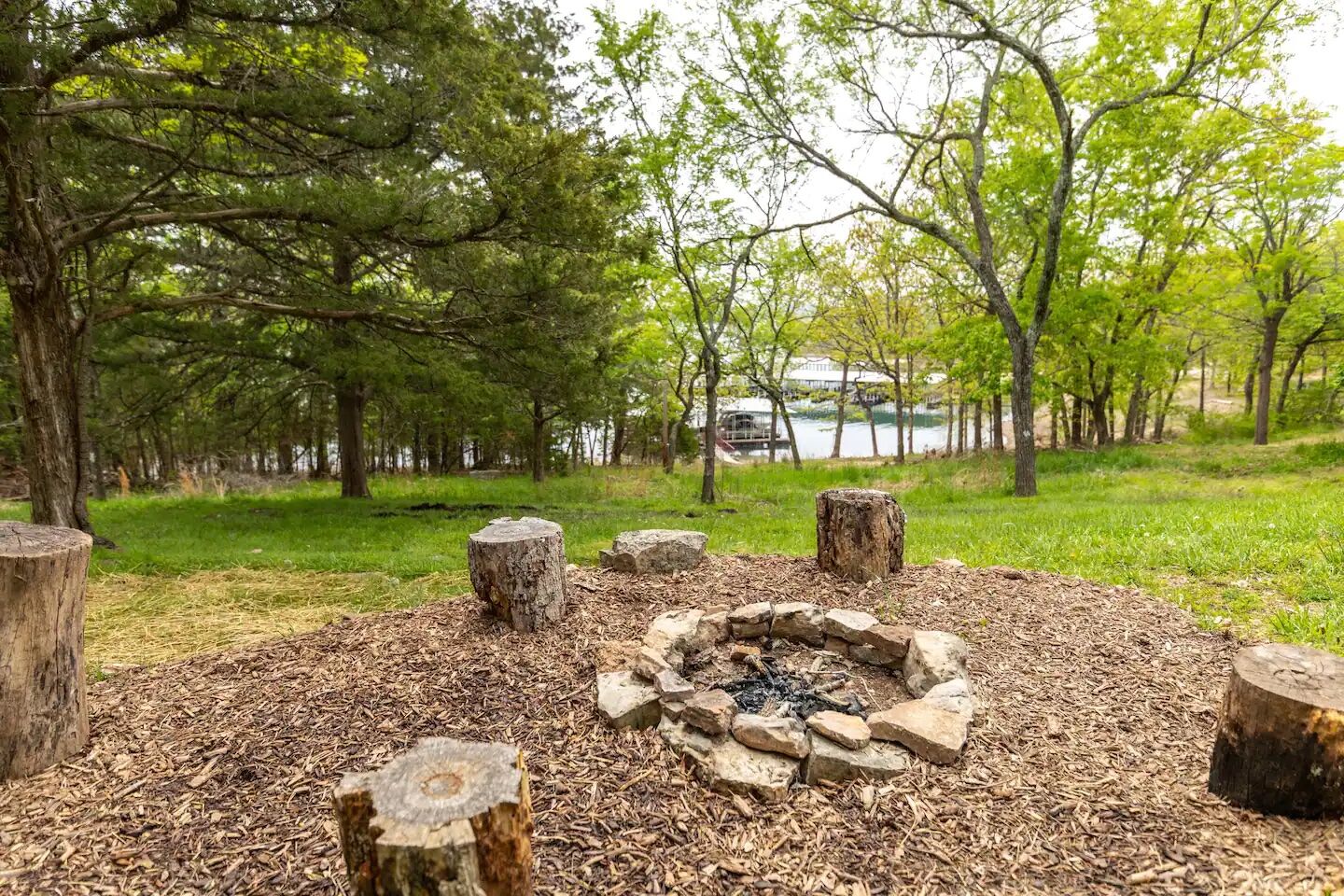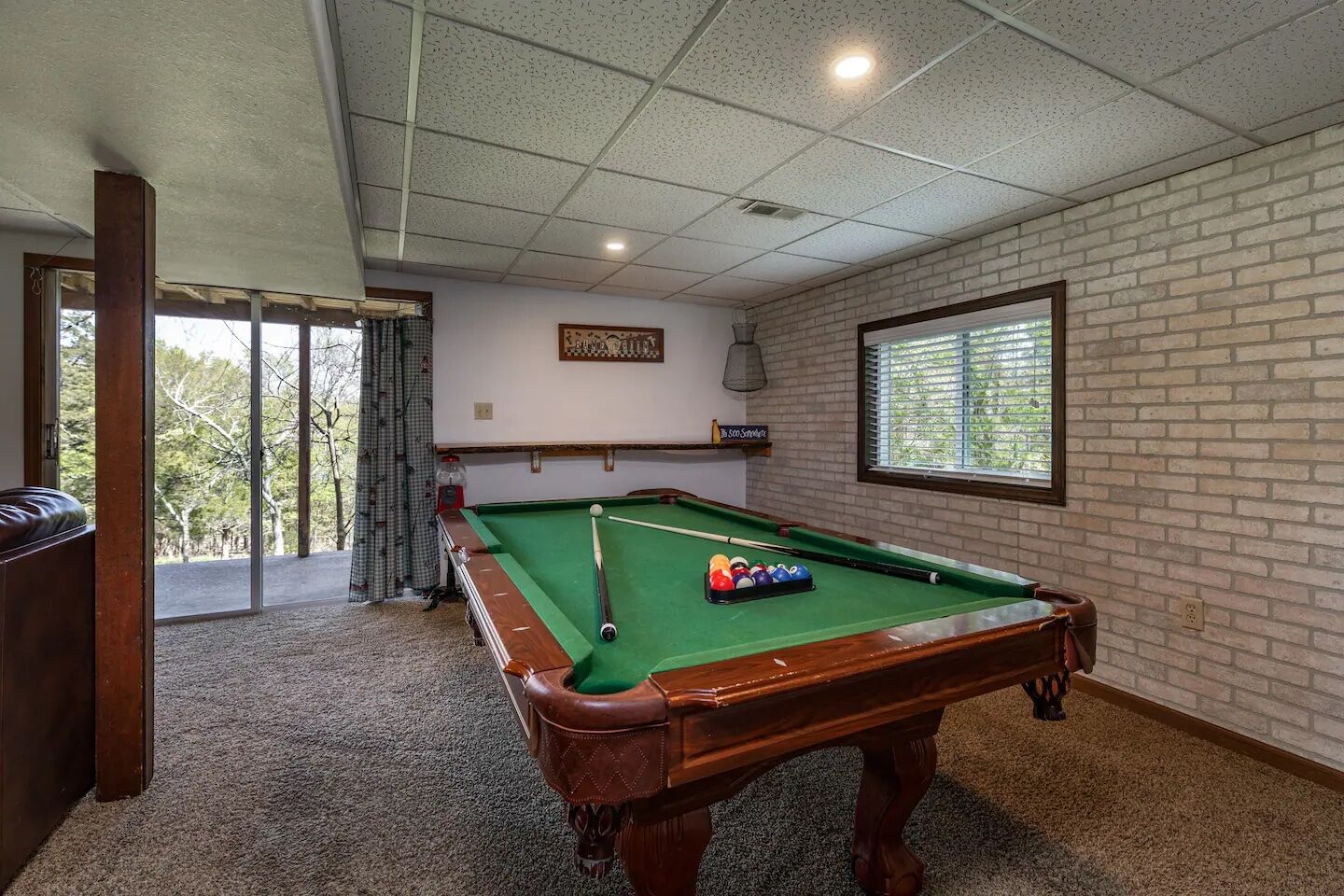 Steps from the water, this pet-friendly Airbnb in Branson, MO, is in a prime location for exploring Indian Point and the Landing. The handsome A-frame chalet features a rear porch with a grill and lake views while you'll have access to a fire pit in the backyard. The billiards table is a pleasing touch for a light-hearted competition in the evenings.
Eight guests, three bedrooms
Price: $283 per night
Stunning chateau retreat – lake view, nine-bedroom/nine-bathroom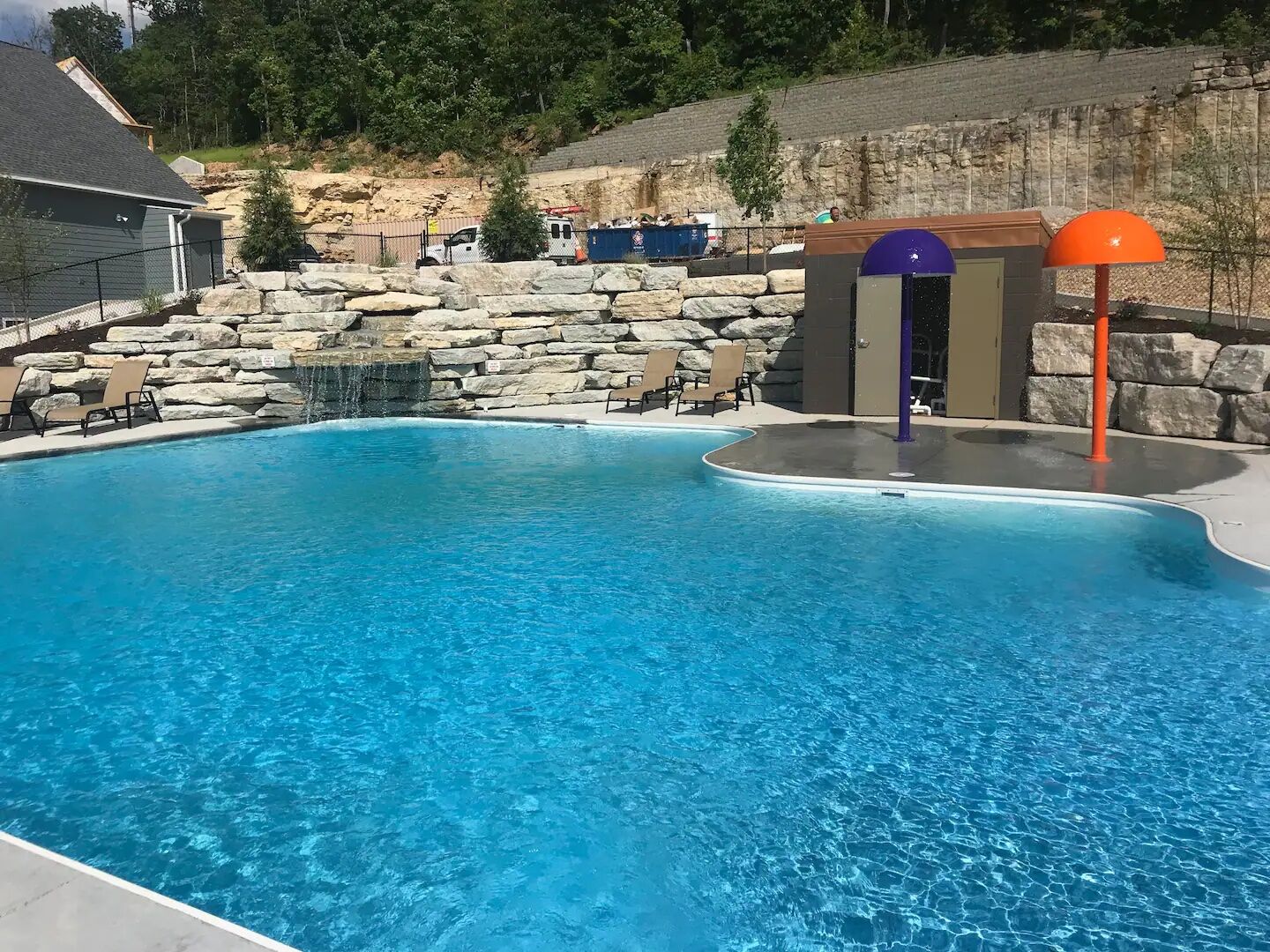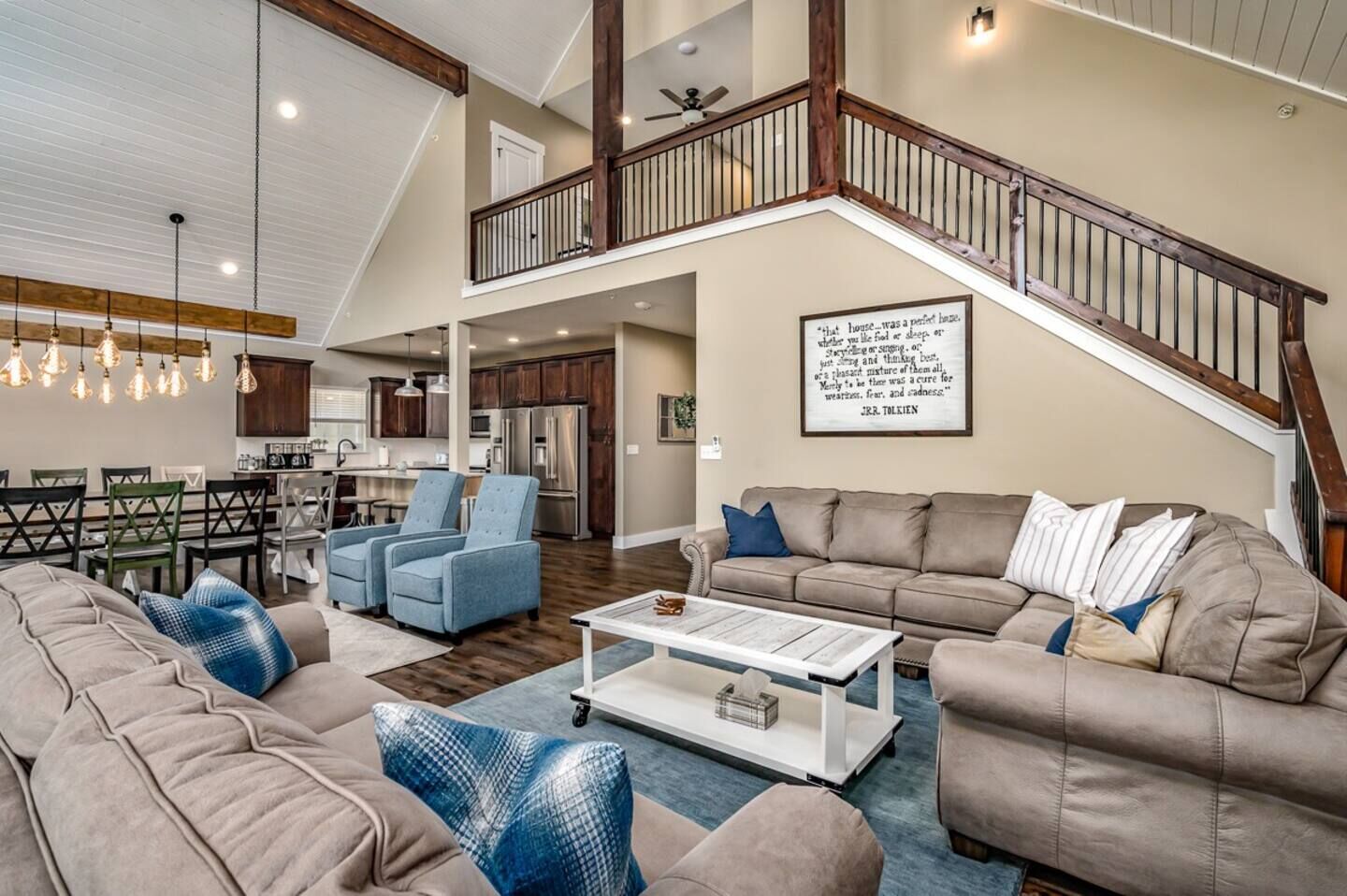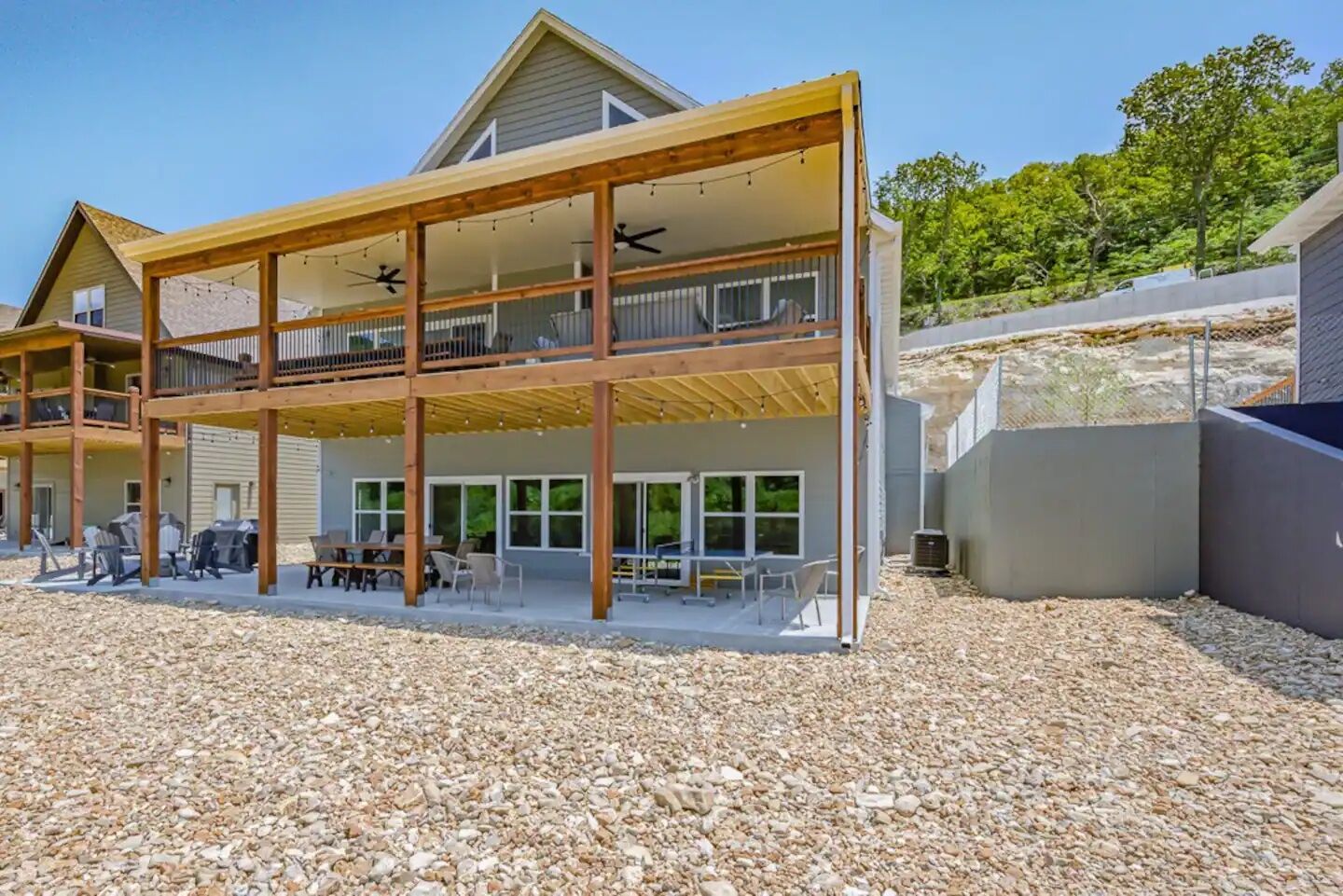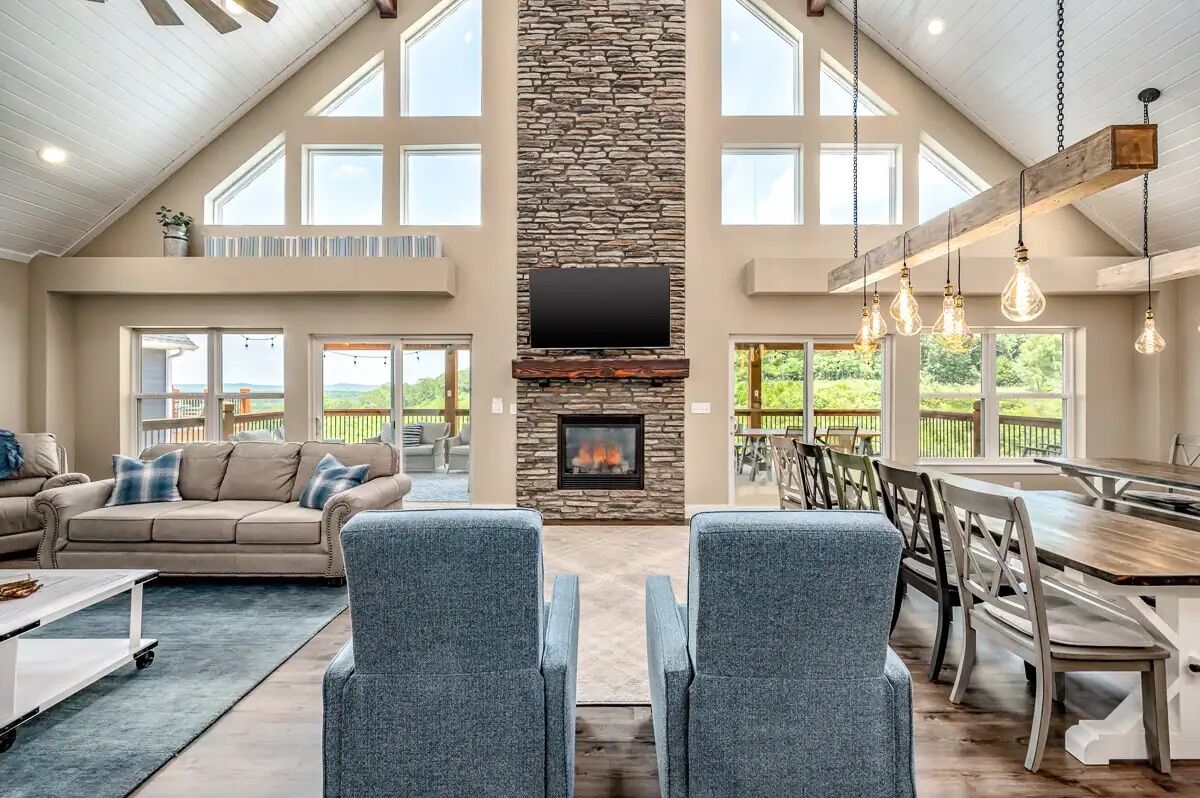 Fusing traditional chalet elements with all the trappings of a luxury villa, this Airbnb in Branson, MO, on the lake caters to all requirements. The open-concept living space is divided into a palatial lounge with a separate dining zone and a gourmet kitchen with two coffee pots. The principal deck grants a peek at the lake and is equipped with seating aplenty. During your residency, you'll have access to two shared pools and immediate access to a community nature trail.
Sixteen guests, nine bedrooms
Price: $1,070 per night
Airbnbs in Branson with a private pool
Private indoor pool with a great lake view, hot tub, arcade games, and movie theatre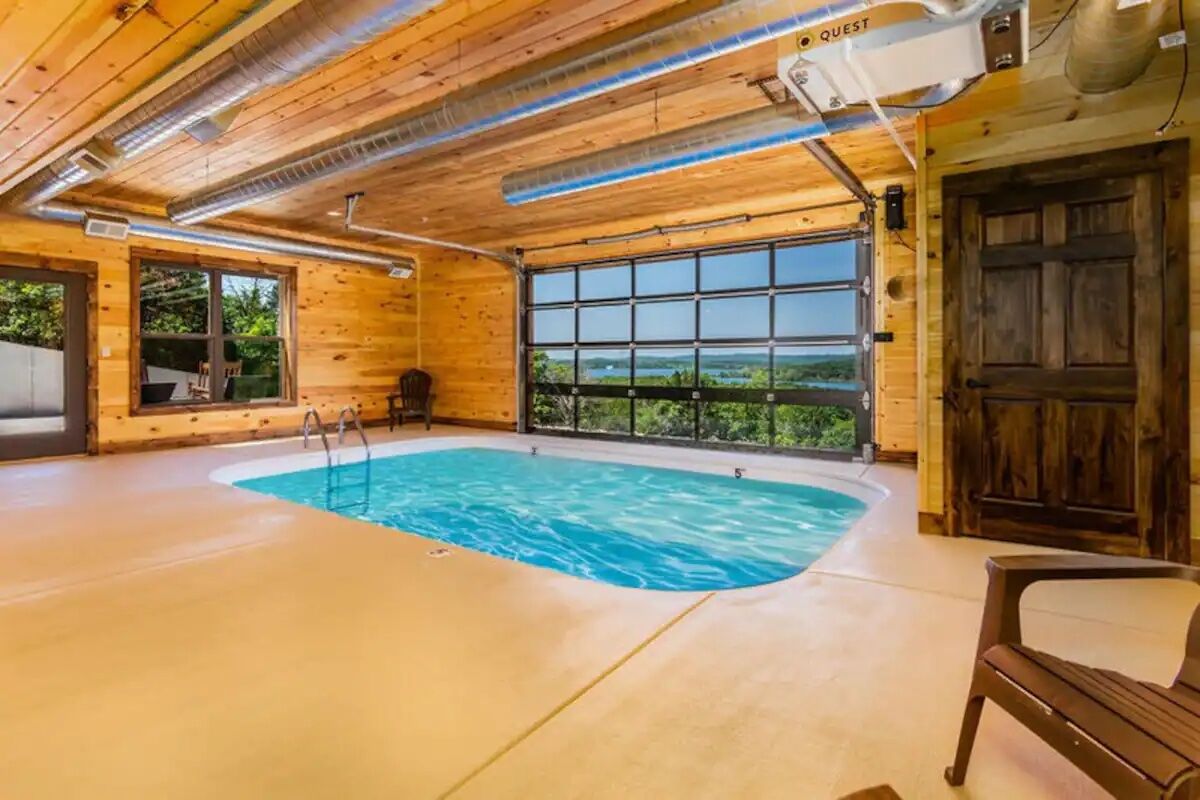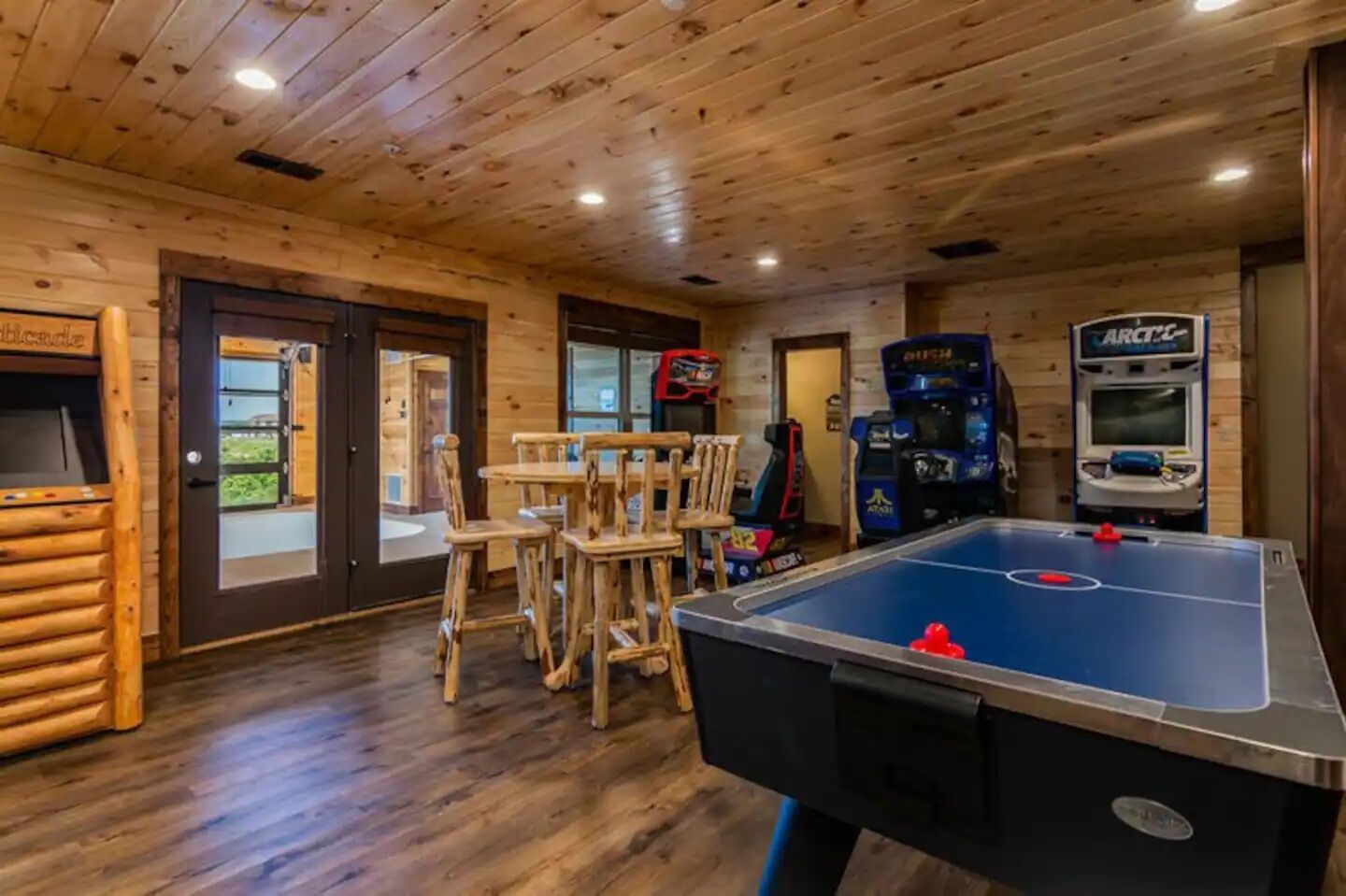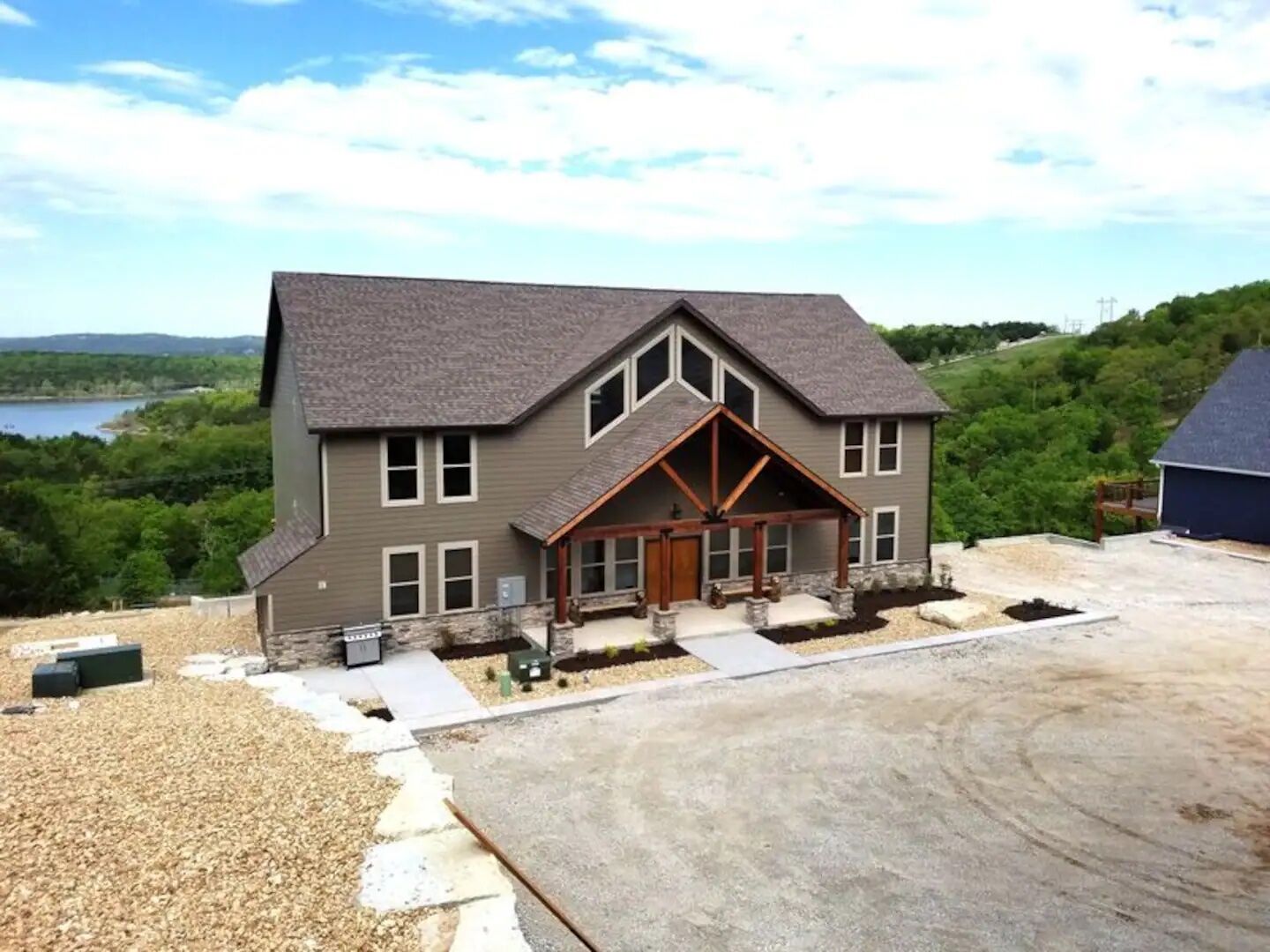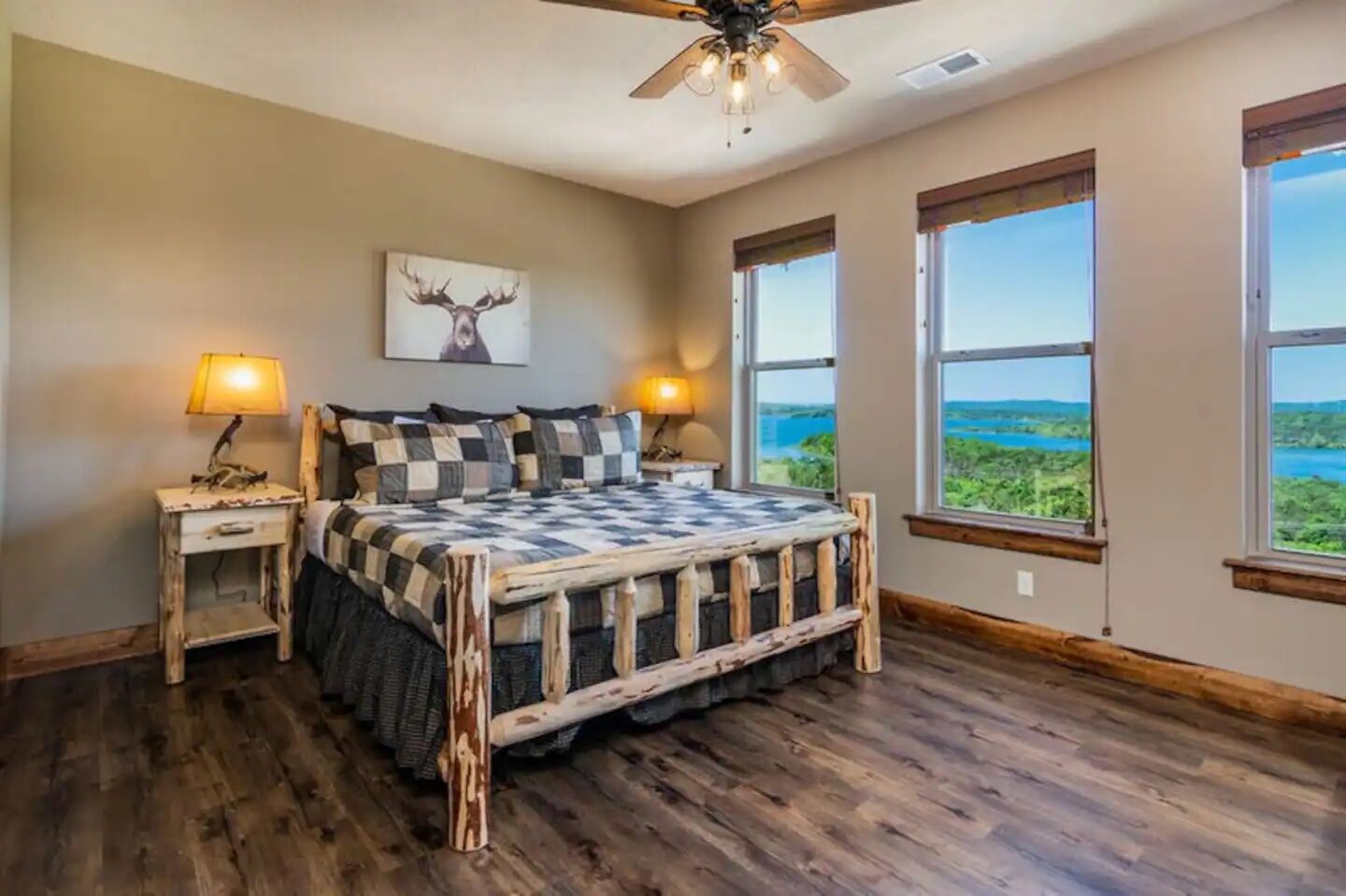 This premium Branson, MO, Airbnb with a pool and hot tub goes above and beyond in terms of comfort, recreation, and luxury. The indoor private pool means that swimming is on the table whatever the season, while the facility offers two shared swim spaces. A colossal deck at the top of the property provides panoramic views of the lake. Last but not least, two games rooms are packed to the rafters with games.
Sixteen guests, twelve bedrooms
Price: $1,086 per night
Grand home with indoor pool, basketball court, and views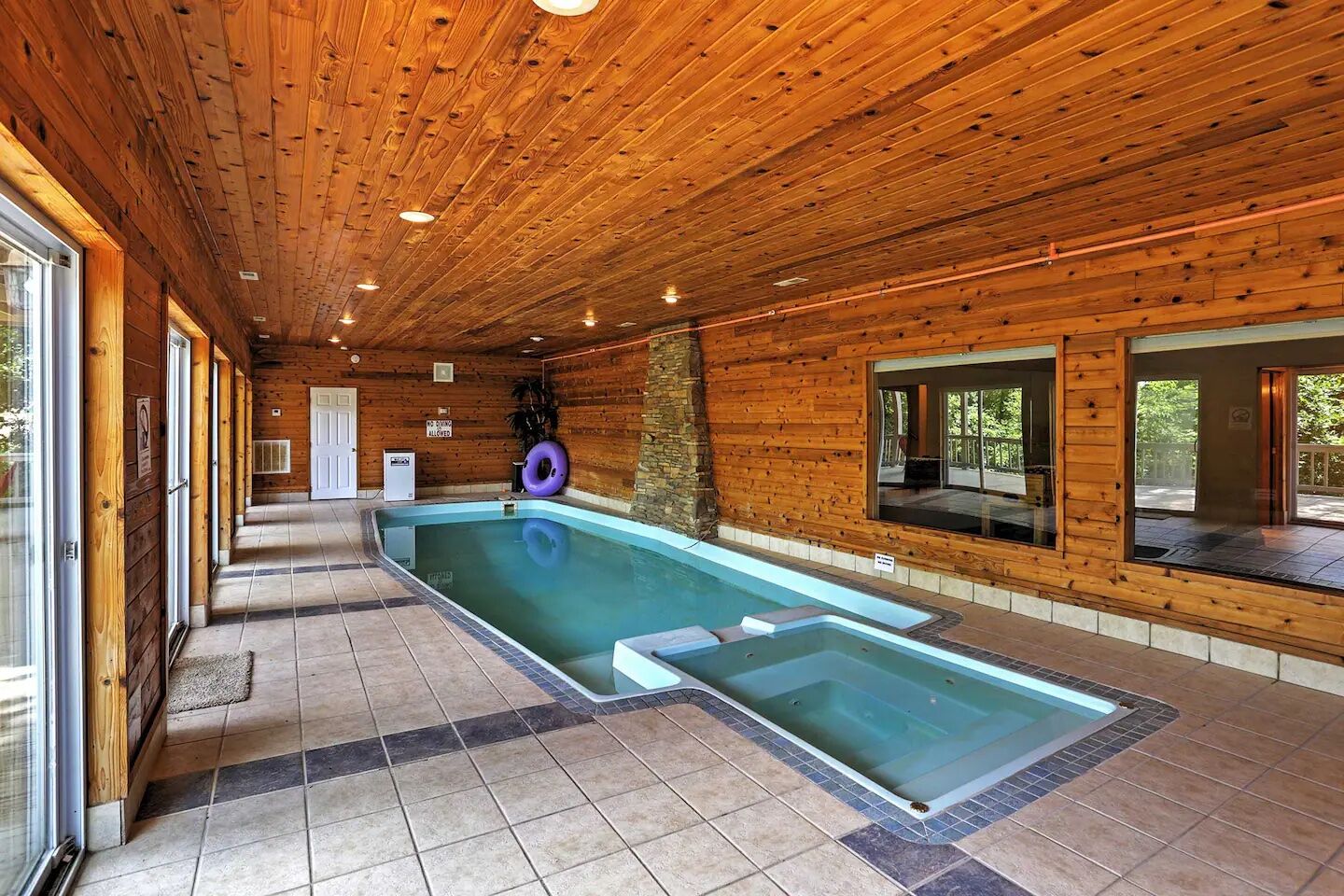 Get your daily laps at this Branson, MO, Airbnb with a private pool – heating is available at a surcharge – and shoot hoops at the indoor basketball court. Bedrooms are generously proportioned with space to play, work out, or sprawl with a book. The master en suite comes with a divine jetted tub and a woodland view. Additional perks include the foosball table, chef-standard kitchen, and multiple balconies.
Fourteen guests, four bedrooms
Price: $589 per night
Branson Landing Airbnbs
House in the heart of Branson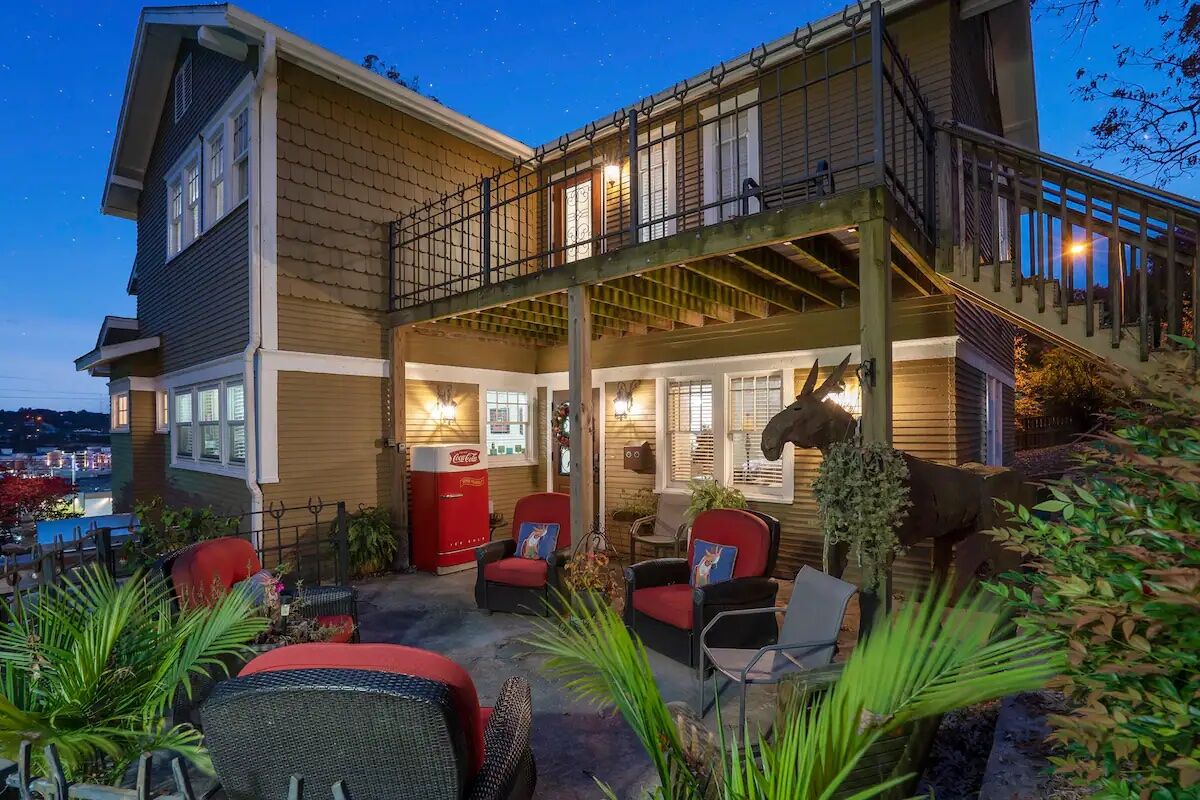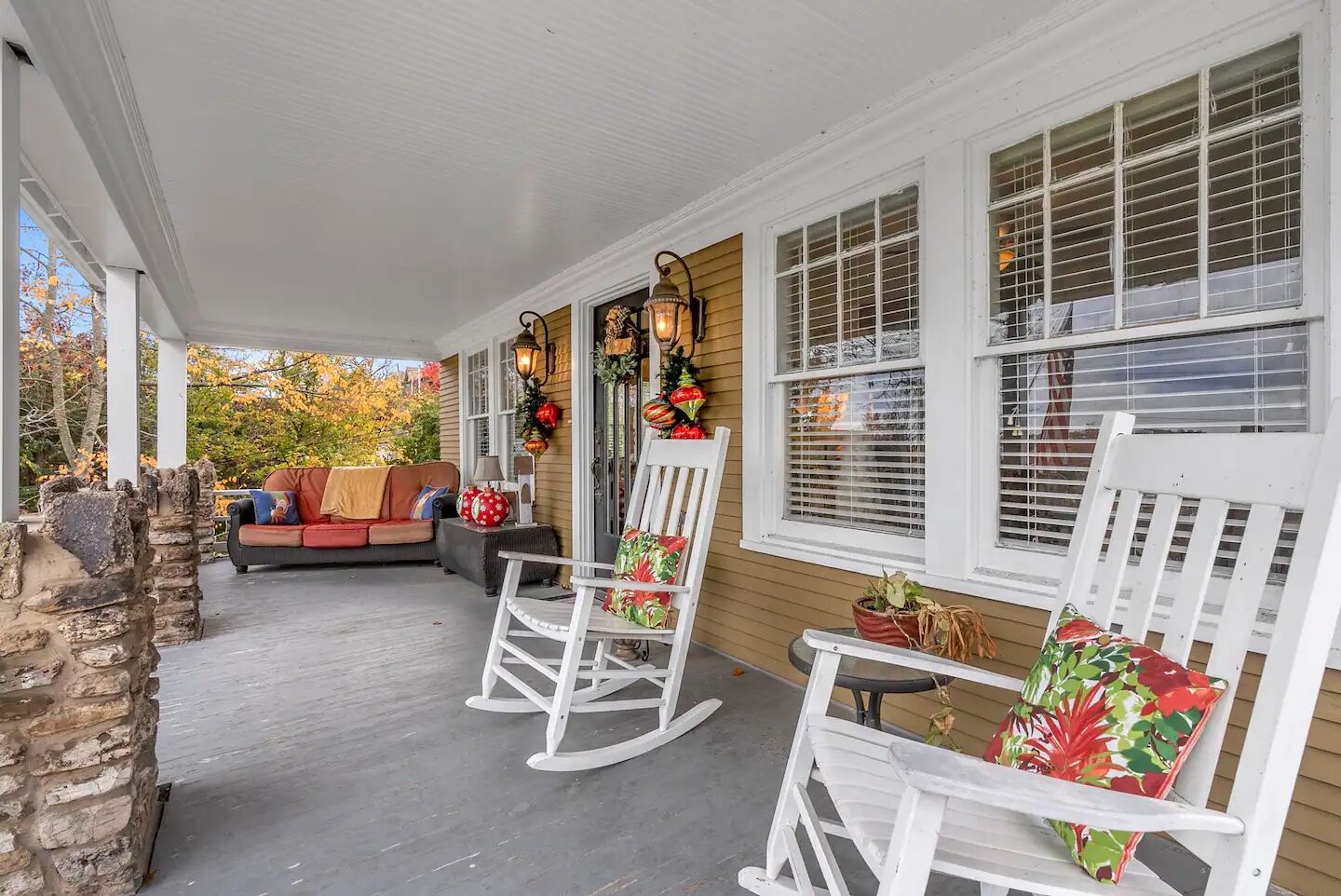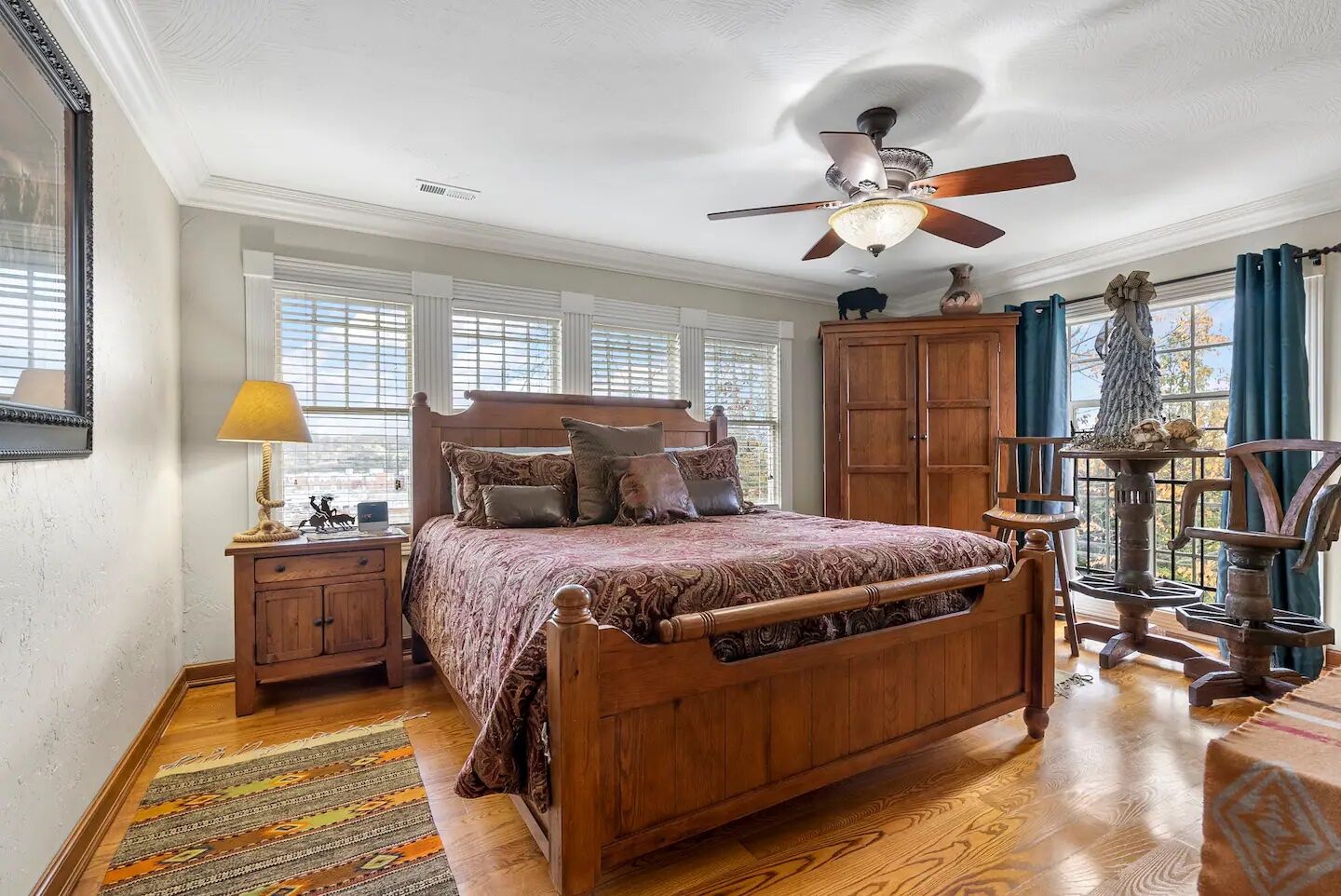 This family-friendly vacation Airbnb in Branson Landing features a yard with a lawn and a porch with rockers. Even winter travelers can get their fill of the outdoor space, courtesy of the fireplace on the deck. Interiors are furnished with antique moveables and a scattering of books and musical instruments to keep the boredom at bay. Continental breakfast items are provided.
Twelve guests, six bedrooms
Price: $650 per night
Downtown Branson home with pool, minutes to the Landing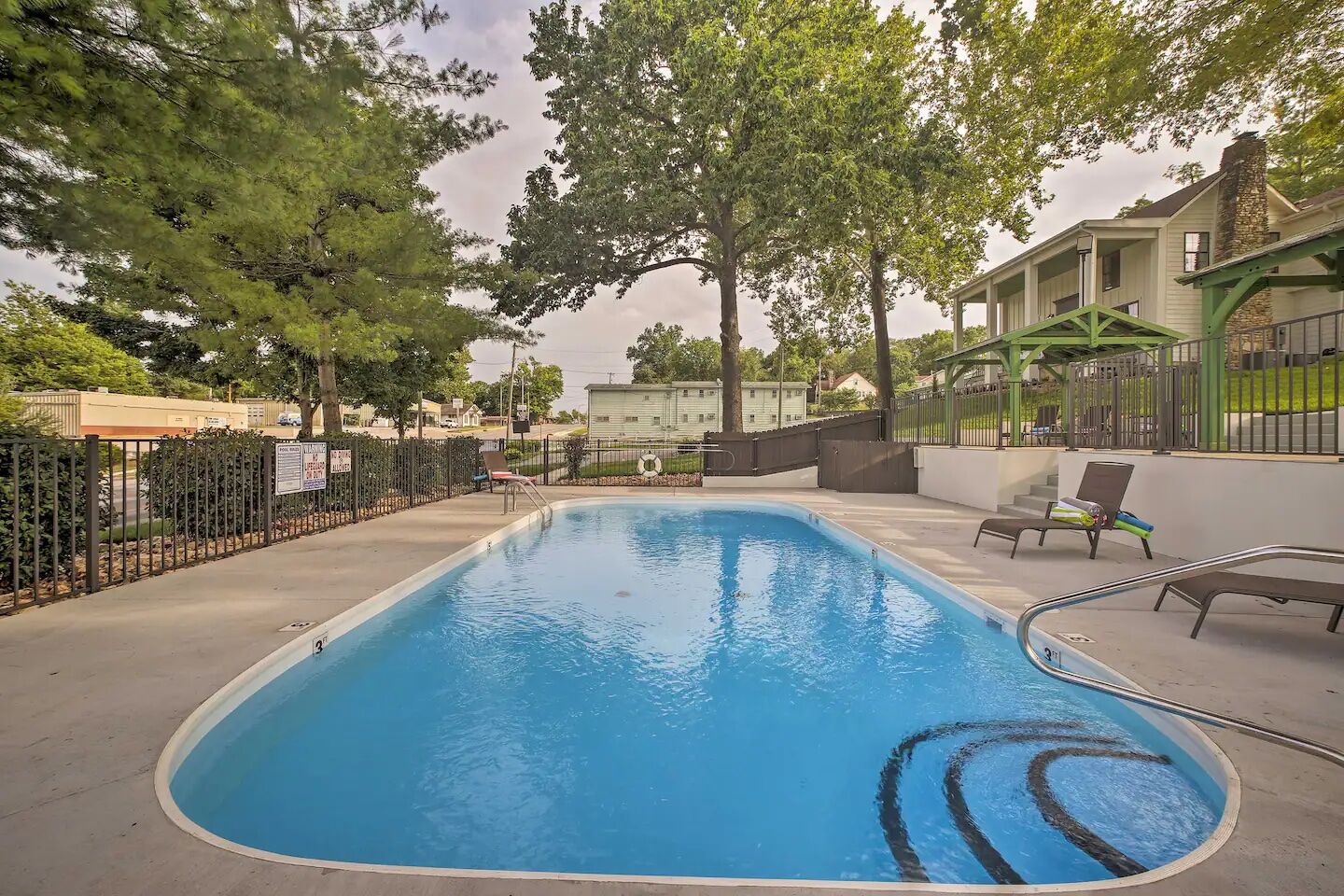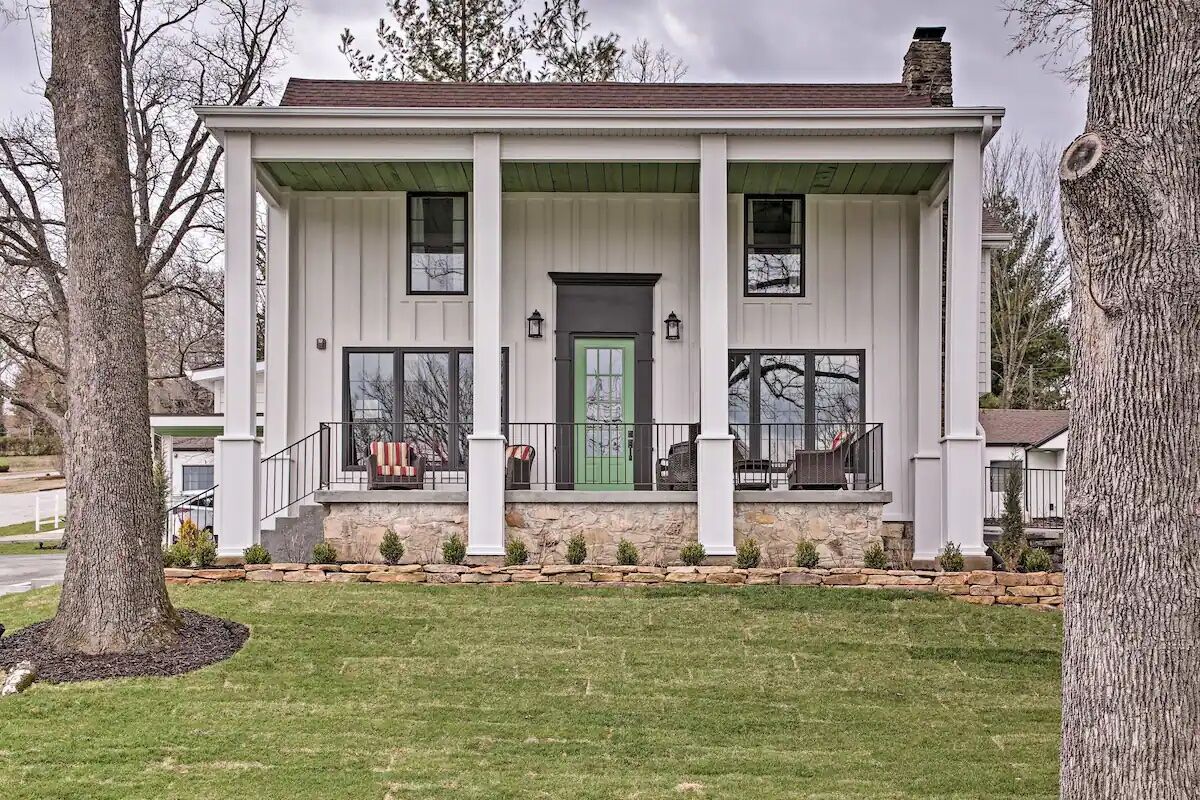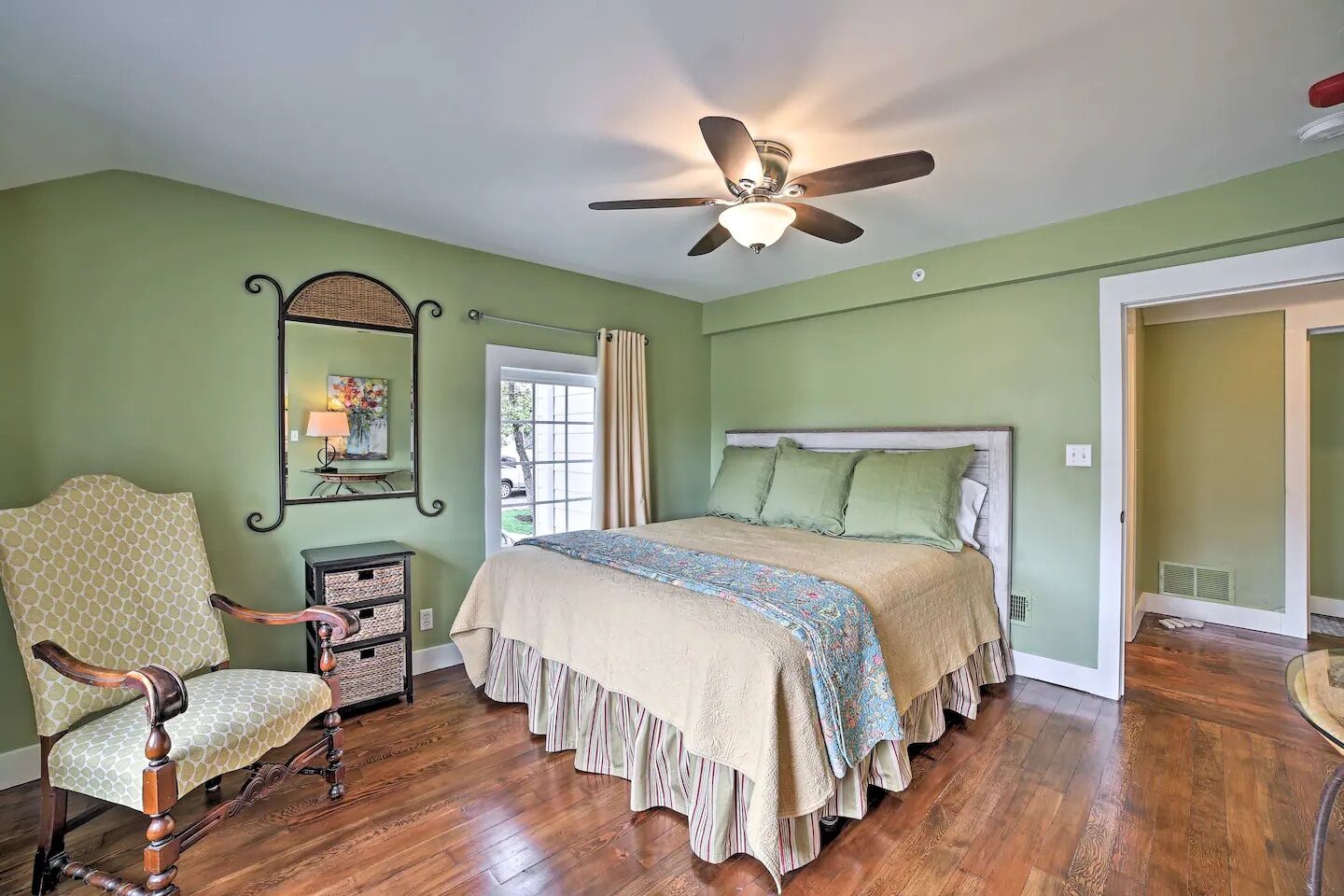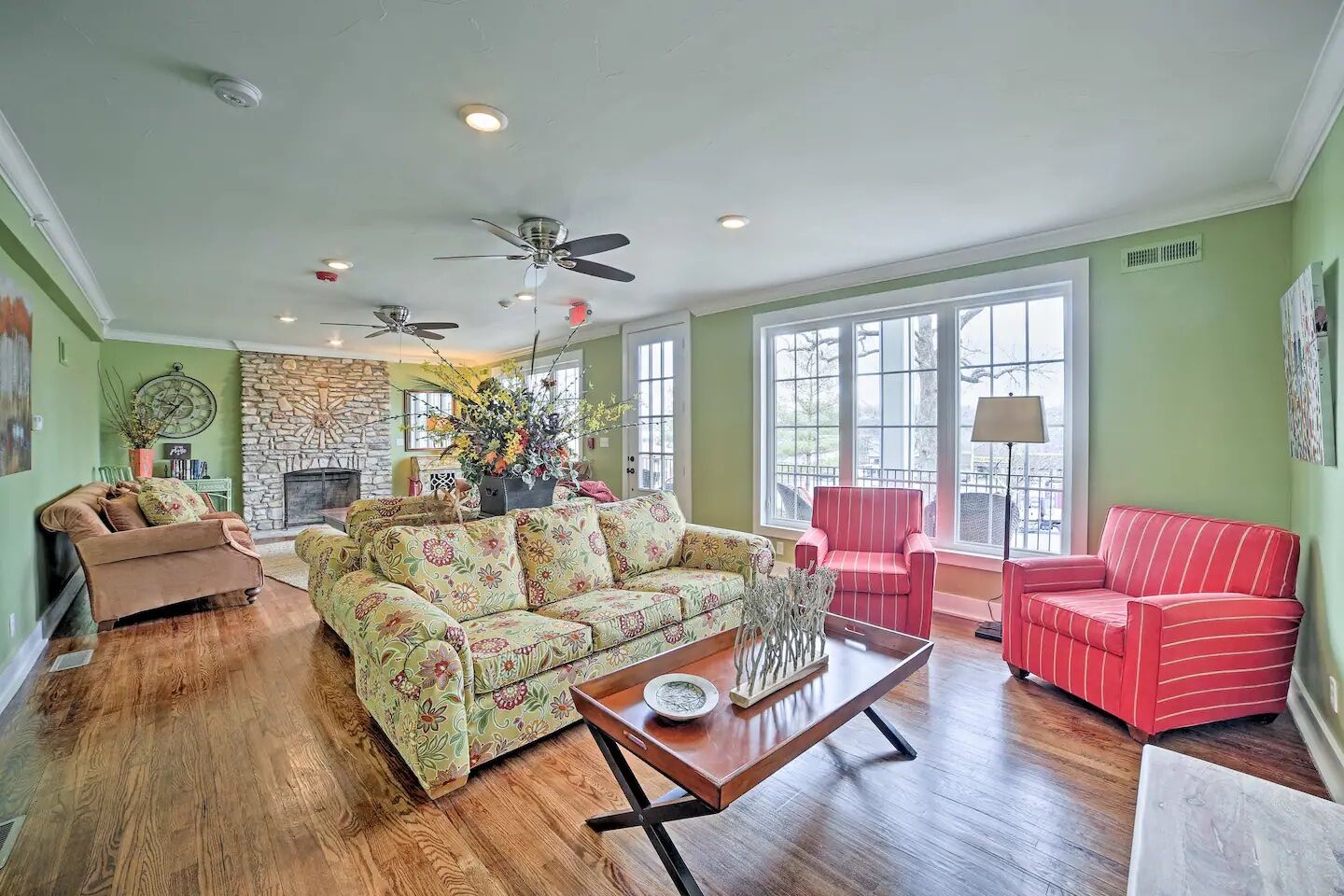 Handy for Branson Landing, this attractive property is fronted with a spacious porch overlooking an expansive lawn and a shared swimming pool. Lounges and bedrooms are beautifully adorned with plump couches and cozy bedding for a restful night's sleep. All the downtown amusements are within walking distance, with little need to drive. Check into this Branson, MO, Airbnb with a pool in the summer to make use of the swim space.
Thirteen guests, four bedrooms
Price: $451 per night
The cabin at Rock Canyon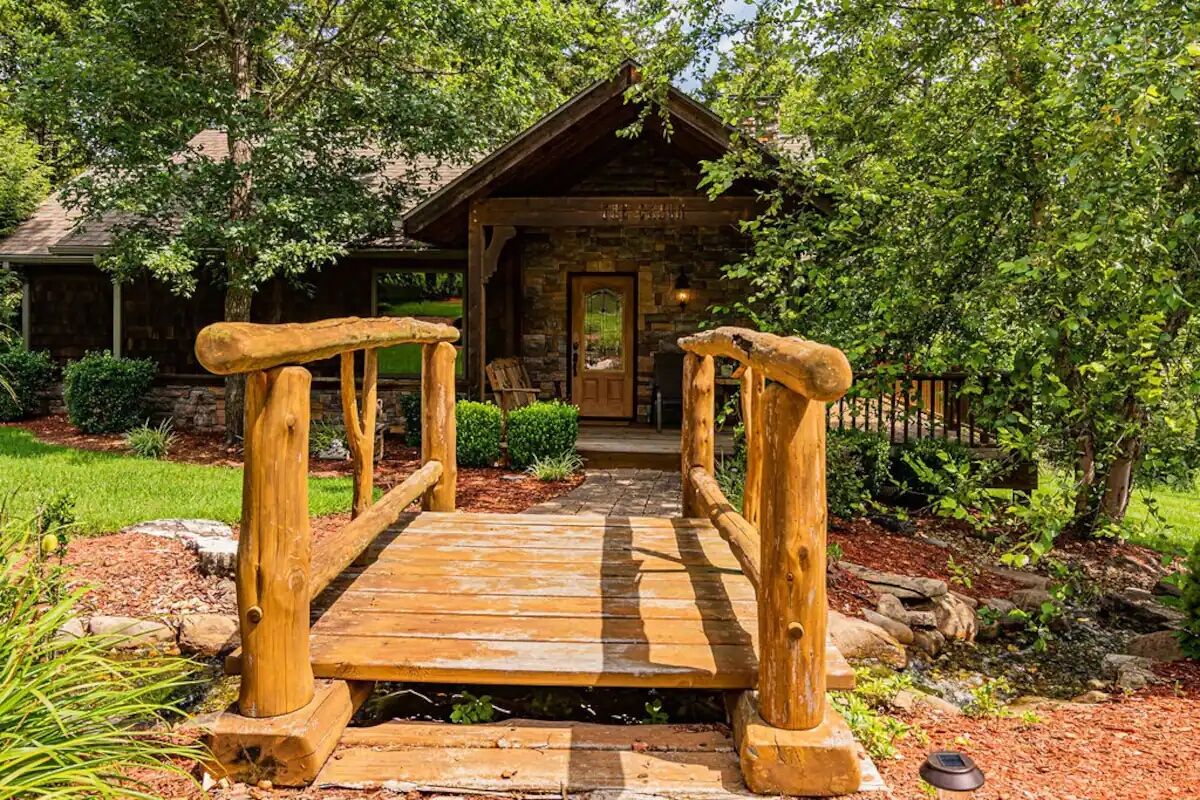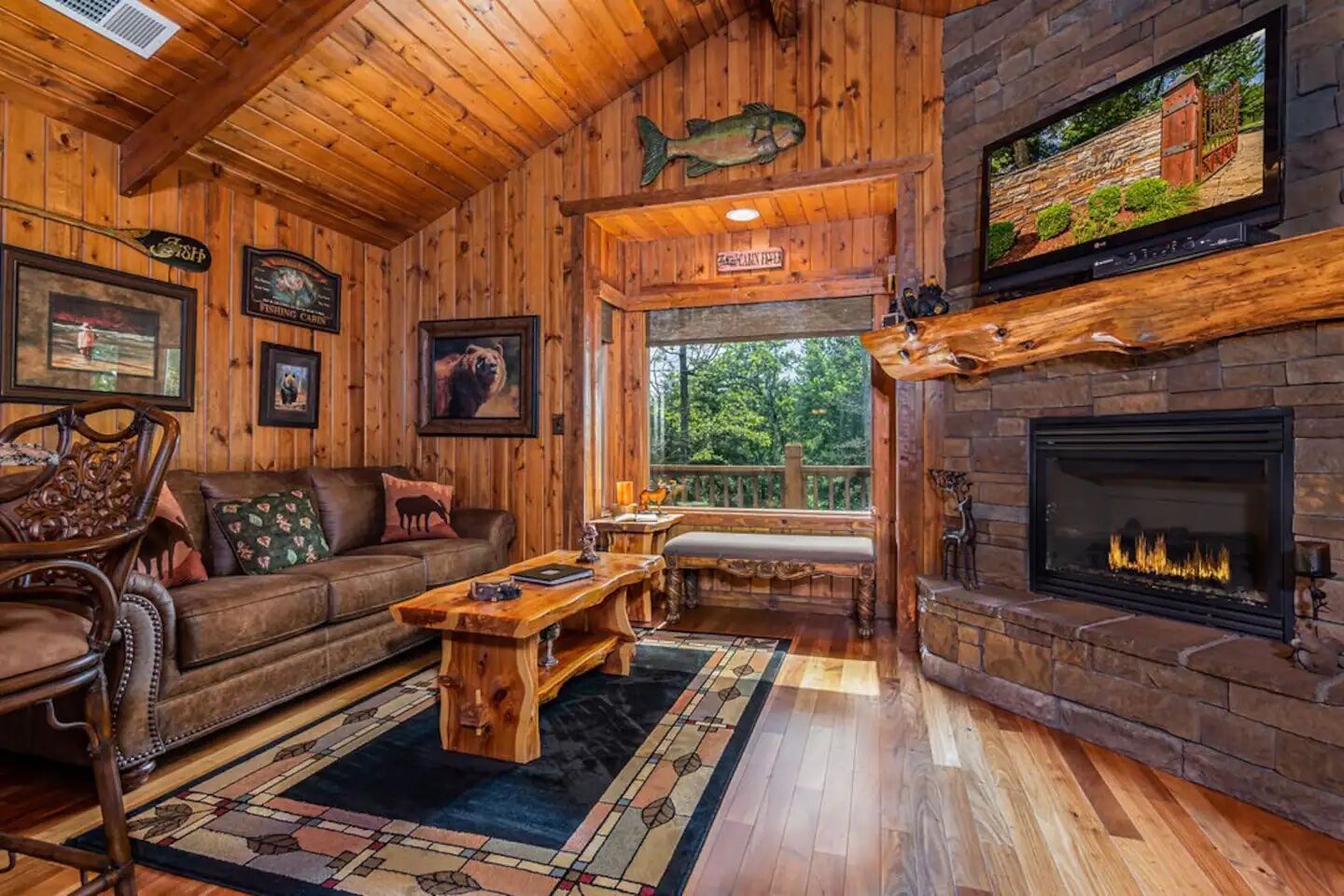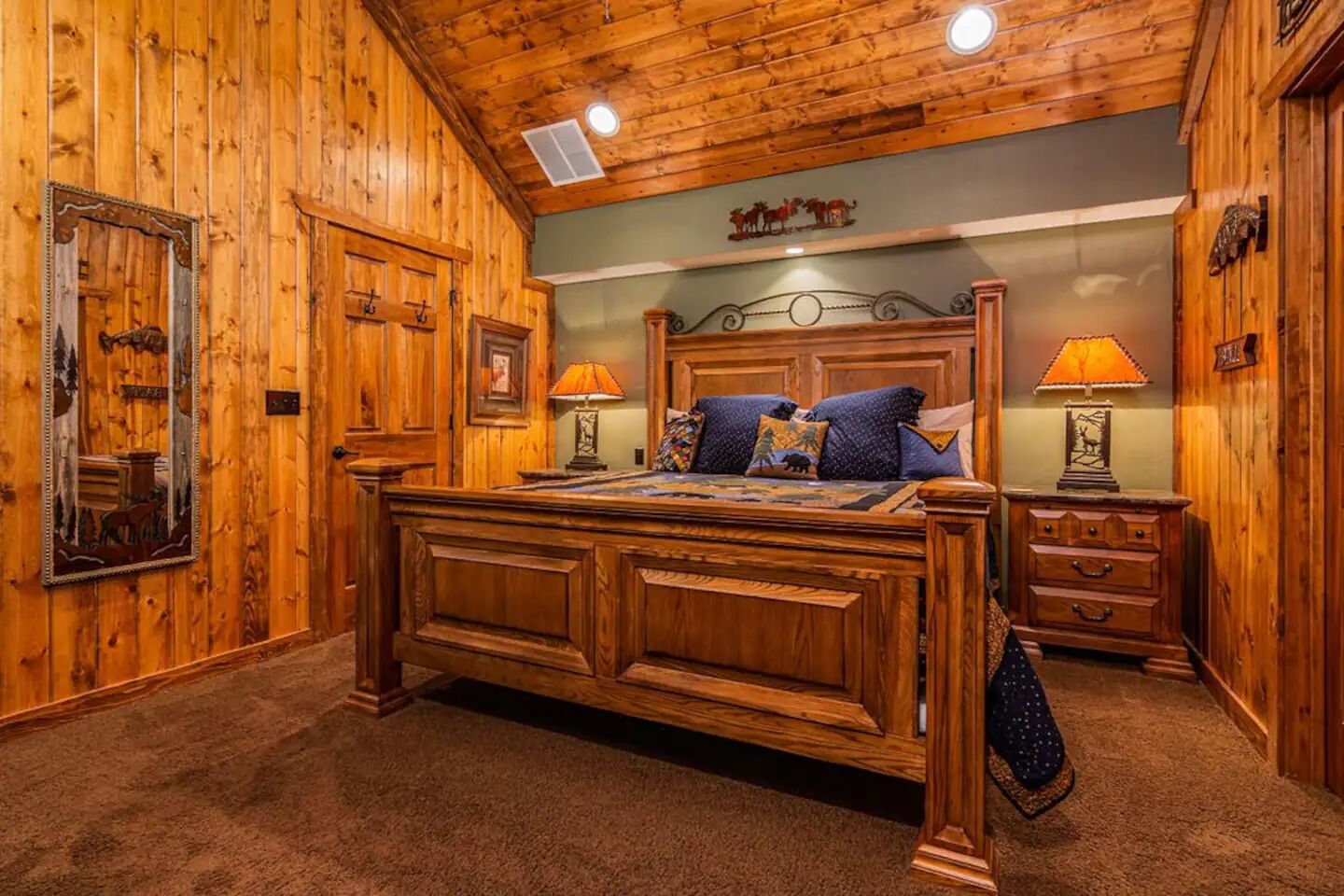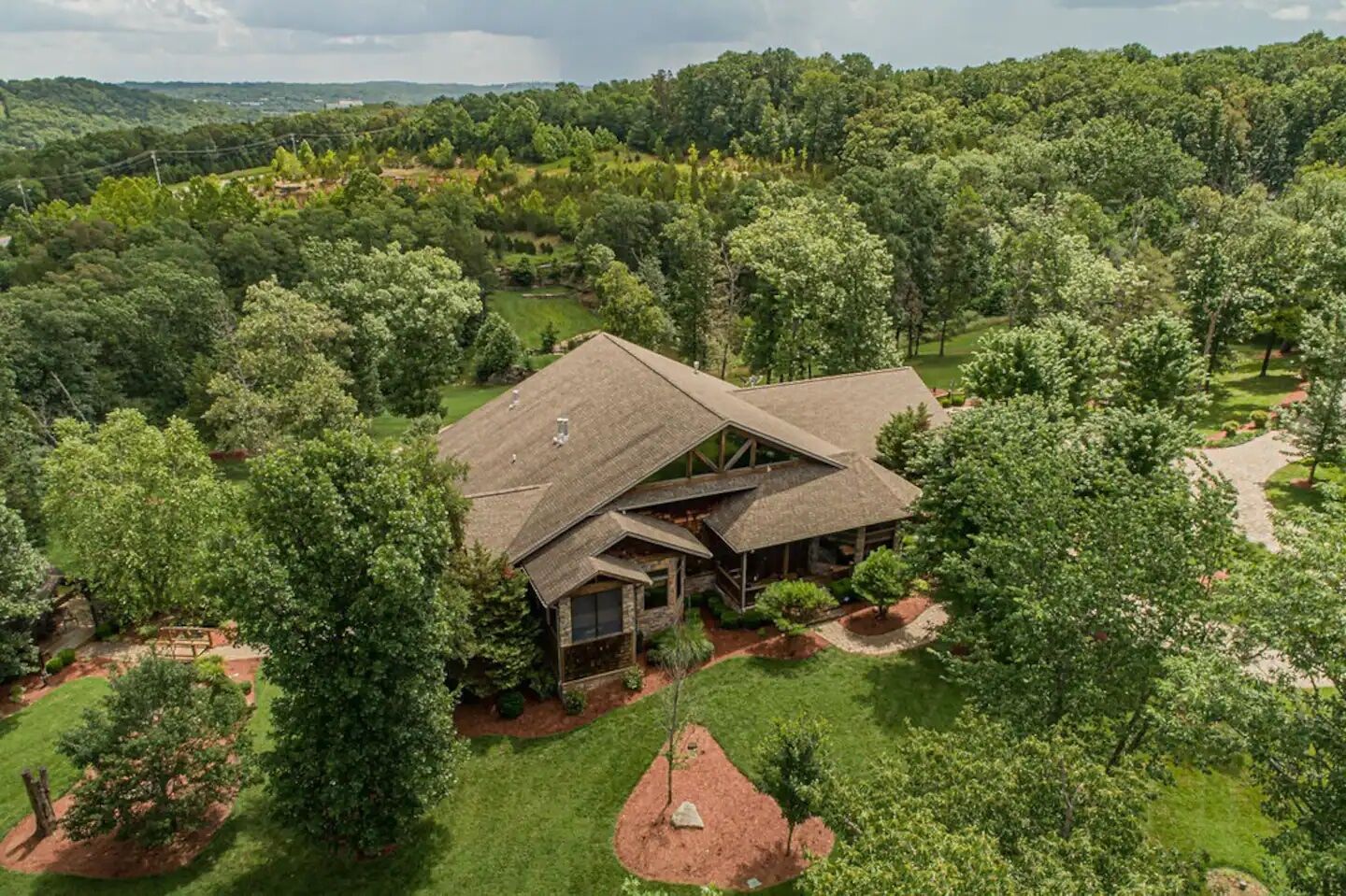 Perfect for a couple, this Branson Landing Airbnb cabin brings the mountains to downtown. Buried among the greenery, a storybook bridge paves the way to the porch over the trickling brook trickling. Modeled on traditional chalet design, the open-plan lounge and kitchen are decked out in rustic wood with a snug window nook providing an awesome spot to read or birdwatch.
Four guests, one bedroom
Price: $195 per night
Branson Airbnbs with a hot tub
New – amazing lake views and access with a hot tub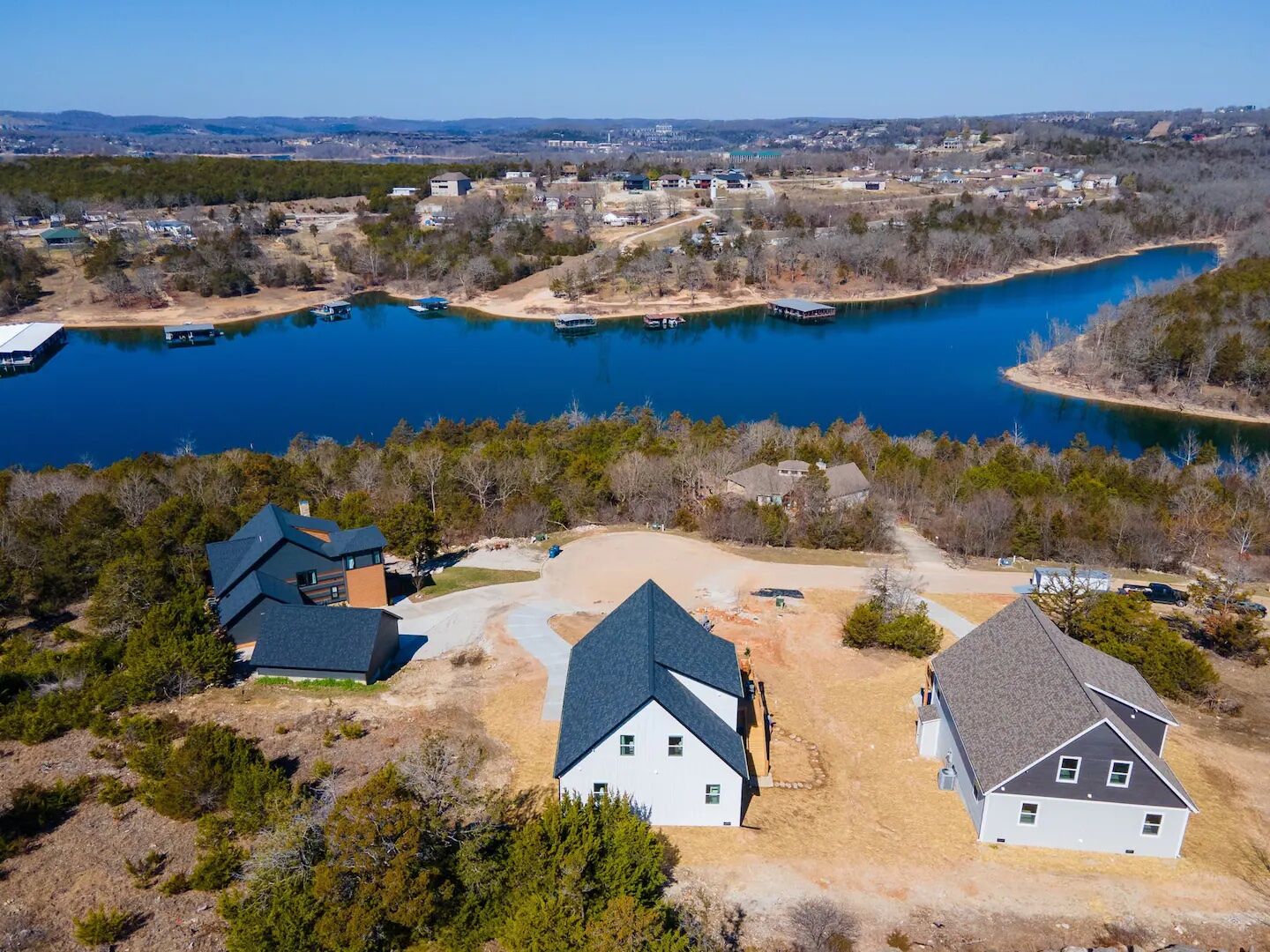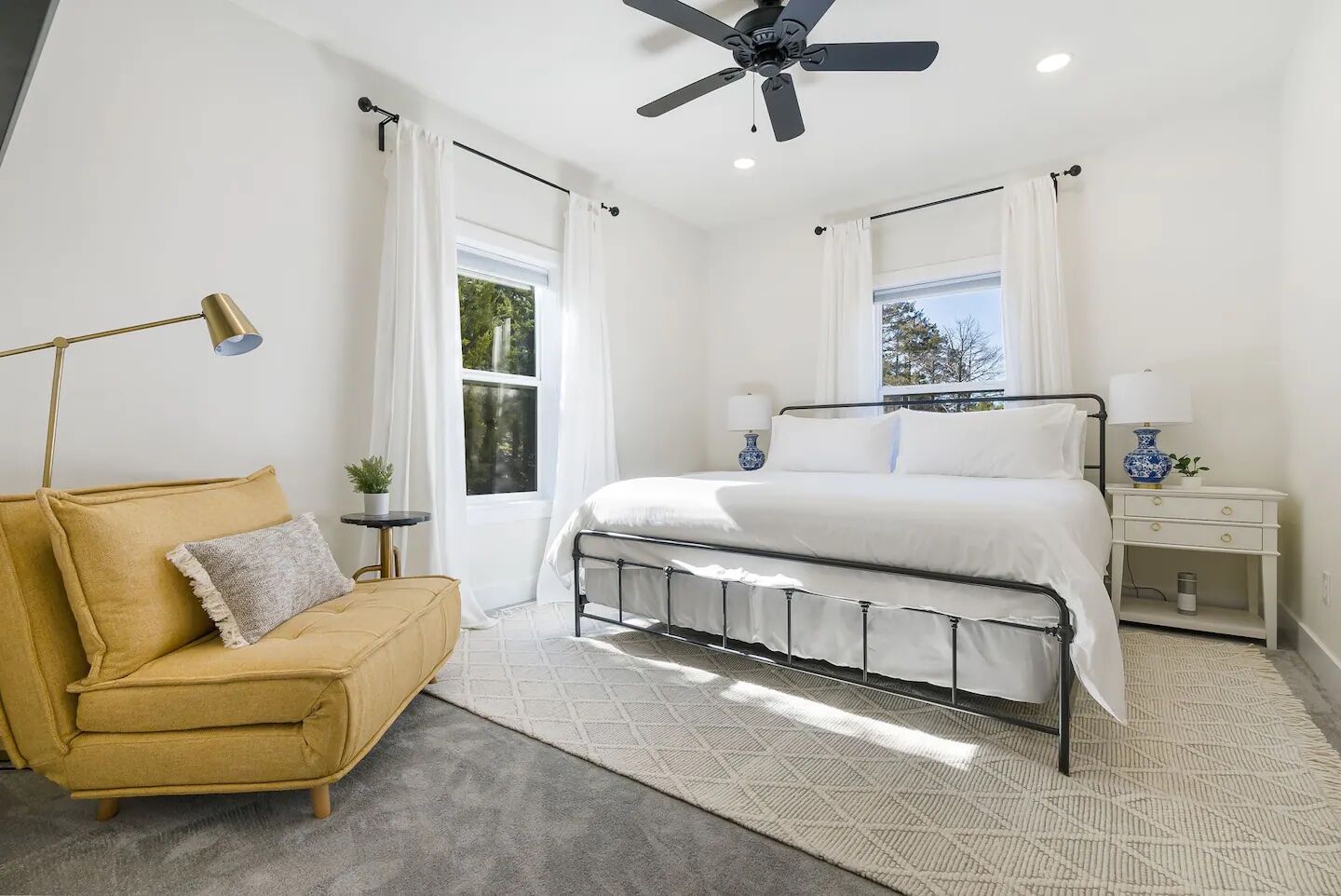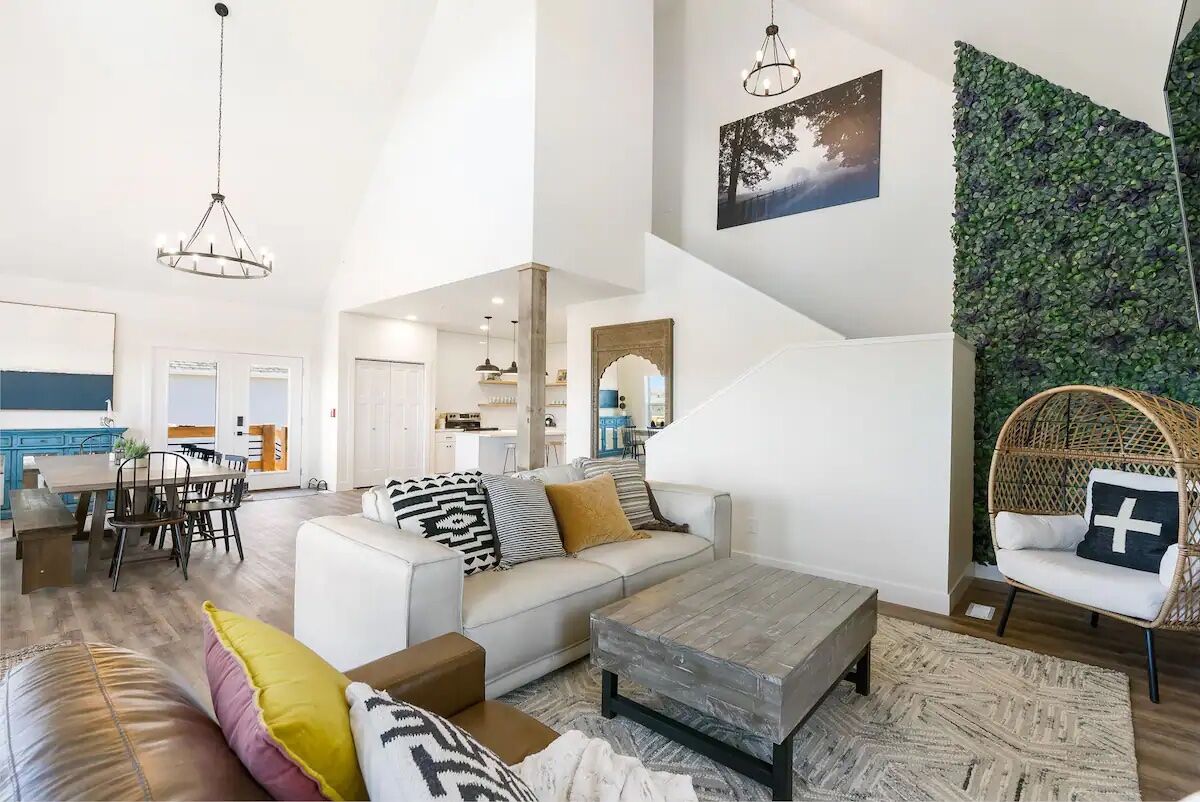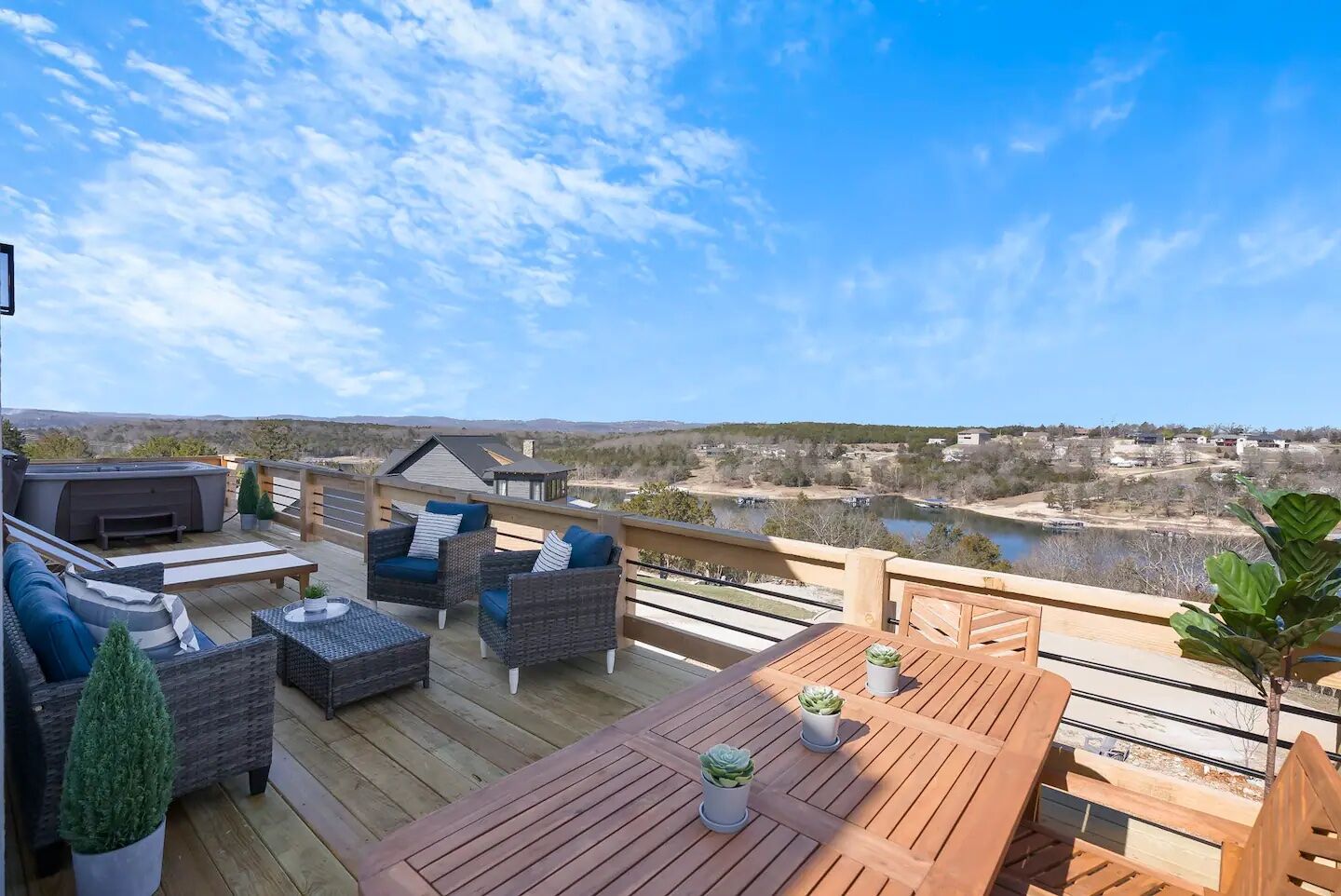 Assemble in the lounge of this pet-friendly Airbnb in Branson, MO, complete with a cocoon chair, gas fireplace, and stack of board games. The vacation rental is splendidly presented with a state-of-the-art kitchen and a deep soaking tub in the boutique bathroom. Drink up views of the lake from the elevated verandah and meander down the path for a stroll along the shoreline.
Sixteen guests, four bedrooms
Price: $563 per night
Behind Dolly Parton's Stampede and Fritz's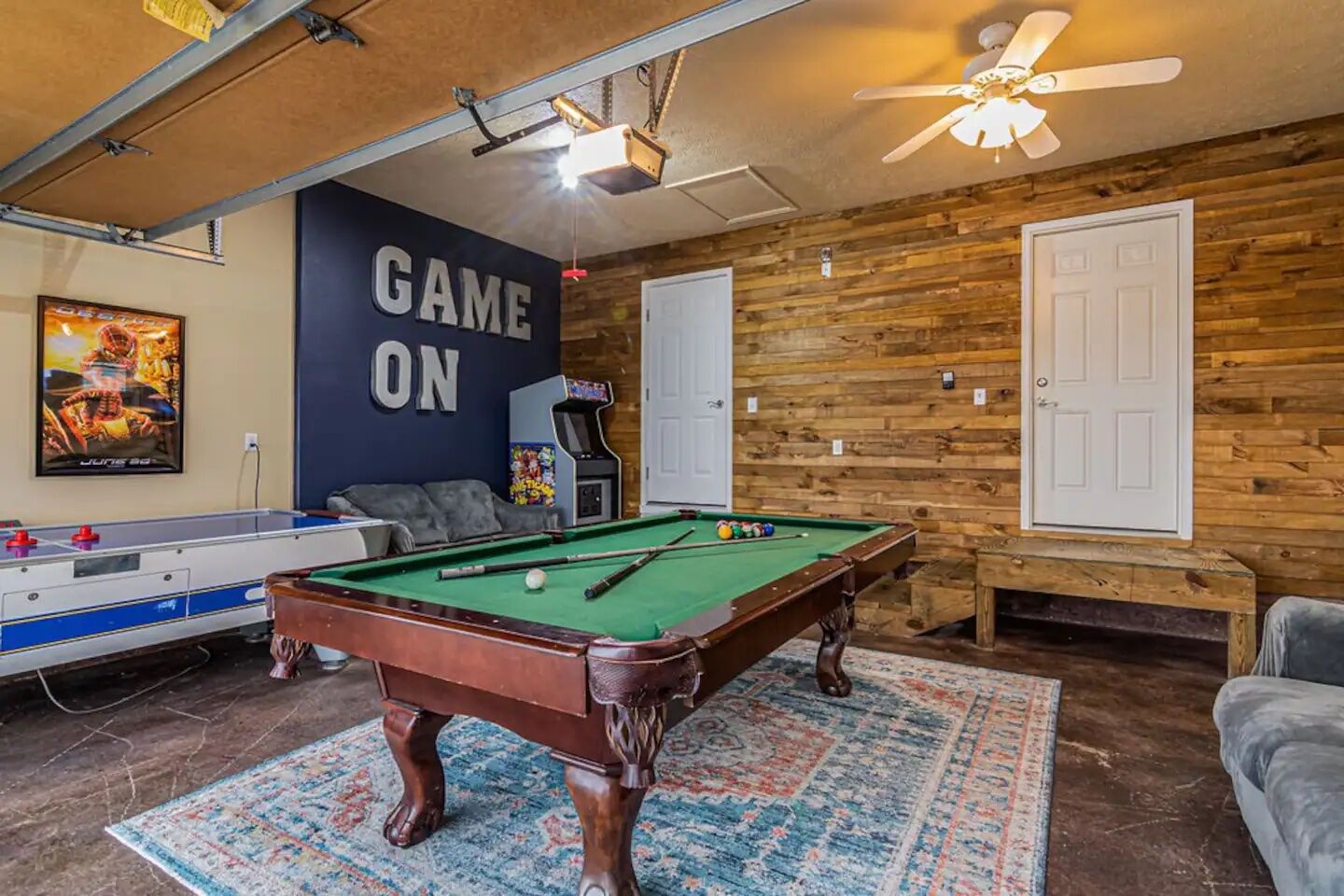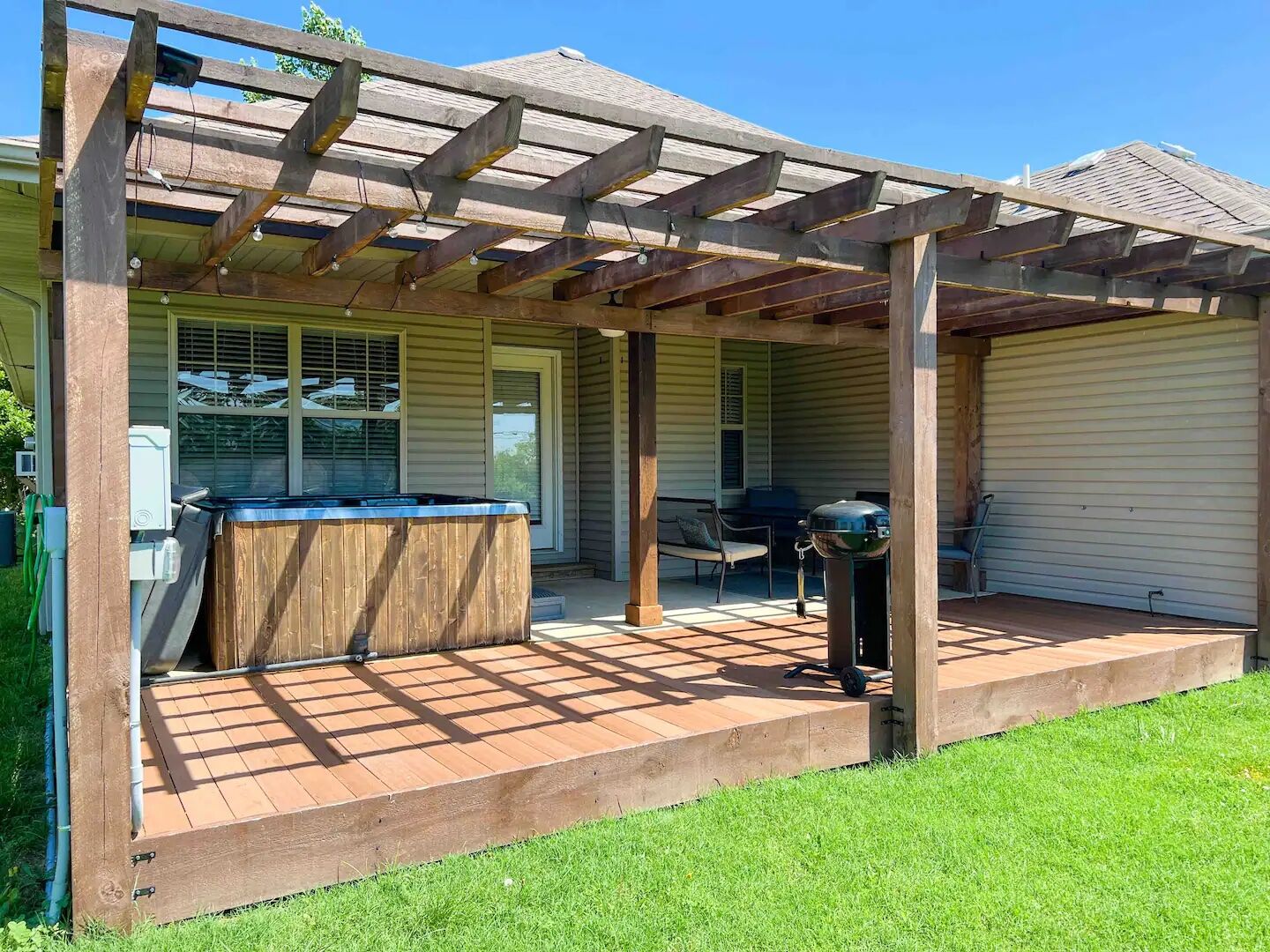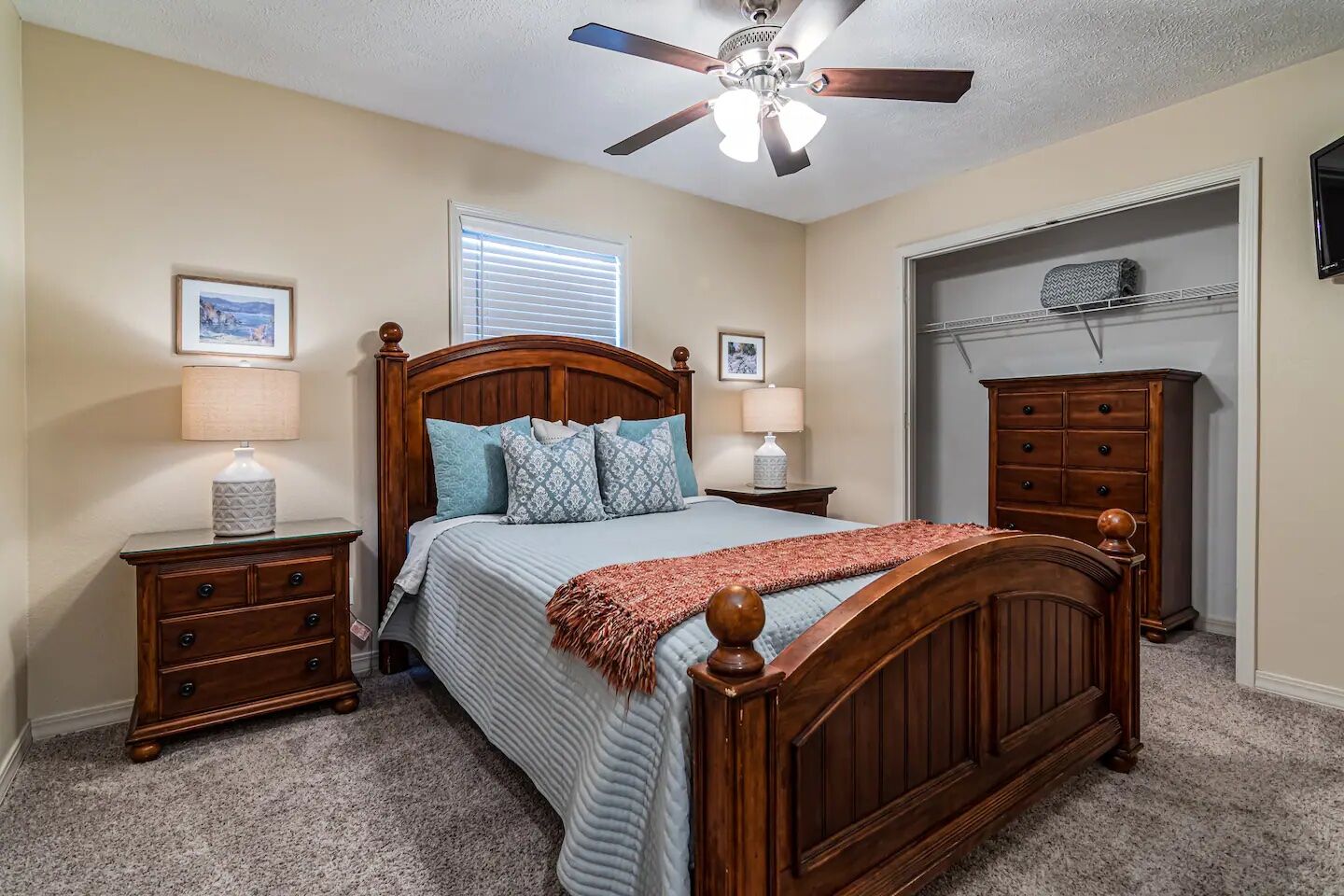 Entertainment is limitless at this Airbnb in Branson, MO, with a hot tub, games room, and fenced-in backyard. Not forgetting that the property is within walking distance of the city's top tourist attractions. Bedrooms are neatly turned out with king and queen-sized beds plus there's a crib for those traveling with infants.
Nine guests, three bedrooms
Price: $371 per night
Majestic retreat – walk to the lake – fall colors and hot tub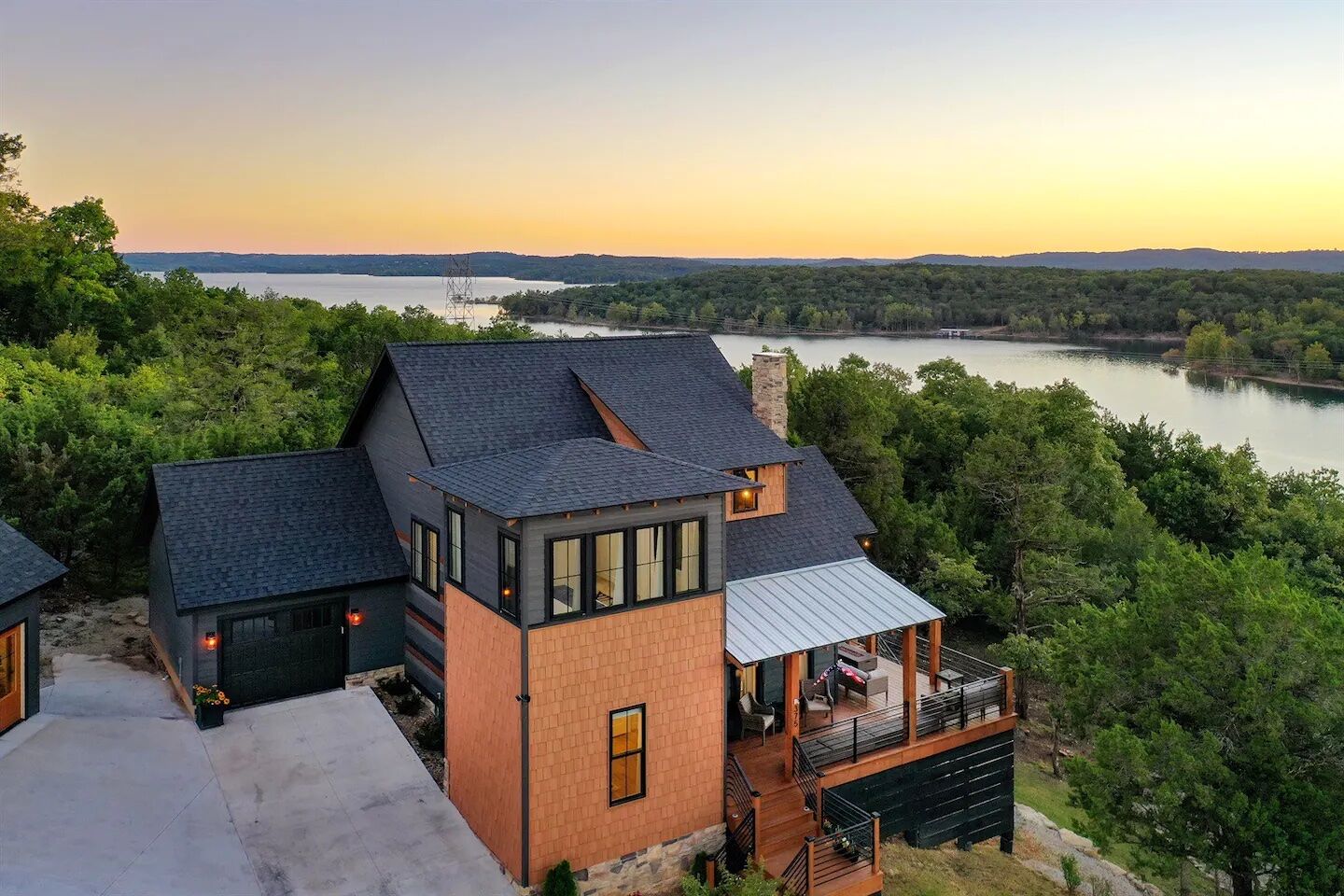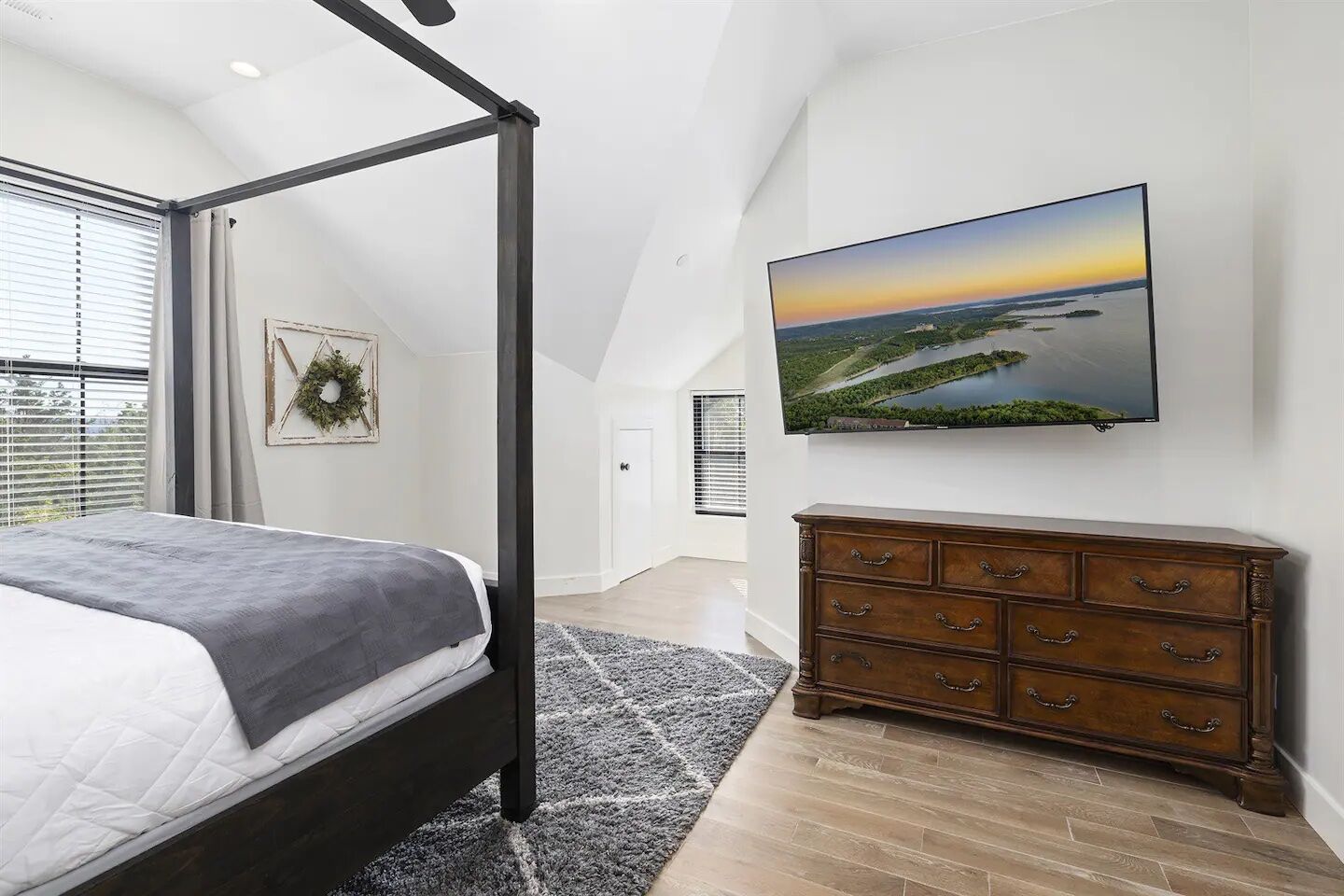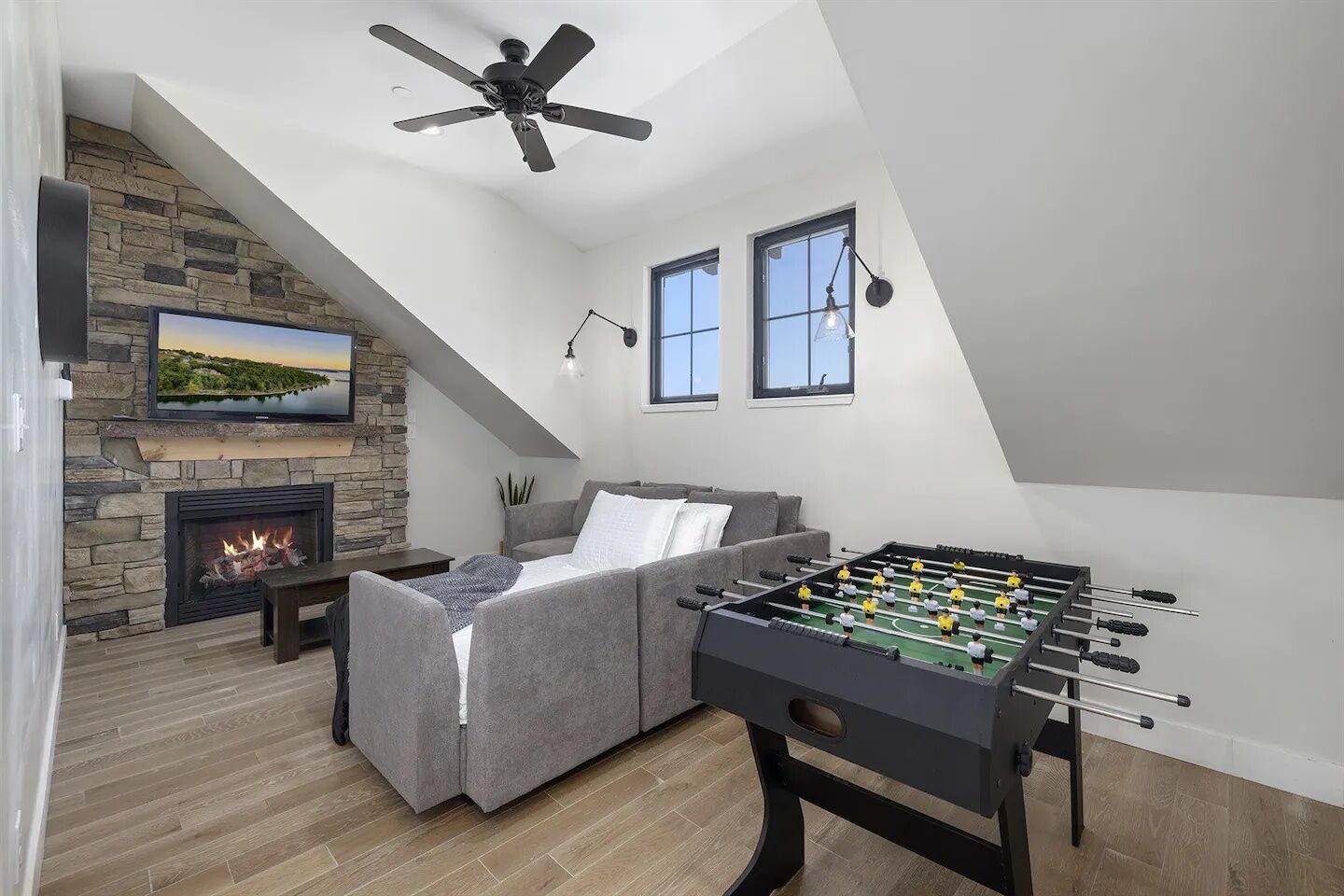 This contemporary Branson, MO, Airbnb with a hot tub on the wraparound deck also permits access to a shared heated pool. Interiors are sleekly appointed with top-end furniture, a fireplace, and ambient lighting throughout. In addition to the foosball table, you'll find a supply of family games and a wood-burning fire pit begging for a night of s'mores and stories.

Twelve guests, five bedrooms
Price: $679 per night
More like this