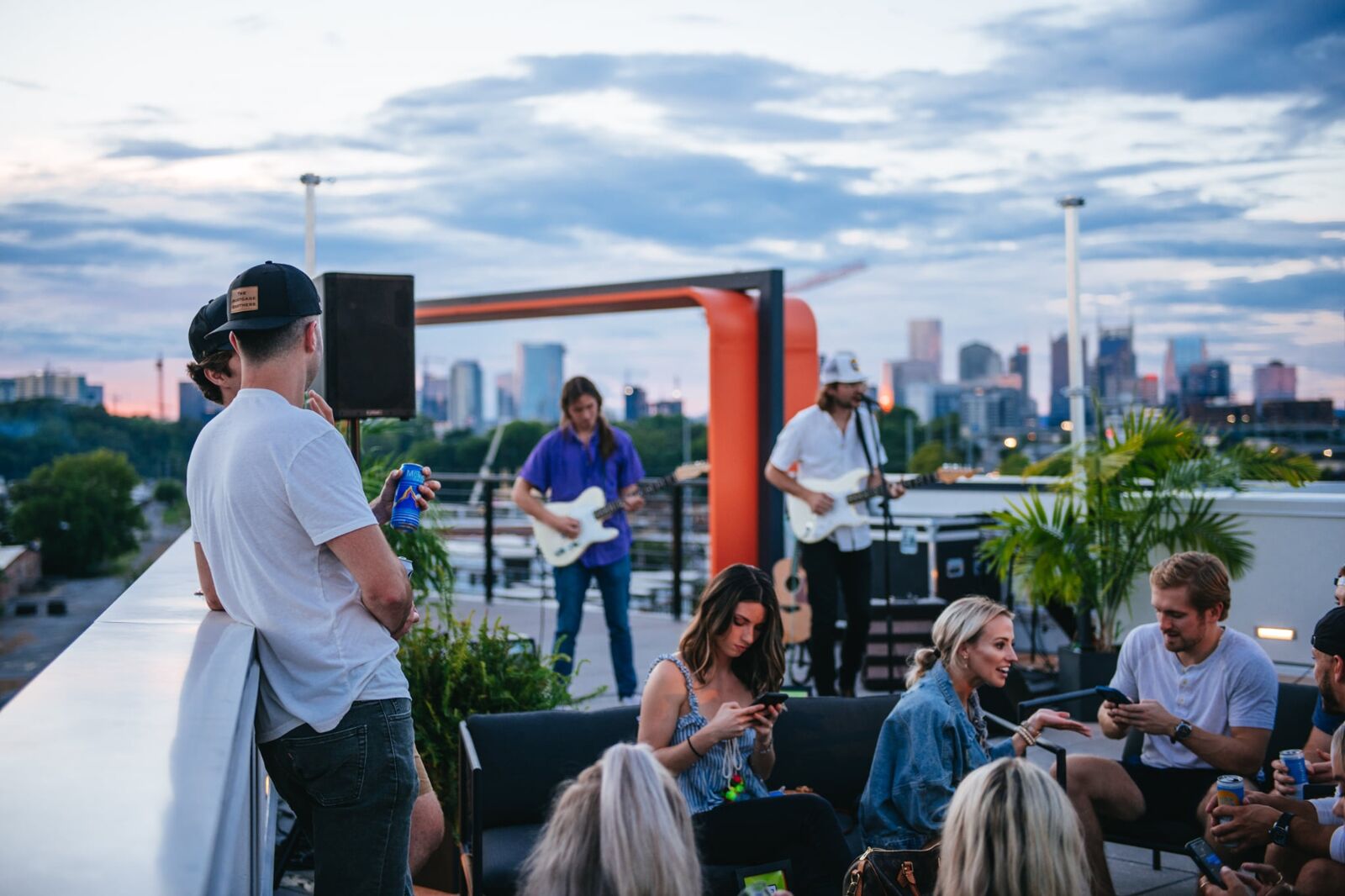 Nashville is a good-time town. The country music ethos of whiskey and beers assures that Nashville nightlife is alive and well. That's been true for generations. It's only in recent years, however, that its rooftop bar scene has thrived. Before that, the city didn't have many skyscrapers to house drinking holes. Now there are bars with views from above all over town, from right on Lower Broadway to other downtown spots, Midtown and Wedgewood Houston. Whether you're looking for a bar for a bachelorette , LGBTQ+-friendly establishments, or just a night out with a view, here are the best Nashville rooftop bars to try.
Denim at the Joseph
The Joseph is known for its impressive art collection and which includes at least one piece you can only see from the rooftop. When it's warm, you can sit outside and enjoy the pool and one of the hotel's many walls of greenery. When it is chilly, sit inside and admire the decorative panels made from, you guessed it, denim, and the city views through the windows. It's also one of the best vantage points of the Korean Veterans Bridge. If you are there are night, you can view the bridge's arches lit up in different colors.
Where: 401 Korean Veterans Blvd., Nashville, TN 37203
ACME Feed and Seed
Housed in a building that has stood tall on Broadway since 1890, the ACME, as locals call it, is devoted to preserving Nashville's musical heritage. The building is home to a radio show, multilevel stages, a full kitchen and event space, and one of the most sought-after rooftop views in the city. From this perch at 1st Avenue and Broadway, you can see across the Cumberland River and to Nissan Stadium, home to the Tennessee Titans NFL team.
Where: 101 Broadway, Nashville, TN 37201
Bourbon Sky at the JW Marriott Nashville
Bourbon Sky was one of Nashville's first jaw-dropping rooftop spaces and even as more skyscrapers have been erected, it remains the gold standard when it comes to views and to service. This bar is next to Michael Mina's Bourbon Steak restaurant on the 34th floor of the hotel. It has a small outdoor balcony and when you stand on it, you'll feel like you're floating above the city. Keep in mind, while they won't turn you away without a suit jacket, business casual or dressier togs are appreciated.
Where: 201 8th Ave. S. Nashville, TN 37203
Assembly Food Hall Skydeck
Since the mammoth Fifth + Broad complex opened, it has been a downtown draw for both locals and tourists, a place where thriving food halls and shops mix with live music performances and broadcasts of key Nashville Predators games. The Skydeck remains one of Fifth + Broad's lesser-known spaces. Its third-floor location may not be the tallest rooftop in Nashville, but it looks out on all of Broadway's action, serves solid cocktails, and opens early in the afternoon.
Where: 5055 Broadway, Nashville, TN 37203
Nudie's Honky Tonk
Keep your clothes on. The name doesn't relate to a state of undress. The bar is an homage to Nudie Cohn, the tailor who gave Nashville stars their glitz and glam by bedazzling their stage costumes. Many of his rhinestone creations have been preserved here (as well as his Cadillac, which hangs from the wall). The rooftop bar looks out over Broadway, so you can watch the activity of the Honky Tonk Highway.
Where: 409 Broadway, Nashville, TN 37201
The Chestnut at BentoLiving
From its location at the edge of the Chestnut Hill and Wedgewood Houston neighborhoods south of downtown, The Chestnut offers a different perspective of the city. Come here for live music events, yoga, and craft cocktails, all framed by brightly colored art elements perfect for photoshoots. The Chestnut is a good option for folks who want some rooftop action but are looking for smaller crowds than the Broadway scene.
Where: 321 Hart St., Nashville TN 37210
L27 at the Westin Nashville
This is probably the only Nashville rooftop bar you'll notice from street level. That's because the glass wall in the pool glows blue, and that blue light is illuminated when you look 27 floors above. The menu for the two-story bar includes shareable plates, such as truffled grits and grilled octopus, plus several specialty cocktails. L27 is transformed into a winter wonderland during the holiday season.
Where: 807 Clark Pl., Nashville, TN 37203
White Limozeen
Another contender for the most photographed Music City rooftop, White Limozeen at the Graduate Nashville, is named after one of Dolly Parton's record albums. The rooftop even features a giant pink bust of Dolly, sculpted out of chicken wire. This Midtown rooftop near the Vanderbilt University campus is designed to be photographed, with its all-pink décor. But make sure to put down your phone long enough to order food and specialty drinks, especially the Champagne Jell-o shots. Reservations in advance are highly recommended. 
Where: 101 20th Ave. South, Nashville, TN 37203
The Bobby Rooftop Lounge
Perhaps the most photographed rooftop in the South, the Bobby features a 1956 Scenicruiser bus — yes, a real bus — perched up on the roof. The retro touring bus has been decked out with seats where you can sip cocktails and eat snacks and look out downtown. The rooftop is also home to a pool, lawn games, and in the winter, Igloos, and firepits. Reservations are recommended; everyone wants a photo with the bus.
Where: 230 4th Ave. South, Nashville, TN 37219
Harriet's Rooftop at the 1 Hotel Nashville
One of Nashville's newer rooftops, Harriet's pulls off what seems impossible — a lush, green oasis in the heart of downtown. That's because the hotel's commitment to live greenery in all of its spaces is continued on its 19th-floor bar. 1 Hotel is a sustainably focused property: the team works to limit food waste, such as repurposing spent citrus peels and coffee grounds to infuse liquors and batch cocktails so that nothing is wasted — not even ice.
Where: 710 Demonbreun St., Nashville TN 37203
The Pool Club at Virgin Nashville
If poolside cabanas are your vibe, this is the rooftop for you. While many of the city's rooftop bars have pools, it is the star here, with red-and-white striped umbrellas and railings that are designed not to obstruct the views. Firepits help keep things warm in winter, as do holiday-themed festivities. Weekend evenings are when the in-house DJs come to play. The Virgin's Music Row location affords a different view of the city, and while the rooftop gets crowded, it's a different vibe than the Broadway scene downtown.

Where: 1 Music Square W., Nashville, TN 37203