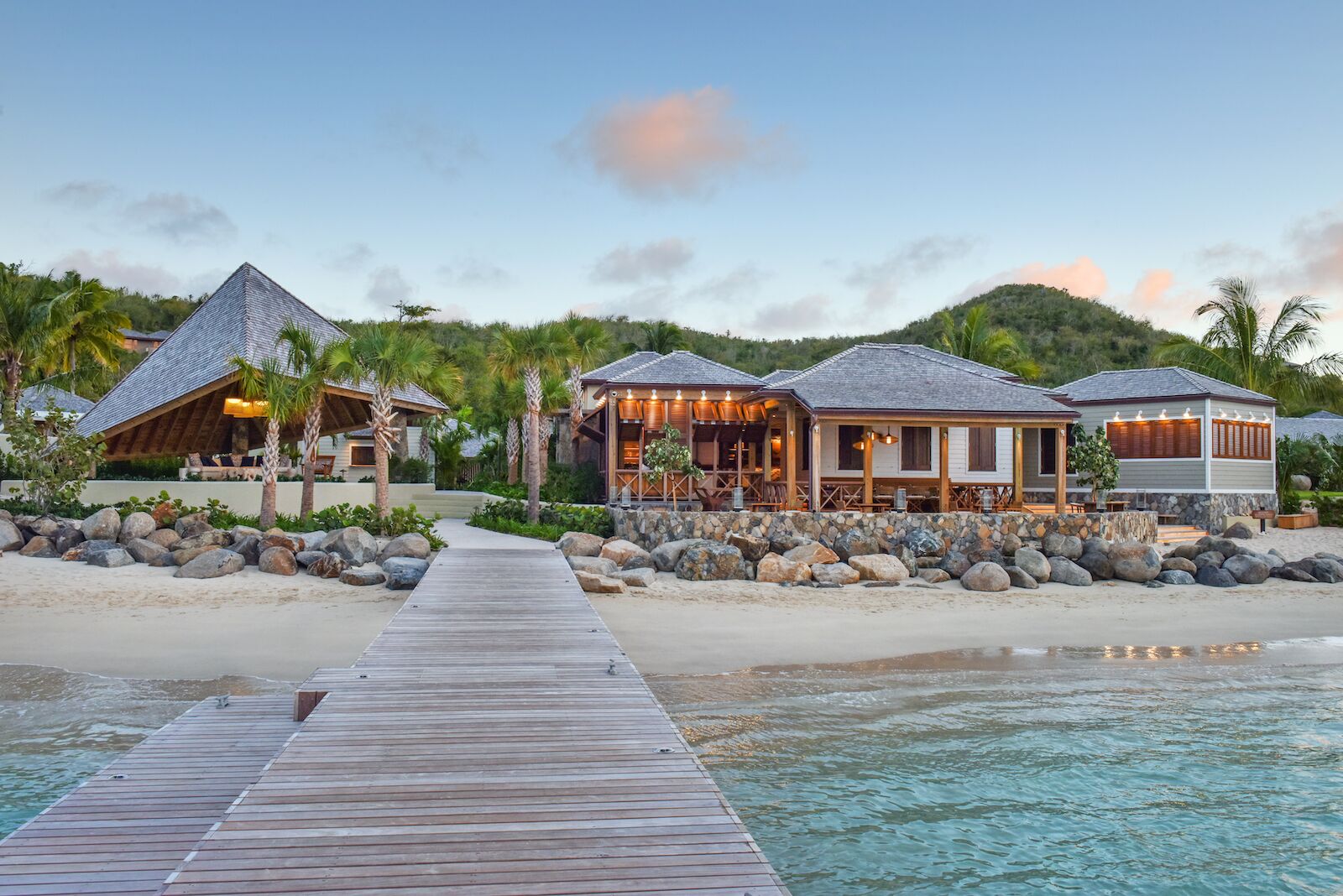 Arriving at Rosewood Little Dix Bay on Virgin Gorda (a Caribbean island in the British Virgin Islands), it's easy to think you have been transported to a deserted island in the South Pacific. Set in a cove of crystal-clear water and framed by verdant green hills, the resort emerges from the landscape subtly, its peaked wooden roofs blending seamlessly among the palm trees and lush foliage. I recently traveled there with my family – five of us in total – seeking a week of pampered solitude, great food, and a little adventure. We discovered that Rosewood Little Dix Bay more than delivered on that promise.
Where is the Rosewood Little Dix Bay resort
Located on the island of Virgin Gorda in the British Virgin Islands, Little Dix Bay is a Rosewood property with only eighty rooms spread across 300 acres. The resort's sprawling grounds and staggering half-mile of private sandy beach provide the utmost seclusion.
How to get to Rosewood Little Dix Bay resort
Visitors can fly into the Tortola airport or like my family did, fly into St. Thomas then take a ferry to Tortola or directly to Virgin Gorda. Most guests arrive via the resort's catamaran transfer from Tortola, and the twenty-minute ride past small islands, many of them uninhabited, signals the fact that you have entered a quieter part of the Caribbean. There isn't a high rise or jet ski in sight, and the only traffic is a few sailboats gliding silently across the sea. As you round the corner to Little Dix Bay and the unspoiled beach comes into view, you may pinch yourself to see if the dreamy landscape is, in fact, real.
Arriving via catamaran to the resort's private dock, we were greeted by our personal butlers, Riju and Hubert. They graciously explained that they would be our guides for the week, handling everything from spa reservations to jeep rentals.
Since our room wasn't ready yet, we were whisked to the resort's Sugar Mill restaurant, an open-air beachfront space with a focus on Caribbean tapas and seafood. One bite of the local lobster salad sandwich, and the farm greens salad—harvested from the resort's farm—and we knew we were in for a week filled with fresh, mouthwatering culinary fare.
Once the room was ready, we were driven to our room by golf cart. Despite its vast acreage, the resort is walkable, though we chose to utilize the complimentary bikes at every opportunity.
What are the rooms like at Rosewood Little Dix Bay?
When we arrived at our two-bedroom suite, we discovered that it was more like a one-story villa, complete with expansive patio and back garden only steps to the sand. The large living area was decorated in soothing neutrals with woven textures, and a sleek, mid-century beach vibe. A dining area was fully stocked with refrigerated minibar drawers, dishware, and a wine machine that dispensed cold white and rosé by the glass.
The two-queen bedroom is spacious with a natural rock wall, plentiful storage, and its own front door entrance and back sliding doors that access a patio. The king bedroom featured a four-poster bed, rock wall, and separate patio access.
Both bedrooms boasted identical bathrooms that were almost as large as the bedrooms. With floating wood vanities, large soaking tubs and showers that could fit at least three people, the bathrooms were some of the most well appointed I have experienced in a resort. Each shower also contained a door to a private, outdoor shower, should you wish to hear the rustling of palm trees or smell the salty sea air while you clean up. Walk-in closets contained built-in dressers with robes, raffia beach bags, and lounge wear sets by luxury brand, Edie Parker.
What to do at Rosewood Little Dix Bay
After settling into our room, we didn't waste a minute getting our toes in the sand. Every room comes with its own set of teak loungers and a palapa, where beach service is as easy as the press of a button.
Watersports, including snorkeling gear, Hobie catamarans, kayaks and stand-up paddle boards are complimentary at the resort. Little Dix Bay is also known as a tennis destination, with six tennis courts, and two dedicated pickle ball courts.
The cove is protected by a reef so you can swim peacefully without the worry of boat traffic or strong currents. Within minutes, we spotted a sea turtle swimming alongside us, as well as small fish and stingrays.
The snorkeling, water sports, and fitness activities at the resort are enough to keep any family busy for the week, but if you choose to venture outside the resort, as we did one day, jeeps can be rented right at the resort for only $95 per day. The Baths National Park is just a ten-minute drive away and Virgin Gorda is an island easily explored in a single day.
Where to eat at Rosewood Little Dix Bay
Meals at Little Dix Bay are a highlight, and each of the property's four restaurants features a menu that focuses on seasonal produce and inspired international cuisine. Pavilion, the resort's signature restaurant serving breakfast and lunch, is the only building that has remained a part of the original resort since 1964. With peaked shingled roofs, woven furniture, and a massive stone veranda, the restaurant boasts some of the best views in the Caribbean.
The menu focuses on slow-cooking, fresh vegetables, and tandoori-style meats. Drawing inspiration from the island's cultural roots are dishes like Trinidadian seafood pot and Puerto Rican plantain mofongo.
The Reef House restaurant is an intimate space set directly on the beach, just at the waters' edge. With a menu focused on vegetarian dishes like whole roasted cauliflower, and handmade pappardelle with pine nut sauce, it offers a true farm-to-fork fine dining experience. Another dining option is the daily afternoon tea served in the resort's lounge and bar, The Rum Room. The complimentary spread includes a full English-style tea with sweets and savory snacks.
More than twenty-five percent of the resort's produce, greens and botanicals are harvested on the resort's farm, including botanicals used to distill the resort's own brand of gin. The farm at Little Dix Bay is also home to dozens of chickens that provide fresh eggs for each restaurant. Seafood, which compromises much of the menu at every restaurant, is sourced from local purveyors at the resort's dock.
Opportunities for guests to immerse themselves in the resort's farm are plentiful. From private farm dinners to cooking classes with the chef utilizing freshly harvested ingredients, the farm plays a significant role in bespoke guest experiences. Children may visit with the farm animals at any time of day, participate in a farm tour or help with the daily harvest.  The resort is in the process of expanding the farm to nearly double the output of produce used in the restaurants.
Is Rosewood Little Dix Bay sustainable>?
The property has a zero single-use plastic policy, and resort recycling practices include an on-site glass crusher that reduces waste back into sand. Little Dix Bay also partners with the area's Reef Keepers Association to ensure the health and safety of the property's wildlife, regularly tagging and measuring the resident sea turtles.
A stay at Rosewood Little Dix Bay is a splurge; villas run at about $1,300 per night, but can go up to over $2,000 per night depending on when you book your stay. After a week of indulgent pampering from our butlers, and delicious, farm-fresh dining, my family felt completely spoiled. We spent mornings snorkeling and hiking, and long lazy afternoons with our toes in the sand. Rosewood Little Dix Bay embraces the barefoot luxury it was founded upon, and the unspoiled landscape feels like another world, one where the fantasy of paradise becomes a reality.

More like this