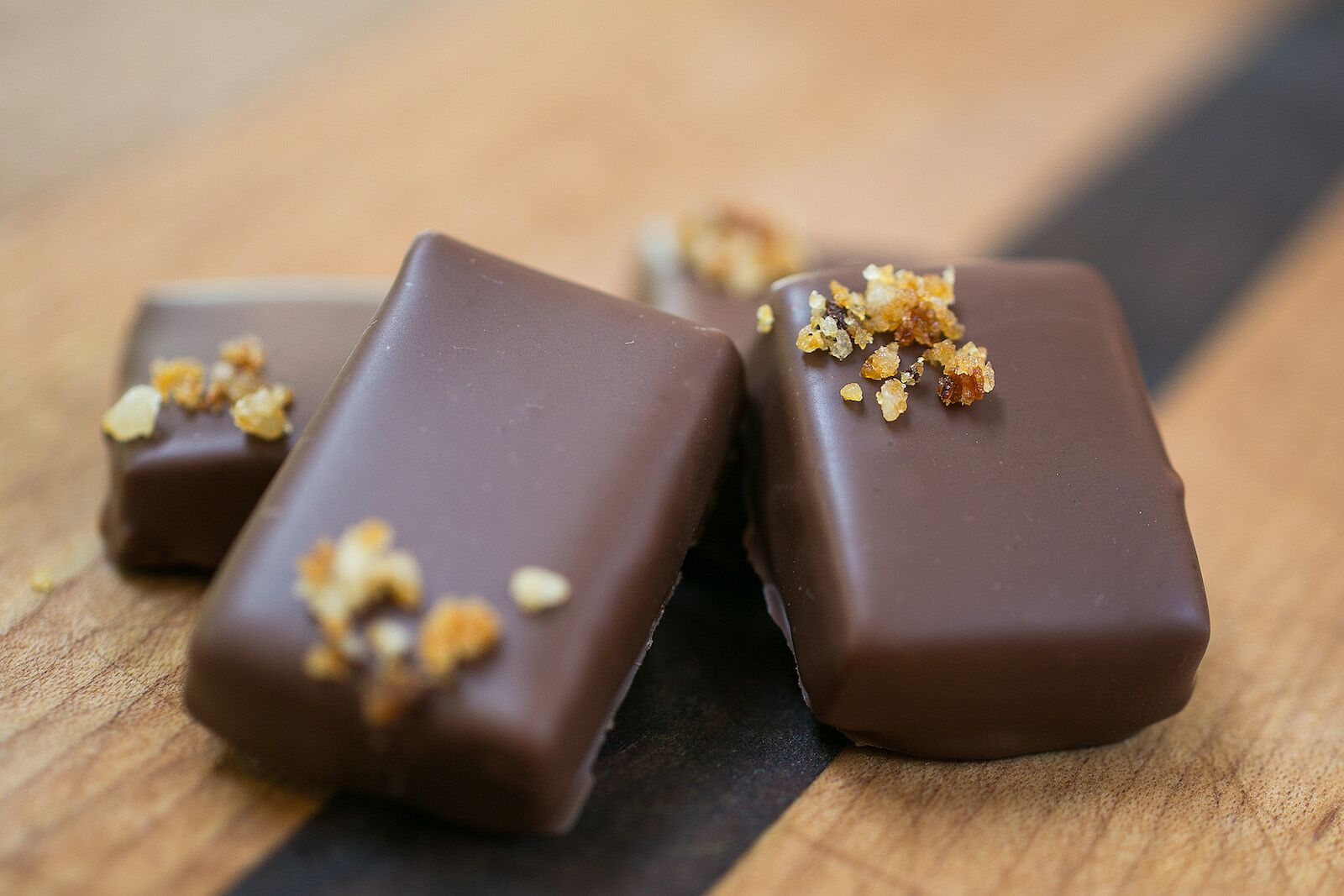 There are certain cities that are world renowned for certain foods. You go to New York and Naples for pizza, New Orleans for jambalaya, Paris for croissants, and Texas for brisket. Other cities don't have the same singular recognition, but are worth making a trip to for the food alone all the same. Greenville is the perfect example of the latter.
This little city on the Reedy River has been gaining prominence in recent years as a day trip or weekend getaway destination for people in Atlanta, Charlotte, Columbia, Knoxville, and other big Southern hubs. Prized for scenic views over flowing waters, picturesque bridges and nature trails, and a pristine, charmingly walkable downtown, there are a lot of things that make Greenville a desirable place to go. But perhaps most of all is the food and the drinks.
These are some of the can't-miss signature snacks, sweets, and sips you'll be hard-pressed to find outside of Greenville — and that will draw you back again and again.
Stecca from Swamp Rabbit Café
It's easy to be distracted by scones at this farmer's market staple. But the piles of humble, brown-bagged stecca bread are actually the headliner. It sparkles in the morning sun from a smattering of coarse salt, and olive oil soaks through the bread and paper wrapping alike. This chewy "stick" (the literal meaning of its Italian name) has the crust and chew of a fresh-baked bagel, the richness of focaccia, the tearable handheld appeal of a baguette, the width of a ciabatta, and the sweetness of a kaiser roll. The product of cafe co-owner Mary Walsh's "tinkering" in the kitchen 11 years ago and customized to become distinctly Greenville, this 24-hour bread is a must for any visitor. And if you underbought at the farmer's market or missed it, the actual café, bakery, and market on the Swamp Rabbit Trail is well worth a stop pick up locally made provisions to go along with their unforgettable bread.
Swamp Rabbit Café: 205 Cedar Lane Rd, Greenville, SC 29611
Carolina Cream from Six & Twenty Distillery
When Six & Twenty distiller and founder David Raad was challenged by his mother-in-law one Christmas Eve to "make a better Bailey's," the organic chemist in him thought, 'No problem.' Starting with the brand's 5-Grain Bourbon, which includes Carolina-specific grain varieties, he spent eight months enhancing it with spices, his own rum, and hyper-pasteurized cream from Wisconsin to create a shelf-stable, supple liqueur worth writing home about. Carolina Cream is thick, creamy, fragrant, and hard to put down. Try it on-site in the brand's stellar Carrot Cake craft cocktail, then bring a bottle home to spike your coffee with or sip on ice. Not too sweet but plenty rich, the cocoa and vanilla balance make it an easy sipper that can take you back to Greenville any time you want.
Six & Twenty Distillery: 556 Perry Ave B103, Greenville, SC 29611
Toasted sandwiches from Sully's Steamers
Toasted hot sandwiches are nothing new. Still, what's not to love about warm fillings, melted cheese, and a little bit of crunch? Steamed is a whole other story. This local favorite specializes in sandwiches made with bagels from Brooklyn, cold cut combos of your choice, and cheese that's all steamed open-face in special steamers made just for this expanding Greenville original. The vapor heat unlocks the sweetness of the dough and softens the bagels while warming up the fillings. It also makes the cold cuts taste fresh-cooked and avoids dreaded dry spots. The cheese gets gooey but remains moist for ultimate cheese pulls, and fresh veggie toppings like lettuce and sprouts are added on after for textural and temperature contrast (and no, it's not wet or soggy). Imagine the texture of a hot mantou bun, but thicker and more stuffed than any bao and positively dripping with sauce and cheese. Best of all, Sully's Steamers is open late every day but Sunday, making it a failsafe go-to since 2013.
Sully's Steamers: 6 E Washington St, Greenville, SC 29601
Truffles and bonbons from LaRue Fine Chocolate
A great thing about shopping from small artisan makers is that even if a similar food can be found elsewhere, a version with local inspiration and ingredients makes it distinctly representative of a place. LaRue Fine Chocolate turns out one-of-a-kind originals that feature local ingredients, from Nellie T's peanut butter to Bee Well honey, Bulls Bay sea salt, and Queen's Cupboard sugars. Better yet, chocolatier and certified wine specialist Elizabeth McDaniel can lead you on well-advised chocolate and wine pairings for an experience that connects Greenville with the globe. Quintessential picks for custom gift boxes include Sweet Kentucky, which features caramel bourbon; an Earl Grey-infused milk and dark chocolate named for the gentleman himself; the pistachio-dusted, orange cardamom Scheherazade; and the Lala Latte, which is topped with housemade coffee salt. Keep an eye out for the Matcha Matcha Man — the earthy green tea is brightened up with white chocolate ganache.
LaRue Fine Chocolate: 556 Perry Ave B115, Greenville, SC 29611
Fried goat cheese from The Lazy Goat
There's a lot to enjoy along the banks of the Reedy River, and for 15 years, fried goat cheese balls have been one of them. Catarina Francisco hand-rolls more than 190,000 perfect gumball-sized spheres of creamy goat cheese per year at this Mediterranean-influenced restaurant, all of which are lightly breaded, fried, then drizzled generously with a light and fragrant vanilla honey and crushed pistachios. If you like cheesecake with a bit of a tang, these are bite-sized morsels are for you. They're served warm and slightly crisped, with the goat cheese spilling out in slow motion if you can resist popping them in your mouth whole (don't let them cool too much, though, or it'll get grainy). The honey is mild, the vanilla balanced, and the thought put into this popular Greenville app is anything but lazy.
The Lazy Goat: 170 Riverplace, Greenville, SC 29601

More like this