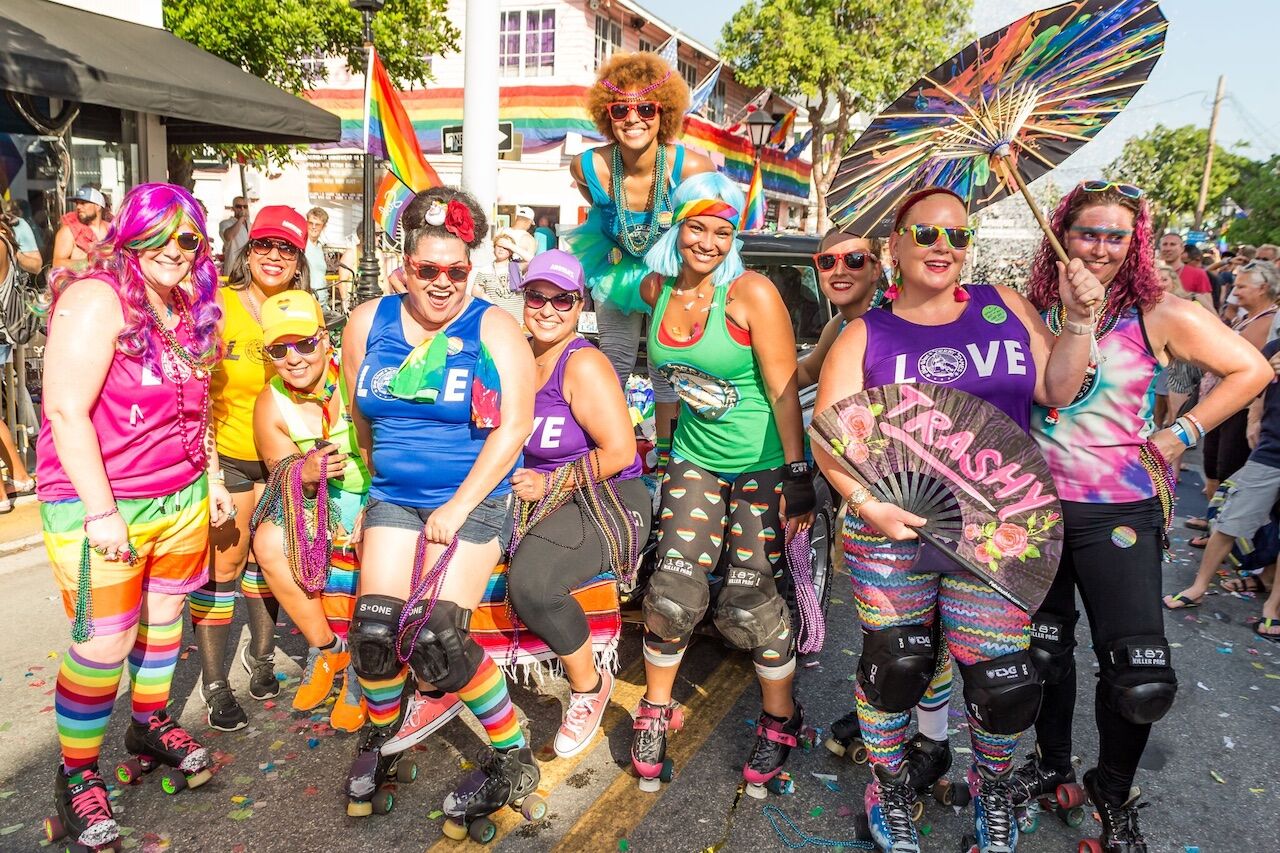 Don't be fooled by its size: Tiny Key West knows how to throw a big party, and the LGBTQ community puts on some of the best. From Carnival-style fêtes to gown-clown extravaganzas, the island's panoply of queer festivals celebrates all members of the alphabet mafia throughout the year.
Plan your next Florida getaway around one of these eight events, when Key West clocks are perpetually set to party time.
1. New Year's Eve Red Shoe Drop
When: December
Ringing in the New Year is a drag — literally. Since 1996, thousands of Key West onlookers have gathered around Bourbon St. Pub to see local drag legend Sushi (aka Gary Marion) descend from the building's second story in a six-foot ruby-red stiletto as the clock strikes midnight. The glittering spectacle is a campy take on NYC's ball drop, and the eclectic crowds rival the hordes in Times Square. Young families, leather daddies, and bohemian grannies all show up to cheer on Sushi and her gargantuan shoe.
An outdoor stage features other drag queens and performers throughout the night, so arrive early to enjoy the entertainment. Street viewing is free and open to the public.
2. Kelly McGillis Classic
When: January
Every winter, the International Women's Flag Football Association touches down in Key West for a week of scrimmages and sisterhood. The tradition began in 1992 with five teams from across the US. In 1999, Top Gun star and LGBTQ community member Kelly McGillis endorsed the event, and in 2001 nearly 50 teams joined its ranks. Today, the Kelly McGillis Classic is one of the world's largest women's flag football tournaments, open to all races, nationalities, and sexual orientations, including girls ages 9 and above and women of all skill levels.
You don't have to be a football aficionado to enjoy the festivities. Plenty of activities happen off the field, including a Duval Street parade highlighting the event's international roster, a women speaker series featuring inspiring stories from legendary ladies, and social activities where gals mingle over organized dinners and bar crawls. While competitive players intend to win the tournament, building community is the event's biggest prize.
3. Key West Pride
When: June
The first Pride might've been a protest, but in Key West, it's always been a party. The Conch Republic kicks off Pride Month with a weeklong celebration of all things LGBTQ. Theater performances, drag shows, pool parties, and boat trips abound, and the island's queer bars draw larger-than-usual crowds.
All the events are a warmup for Sunday, when Duval Street becomes a riot of rainbows for the annual all-are-welcome Pride Parade. Plenty of colorful eye candy is always on display, but nothing impresses more than the Sea to Sea Diversity Flag. This 100-foot-long ROY-G-BIV showpiece is a tiny part of the world's largest rainbow flag — a 1.25-mile-long stunner made in 2003 to stretch along the entire length of Duval Street. Sections of the flag have since been sent to cities worldwide, spreading Key West's motto, "One Human Family," around the globe.
4. Tropical Heat
When: August
August in the Keys is already hot, but Tropical Heat makes it downright steamy. This boys-only bacchanal turns the Conch Republic into a Speedo-smacked oasis with a five-day itinerary fit for a gay Atlantis Cruise.
Following the prescribed schedule is like taking a tour of gay Key West. Drag shows at Aqua and 801 Bourbon Bar sample the drag scene's top talent. Island House's clothing-optional pool parties lean into the island's libidinous side. Sunset tours on Blue Q's catamaran show off the area's natural beauty, and the infamous La Te Da tea dance offers a glimpse at a social tradition dating back to the 1970s.
If the nonstop sizzle of events proves too hot to handle, there's always a beach or museum where you can escape the crowds. But let's be honest — Tropical Heat is all about joining the gay gaggle and working up a sweat.
5. Womenfest
When: September
September's Sapphic-centric Womenfest is one of America's largest celebrations for queer women and their friends. This five-day jamboree gives gals a chance to let their hair down however they choose. Luxury sailing on a catamaran? Of course. Poetry readings and art shows celebrating local talent? Obviously. A cornhole tournament for competitive cougars? You bet.
Add in the clothing-optional ragers, bawdy nights of burlesque, drag king performances, women-only pool parties, and bike tours exploring Key West's literary legacy, and it's no wonder this annual event has been going strong for over two decades.
6. Fantasy Fest
When: October
Halloween meets Mardi Gras at this annual 10-day celebration of creativity and hedonism. Expect outrageous parades, orgiastic masquerade balls, and enough elaborate costumes to mount a zillion modern productions of the Ziegfeld Follies.
Although many offerings aren't LGBTQ-specific, the anything-goes attitude of Fantasy Fest's 60+ parties ensures queer folks are part of the fabric. Events range from the Fido-friendly Pet Masquerade to the bedazzling Headdress Ball (proceeds of which go to promoting LGBTQ tourism on the island). For something more salacious, dress to impress at the fetish-forward Kinky Carnival, or strip down at the men-only Tops or Bottoms Underwear Party. Events climax in a Duval Street parade packed with glittering floats and performances.
Fantasy Fest began in 1979 as a marketing gimmick to bolster Key West tourism's slow season; today, it's one of the undisputed highlights of the island's social calendar. The local population swells from 25,000 to 70,000, and the Duval Street frivolity doesn't end until the last costumed reveler leaves.
7. Key West Bear Weekend
When: November
Most of America's bears start hibernating in November, but in Florida, there's a slew of furry friends just getting the party started. During Bear Weekend, the local LGBTQ scene becomes a debaucherous den for a maul of meaty men. The island's usual highlights are de rigueur, including cocktail hours and bare-bum pool parties spread between Duval Street and a smattering of LGBTQ guesthouses.
If you're looking for something more fur-forward, don't miss the Mr. Key West Bear contest (Miss America's queer equivalent) and Key West Leather Ball — a naughty adult prom with Tom of Finland pizzazz.
8. Key West Film Festival
When: November
Every autumn, culture vultures fly to Key West for five days dedicated to contemporary cinema. Discussions and workshops spotlight the industry's top talents, and movies showcase some of the best in local, national, and international filmmaking. A significant section of the Key West Film Fest honors LGBTQ voices, with recent movies like Firebird and Portrait of a Lady on Fire winning top prizes.
Attend film screenings in Old Town Key West's bounty of boutique theaters, unwind on an Atlantic Ocean beach, then hit an afterparty with like-minded cinephiles. It's Florida paradise with Hollywood flair — just one of several highlights on the LGBTQ calendar of events that mean whenever you're in Key West, you're never far from a party.