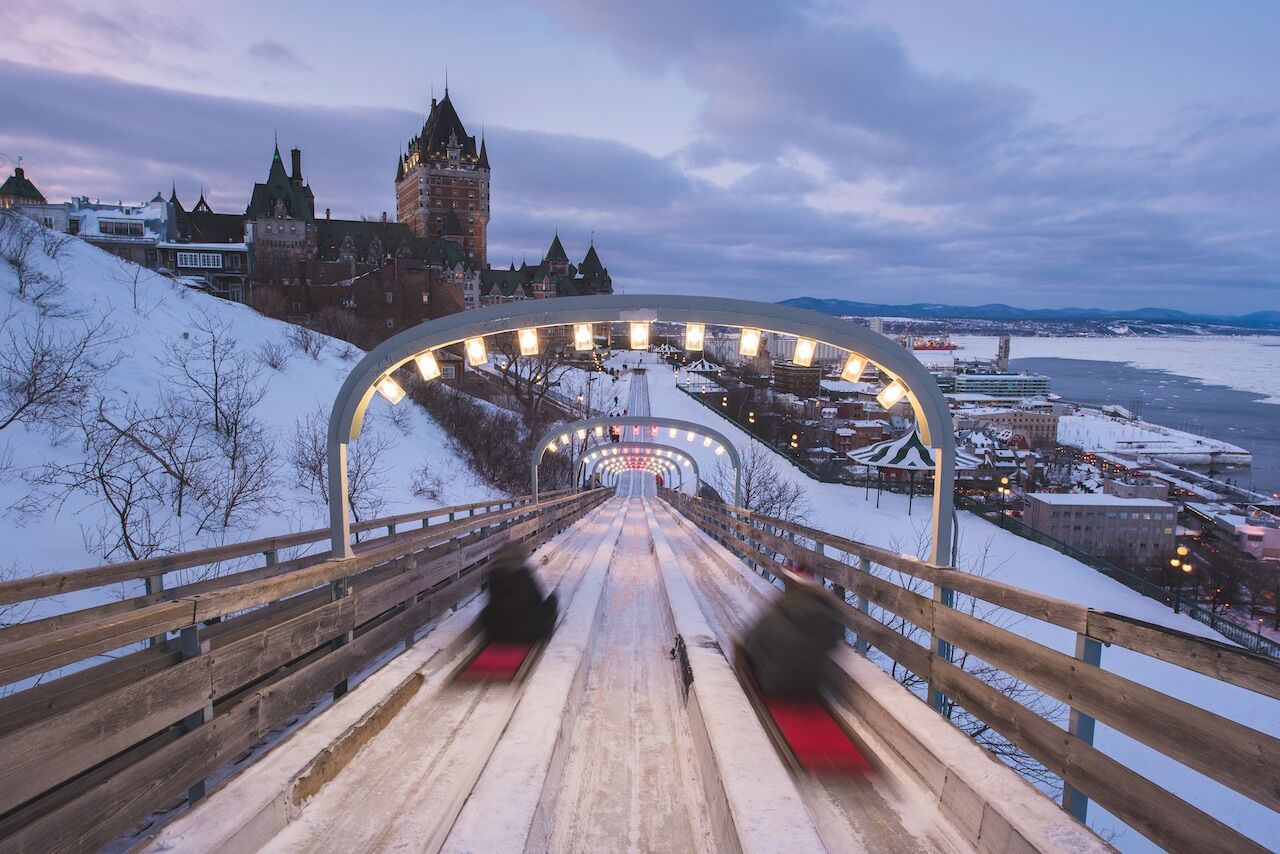 In most places across northern North America, winter slows the world down. But not in Québec. Come wool-scarf weather, this Canadian province gets perfectly blanketed in fluffy white snow, there's a celebratory spirit in the air, and new adventures take shape.
If you can handle bundling up, mugs of hot chocolate, and staying active, winter in Québec brings a world all its own to explore. We're talking European-style cities, crashing waves and sea views, snow-covered ski towns, moose and elk, and stay-cozy dishes like lobster poutine. This year, say bonjour to winter in Québec with these seven ideas.
1. Live out a winter fairytale in a Québec city.
There are few big cities in the world that become more beautiful in winter, but Québec's two hubs — Montréal and Québec City — are definitely on that list. Just imagine strolling under the twinkly lights of a 17th-century old town, pausing for a hot chocolate or cup of coffee. (Montréal's Café Olimpico gives you such a vibe, as does Old Québec's Café La Maison Smith on Rue des Jardins, located across from City Hall and around the corner from Notre-Dame de Québec.)
Just remember to do as the Québecers do and savor the season by having fun outdoors. Skate on top of Mount Royal in Montréal, toboggan down an ice slide built in 1884 in Québec City, or cross-country ski on trails in and around the cities. When you're in need of a fuel-up, there's nothing as soothing on a cold winter's day as a steaming plate of fries, cheese curds, and gravy (aka poutine) — try Chez Ashton in Québec City or Chez Claudette in Montréal.
Know that whichever city marks the start of your Québec winter journey, you can expect a jovial atmosphere — people here just love this time of year. That means winter festivals, unique outdoor installations, and lots of smiling faces tinged red with the nipping cold.
2. Get to know Québec's national parks.
Ask any Québecer what makes winter so special, and they'll give you a simple answer: winter sports. With a network of around 50 national parks and wildlife reserves plus 180 major regional and municipal parks, no one need worry about cabin fever.
For instance, you can snowshoe along 14 miles of trails before searching the skies at ASTROLab in Mont-Mégantic National Park, the world's first international dark sky reserve. Other notable national parks include Saguenay Fjord, which, as the name suggests, runs along a 65-mile-long fjord, and Aiguebelle, where you can climb frozen waterfalls. Camp de Base Abitibi-Témiscamingue instructors will happily show you the ice-climbing ropes (and ice axes and crampons).
3. Visit winter creatures — and maybe sleep with the wolves.
At Québec's Parc Oméga — approximately halfway between Montréal and Ottawa — live out your Snow White dreams by playing with lovable forest friends…safely through the window of your car.
There's a 7.5-mile safari drive, where you can steer your vehicle past some 400 animals, including majestic moose and elk, winter foxes, and black bears. When the safari's done, stay the night in one of the park's luxury cabins or chalets. You might just see wolves playing in the snow beyond your floor-to-ceiling windows. The park also has yurts, tipis, treehouses, and more unique lodging options for an incredibly memorable stay.
4. Ski at the peak of eastern North America.
If you're on the East Coast and love skiing and snowboarding, there's nowhere that can spoil you for choice like Québec. The province has more than 75 resorts, including big names like Mont-Tremblant, Stoneham, and Le Massif de Charlevoix. (Le Massif enjoys superb views of the St. Lawrence River from its slopes).
It's worth spending the weekend near whichever mountain you choose, as many Québec ski towns have a lot to offer in terms of quality hotels, classy après-ski dining, and stress-evaporating spas.
5. Ditch the wheels — take a winter road trip on blades.
Québec is the birthplace of the snowmobile — which, for the unacquainted, is like a Jet Ski on snow — and they're insanely fun to drive. Take one out for a few hours on the province's 20,000+ miles of snowmobile trails. Or, to get really off the grid, opt for a multi-day saddlebag adventure with a guide. This helpful resource has trail maps, packages, and even an app to track your journey.
6. Go ice fishing like Anthony Bourdain.
Ice fishing is almost exactly what it sounds like — you station yourself in a hut on the ice and stick your rod through a hole into the water. Except in Québec, where the huts come rentable, decorated, fully equipped, and sometimes heated. It's surprisingly fun, especially when accompanied by seared duck, truffles, and excellent local wine as Anthony Bourdain enjoyed on the Québec episode of Anthony Bourdain: Parts Unknown.
One particular ice fishing hotspot is Sainte-Anne-de-la-Pérade, an hour from Québec City, which puts up some 500 ice fishing huts during the season (generally from January to mid-March). Otherwise, you can test your auger on almost any of Québec's thousands of frozen lakes — or even on the St. Lawrence River, widely considered one of the best in the world for catching pike, walleye, yellow perch, and bass come winter. Check out this page for a list of those rentable, fully equipped ice huts across the province.
7. Explore the "edge of the Earth."
The Gaspésie region — the thick peninsula that juts out over the top of New Brunswick — has all of Québec's cultural charm combined with colorful riverside homes similar to those you'd find in Halifax or Newfoundland. It's also home to some very tasty seafood (lobster poutine anyone!?). But Gaspésie also has an ace in the hole: It claims one of Canada's prettiest national parks, Forillon.
In winter, the park — which features stellar sea views and cliffs that look like human faces — is refreshingly uncrowded, perfect for undisturbed exploration of its many cross-country ski, snowshoe, and fat-bike trails. One recommended easy-to-moderate trek is the 5.7-mile La Vallée Trail; at the halfway point, warm up next to the woodstove in the Répit-Nord shelter.
While in Gaspésie, journey to the peninsula's eastern tip for a glimpse of Percé Rock, a nearly 300-foot-tall limestone block rising from the waves just offshore. Cut into the side of the massive formation is one of the largest sea arches in the world. Percé Rock provides the kind of view that has a distinct "edge of the Earth" feel to it — a perfect capstone for your Québec winter adventure.