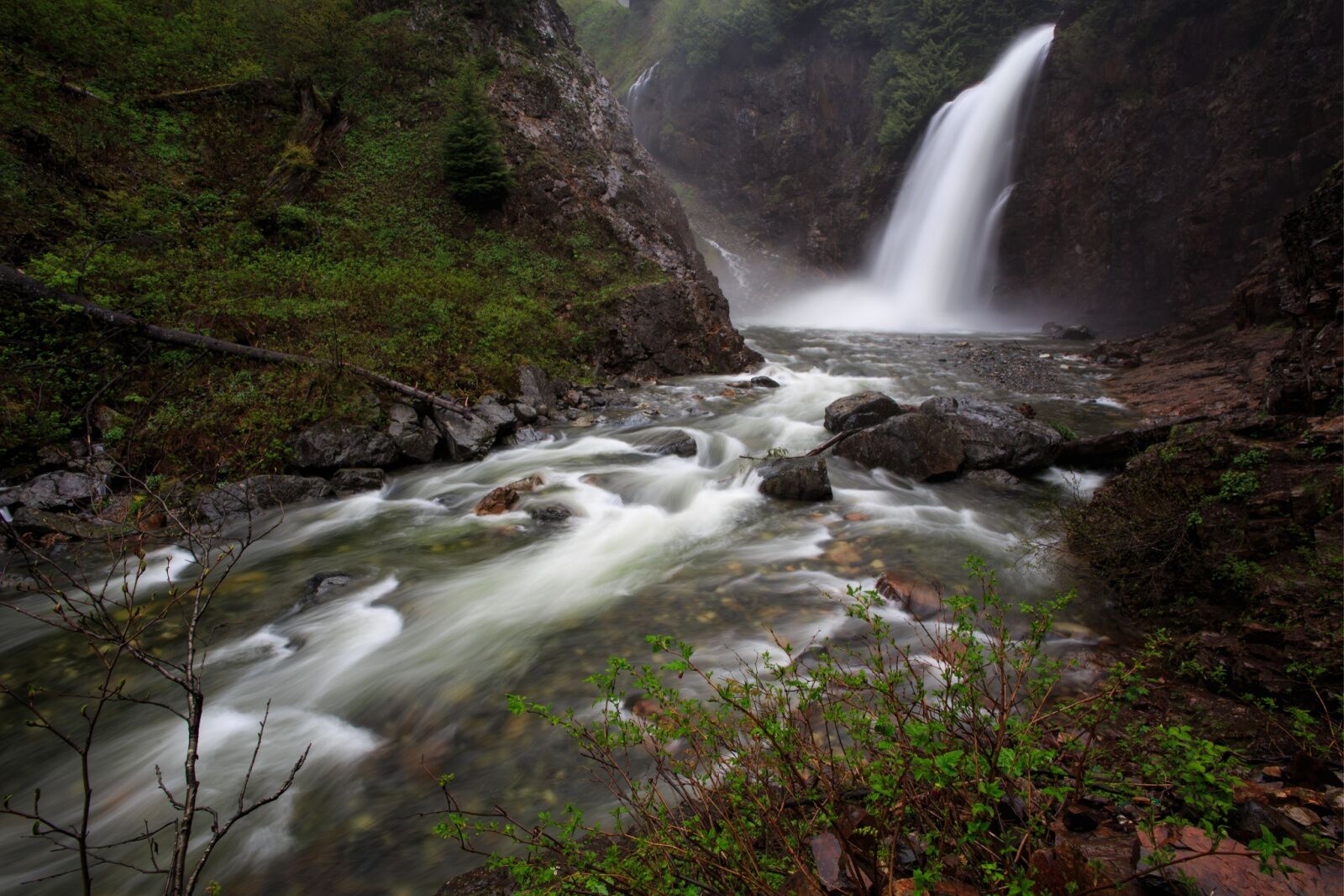 Seattle may well be the most outdoorsy metropolis in the US. It's a green, hilly, and lush city backing to forested mountains chock-full of alpine lakes and waterfalls. In fact, some people say the waterfalls are what gave the Cascade Mountains their name.
And while plenty of Seattleites don't consider it a proper weekend if it hasn't included a full-day hike, none of these waterfalls require miles and miles of hiking to reach. In fact, some require no hiking at all. So whether travelers want to snap a few early morning photos of mist rising off the forest or want to make a full day of chasing waterfalls, the city probably has an excellent place to go.
These are the best waterfalls near Seattle for travelers and locals alike, all of which are doable in a day from downtown.
Twin Falls
Where: Olallie State Park
Height: 230 feet
Hiking distance: 2.6 miles round-trip
Twin Falls is one of the most famous waterfalls near Seattle and one of the most popular hikes near Seattle as it clocks in at about 40 minutes from downtown. It's also one of the shortest hikes near the city, which makes it one of the more crowded. So to beat the PNW crowds, do like the locals and wake up early. That ensures the best chance at snagging a parking space and offers an opportunity to see the falls in the morning light.
The trail starts from the Twin Falls trailhead parking lot in Olallie State Park, with a $10 parking fee. It's a roughly 45-minute hike to the upper falls with many ups and downs.
Depending on the time of year, the reason for the name "Twin Falls" will be obvious. During periods of heavy snowmelt in spring and early summer, the falls form a "Y," with two lines of rushing water becoming one. When the water level is low, the Y looks less symmetrical, with much more water flowing on one side. Either way, it's still a very scenic waterfall. Expect some mud year-round.
Spray Falls
Where: Mount Rainier National Park
Height: 354 feet
Hiking distance: 5.6 miles round-trip
There are plenty of reasons to hike near Mount Rainier, and it's not just to get a closer look at the 14,410-foot, glacier-topped volcano that dominates Seattle's southern skyline. Many visitors are drawn by what the massive glaciers create: the park has 470 creeks, five major rivers, and plenty of waterfalls. And they're some of the most gorgeous waterfalls near Seattle.
Tumbling down more than 350 feet, Spray Falls is the most striking of those waterfalls. From downtown Seattle, it's a two-hour drive to Mowich Lake, a piercingly blue alpine lake 5,000 feet above sea level outside Mount Rainier National Park. It's a pleasant, mostly flat hike through new- and old-growth forest before the last half-mile or so, where it's a set of steep switchbacks to reach the top of Spray Falls. Plan for a picnic either by the falls or back at Mowich Lake. And don't forget that you'll need a national park pass or day-entry pass to enter the park.
Narada Falls
Where: Mount Rainier National Park
Height: 176 feet
Hiking distance: 2.4 miles round-trip (optional)
Mount Rainier National Park is home to dozens of animal species, including black bears, bobcats, red foxes, elk, mountain goats, snowshoe hares, and pikas. In late spring and early summer, the park is also bursting with wildflowers. Add in rushing rivers and huge cliffs, and it's clear why the national park has become a must-visit for anyone who wants to see waterfalls near Seattle.
Narada Falls is one of the easiest of these waterfalls to visit. The drop totals 176 feet in the form of a 159-foot-tall main fall and a 17-foot-tall sub-fall that plunges into a deep pool. Visitors should park about a mile west of the park entrance at Paradise and hike down from the parking lot to the pool to gaze up at the falls. Note that the trail can be snowy and slippery until early June, so an alternate option is just to walk across the bridge near the parking lot and gaze down at the falls from above, which only takes a minute or two.
Bridal Veil Falls
Where: Gold Bar, WA
Height: 100 feet
Hiking distance: 4.2 miles round-trip
Nearly 40 waterfalls in the US are named for their apparent resemblance to the soft veils some brides wear during their weddings. The most famous of these is the unmistakable 690-foot-tall Bridal Veil Falls in California's Yosemite Valley, and the Seattle-area's Bridal Veil (one of two in Washington State alone) measures a modest 100-feet-high in comparison. But that's still plenty tall, and the hike to get there would be a delight even without the falls at the end.
In less than 90 minutes, Seattle visitors will arrive at the trailhead for the Serene Lake hike at Mount Index. From there, a roughly two-mile trail leads up to the falls – yes, up. After a gentle uphill climb through a forest of maple and pines, the trail ascends a series of staircases; expect to hear the falls when nearing the top.
While some travelers choose to snap a few photos from the top and quickly head back down, a better plan is to make a longer day of it. Hikers should double back a half-mile to the intersection with the Serene Lake trail, then follow that to the stunning alpine lake flanked by rocky cliffs.
Editor's note: The trail to Serene Lake is closed as of October 2022 due to wildfire damage.
Franklin Falls
Where: Snoqualmie Pass, WA
Height: 100 feet
Hiking distance: 2 miles round-trip
Visitors can reach the Franklin Falls trailhead in under an hour from Seattle. From there, it's a one-mile walk to the 70-foot-tall waterfall, making it one of the best waterfalls near Seattle for children, older hikers, or anyone who feels like having a leisurely day in nature.
Visitors with kids should ensure younger hikers do not get too close to the rushing water. At Franklin Falls, and really, any waterfall, the downstream water flow is deceptively rapid and extremely cold, making a fall very dangerous for anyone, but especially kids. So, even if it looks refreshing, keep your distance – especially during spring and early summer snowmelt.
Teneriffe Falls
Where: North Bend, WA
Height: 415 feet combined
Hiking distance: 5.4 miles round-trip
Getting to this waterfall near Seattle involves more than 1,500 feet of elevation gain, but it's worth the work. The first section starting from the Mount Teneriffe Trailhead (just 40 minutes from Seattle) follows a gentle grade, but the last mile is much steeper.
Teneriffe Falls, named for the river from which it flows, is more like a three-part cascade, with a 225-foot-tall section on top, a partly obscured middle section measuring about 90 feet tall, and another nearly 100-foot-tall section at the bottom, not all of which is visible. Perhaps because it's hard to appreciate this waterfall's complete length, no viewing platforms have been built to take it in. The temptation to climb on rocks to get closer may arise, but be careful: they can be extremely slippery year-round.
Wallace Falls
Where: Wallace Falls State Park
Height: 354 feet combined
Hiking distance: 4 miles round-trip
Travelers may think Wallace Falls State Park is just one fall named "Wallace," but it's actually a series of three: an upper, middle, and lower cascade.
The entrance to the state park is about an hour from Seattle and the hike to the falls is relatively easy and flat. From the trailhead, it's a two-mile hike through dense, moss-covered evergreens, traversing a forest floor filled with ferns and banana slugs, so watch your step if you see them on the trail.
The main trail ends at the middle waterfall, the largest and most spectacular at around 260 feet tall. Hikers who want to avoid much elevation gain should turn around here. But a second steep, half-mile stretch of trail takes energetic visitors to the top, offering a view looking out toward the upper waterfall at 100 feet tall. The scent of pine and mist is a refreshing reward for the climb, thanks to breezes that carry through the canyon.
Snoqualmie Falls
Where: Snoqualmie, WA
Height: 268 feet
Hiking distance: none
TV fans who watched "Twin Peaks" may recognize Snoqualmie Falls. Visitors can drive to the 100-foot-wide waterfall, making it one of the most popular waterfalls near Seattle: as in 1.5-million-annual-visitors popular.
The waterfall might have been even more spectacular if the Snoqualmie River wasn't dammed in places to provide hydroelectric power. But in certain months the fall's power is still extremely impressive, with measurements of more than 45,000 cubic feet of water pouring over the lip per second. It's only 35 minutes from Seattle and there's parking at the falls lookout, which also has a large gift shop and a lovely park and picnic area.