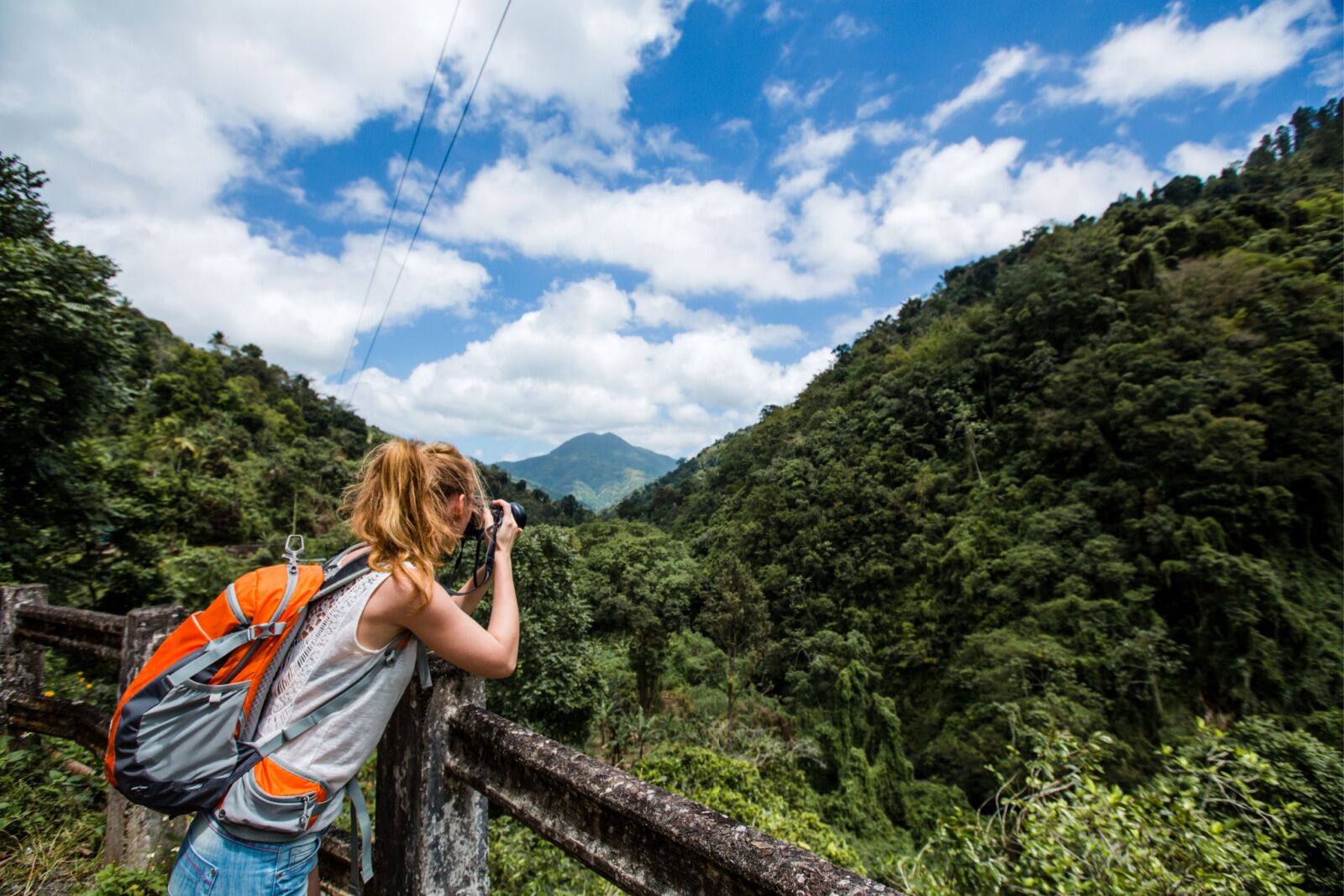 Jamaica is marketed as a beach destination, but the Caribbean island actually has more mountains than beaches per square mile. Jamaica's landscape is about 50 percent mountains, with a mountain chain that stretches across the island. And on the eastern side of the range is Blue Mountains National Park, far removed from the large, all-inclusive hotels and white-sand beaches most visitors see. The mountain park is Jamaica's only UNESCO World Heritage Site and offers a starkly different experience than what most tourists get at Negril beach bars.
The Jamaica Blue Mountains are breathtakingly beautiful. The forests receive a constant water supply from dozens of swift-flowing rivers, waterfalls, and complex underground water tables, making the area lush and green year-round. The heavy rainfall keeps the mountains covered in mist, creating the blue hue that gives them their name and relieving the sweltering heat of Kingston, Jamaica's capital city. The bed-and-breakfasts, cottages, and restaurants on the eastern side of Jamaica are rustic but comfortable, eco-friendly, and mostly owned by locals.
The Blue Mountains are richly biodiverse, and home to 32 endemic bird species not found anywhere else in the world, including the Jamaican streamertail. And most of the towns around the mountains share a unique culture shaped by runaway Africans who made the mountains their home centuries ago.
There's plenty to do in the mountains, but start with these nine activities to experience the beauty and history of the Jamaica Blue Mountains.
Visit a working Blue Mountain coffee farm
Arabica coffee beans were first introduced to Jamaica in 1728 and planted both in central Jamaica and on the steep hillsides of the Blue Mountains. Over time, Jamaican Blue Mountain coffee (a trademark reserved for coffees grown in the mountains between 3,500 and 5,500 feet above sea level) has earned a reputation for sweet floral aromas, mild flavors, and lack of bitterness that makes it one of the world's most expensive and sought-after coffees.
You won't appreciate the cost of Blue Mountain coffee until you experience it at the source (one pound of freshly roasted Blue Mountain coffee beans costs an average of $65). To see production in terms, visit a facility like Lime Tree Coffee Farm, one of several dozen Blue Mountain coffee farms. Lime Tree Farm allows visitors to see the coffee-making process up close from bean to cup. Everything is done by hand, from planting and harvesting to pulping, drying, roasting, grinding, and brewing. Lime Tree Farm sells coffee to factories such as the Mavis Bank Coffee Factory, which manufactures Jablum, one of the most popular Blue Mountain coffee brands. Visitors can also stay overnight in their five lovely cottages to get a head start in exploring the rest of the Blue Mountains.
Hike to Jamaica's highest point
Blue Mountain Peak is Jamaica's highest point at 7,402 feet above sea level. The summit is only accessible by hiking the Blue Mountain Peak Trail, which covers roughly six miles each way over steep terrain. It's a steep and challenging hike, but the views are well worth it.
You'll also have the chance to see endemic Jamaican plants and birds not seen in other parts of the island, such as the Jamaican rose, Jamaican tody (a round, green bird), and giant swallowtail butterfly. By about 6,000 feet above sea level, the topography changes from tall pine trees to elfin woodland (also referred to as dwarf forest), with short, gnarled trees, mosses, and lichens; it feels like hiking through the Jurassic era.
The best time to start the hike is around 2 AM with a flashlight and experienced guide. On the way up, you'll be treated to unspoiled views of the Milky Way and twinkling lights from the city of Kingston far below. You'll arrive in time for sunrise, which is guaranteed to be one for the books. On the walk down, when you're not breathing quite as hard, take some time to appreciate the natural beauty and biodiversity you couldn't see in the dark on the way up. Dress warmly, because temperatures at the peak get very close to freezing — rare bouts of snow flurries have even been reported.
Restaurant hop on the Blue Mountain Culinary Trail
The Blue Mountain Culinary Trail is a walkable route of a dozen eateries that offer al fresco and fine dining experiences in the Jamaica Blue Mountains. These restaurants are conveniently lined up on the island's B1 main road, spanning from Kingston to Portland.
The restaurants are varied, focusing on everything from traditional Jamaican dishes to pasta, burgers, seafood, and steaks, and, of course, Blue Mountain coffee.
A popular breakfast pick is the Crystal Edge Restaurant in Irish Town, a small Blue Mountain district, as it's tasty and offers sweeping views of the valley below. Adventurous foodies should try the "ackee and saltfish" (Jamaica's national dish), served with plantains and fried dumplings. But for dinner, opt for the curry goat and stewed ox-tail with rice and peas.
The Blue Brews Bistro at Holywell, a park within the Jamaica Blue Mountains, is the newest restaurant on this gastronomy trail and one to watch. They serve breakfast food all day long and make a divine chai latte.
Learn About Jamaica's Indigenous people
The Blue Mountains in Jamaica are home to the Windward Maroons, descendants of enslaved Africans who ran away from plantations in the 17th to 19th centuries. They made the rugged mountains their home to avoid recapture. Over time, the Maroons developed a distinct community and culture with their own unique language, cuisine, and laws. To this day, these Maroon communities exist as self-governing sovereignties within the country.
Jamaican Maroons are very proud of their heritage and welcoming of tourists, but reservations are required. Most tour operators can arrange tours to the Windward Maroon communities of Scott's Hall, Moore Town, Charles Town, and Bowden Pen. Moore Town is the most-visited Maroon community, perhaps because the tour begins at a museum and ends with a roughly one-mile hike to the stunning Nanny Waterfall. Charles Town also has a museum and courtyard where visitors can learn about traditional drumming and dance.
Get lost in a high-elevation botanical garden
The Cinchona Botanical Gardens holds the title of the highest botanical garden in the western hemisphere. It's in the Blue Mountains of Jamaica and named after the cinchona trees, which were planted there to make a medication to treat malaria. But the disease has long been eradicated from Jamaica, so the garden is no longer as well maintained.
However, it's still worth visiting as it offers spectacular views and the chance to spot endemic birds and plants, including several colorful Jamaican wild orchids. Park entry is free; however, you'll either need a four-wheel-drive vehicle that can handle the rough road, or reach the park via a three-mile hike from Content Gap (a high-elevation pass in Saint Andrew Parish).
Camp Under the stars at Holywell
Holywell Park Jamaica
Holywell is a family-friendly park inside the more expansive Jamaica Blue Mountains national park. It has five nature trails, a picnic area, barbecue facilities, three cabins, and a campground. The cabins are popular, so it's usually necessary to make reservations a few weeks ahead, but campsites are usually available last-minute. And if you don't have a tent, you can rent one from the park for as low as $15.
From Holywell, visitors can admire the beautiful Milky Way above and the city lights of Kingston below after sunset. It's one of the few places in Jamaica that gets cold enough for a campfire and roasting s'mores, so bring an extra layer if you're planning to spend the night. And consider waking up early to go birdwatching: all of Jamaica's 30 endemic bird species have been spotted at Holywell. The best chance for spotting the birds is on the nature trails, which range in intensity from gentle to moderate, with distances ranging from a quarter-mile to just under one mile.
Visit a Rastafarian village
Rastafari is an Afrocentric religion and social movement that began in Jamaica during the 1930s. Adherents are called Rastafarians and easily recognized by their dreadlocked hair. Rastafarians often lead a simple life closely intertwined with nature, and many secluded areas across Jamaica are home to Rasta communities.
Guests who want to learn more about Rastafarianism can visit a village on the outskirts of Irish Town in the Jamaica Blue Mountains. Getting there requires a .4-mile hike through lush coffee plantations with panoramic hillside views. At the village, locals are happy to teach their culture and traditions to visitors. The community offers tours.
Guests are allowed to participate in sabbath worship ceremonies, including Nyabinghi chanting, drumming, and smoking marijuana through pipes. They also offer tutorials on farming, woodcarving, Nyabinghi drumming, and crochet, plus tours to explore the surrounding mountains and coffee plantations. For a more immersive experience, book a room in the School of Vision Guesthouse to enjoy the Rasta organic vegan diet known as "ital food." The host's Airbnb listing has details on the various activities available and who to contact to book them.
Cycle through the Blue Mountains
If you don't have much time but want to see as much of the Blue Mountains in Jamaica as possible, consider taking a cycling tour with Blue Mountain Tours. The ride is downhill and lasts for around three hours, covering anywhere between nine to 12 miles through the lush countryside. Prices include pick up from most hotels plus lunch.
Travelers who would like to be even more active while exploring the Blue Mountains in Jamaica can opt for a waterfall/hike/bike combination tour, or book a private tour to have more control over the distance (and difficulty) of the ride.

More like this