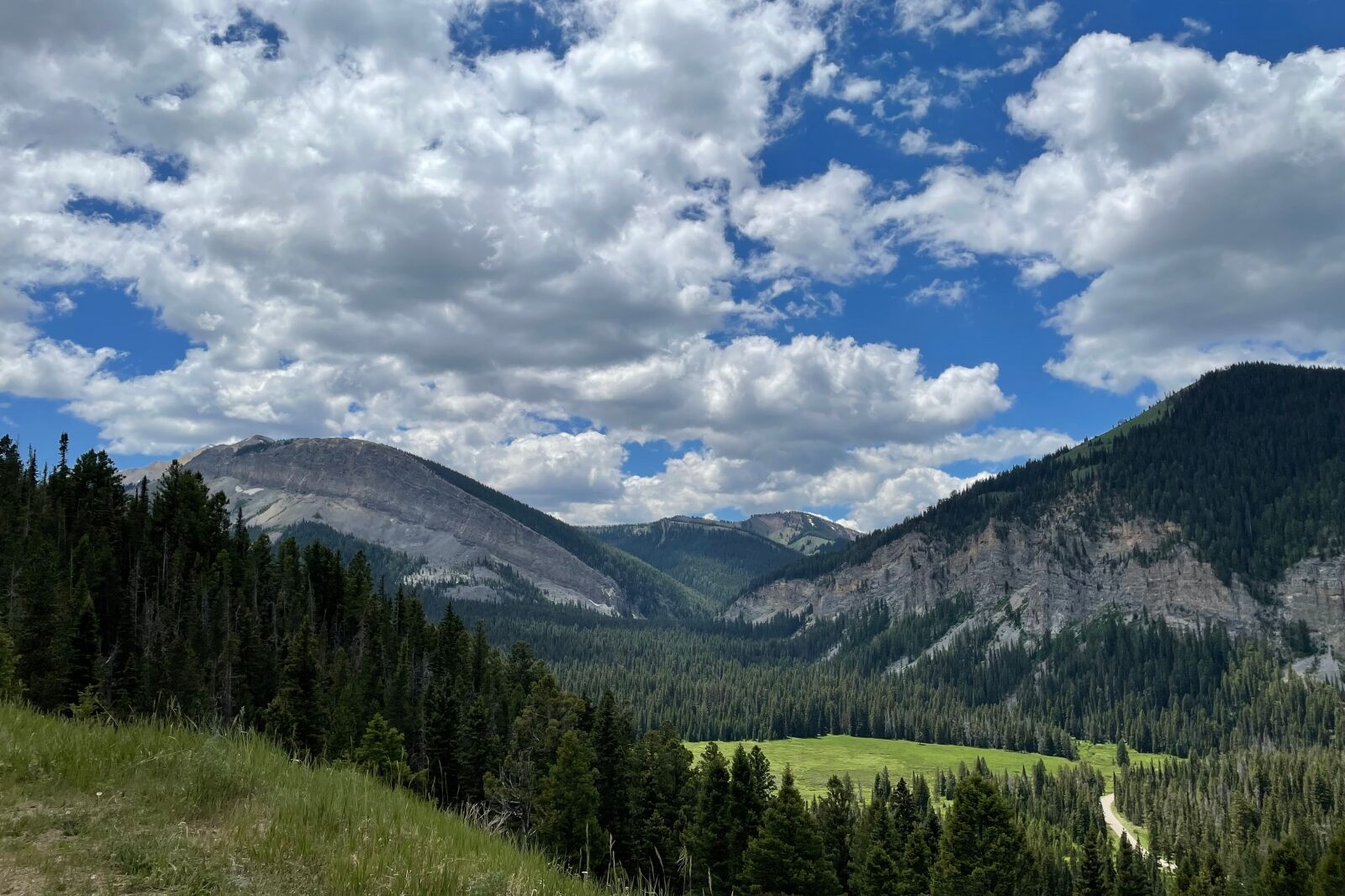 An hour south of the bustling tourist enclave of Jackson, Wyoming, lies Star Valley, an adventurer's playground surrounded by saw-toothed mountains where both cows and locals still outnumber visitors. Star Valley is rural Wyoming in all of its unvarnished charm. Cowboy is a legit identity here. Even Afton's "World's Largest Elkhorn Arch" feels more like a mountain-town flex than a tourist trap.
The valley was summer home to the Shoshone until the late 1800s when Mormon settlers moved in. The settlers called it "Star of All Valleys" for its beauty, abundant game, water, and open grasslands perfect for ranging cattle and growing feed. Today, it's best known as a haven for snowmobilers due to consistent, deep snow and its diversity of terrain from easy-cruising meadows to full-pucker hill climbs. What makes for good snowmobiling, makes for a whole range of great summer activities including hiking, ATVing, and mountain biking. In the spring, all that crystal clear runoff cuts deep holes and fast currents that are great for fishing.
Where is Star Valley?
Star Valley is a 65-mile corridor that runs through southwestern Wyoming between the towering Salt Mountain Range to the east and Idaho's slightly more subdued (but gorgeous and accessible) Webster Mountains to the west. The Salt River meanders sixty-five miles northward from Salt River Pass to meet up with the Greys and Snake Rivers at the Palisades Reservoir near Alpine. Highway 89 cuts through the valley and acts as the main thoroughfare connecting Salt Lake City to Grand Teton and Yellowstone National Parks. Most of Star Valley's towns and activities fall along this road or Greys River Road, which follows Greys River tracing the western edge of the Salt Range.
When to go to Star Valley
Star Valley can be a year-round destination, depending on what you're looking for. In winter, the snow really gets going in late December and early January, but the conditions in the mountains will generally be good for snowsports from early December through February, and sometimes into March. All that snow in the high country doesn't melt out until June or later in high snow years, and even in July, you'll find snow in the higher cirques. Like most of Wyoming, summers are hot and winters can be dangerously cold.
Star Valley offers good fishing year-round depending on lure and location, but it's best for flies from June through mid-August.
How to get around Star Valley
With no public transportation and long distances between towns and trailheads, you're probably going to need a car to explore Star Valley. Star Valley does have a few Uber and Lyft drivers, but the costs to ride-share between Upper and Lower communities make renting a vehicle, if possible, worth the investment.
A passenger car will get you surprisingly deep into the mountains on well-maintained forest service roads, but consider a high-clearance vehicle if you're heading to the headwaters of the Greys River. If renting a vehicle, make sure the insurance covers windshield repair. With the predominance of gravel roads, it's not if you're going to get a chipped windshield, it's when. Securing an all-wheel drive can make winter driving in Star Valley a lot less stressful.
What to do in Star Valley
While world-class snowmobiling and fishing have been a draw to Star Valley for decades, the summer crowds have mostly bypassed Star Valley for Jackson Hole and the Tetons. The people driving by have missed the wormwood of epic trails and gravel backroads that make Star Valley perfect for adventurers willing to do a little exploring.
Snowmobiling
With average snow depths of three to twelve feet starting near the valley floor, Star Valley has a history as a top destination for sledders. Over 300 miles of regularly groomed trails and hundreds of acres of open sledding allow you to build your own adventure from beginner runs to deep backcountry steeps.
You can pick up a rental at Jackson Hole Adventure Rentals in Alpine. They offer full packages with everything you need, including tow vehicles and trailers, and their shop puts you less than an hour from some of the best routes in the valley.
If you're looking to improve your skills, consider one or two-day sessions at Next Level Riding Clinics. The clinics themselves qualify as epic adventures, not only training you in avalanche safety and riding drills but taking you out to backcountry trails to test your new skills.
There's no shortage of fun, beginner-friendly groomers snaking their way through the mountains. If you're looking for a little more adventure, make your way up Strawberry Creek outside of Bedford. Strawberry climbs into the Salt Range and has some great steeps and hill climbing. Make sure you check the avalanche danger before you head out. Conditions here can be treacherous. Just past the rest area south of Thayne, take a left onto County Road 126. Follow it through the collection of houses that make up Bedford. Stay on 126 as it takes a sharp left and heads into the canyon. The parking lot, just past the electric substation, is tiny, so try to get there early on the weekends.
Willow Creek is another Salt Range route that opens up into a playground of ungroomed options. Both routes connect to the extensive Greys River trail system over McDougal Pass. From Bedford, head south on Bedford-Turnerville road about seven miles as it makes several 90-degree turns around sections of farmland. Take a left onto Willow Creek Road and watch for a small parking lot just before the mouth of the canyon.
ATV and dirtbiking
ATV and dirtbike trails share many of the snowmobile routes. While there are a bunch of places to purchase ATVs and dirtbikes, Jackson Hole Adventure Rentals is still your best bet to rent. If you're looking for gear or backcountry info, make sure you stop into Mountainist, a woman-owned adventure store that caters to everyone looking to enjoy the outdoors, but specifically offers a welcoming atmosphere for women.
Some of the best mountain scenery in the area can be found on the Dry Creek Trail south of Afton. From Afton, head three miles south on Highway 89. Take a left on Dry Creek Road and follow it into the canyon. About five miles in, there's a parking lot on the left just before the junction with the North Fork Cottonwood Creek Road. Don't go past this point with a truck and trailer or a passenger car. The trail begins at the end of Dry Creek Road and climbs up toward the spine of the range, passing Dry Creek Lake and revealing big views along the ridge before dropping down to connect with the Trail Fork Trail and back toward Afton.
If you're not afraid of wayfinding, and you want to put serious backcountry miles on your rig, try the Way Trail on the Greys River side of the Salt Range. This trail follows old logging roads and other trails fifty miles through the mountains paralleling Greys River. From Alpine, head southeast on Greys River Road a little over fourteen miles to the Murphy Creek Campground. Less than a quarter mile past the campground, take a right onto Murphy Creek Road. Park on the far side of the bridge. From there, ride west up Murphy Creek Road about a half mile to where the double-track crosses the road. Take a left onto the trail. It's not marked here or anywhere else along the route. The Way Trail accesses a multitude of off-grid camping spots and offers excellent views of the adjacent and equally beautiful Wyoming Range to the east. If the full fifty miles is a little much, you can cut back to Greys River Road on any of a number of Forest Service roads running east for an easy cruise back.
Fishing
The Salt, Greys, and Snake Rivers all come together in Alpine, Wyoming, before flowing into Palisades Reservoir. Each of these rivers has its own world-class fishing, but together, they make Star Valley a bucket-list destination for trout anglers. The Greys and Salt Rivers flow north along either side of the Salt Range making them Star Valley's prime fishing locations. Bait and lures work year-round, but from June through mid-August, trout rise for dry flies. Wet flies extend the season by a few weeks. Check the local knowledge at shops like Altitude Outdoors to see what the fish are hitting, but Parachute Adams and Chernobyls should always be in your kit.
The Salt River wanders down from the "Upper" Star Valley in the south near Smoot and generally isn't worth fishing until it hits "the Narrows" north of Afton, where the Salt cuts a narrow channel through the mountains. From the Narrows on, you'll find plenty of Snake River Fine Spotted Cutthroats, Rainbows, and the occasional German Brown. Bank fishing can be tough on the Salt due to overgrown willows and relatively few access points. Private land is sacred in Wyoming, so avoid crossing it without permission. This makes drift boat fishing the ideal way to enjoy fishing the Salt. Rendezvous Anglers run guided trips taking a lot of the guesswork out of the strong currents and deep channels, and other obstacles.
For much of its length, Greys River is surrounded by the Bridger-Teton National Forest, allowing easy access from Greys River Road. Once the spring runoff dies down in mid-to-late June, you'll find solitude wading Greys' unhurried pools and riffles with the Salt and Wyoming Ranges looming overhead. Snake River Cutthroat, Rainbow, and Brook Trout are common takes, but you'll occasionally reel in a rare Bonneville Cutthroat. Once thought to be extinct, Bonnevilles have made a minor comeback in the Greys, so getting one on your line feels like a blessing.
If your thing is lake fishing, the scenic Palisades Reservoir west of Alpine won't disappoint. Greys River Sports can outfit you with watercraft craft including rafts, kayaks, or even stand-up paddleboards, if you've got the balance to cast. Award-winning Brown Trout have been landed in Palisades along with various Cutthroats and Kokanee Salmon.
Hiking
Hiking is one of the best ways to explore the mountains surrounding Star Valley. Trails rarely feel crowded, even when trailheads are right outside of the towns throughout the valley. Expect to see wildlife including deer, elk, bald eagles, and sometimes moose. The further into the mountains you venture, the higher your chances of seeing black bear, so if you're backpacking, follow bear-country food storage guidelines.
One of Star Valley's most unusual geologic features is Periodic Spring, just outside of Afton. From Highway 89 Washington St. in downtown Afton, take 2nd Ave east. Second Ave. turns into Swift Creek Drive as it reaches the canyon and heads four miles to the Periodic Spring parking lot. This short but beautiful hike along Swift Creek takes you to one of only three intermittent springs in the world. Beginning in mid-to-late summer, the freshwater spring periodically stops flowing for up to twenty minutes before gushing once again out of the rock face.
If you're looking to extend your Periodic Spring hike, continue up the canyon on the Spring Creek Trail. About three miles in, the trail splits. The left fork heads up to the stunning views of Rock Lake Peak and the right toward Swift Creek Lake and Falls. Beyond Swift Creek Lake, the trail connects to a network of trails that run throughout the Salt Range, making it ideal for multi-day backpacking.
For a challenging hike with panoramic views of the Salt Range, head up the Mount Wagner Trail, a nine-mile out-and-back that tops out at a 10,472-foot peak. This trail is best done later in the summer as snow can linger well into July. Those who put in the effort will enjoy abundant wildflowers, waterfalls, glacial cirques with mountain lakes, and huge mountain views. To get to the trailhead, take Highway 89 about half a mile south of Smoot to the junction of Cottonwood Creek Road. Take a left and head up the valley a little over twenty miles. Pass Cottonwood Lake and park just before the road doubles back on itself.
If you're looking for a gorgeous trail run, the Valley View Loop is a local favorite just outside Star Valley Ranch. Turn east off Highway 89 onto County Road 116 near Freedom and head about a mile to the intersection with Muddy String Road. Turn right and watch for the left-hand turn onto Vista Dr. In the middle of the neighborhood, turn left onto Vista East and then right onto Green Canyon Dr. Park at the Green Canyon Trailhead. At just under two miles and five hundred feet of elevation gain, Valley View Loop gives you a good run that shows off Lower Star Valley. Aspen leaves chatter overhead in the breeze (in vibrant gold, if you're there in fall), and wildflowers blanket the open meadows. If you time it right, you can sit back and enjoy a spectacular sunset over the Webster Mountains from one of the viewpoint benches.
Cycling
Cycling isn't as popular as motorsports in the valley, but the opportunities for great rides are nearly endless.
Local roadies ride the spectacular Highway 89, but it's not for the faint of heart during the summer when flocks of tourists make their way through the valley from Salt Lake City to Yellowstone and the Grand Tetons National Parks. Gravel bikes, with their wider tires, open up a lot of options around Star Valley connecting countless lesser-traveled dirt roads. Most of the Forest Service roads are well maintained and create dozens of possibilities for getting up into the mountains. As mentioned earlier, private land is sacred in Wyoming, so heed no-trespassing signs. There are several public road easements that go through otherwise private land in order to allow access to public land. If you go through a closed gate, please close it behind you.
Mountain bikers have access to most of the ATV and hiking trails in the area. For a short taste of the area's mountain biking, start with the Wickiup Knoll Trail near Afton. The trail is a rocky but not-too-technical two-track with great views of Star Valley and the surrounding mountains. To reach it, head three miles south of Afton on Highway 89 to Dry Creek Road. Turn left and then turn right in about a tenth of a mile. Take the road just short of a mile to the gate.
If you have two vehicles to use as a shuttle, the unfortunately named Squaw Creek and the North Murphy Creek Trails can be connected to create a singletrack climb over the spine of the Salt Range with incredible views of carved peaks, narrow valleys, and wildflower-choked meadows. It's a stiff climb, but the descent is well worth it. If you're looking for a big day, do it as an out-and back, or connect with the Murphy-Squaw Creek Trail to the east to make it a loop. If you're shuttling the route, leave your drop car at the Murphy Creek ATV staging parking lot about 14 miles up Greys River Road from Alpine. Park just over the bridge on Murphy Creek Road. Then, drive back down Greys River Road nine-and-a-half miles to Forest Service Road 10001. Turn left and start climbing. Park at the seasonal-closure gate and ride from here unless you've got a high-clearance 4×4. The trail starts another mile up the road.
Where to eat and drink in Star Valley
Finding food in rural areas can be a challenge, and some parts of Star Valley are no exception. That said, if you look close enough, you can find some real surprises in these small towns including an award-winning brewery, artistic pizza, and even shockingly good seafood.
Melvin Brewing Company
Alpine's warehouse-sized Melvin Brewing Company looms large on the shores of the Snake River. Wyoming isn't known for its craft breweries, so founder Jeremy Tofte decided to introduce west-coast style brews to the state. Since then, Melvin has won multiple awards from the prestigious Great American Beer Festival and expanded to a brewery that serves the whole region. The brewery has a spacious tap room and their patio has an incredible view of the Webster Mountains and confluence of the Salt and Snake Rivers. From downtown Alpine, head south on Highway 89. Just past Driftwood Pizza, take a right on River Circle. Follow the arc half-way around to Buffalo Drive. Take a slight right onto County Road 101 (Palisades Reservoir Road). The brewery is located at its apex.
Brenthoven's Restaurant
Brenthoven's Restaurant is a cozy little restaurant attached to the Nordic Inn on the banks of the Snake River in Alpine and has become a popular stop for people making the drive between Salt Lake City and Jackson. The pumpkin soup alone is said to be responsible for bringing people back year after year. The dining room is tiny, with only five tables and a bar, so making reservations here is a must. Follow Highway 89 north out of Alpine, across the river, and toward Jackson. Turn left into the parking lot in about half a mile.
Driftwood Pizza
Driftwood Pizza, located on the north side of Highway 89 in downtown Alpine, is a local favorite featuring weekly specials that venture into the creative (or weird, depending on how you feel about s'mores or chicken pot-pie-themed pizza). No reservations are necessary, but don't be surprised if there's a wait, especially on a Friday night in the summer. If you're looking for something unique with a little bit of a kick, try the chipotle-spiced Bomber Pizza.
Agave Family Mexican Restaurant
Tucked into a little nook on Afton's main drag is a Mexican restaurant that's rumored to be the best food in Afton. This family-run eatery serves lunch and dinner, including vegetarian options, which can be a challenge to find in rural Wyoming. They bring out a spicy cabbage salsa that's freakishly good on almost everything you add it to. Agave is as popular with locals as it is with visitors, so make sure you plan a few minutes to wait before being seated.
While you're there, wander half a block down to the World's Largest Elkhorn Arch. The seventy-five-foot-wide arch is the centerpiece of Afton's downtown and crosses the highway with enough clearance for semi trucks to pass beneath. Made from a tangle of three thousand intertwined elk antlers, it dwarfs the more famous elk arches in Jackson Hole.
Rocky Mountain Seafood
Seafood In Afton, Wyoming? As surprising as that is, it's even more shocking that the food is really good. For years, this order-at-the-counter establishment has been serving fish and chips that could compete with places hundreds of miles closer to the ocean. The ambiance is a strange-but-fitting blend of coastal sea-faring kitsch with western style. They also have a "Fish hater menu" for those who prefer to keep their cuisine "Wyoming." Rocky Mountain Seafood stands at the southeastern corner of the block with the Elkhorn Arch.
Where to stay in Star Valley
While parts of Star Valley feel "undiscovered," most of the accommodations in Alpine mimic the tourist hotels of Jackson and the Tetons to the north. Hotels south of the Narrows, however, feel like a throwback to a simpler, more authentic Wyoming aesthetic.
We hope you love the spaces and stays we recommend! Just so you know, Matador may collect a small commission from the links on this page if you decide to book a stay.
Camping in Star Valley
Star Valley has a ton of Forest Service camping options from near town to truly remote, especially on the Greys River side of the Salt Range. Forks Campground sits at the confluence of the Greys and Little Greys Rivers about eight miles down Greys River Road from Alpine, putting you in the middle of some of the best fishing in the area. Swift Creek Campground near Afton is a great base camp for activities on the Upper Star Valley. From Alpine, take Greys River Road southeast about eight miles. The campground loop is on the right. If you round the corner to head south, you went too far.
If you're in an RV, check out Greys River Resort and RV Park, a campground just a block outside of downtown Alpine (behind The Tavern on the Greys on 2nd Street) near the banks of the Greys River. The Cove has full hook-ups and is an easy drive to almost everything in the Lower Star Valley.
Hotels in Star Valley
Colter's Lodge
Built in 1928, Colter's Lodge is a quirky but beautiful mix of art deco and western architecture just a block and a half north of the World's Largest Elkhorn Arch in downtown Afton. It's the tallest building in town and the views of the surrounding mountains from the upper floors are excellent. Enjoy a signature Salt River Ribeye in the wood-paneled steakhouse to refuel after a day of exploring Upper Star Valley, or grab a bottle of Wyoming-distilled whiskey from the liquor store, both on the premises.
Flying Saddle Resort
Flying Saddle Resort sits on the banks of the Snake River where it flows out of the canyon on its way to Palisades Reservoir. Located on Highway 89 a half a mile north of Alpine (on the right just before the road enters the Snake River Canyon), Flying Saddle is a short drive to Lower Star Valley activities and makes a good base for snowsports rentals and summer fishing on the Greys. Despite the name, the resort doesn't buy into the heaps of western chic that most other places in the valley display, so if you're getting sick of antlers, pelts, and wood-paneled everything, this may be your refuge.
Box Y Ranch
Box Y has two locations, one in Alpine and one in the middle of absolute nowhere on the banks of the Greys River. The Greys River location lies thirty scenic, 2wd-passable dirt road miles from Alpine. Look for Meadow Creek Road on the right. Cross the Greys and take a right at the T junction. You'll cross under the ranch-style wooden arch as the lodge comes into view. Cell phones don't work here. Great fishing, hiking, ATVing, and mountain biking are literally right out your cabin's front door. Box Y is where Star Valley locals stay when they want to get off the grid and get on the river right at daybreak. The food is home-cooked in the lodge by the owners and is well worth the drive. They even keep fuel on hand for dirtbikes and snowmobiles.