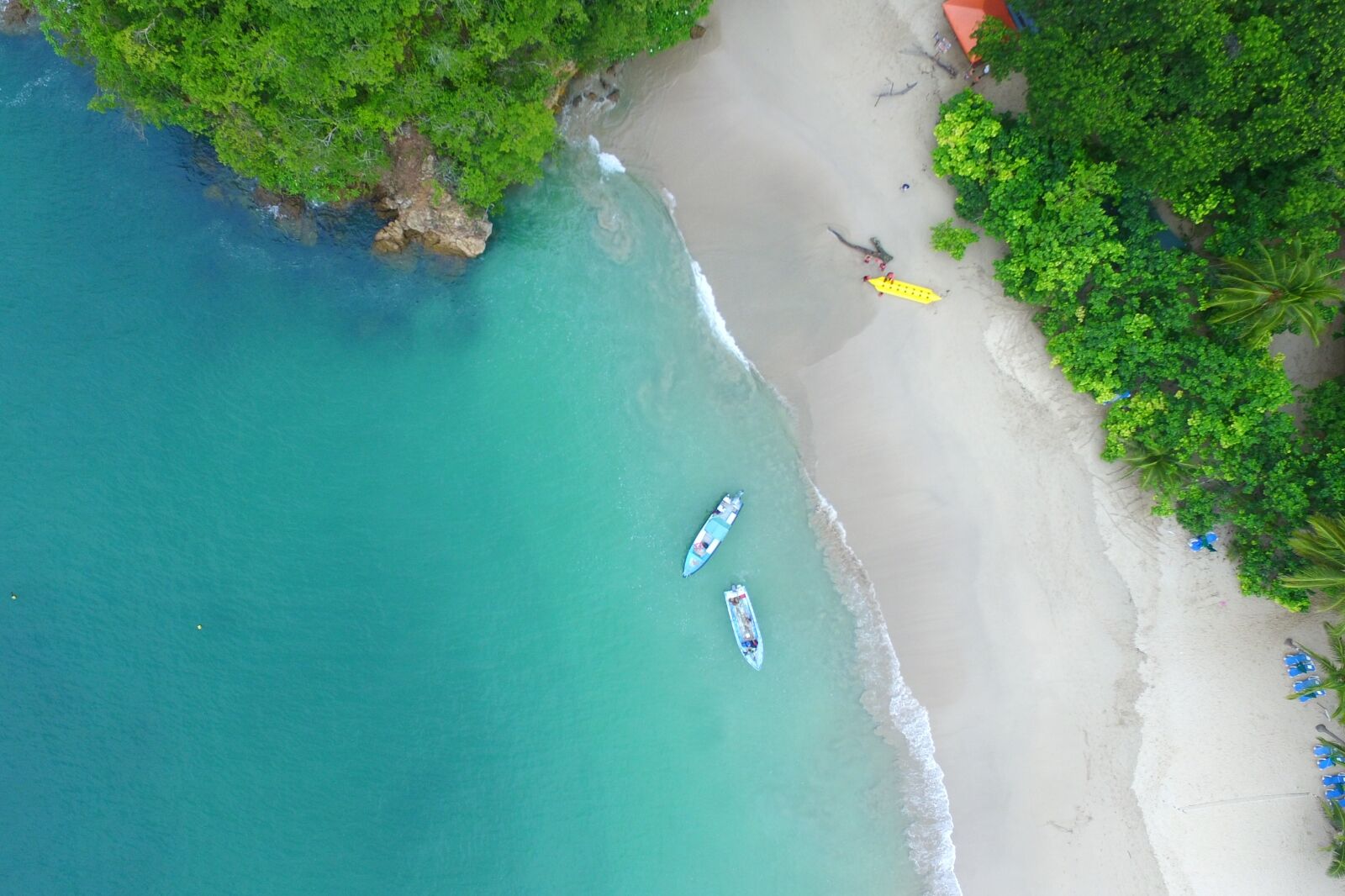 Costa Rica is known for its pura vida lifestyle and attitude. Pura vida means pure or simple life and Costa Rica's Nicoya Peninsula has what you could call extreme pura vida. The peninsula is one of the world's five Blue Zones where many people live exceptionally long and healthy lives. Now, visiting Nicoya doesn't mean you'll automatically live to 100, but a trip there is likely to put you on the path to pure life thanks to its natural environment and abundance of healthy activities. Here's how to plan a trip to the Blue Zone in Costa Rica.
What's a Blue Zone?
Blue ZoneⓇ is a term created by author Dan Buettner, building off of research by demographers Michel Poulain, Ph.D., and Giovanni Pes, Ph.D. They first noticed that people in several villages on the Italian island of Sardinia were living well into their 90s and 100s and that they had few significant mental or physical health problems. There are four similar places on earth: Costa Rica's Nicoya Peninsula, Okinawa in Japan, the Greek island of Ikaria, as well as Loma Linda in California (though that one might just be due to its large population of Seventh-day Adventists and their healthy lifestyle).
Almost 40 percent of the residents of the Nicoya Peninsula (about 5,000 of the population of 132,000) are over the age of 75, more than 900 are over the age of 90, and many are over 100. Genetics and Costa Rica's natural environment certainly play a large part, but lifestyle is a major factor in why Blue Zone residents live so long.
Jorge Vindas, Costa Rica's Blue Zone expert, says that it's a combination of good genes, healthy food, and water, regular low-intensity exercise, few vices, a strong connection to family, putting importance on religion or spirituality, and having a sense of purpose. He cautions though that one of the reasons Nicoya's centenarians live so long is that they don't have high incomes, which means they've had to do physical labor since they were young, their meals are light and mainly of vegetables and legumes, and they can't afford a lot of protein or processed foods.
You can replicate some of the long-life characteristics of the Nicoya Peninsula on a trip to Costa Rica's Blue Zone and then turn them into healthy habits when you return home.
Why is Costa Rica such a healthy country?
Costa Rica is generally a healthy country because its government decided that education, healthcare, and protecting the environment are more important than funding its armed forces and it abolished its army in 1948. This has paid off, with Costa Rica frequently scoring high in world happiness and environmental rankings. Sustainability is said to be a way of life, and Costa Rica has actually reversed deforestation; protects more than a quarter of its landmass via 29 national parks, 19 wildlife refuges, and eight biological reserves; gets 93 percent of its electricity from renewable resources, and aims to be completely decarbonized by 2050.
Costa Rica is one of the few tropical countries where it's safe to drink tap water — even for foreigners — and there's no need to buy plastic water bottles. In the Nicoya Peninsula, the water is particularly rich in calcium and magnesium which studies show is good for cardiovascular health and preventing cancer. The quality of Nicoya's water might be one of the reasons residents live long enough to become centenarians and almost centenarians.
It's also easy to eat healthy in Costa Rica, with its abundance of local foods grown in its fertile volcanic soil. Get your fill of fresh fruits like pineapple, mango, papaya, banana, and passionfruit and vegetables and legumes like squash, cassava, plantain, yam, and beans. Throughout Costa Rica, you'll find vegetarian gallo pinto (rice and beans) served at breakfast, lunch, and dinner — the name means "spotted rooster" because the black beans dot the rice. Lunch is the main meal in Costa Rica (it's better for your digestion to eat a bigger breakfast and lunch and a lighter dinner). Go to a soda, that's the name of a small, local café, and look for casado — this popular dish is rice and beans served with vegetables and either fish or meat.
Everywhere you go in Costa Rica, you'll hear "¡pura vida!" and soon feel the freedom to adopt the pura vida lifestyle yourself. Costa Ricans — called Ticos — say "pura vida" instead of "hello," "how are you," "fine, thanks," and "see you later" and you'll quickly find yourself saying it too. When on vacation in Costa Rica, it's also easy to pick up Blue Zone habits like getting regular outdoor exercise and a good night's sleep (though be sure to go to bed early if you want to do your sun salutations at actual sunrise). Perhaps you'll also figure out your life's purpose, which studies show contributes to a longer and higher quality life, and make the effort to reconnect with family whether you've brought them with you or will see them again once you're home.
How to get to Nicoya Peninsula
The Nicoya Peninsula is on Costa Rica's north Pacific coast. It's about 75 miles long and 35 miles wide, with the northern section a part of Guanacaste province and the southern section in Puntarenas province. The gateway to the Nicoya Peninsula is the beach town of Tamarindo on the west coast, which is very popular with international travelers.
You can drive to Tamarindo in about 80 minutes from the Liberia airport (it's about four hours from Costa Rica's other main airport in the capital, San José). Book a transfer from your hotel, opt for a shuttle or public bus, or take a domestic flight to one of the peninsula's larger towns. Some of the roads in Nicoya's interior and south aren't paved, so the deeper you go into the peninsula the more you may prefer to fly (for example, it's a 20-minute flight from San José to the tiny Tambor airport in the south). For those who want to explore the peninsula at their own pace, renting a car might be best (you can use your home country's driver's license for a maximum of three months). Another option is to take the 75-minute ferry across the Gulf of Nicoya from Puntarenas to Paquera.
Where to go in the Nicoya Peninsula
Nicoya's west and south coasts are the most popular for visitors and offer a wide range of accommodations and access to the peninsula's wilderness and activities. Going down the west coast from Tamarindo you'll find several beach towns, most notably yoga center Nosara and surfers' paradise Santa Teresa. The most southerly point is Cabo Blanco Reserve and the south coast also has the town of Tambor. Nicoya's interior — where most of the centenarians and almost-centenarians live — and northeastern coast are less visited by tourists but still have much to offer.
Tamarindo
Tamarindo is the most popular destination for international visitors with its golden beaches, many with consistent and gentle surfing waves, and nearby national parks and wildlife refuges. English is widely spoken and the town has lots of tourist infrastructure with a wide variety of restaurant and accommodation choices. Tamarindo is also a great place for solo travelers.
Nosara
About two hours down the coast from Tamarindo is Nosara, Nicoya's yoga center (the Nosara Yoga Institute here offers teacher training). Nosara also has three beaches — remote black sand Playa Nosara, Playa Guiones with some of Costa Rica's best surfing, and Playa Pelada for tide pools, blow holes, snorkeling, and swimming.
Tambor
On the peninsula's southeast coast is Tambor, with Nicoya's most southerly airport. The volcanic beach has calm swimming in Bahia Ballena (despite the name, whales are no longer frequent visitors), and there's birdwatching and hiking along the Rio Panica. Scarlet macaws are bred in Tambor and you'll have a chance of seeing them, even on the beach. The Tortuga Islands are offshore and are a frequent destination for snorkeling trips, even from other parts of the peninsula.
Santa Teresa
In the southern part of the peninsula, Santa Teresa is a popular surf area that sprawls for miles along the coast. Those who want to enjoy the pura vida life for more than a week or two often end up here, given Santa Teresa's gorgeous beaches, busy nightlife, and excellent wifi. Nearby are waterfalls at Montezuma, ziplining near the Cabo Blanco Reserve, and kite surfing.
Nicoya
In the interior, the town of Nicoya is one of Costa Rica's oldest and also has one of the country's oldest churches — the Parroquia San Blas, first built in 1544. Nearby is the Barra Honda National Park with its caves, the Monte Alto Nature Reserve where a variety of orchids grow, and other natural reserves where you can see wildlife.
What to do in the Nicoya Penisula
There are plenty of good-for-you activities to keep you busy on the Nicoya Peninsula — jump in the water with a surfboard or snorkel, get up high on a zipline, stretch out with a yoga class, or take a hike (call it forest bathing if you wish) in a nature reserve.
Wildlife is abundant. Though Costa Rica has just 0.03 percent of the planet's surface, it has almost six percent of the world's biodiversity and you might see (or hear!) howler and white face monkeys, red variegated squirrels, sloths, anteaters, raccoon-like coatis, butterflies, plus some 900 bird species including the fiery-billed aracari toucan and the rufous-tailed hummingbird.
In the south between the Paquera ferry and the village of Tambor, you'll have an excellent chance of seeing wildlife within the privately-owned Curú Wildlife Reserve. Look for howler and capuchin monkeys, parrots and parakeets, and bigger birds like herons and hawks. Rare species like pumas, ocelots, and margay cats make their home here too. You can hike along trails, go horseback riding, kayak through the mangroves, and swim off the beach. Also on offer are boat trips to the volcanic Tortuga Islands, where snorkelers might spot angelfish and porcupine fish, and there's a chance of seeing dolphins, manta and spotted eagle rays, and turtles on the way.
At the southern tip of the peninsula is Cabo Blanco Nature Reserve. The forest here is more tropical than further north and is home to deer, pacas, monkeys, armadillos, laughing gulls, pelicans, frigates, and brown boobies. There are two trails for visitors and a pristine white sand beach.
Long-living creatures like sea turtles are frequent visitors to the Blue Zone too. Several of Nicoya's beaches — like those in the Ostional National Wildlife Reserve — are nesting grounds for Kemp's Ridley, green, and leatherback turtles. The peak nesting time is from August to November and in the days before a new moon, thousands of turtles congregate in the Pacific waiting for the perfect time to come ashore and dig a hole to lay their eggs. The baby turtles hatch 45 to 54 days later and, if they're lucky, might live another 50 to 80 years. Some sea turtles have even lived to age 150.
Water sports are on offer pretty much everywhere along Nicoya's coast, whether you prefer surfing, kayaking, standup paddleboarding, snorkeling, scuba diving, or just checking out what's happening in the tide pools. Swimming holes dot the peninsula too, including beneath the Montezuma waterfall. A hike from the town of Montezuma will bring you past several cooling-off pools on your way to the three cascades of this waterfall, perhaps the most visited one on the peninsula.
If you want to get underground, Barra Honda National Park has a system of 42 caves and you can explore Terciopelo Cave on a tour. It requires descending 17 yards down a ladder to see cave formations that resemble fried eggs, popcorn, roses, and shark teeth. Barra Honda is on the peninsula's northeast about a half hour's drive from the town of Nicoya.
Getting up in the air on tree canopy tours via ziplines and rope bridges is popular throughout Costa Rica. The Nicoya Peninsula has several on offer, including near Tamarindo, outside the Cabo Blanco Reserve near Playa Mal Pais, and above the Montezuma waterfall.
Or, get your zen on at La Senda, the wellness center on a 74-acre forested property near Tamarindo. La Senda has a 2.5-acre labyrinth with a two-mile-long path (said to be the biggest in the world) as well as horseback riding. A three-course farm-to-table dinner with a tour of the organic garden is available Mondays and Thursdays.
Where to stay in the Nicoya Peninsula
Nicoya has an abundance of accommodation options but these selections should help your Blue Zone focus whether it's healthy food, yoga, and spa, surfing, and hiking, connecting with family, or getting a sense of purpose by helping protect Nicoya's wildlife and their habitat.
We hope you love the Blue Zone Costa Rica stays we recommend. Just so you know, Matador may collect a small commission from the links on this page if you decide to book a stay.
Tamarindo: Cala Luna Boutique Hotel
Offering barefoot luxury on Playa Langosta this family-owned boutique hotel is a 15-minute walk from downtown Tamarindo. Cala Luna won "most innovative wellness hotel" from the Global Beauty & Wellness Awards thanks to daily complimentary wellness activities like hatha yoga, bikes to borrow, farm-to-table cuisine (from La Senda's farm) with organic and biodynamic wines, and the innovative treatments at its Lahari Wellness Center spa. You're sure to be on the path to a long and healthy life after the four-handed Abundance Treatment, which combines Reiki, Shiatsu, Swedish massage, sound and aromatherapy, and acupressure. You can design your own holistic retreat too, choosing from a Kirtan sound bath, detox program, cacao ceremony, blue clay treatment, drum circles, and more.
Santa Teresa: Nantipa — A Tico Beach Experience
A stay at Nantipa will help you have a true Blue Zone adventure, especially if you book its transcendental wellness experience. Nantipa means "blue" in the language of the Chorotega people, some of the first known people to live in the Nicoya region. You'll stay in one of 21 suites, bungalows, and villas; lounge in poolside hammocks; walk on the beach; swim; and enjoy seafood purchased from local fishers and bread by the local baker in the open-air Manzu Restaurant that's right on Playa Santa Teresa. Nantipa's special wellness booking includes yoga, meditation, Ayurvedic and sound therapies, and sessions with wellness coaches and personal trainers.
Nosara: Living Hotel
Within Nosara's lush forest and a three-minute walk to Guiones Beach, this small hotel has a daily yoga class plus private yoga instruction, surf lessons, a large pool, hammocks, and a juice and coffee bar. Rooms have a mini fridge and there's a communal kitchen plus bikes to rent. Living Hotel partners with the Spacio spa, a five-minute walk away, which has several treatments geared to surfers.
Tambor: Barcelo Hotel Playa Tambor
Near the fishing village of Tambor (reached by a 20-minute flight from San José or a drive down from the Paquera ferry) is Costa Rica's first all-inclusive. Predominantly catering to families, this 402-room property has four restaurants, including for surf and turf and Japanese, two pools, a nightclub, and a 200-seat amphitheater. A nine-hole golf course is a mile away.