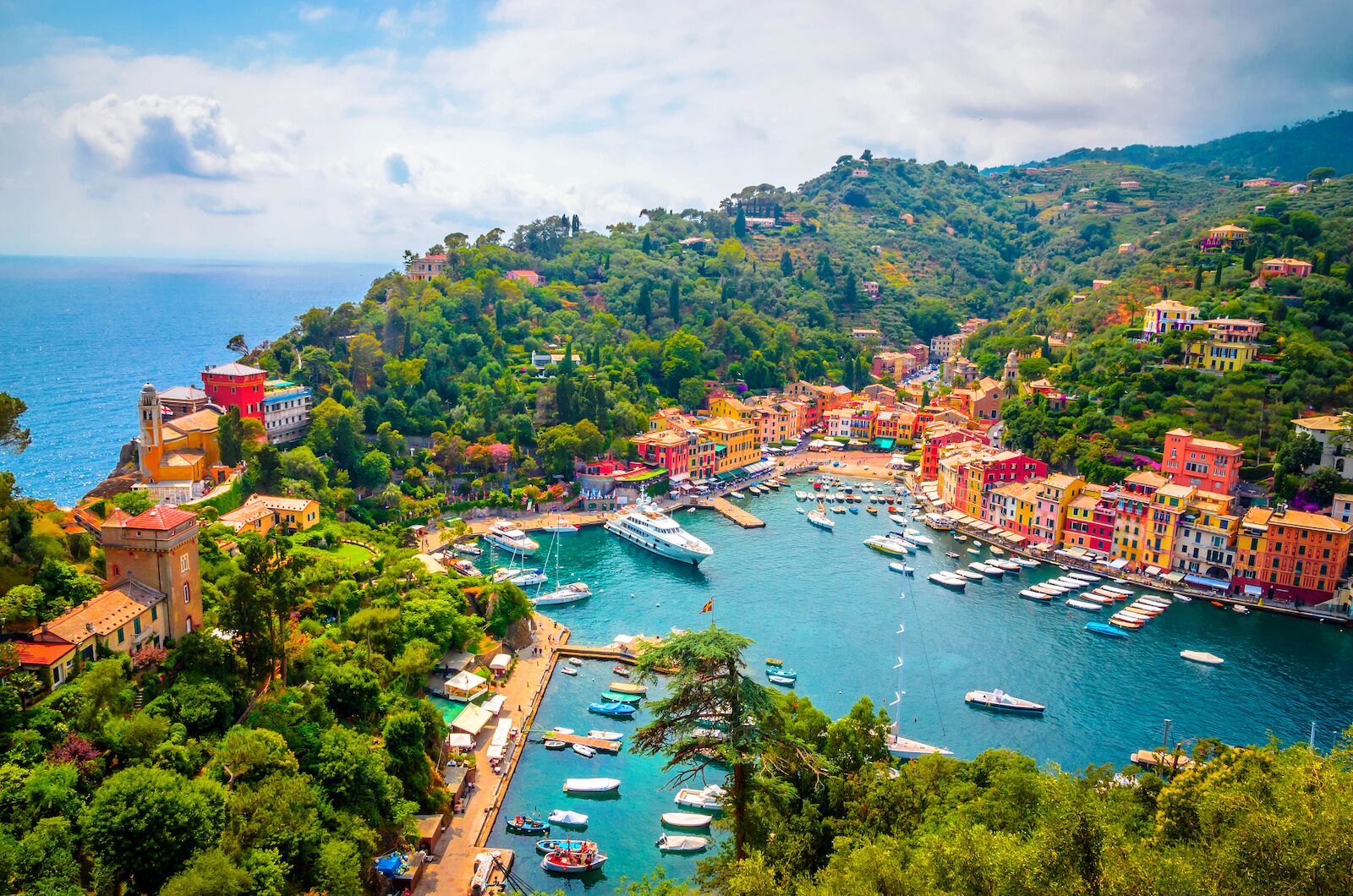 Located just south of the main city of Genoa, Portofino has long been a destination for Italians and international tourists Italians alike — and it's no surprise why. Turquoise-hued waters, colorful coastline architecture, and an unlimited supply of delicious food and drink are just a few reasons why visitors flock to this delightful Italian village. However, with great tourist interest comes an inevitable number of tourist traps, so knowing exactly where to go with the help of a local is key. After a trip to the region, I spoke with Portofino Gin cofounders Chris Egger and Ruggero Raymo to learn the best places to eat, drink, and stay in Portofino.
"[With our gin], we offer an authentic experience to our consumers: a trip to Portofino to discover Ligurian flavors, with a light spirit and the feeling of living the golden age of the Italian dolce vita," Egger says. "We faithfully represent the people of Portofino by telling the local stories and traditions. We proudly embody the spirit of this unique and timeless location."
Things to do in Portofino, Italy
Take a lighthouse hike
"Hike" is a bit of a stretch here, but any form of movement is generally appreciated on a trip filled with lots of food and drink. The local lighthouse is reachable by an easy-to-follow footpath that's accessible from the center of town. Sunset is objectively the best time of day to go, as the restaurant bar at the end of the path offers the most pristine, unobstructed views of the horizon. Insider tip: If you veer off the beaten path on the way down, you can access a tiny beach just below the Dolce & Gabbana castles, where the Kardashian wedding took place.
Faro di Portofino: Via alla Penisola, 16034, Portofino GE, Italy
Castello Brown
Although most of Portofino's enjoyment is centered around eating and drinking, hiking up to the Castello Brown, a historic house museum, offers a perfect reprieve. Formerly used as a military defense base during Roman times, this mountainside fort was purchased and remodeled by the English consul during the mid-20th century, sold to an English couple, then resold back to the city of Portofino in 1961. Fun fact: The Enchanted April by Elizabeth von Arnim was written and set here, as was the 1991 film adaptation of the novel.
Castello Brown: Via alla Penisola, 13, 16034 Portofino GE, Italy
Take a private boat tour
While seaside views from Portofino's shores are nothing short of spectacular, the best way to experience the water is on it. For fearless travelers, renting a boat and navigating the waters yourself is an option, though guided tours allow you to sit back, relax, and take in some of the most unforgettable views of your life (with a Portofino Gin-based drink in hand, of course).
Where (and what) to eat and drink in Portofino
Portofino Gin
"The Portofino Dry Gin adventure began as a project between friends, with the common goal of sharing our passion for Portofino," says Egger. Ruggero Raymo, CEO of Portofino Gin (and Portofino native), explains that the product is based on celebrating the beauty of Italy's heritage and the richness of its landscapes, as well as tells the story of the ancestors and place from which they come.
The story begins with the square bottle that Raymo explains recalls the Italian premium perfumes of the 1960s with a blue hue (which is technically petrol green) that's the pantone of the Ligurian Sea. Additionally, the frame on the back label showcases how the village's windows are painted, which highlights the stories of Portofino's hidden fisherman village. "Once the bottle is opened, you are wrapped into a mix of aromas which celebrate the local terroir," Raymo explains, noting that the gin's flavors of lemon peel, lavender, marjoram, rosemary and sage are all typical botanicals to the region.
DaV Mare
For Portofino's best cocktails, both Raymo and Egger agree, head to DaV Mare bar at Hotel Splendido Mare. Each libation is made by local mixologists Paolo Gastaldo and Vincenzo D'Amato, who offer up unique creations as well as the standard classics. Try the negroni la vela, which is produced in the classic Ligurian way with Portofino Gin, Campari, Amaro Camatti (a local bitter from Genoa made with herbs and spices including cinchona, gentian, and mint), and Pineo (dry vermouth made with Ligurian pine nuts).
DaV Mare: Piazza Martiri dell'Olivetta, 1, 16034 Portofino GE, Italy
Winterose
For an intimate aperitivo by the water, Egger recommends heading to Winterose. "The bar's lovely owner, Manuelina, will tell you the local anecdotes and let you taste Italian delicacies," he says. Raymo agrees, "Regarding drinks, Winterose is charming, cozy and glamorous — you cannot miss having a gin and tonic there while enjoying the sunset." Best of all, Winterose's impeccable wine cellar offers a slew of well-priced gems that promise to impress collectors from everywhere.
Winterose: Calata Marconi, 42, 16034 Portofino GE, Italy
Dai Gemelli
Dai Gemelli is a go-to favorite of both Egger and Raymo, especially for fresh seafood and pasta. Now spearheaded by twin brothers Paolo and Matteo, who represent the eighth generation of their family's restaurateur legacy, this unmissable harborside spot pays homage to the traditional flavors of Liguria with recipes pulled directly from their mother's and grandmother's at-home cookbooks.
Dai Gemelli: Calata Marconi, 7, 16034 Portofino GE, Italy
Da Nicola
Raymo also recommends heading to Da Nicola. "Make sure to get recommendations from a local," he says. "Go to Da Nicola to have the best cheese focaccia — the owner is always very helpful and friendly."
Da Nicola: Piazza Martiri dell'Olivetta, 2, 16034 Portofino GE, Italy
Ristorante Puny
Arguably the most famous restaurant in Portofino, Puny is beloved by both locals and celebrities alike. The restaurant's seafood-heavy menu, as well as its pesto pasta, highlights some of the tastiest dishes in all of Liguria, and the sheltered patio offers ample outdoor seating all year aside from when the restaurant is closed in January and February. Note that reservations are required.
Ristorante Puny: Piazza Martiri dell'Olivetta, 5, 16034 Portofino GE, Italy
Where to stay in Portofino
Splendido Mare
For a harborside splurge, head just a few doors down from Hotel Nazionale to Splendido Mare, a Belmond Hotel. A stunning blast from the past, Splendido Mare pays homage to the golden era of the 1950s, when royals, Hollywood stars, and creatives alike would flock to the turquoise shores of Portofino's harbor. Enjoy flat screen TVs and breathtaking views, as well as access to the outdoor pool and fitness area at the hotel's sister property, Belmond Hotel Splendido, located on a nearby hillside and connected via free shuttle transfer.
Splendido Mare: Via Roma, 2, 16034 Portofino GE, Italy
Hotel Nazionale
Hotel Nazionale is a quaint, budget-friendly place to stay. Ideally located directly on Portofino's main harbor, this three-star hotel offers comfortable rooms (many of which come with separate seating and living room areas), free breakfast, and free WiFi, as well as an on-site pizzeria. The hotel has been in the family of Alessandro Briola of Portofino Gi for more than 100 years.
Hotel Nazionale: Vico Dritto, 3, 16034 Portofino GE, Italy