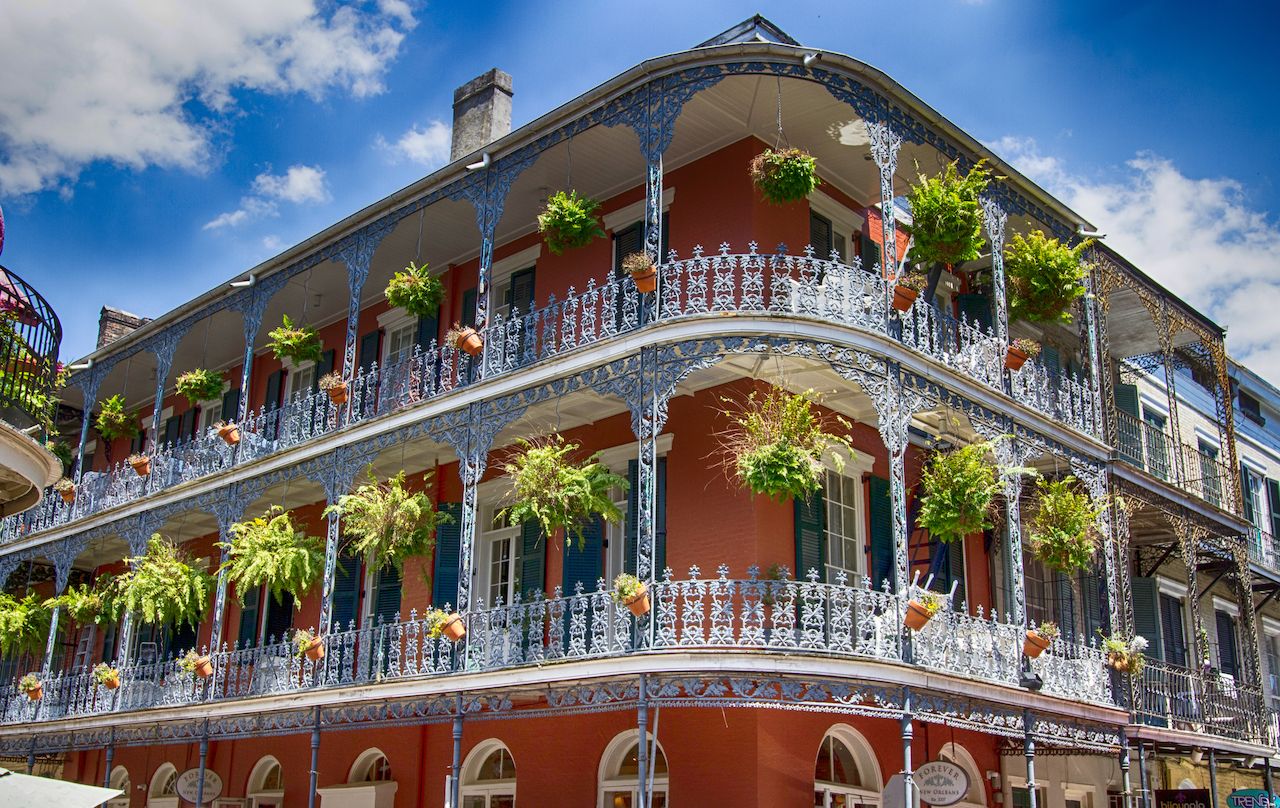 World famous for everything from its food and live music scenes and colorful architecture to airboat tours through swamps and the city's cocktail culture, there's no shortage of reasons to plan a trip here. It's unquestionably one of the most unique and historic cities in the world — but is there a best time to visit New Orleans? 
The answer depends entirely on the type of trip visitors are hoping to have. Some people want to spend their time outdoors, while others prioritize tasting and sipping their way through The Big Easy. Some folks may have their hearts set on seeing alligators, while some visitors hope to go to an authentic crawfish boil or attend a lively music festival. 
Answering these questions, while also factoring in some seasonal weather considerations, can help determine exactly when to go to New Orleans and what to expect at any time of year. 
Seasonal considerations for visiting New Orleans
It's no secret that New Orleans experiences some wild weather and is one of the rainiest cities in the US. The coastal area also experiences an annual hurricane season from the beginning of June through the end of November. Even outside of these months, visitors should be prepared for heavy rain and sudden shifts in weather. It's a good idea to bring an umbrella or light rain jacket everywhere you go, especially if you're exploring the city on foot. 
For about half the year, New Orleans is also hot and quite humid. 80 degrees may sound comfortable, but it's a different story when the humidity is also in the 80-something percentile. It's easy to become dehydrated as a result of sweating in this type of climate, so bring plenty of water when you head out, dress in light layers, and be mindful of how much time you spend outdoors on particularly warm or humid days. 
Hurricane Season
Officially from June through November, the peak of hurricane season in New Orleans is August and September. Even toward the beginning and end of the season, the chance of hurricanes still exists and this time of year is especially rainy regardless. 
That's not to say that visitors should avoid New Orleans during this time — on the contrary, you can find some incredible hotel and airfare deals. However, it's important to keep plans flexible and keep a close eye on weather reports. Also, while most hurricanes are predicted at least a few days in advance, they do sometimes change course without warning, so it's a good idea to have a contingency plan in place for getting home in case flights are grounded.  
Mardi Gras
One unique thing to keep in mind is that during the week of Mardi Gras, in February or March, many attractions close, and some tours are not offered. Although the weather is usually excellent during this time of year, be sure to research any specific places and tours to find out if they'll be running normal operations. 
Best time to visit New Orleans for festivalgoers
The best time to go to New Orleans for those wanting to experience Mardi Gras or one of the city's other 130-plus annual festivals is late February through early May. Mardi Gras itself is officially on the Tuesday before Ash Wednesday, which can fall anywhere from the second half of February to the first half of March, and Carnival celebrations start a few weeks before that. 
Looking specifically for king cake, the beloved Mardi Gras tradition? It starts making its annual appearance in early January and is available city-wide until shortly after Fat Tuesday. 
Other popular festivals that draw plenty of visitors include the French Quarter Festival in mid-April; New Orleans Jazz & Heritage Festival, typically held over the first two weekends in May; and Bayou Boogaloo, also in May. 
Note that accommodations for the week of Mardi Gras book out several months ahead of time and prices are significantly higher, plus many hotels in the heart of the city require three- or four-night minimum stays. Needless to say, it's beneficial to make travel plans as far in advance as possible.
Best time to visit New Orleans for budget travelers
For travelers hoping to save some money and avoid crowds, the best time to visit New Orleans is the summer. It's hot, extremely humid, and rainy during this time, which keeps the majority of visitors away. If you don't mind the weather and can be flexible with your plans, though, this is a fantastic time to plan a Big Easy trip, when some of the city's best accommodations can be found for bargain prices and it's easy to get reservations at the most popular restaurants and bars. 
Another benefit of visiting New Orleans in the summer is being able to visit unique Louisiana beaches. Lake Pontchartrain's sandy shores are just 30 minutes north, while the gulf beaches of Grand Isle are about two hours away.
Best time to visit New Orleans for crawfish fans
Crawfish (also commonly referred to as crayfish and crawdads) is a huge part of Louisiana's culture, and New Orleans is one of the best places to get a taste of it firsthand — literally. The official crawfish season runs from early March through early June, and the best time to go to crawfish boils is from March through May. 
Of course, restaurants feature crawfish dishes on their menus year-round but hold crawfish boils primarily during this time. There are also several crawfish festivals in New Orleans in April and May, and the only time people can buy their own crawfish in bulk from local restaurants and markets is during the official season. 
Best time to visit New Orleans for adventure seekers and wildlife enthusiasts
Alligators are abundant in New Orleans, but that doesn't mean they simply stroll down the street. For the best chances of spotting them (along with otters, deer, mink, and a spectacular variety of birds), book a swamp tour, either in an airboat or in kayaks. 
Summer is by far the best time to do this strictly in terms of sightings, as gators love warmth and humidity, not to mention the birds and insects that are equally abundant at this time of year. Of course, the summer months are also the most humid and rainy, so spending time outside can be uncomfortable. If you plan to visit during the summer, try to book swamp tours as early in the day as possible. 
Spring is the next-best time to visit New Orleans for touring swamps and watching for alligators. Everything is greening up again after winter, providing beautiful scenery, and the weather is much more pleasant than in the summer. 
Fishing in New Orleans
One of the biggest benefits of NOLA's unique geography is the spectacular year-round fishing. In any season, there's a vast variety of fish to be caught, often right in the city or very close by. 
The best months for catfish, bluegill, and cobia are in the summer, while late fall and winter are best for fishing flounder, yellowfin tuna, and sheepshead. 
Best time to visit New Orleans for families
Families will find that there are two different best times to visit New Orleans, depending on what they plan to do and see. While spring is the best season in terms of weather, the occurrence of Mardi Gras and several other major festivals make it tricky to navigate the city with young children, not to mention significantly more expensive. 
Winter
The winter months, specifically November through January, are considered one of New Orleans' two low seasons. This falls between October, a busy time in the city with Halloween celebrations and the popular Voodoo Fest, and the spring high season. The city goes all out with holiday decor and there are plenty of family-oriented winter events to enjoy, plus flights and hotels are reasonably priced. 
Winter weather in New Orleans is comfortable and mild, with high temperatures hovering in the mid- to upper 60s. This is also typically the driest part of the year, although keep in mind that rain is a regular occurrence year-round in the city.
Summer
Although the weather can be uncomfortable, summer is another excellent time to visit New Orleans for families. Crowds are at their lowest, prices are the most affordable of the year, and families have their pick of where to stay. Summer is also the best time to visit nearby beaches, perfect for planning longer getaways.  
Best time to visit New Orleans for sports fans
New Orleans has two professional sports teams, the Saints (football) and the Pelicans (basketball). The city is also the longtime host of the annual Sugar Bowl, a major semi-final college football bowl game.
For enthusiastic sports fans who want to catch a game in New Orleans, the best time to visit is October through January. The NFL and NBA seasons overlap during these months, and the respective schedules align a few times each year when both teams play at home in the same weeks. The Sugar Bowl is also held every year on New Year's Day.