When I last left you in the September recap, I was dealing with my first round of COVID. I'm happy to share that I began testing negative shortly after October began, and only had to miss a few days of my long-planned New Hampshire trip.
And the foliage was magical.
Seriously, you would think that growing up in New England would get me to appreciate fall foliage a bit more. It is better here than anywhere else in the world.
But this trip was an absolute joy, start to finish. Even with the crowds and the high prices and the overall craziness. Now I want to come back home for foliage every year!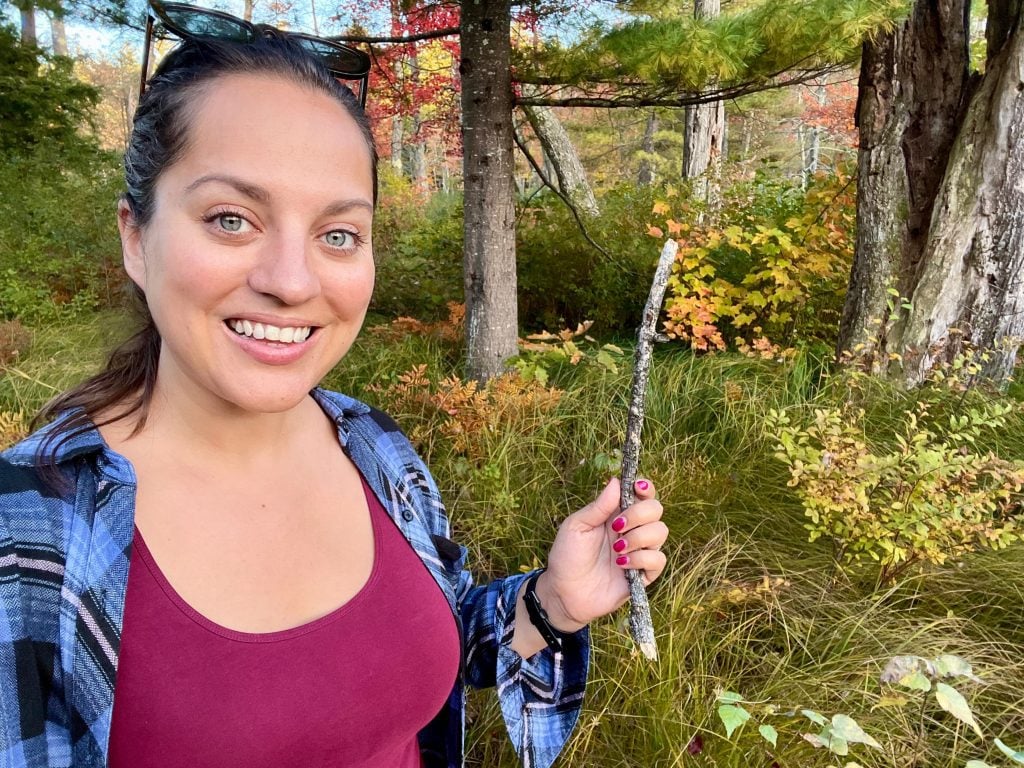 Destinations Visited
Woburn, Reading, Wakefield, Chestnut Hill, Boston, Newburyport, Danvers, and Lynnfield, Massachusetts
Lincoln, North Woodstock, Franconia, Sugar Hill, Bethlehem, Littleton, North Conway, Albany, Gorham, Jackson, Conway, and Portsmouth, New Hampshire
Portland, Freeport, Cape Elizabeth, and Ogunquit, Maine
Prague, Czech Republic
Highlights
I found my wedding dress!!! THAT is the highlight of the month! I went on two shopping trips with my mom — first BHLDN in Chestnut Hill, then Bella Sera Bridal in Danvers. As much as I love BHLDN and their quirky, affordable gowns, none of those dresses felt right, and I hated being rushed through an hourlong appointment (one hour is not enough).
I had a wonderful experience at Bella Sera Bridal and highly recommend dropping by if you're wedding dress shopping on the North Shore. The dress I chose has Old Hollywood vibes, and that will guide my overall look. I already found some cool earrings and a hair clip (no veil for me).
More wedding stuff booked! We are having two weddings: a bigger one in Prague in May and a smaller one in Boston in July. Charlie and I decided on our Boston reception venue — a restaurant in the financial district that serves up INSANELY good food. The ceremony will be outside. (I'll be sharing more details after the event.)
Some of the best fall foliage I've ever seen. I took Charlie along to New Hampshire in early October to do more research for my New Hampshire site, New Hampshire Way, and to get a LOT of foliage photos.
Early October is peak foliage in the White Mountains, and we timed it PERFECTLY. Seriously, this foliage was some of the best I've ever seen. It was at its absolute peak in northern parts of Franconia Notch and Pinkham Notch. Artist's Bluff, my favorite hiking viewpoint in New Hampshire, was a zoo.
I loved getting to show Charlie some of my favorite places in New Hampshire, we did the hike to Franconia Falls for the first time (easy and fun but a bit long at 2.5 hours round trip), Charlie drove us up the Mount Washington Auto Road (OUTSTANDING during peak foliage!), we went to several retro diners, and we even camped overnight in a glamping tent at Huttopia in Albany, complete with campfire and s'mores.
A lovely little trip to Maine. My friend Beth and her family moved to Portland late last year, and Charlie and I visited to see their new house. We strolled around Portland's colorful neighborhoods, ate lobster, took a trip to the giant LL Bean store in Freeport, and Charlie and I grabbed a lobster feast at Two Lights and strolled through pretty Ogunquit (Ogunquit post coming soon!). We did a little side trip to NH Brewfest in Portsmouth, too!
I got to try out the little self-driving pods at Heathrow. These driverless cars have existed since 2016, and I had no idea! I had a 14-hour layover, so I needed to sleep somewhere. The Yotel at Heathrow is now gone, so I stayed at the Thistle Hotel. To get there, you need to take a little pod from Terminal 5.
It's pretty cool! You press buttons and it just takes you where you need to go. Highly recommended if you have a long layover. (Bring earplugs for the Thistle, though. When someone checked in next door I could hear them breathing!)
Getting home to my kitties and back into a normal schedule. As grateful as I am for my travels this year, I overdid it a bit the last five months. It felt like I was getting ready for the next trip as soon as I got home and I could never feel settled.
Now that I'm back, I'm in a much more productive work schedule and much more consistent fitness schedule.
Lewis and Murray are still the ABSOLUTE BEST! They've been so sweet lately. I love waking up in the middle of the night, Lewis snuggled into the side of me, Murray coming over looking for cuddles.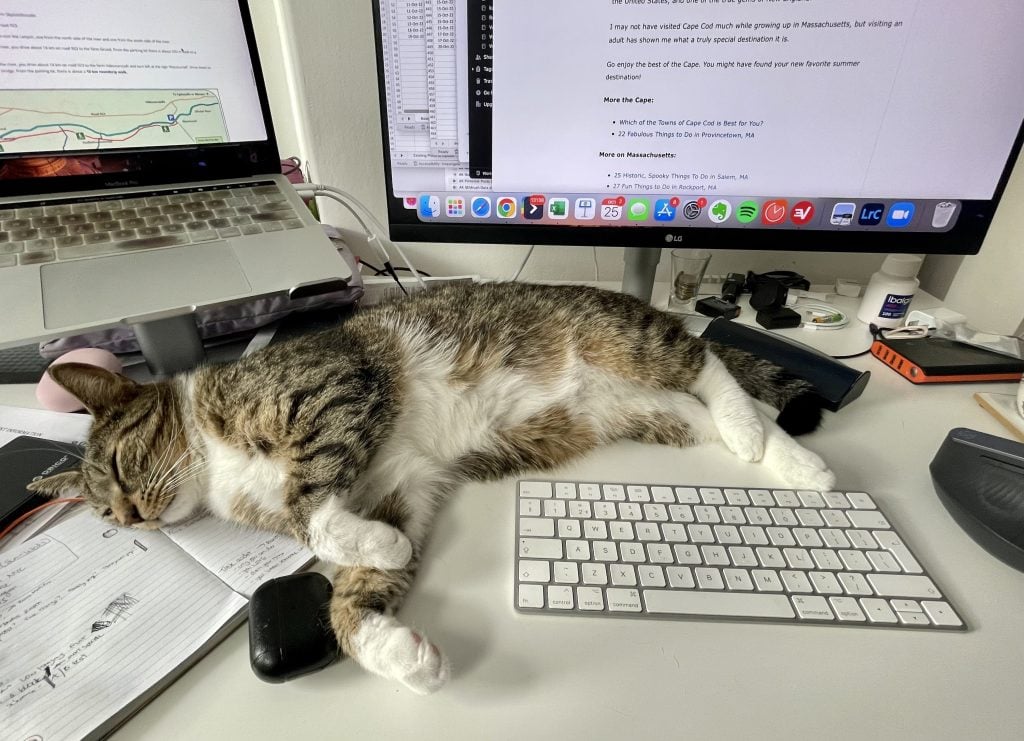 Challenges
I'm sorry to say that the Sugar Hill Inn was a disappointment. This is always listed as one of the best inns in New Hampshire, along with one of the state's best restaurants. I wanted to stay here so much, I booked my stay and dining reservation in MAY. I was planning to write a detailed post on the full experience on New Hampshire Way, both inn and restaurant.
I emailed to confirm the dining reservation a few days before and got, "Oh, we're not serving dinner on Wednesdays anymore. Sorry." They never informed me. The inn was booked solid otherwise. And the only other night I had free in that region I was planning on enjoying my favorite brewery in New Hampshire, Schilling Beer Co in Littleton, which closes at 8.
I decided not to dine at the inn altogether, and I don't regret it — Charlie and I tried the excellent Cold Mountain Cafe in Bethlehem on Wednesday, and had a great evening at Schilling with pizza, poutine, and weird European-style beers on Thursday, not having to worry about driving as we were staying right in downtown Littleton.
That's the thing — in an area without public transit, you need to be SO careful about drinking and driving. I planned my schedule around staying walking distance from where I was drinking that night.
As for the inn, it was cute — but more of a notable historic property than a luxury stay. Every inch of the floor creaked, and walls were thin. We did have one of the cheapest rooms (the Rose Room); perhaps a more upscale room would have been different. But it wasn't the experience I had expected. Breakfast was delicious, though.
The Conway Scenic Railroad was a bit of a letdown. Maybe that's too strong wording. Taking this train ride during peak foliage is supposed to be one of the best things to do in New Hampshire.
The railroad has one-hour, two-hour, and five-hour journeys. We did the two-hour Sawyer River trip. And while vintage trains are cool, and there were occasionally gorgeous views, the majority of the trip was through forested areas with no real views. And the commentary was on such scratchy speakers that I struggled to understand anything.
A slow scenic train ride is nice, yes. And honestly, it's a great option in North Conway for people who have mobility challenges. But comparing it to the Mount Washington Cog Railway that climbs the highest mountain in the northeast, I would take the Cog any day over the Conway Scenic.
Blog Posts of the Month
24 Fab Things to Do in Cape Cod, Massachusetts — The Cape is fantastic, and there is SO much to do beyond just enjoying the beaches.
How to Visit Studlagil Canyon, Iceland — Studlagil Canyon is a really cool natural wonder in East Iceland that was only discovered a few years ago. Don't visit before reading my advice first, because we had some issues here!!
Visiting Stokksnes and Vestrahorn, Iceland — You know that jagged black mountain in Iceland on the black sand beach with green sand dunes? That's this place. It's very cool and surprisingly easy to visit.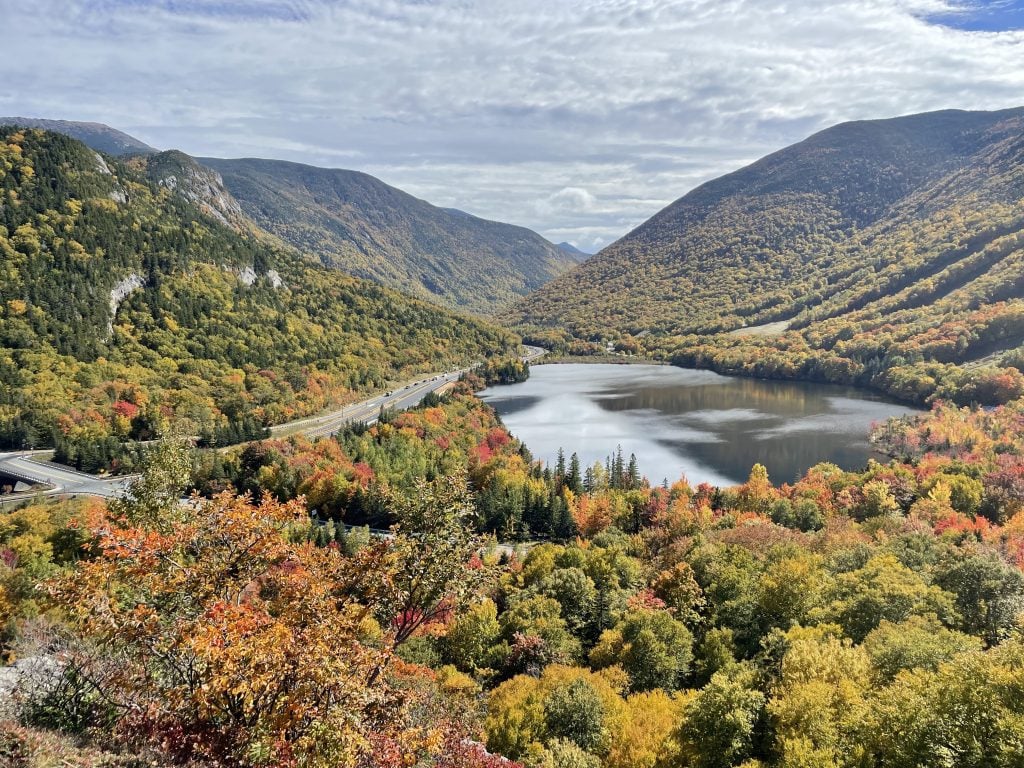 This Month on Patreon
On the Adventurous Kate Patreon, I publish exclusive content and never-told stories that you can access for $6 per month. We also have a private Facebook group and members get free access to the Book Club each month.
I posted a big recap post of my New Hampshire/Maine fall foliage trip, including details on the best and worst and how to do it yourself. That's more than I'm going to write about on the blog itself, so you will find it there!
I also wrote about a weird and scary incident that happened while I was in Brno in September. It's called "Zombie Run."
Book Club This Month
Our next Book Club will take place on Sunday, November 20, at 1:00 PM Eastern Time. And this is going to be a special book club — the author is joining us for a discussion!
We will be reading An Ocean Apart by my friend Sarah Lee. So excited to learn about the Windrush Generation and help Sarah celebrate her first novel
"Inspired by real life stories of the Windrush Generation and her mother's own experiences as a nurse in the 1950s, Sarah Lee's debut novel is a must for fans of Call the Midwife.
It's 1954 and, in Barbados, Ruby Haynes spots an advertisement for young women to train as nurses for the new National Health Service in Great Britain. Her sister, Connie, takes some persuading, but soon the sisters are on their way to a new country – and a whole new world of experiences.
As they start their training in Hertfordshire, they discover England isn't quite the promised land; for every door that's opened to them, the sisters find many slammed in their faces. And though the girls find friendships with their fellow nurses, Connie struggles with being so far from home, and keeping secret the daughter she has left behind in search of a better life for the both of them . . ."
You can sign up here. Patreon members have a separate signup in the Patreon.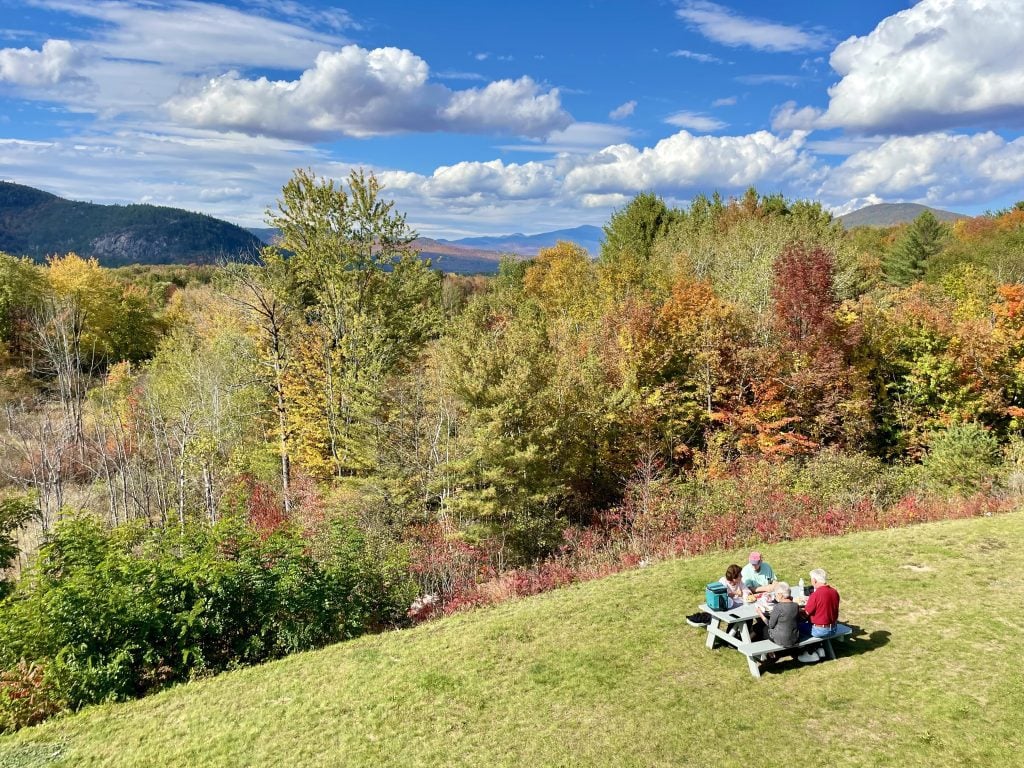 New Hampshire Way Update
Last month, I shared that my New Hampshire site had finally been accepted to Mediavine. This month, the ads turned on! I started earning money from ads on the site on October 8, and I finished the month earning just under $1000. Because Mediavine pays Net 75, I won't see my October payment until January.
It's a good start, but much of that was my New Hampshire Fall Foliage 2022 Guide post going absolutely nuts earlier in the month, then tapering down after fall colors peaked. I think things are going to be pretty quiet traffic-wise until early next year, but I'm planning a bunch of Christmas and holiday content in the interim.
Some posts I enjoyed writing this month included guides to visiting the waterfalls Glen Ellis Falls and Jackson Falls, a post about the Cornish-Windsor Covered Bridge joining New Hampshire and Vermont, and my favorite, a Guide to Conquering the NH 48: New Hampshire's 4000 Footers!
What I Listened To This Month
This month I got a tip on Twitter — the score to the film The Hours, composed by Philip Glass, is the absolute best music to work to. Turns out it's a cult favorite.
I gave it a try and WOW. This music is PERFECT. It hits the perfect level of gentle strings without being too obtrusive or loud. It works for creative writing and it works for busywork. It keeps you productive!
I've been listening to other scores, too. Au Bout des Doights, composed by Harry Arrouche, is another excellent choice, though a bit more showy at times (omg, the prelude is SO GOOD). By the Sea has another wonderful score, composed by Gabriel Yared, though you need to pick out the other songs in between his compositions on the soundtrack.
But nothing beats The Hours. Honestly, if you need a little help with productivity, give it a listen!
What I Watched This Month
Have you heard of the show Reboot on Hulu? Nobody I know is talking about this, but we started watching it on a whim, and it's INCREDIBLY FUNNY. Oh my God, this show!
The premise is about a team of actors and writers rebooting a cringey 90s sitcom in the present day. Doesn't hurt that it has an incredible cast, including two of my all-time celebrity crushes, Keegan-Michael Key and Johnny Knoxville, as well as Judy Greer, Rachel Bloom, and Paul Reiser.
But if you're looking to laugh — Reboot, What We Do in the Shadows, Abbott Elementary, and Never Have I Ever will have you sorted!
What I Read This Month
Of Women and Salt by Gabriela Garcia (2022) — Jeannette is a 30-something Cuban American wrestling with addiction while living in Miami. When Jeannette takes in a child whose mother was detained by ICE, she and her mother Carmen must reckon with their family history. The book transcends several generations of Jeannette's family and weaves back and forth between Cuba and Miami.
We read this for our book club this month, and everybody liked it (or mostly liked it). I was in the mostly liked it camp. I loved the characters, the women's tendencies to repeat history generation after generation, and the vibrant descriptions of Miami and especially Cuba.
My main issue with it is that it felt like several unrelated stories strung together that could have been a little deeper, and the way it jumped back and forth in time was confusing. Overall, a very good book.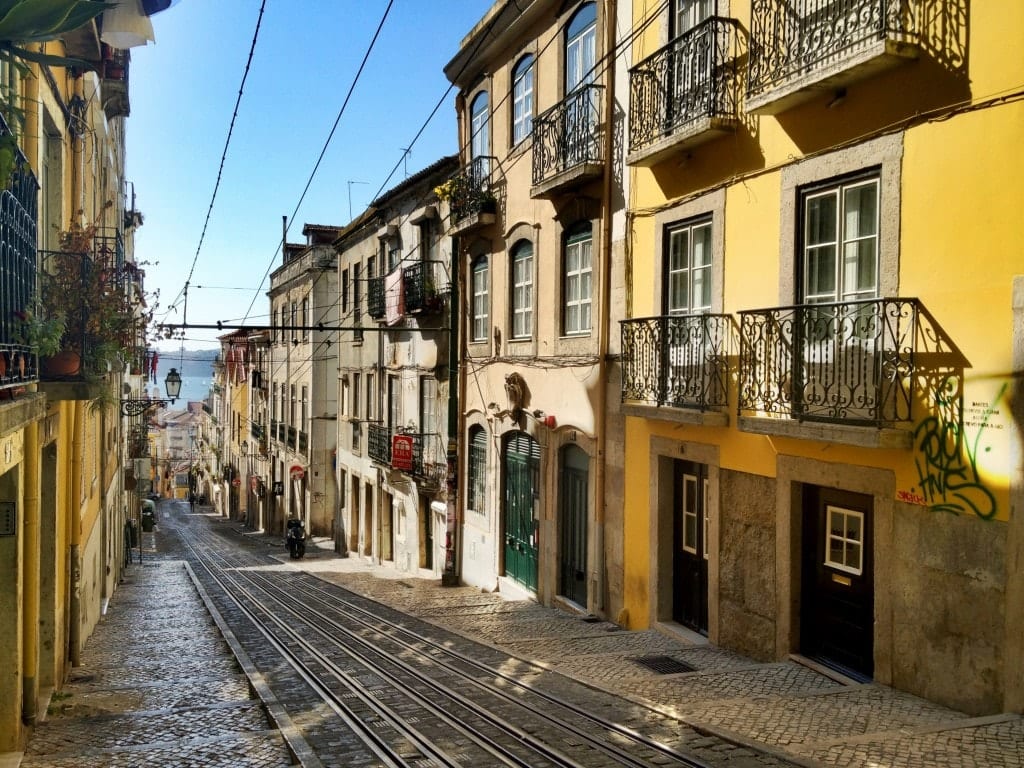 Coming Up in November 2022
I'm staying put for the first three weeks of the month. And then I'm heading to…Lisbon! Yes! This trip came about a bit organically — Charlie will be leading his company's team meeting in Sevilla for a week, and I considered dropping by afterward, but we decided to meet up in an easier gateway to Boston. Lisbon was perfect!
I've been to Lisbon twice before, but only as a backpacker on a very limited budget. I'm looking forward to getting to try some of the nicer food in Lisbon, and meeting up with friends, including the Lisbon food experts 2FoodTrippers.
After that, I will be in the States for a week to celebrate Thanksgiving and attend my 20-year high school reunion! Can you believe it's been that long?! I'm looking forward to seeing everyone. And when I come back…we will be in Christmas market season! So excited for markets and pastries and sausages and gluhwein!
What are you up to this month? Share away!
The post AK Monthly Recap: October 2022 appeared first on Adventurous Kate.