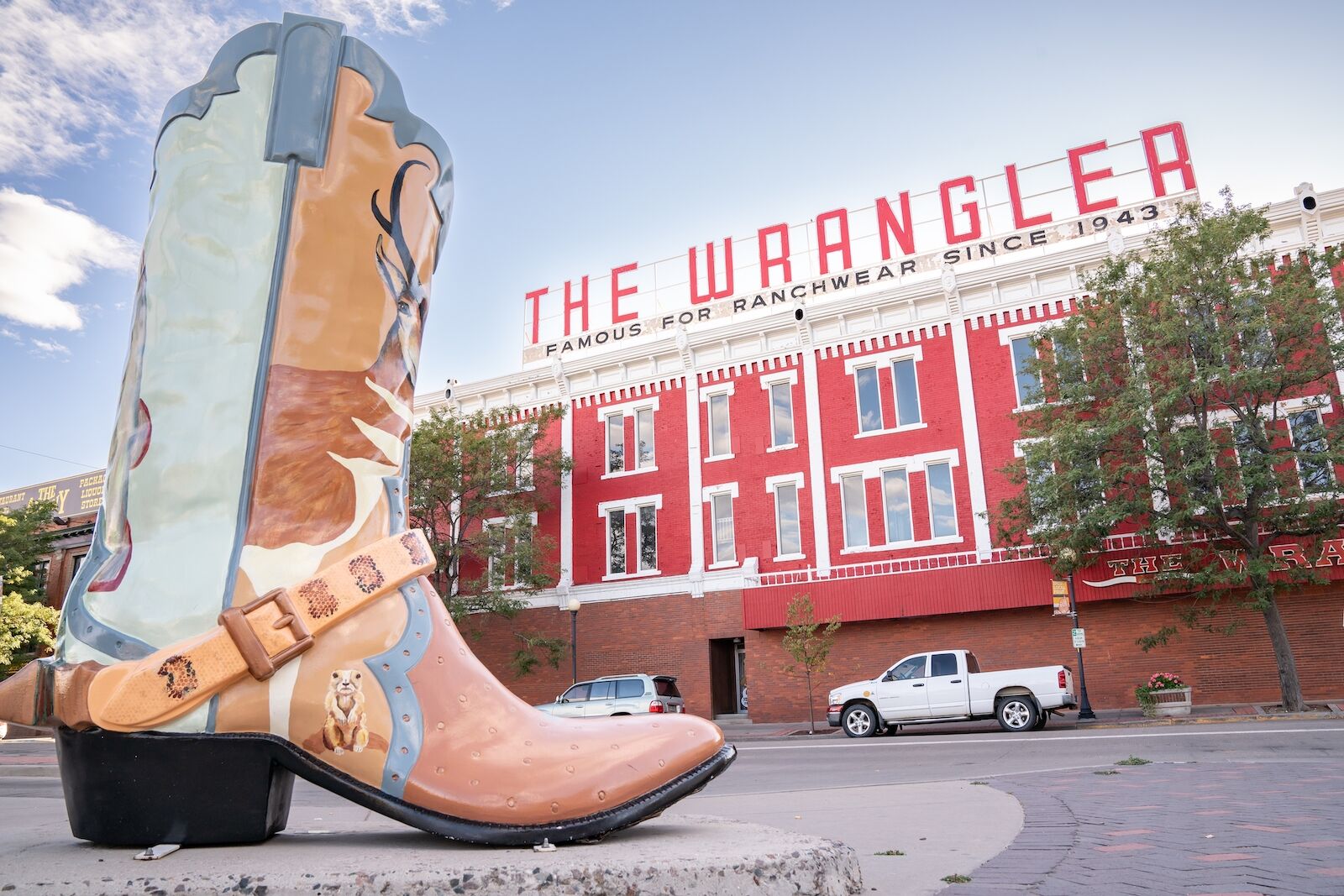 The biggest retail shop in downtown Cheyenne, Wyoming, isn't a department store. It's a place to get a custom-shaped cowboy hat.
The two-story tribute to western wear is The Wrangler, whose red neon sign spans an entire city block and dominates Cheyenne's brick downtown skyline. Technically, it's a Boot Barn – yes the same one you'd find at your nearest mall, if your nearest mall was still open. But because it's in Cheyenne, the Boot Barn bigwigs let The Wrangler keep its branding.
"This is a lost art," Justin, the wheelchair-bound former rodeo cowboy tells me as he steams a black hat that I've just bought. "Nobody really knows how to shape hats anymore. I think we're one of the last places that does it."
Justin looks at me, looks at the hat, and begins painstakingly shaping the brim by moving his hands quickly and forcefully around its borders.
"Gotta get it to frame your face right," he says. "And then gotta see how it sits on your head too."
About fifteen minutes later I look like I'm about to rob a Dodge City saloon, my black hat sitting low on my face and framing my head perfectly. Justin seems satisfied with his work, and asks me if I'd like to try on another one.
Caught up in my new, wild west persona, I say yes, completely forgetting I have about as much use for a cowboy hat back home in Miami as I do for an ice scraper.
Such is the immersive allure of Cheyenne, the real-deal cowboy town about an hour and a half north of Denver in windswept southern Wyoming. Though it's filled with plenty of military and a smattering of tech folks, the heartbeat of the city is the cowboy, whether he's fitting your hat in a retail shop or dancing in tall boots and tight jeans. Unlike in larger cities with a Western bent, Cheyenne, Wyoming, isn't a place filled with California transplants in cowboy hats. It's America's best urban example of cowboy culture, and a weekend here is an undeniably fun look at how the Wild West still lives.
"Hell on Wheels" becomes a major transit hub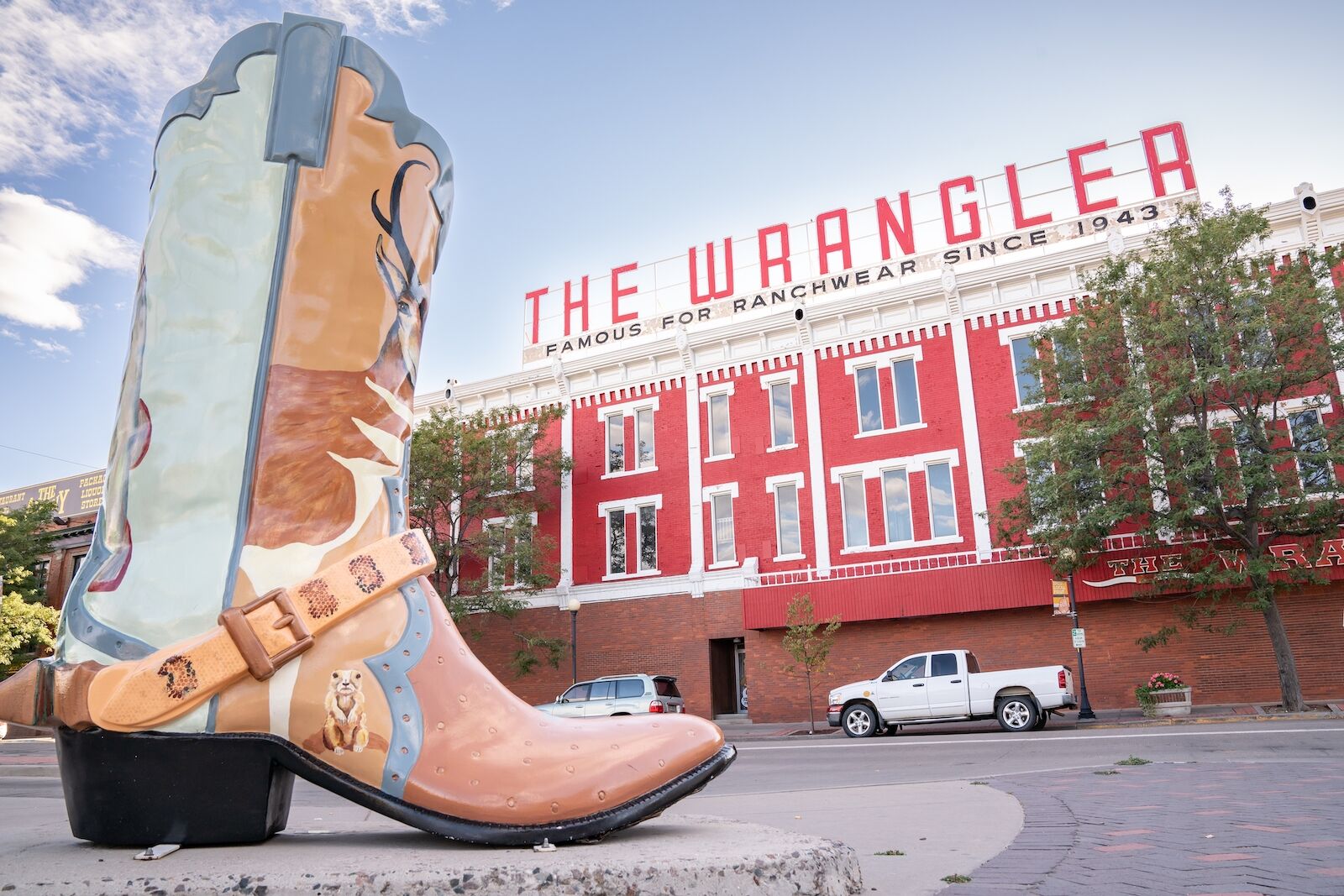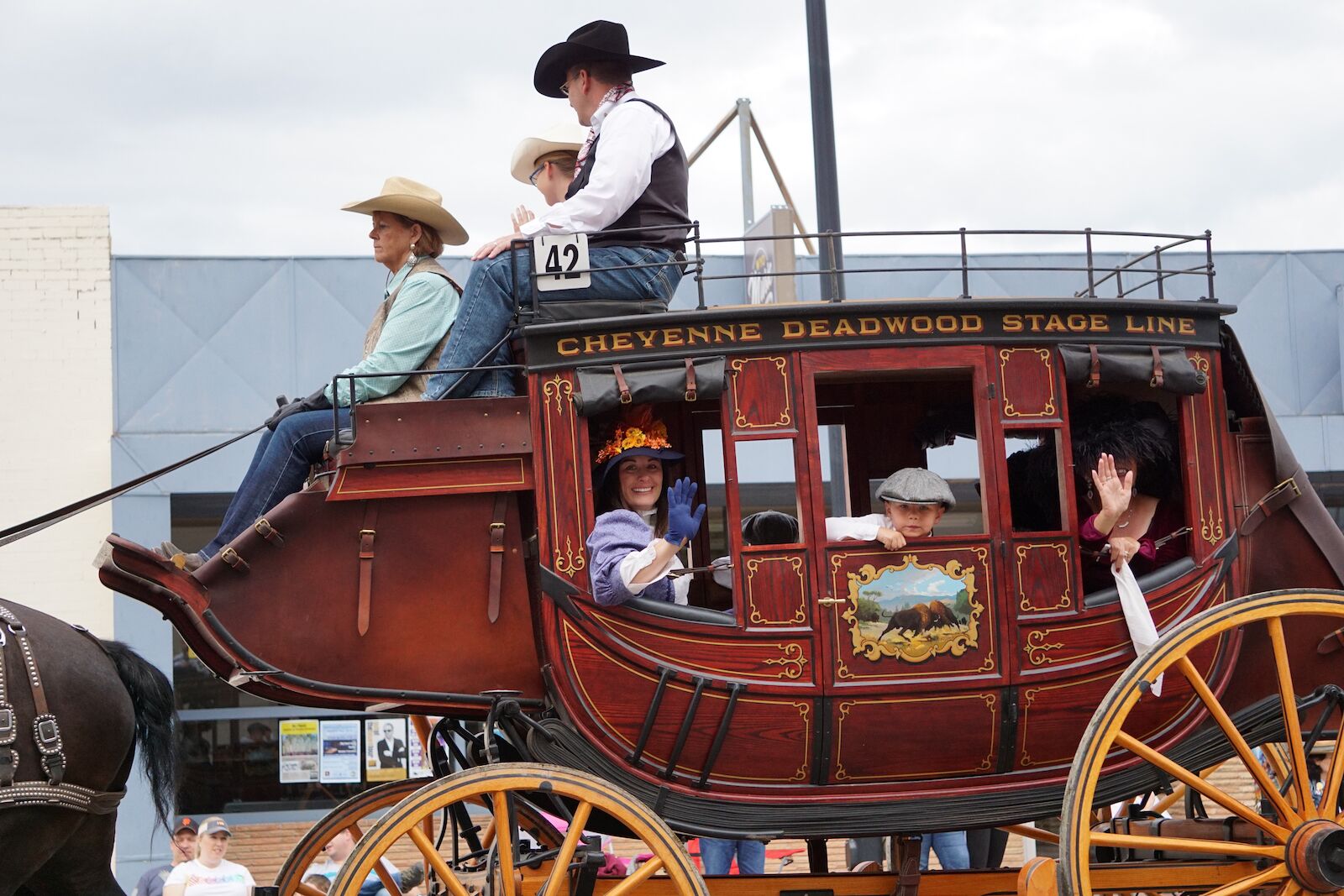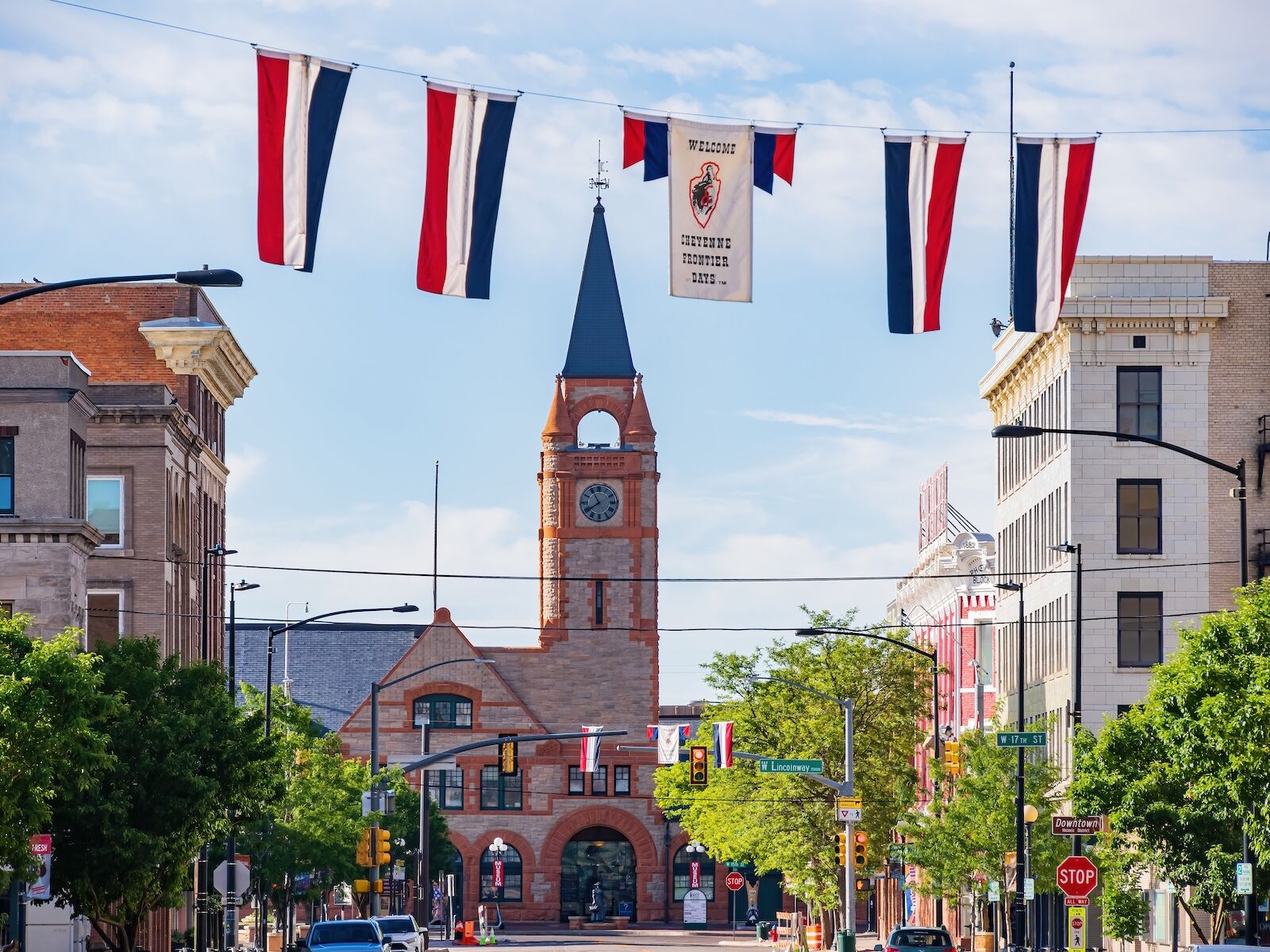 Cheyenne's culture of rugged western grit dates back to its birth as a roving den of debauchery for transient railroad workers.
Back during the construction of the Transcontinental Railroad in the 1860s, popup towns followed railroad workers as they moved west towards the Rockies. The makeshift clapboard shacks and canvas tents served primarily to separate laborers from their money, filled with saloons, brothels, and gambling halls. As one might expect, the scene got a little rough, and the towns earned the nickname "Hell on Wheels," effectively rolling sin cities crossing the American west.
Cheyenne started as one such Hell on Wheels settlement, but because the route from the city up to the Rocky Mountains offered the gentlest grade, it became the connecting point for trains headed west over the mountain pass. Simultaneously, cattle ranchers and other wealthy men bought up land around town, and Cheyenne, Wyoming, became one of the most prosperous places in the Wild West.
It served as a transit hub for both railroads and stagecoaches, and as its cattle industry grew so did Cheyenne's importance. By 1869, it was named the territorial capital of Wyoming.
It remains Wyoming's capital and largest city, though "large" is a relative term in a state with only 585,000 people. The population of just over 65,000 swells to over 200,000 during Cheyenne's annual Frontier Days, a ten-day outdoor rodeo that brings cowboys from all over the world. It's a little like Super Bowl week with cowboy hats and spurs, as the parties that surround Frontier Days overshadow any of the actual events.
Visiting during Frontier Days is what most locals recommend, as the atmosphere inundates you with all things rodeo. But it's also the most expensive time to go, and the most crowded, and visiting other times of year still gives you the cowboy cultural immersion.
Old-time dancing at a ride-up bar
It's Friday night, and the Bunkhouse Bar and Grill is going off. You can tell, because horse parking is full. While one could easily pull their pickup truck into the vast gravel field that serves as a parking lot, the hitching post is out of spaces.
You won't find many ride-up bars left in America, as the fad of parking one's horse outside a saloon ended around the time of swinging double doors. But it lives on at The Bunkhouse, where a hitching post sits in the parking lot, and a live country band moans its way through "Tennessee Whiskey" and "Walkin' After Midnight" while cowboys turn on the dance floor.
The Bunkhouse sits about 15 miles outside downtown Cheyenne, Wyoming, a beacon of light off a completely dark country highway. It's the kind of place you'll see a man walk up to a lady at the bar and politely ask her to dance. And rather than shuffling or dry-humping like they do at "the club," they move in carefully coordinated spins and dips. It's a bit like you might imagine your great-grandparents did back at the USO dance hall.
While the Bunkhouse is a beautiful way to spend a night out, one need not drive that far to find cowboys at play. Just south of downtown you'll find the massive Outlaw Saloon, a bar, concert venue, and entertainment complex that's ground zero for parties during Frontier Days. Even on a regular Friday night, the parking lot is filled with pickup trucks, some boasting beds filled with hay bales.
Inside you can sit at the neon-clad bar and listen to guys talk about cattle and farm equipment the way most guys talk about pro football. You can step out onto the dance floor and try spinning and dipping for yourself, and if you're not exactly Gene Autry, the locals are happy to give you some pointers. Despite its rough appearance, Cheyenne, Wyoming, still has a midwestern friendliness, and that extends to impromptu dance lessons.
Hiking through the Wyoming wilderness, then kicking back with beers
Part of experiencing the vastness of cowboy country is surrounding yourself in its nature, where you'll discover the kind of boundless recreation those who drive cattle for a living enjoy. Less than an hour west through the prairies you'll spot the towering red granite rock faces of the Vedauwoo Recreation Area. It's one of the most popular rock climbing destinations in America, and even if you're not up for scaling its 500-foot faces, you can hike through the granite forest for one of the most mesmerizing hikes you'll find outside a National Park.
Head further out into Curt Gowdy State Park, named after the longtime Boston Red Sox broadcaster and native Wyomingite. The park is 4,000 acres of pristine wilderness surrounding an artificial lake. Its signature hike is to Hidden Falls, a 3.2-mile out-and-back winding along the water, through a forest, and arriving at granite boulders in the middle of a river.
In town, you'll find a wonderful cross-section of Cheyenne at Black Tooth Brewing, the city's de facto brewery-as-gathering-place. Here you'll see state government types enjoying a Wagon Box Wheat or Saddle Box Brown right next to tech workers, airmen, and, yes cowboys.
Beers also abound at downtown's Depot Museum, where Accomplice Brewing has set up shop inside part of the old train depot's arrivals hall. It's a great stop before or after exploring the history museum on the other side of the depot, which among other things shows you what the place looked like back when it was "Hell on Wheels."
Downtown is also home to some cool historic hotels, most of which played a role in lodging railroad workers and cattlemen during the city's infancy. And while they're all worth a look for their historic context, the coolest hotel in town is easily the Nagle Warren Mansion. The stone castle once belonged to a prominent local family, and now is an operating bed and breakfast. The mansion is adorned in furnishings, wallpaper, and decorations that recall the city's Wild West past, and continues the cowboy aesthetic.
Finally, for a little taste of the west, head into The Albany, an historic saloon and restaurant sandwiched between The Wrangler and the Depot Museum. It offers a dish called deep fried bull nuts, which are a little like chicken fingers, except instead of chicken fingers you're served a plate of filleted bull testicles. They're a little chewy, but confirm you can literally deep fry anything and it'll be pretty good.
It's not the toughest meal you'll ever eat, but it's yet another example of how Cheyenne puts you in a rugged frame of mind. Whether you're hiking among rocks, dancing to a slide guitar, or getting a custom-shaped hat from a real rodeo cowboy, Cheyenne is the most authentic western experience you'll find in America. It's not trendy or chic or on most people's radar at all. But it's real. And if authenticity is what you look for when you travel, Cheyenne, Wyoming, never fails.