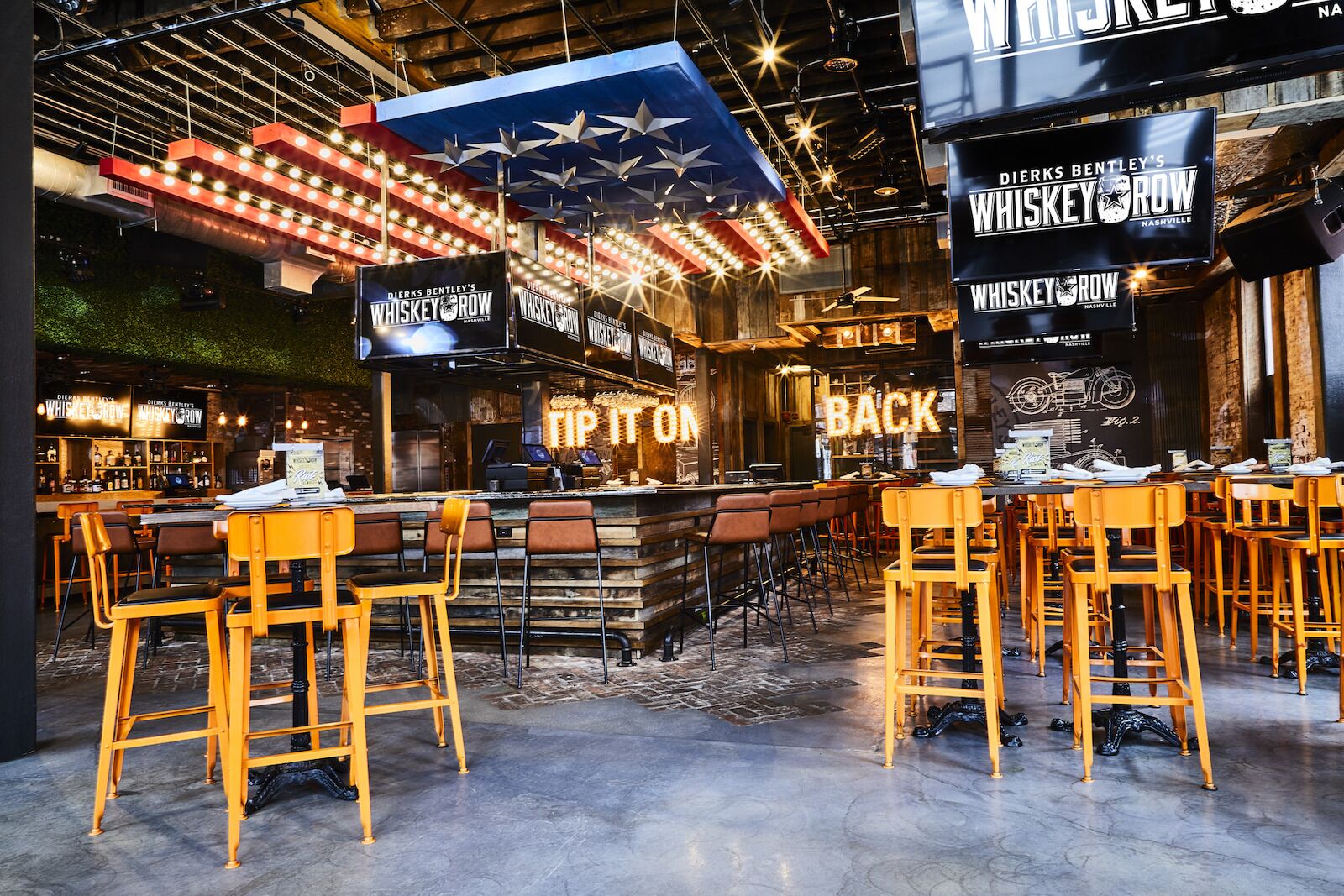 Country music and Nashville, Tennessee, have long gone hand-in-hand. While many flock to the Tennessee to catch a live music at one of Nashville's iconic venues, the very superstars they're seeing have likely been discovered in one of the many Nashville honky tonk bars around town.
Country artists and songwriters moving to Nashville in droves looking for their big break. Looking for stardom and new fans, they pack the many stages along lower Broadway all day and all night long. Tourism has taken off as a result – when you walk into a Nashville honky tonk, you never know who may take the stage next.
Long-tenured entertainment staples like Tootsie's and Robert's Western World (a local favorite) have contributed to the city's musical acclaim. In the early 2010s, country music stars from Alan Jackson to Jason Aldean began to take notice, soon opening outposts featuring their own name in lights. Now, 10 celebrity-owned honky tonks shine along Broadway's neon-lit streets.
Grab your best boots and cowboy hat (so you're sure to fit in with the locals) as you head for a boot scootin' good time on Broadway. Here are all of the celebrity-owned honky tonks in the city, ranked.
The best 10 Nashville honky tonks, ranked
10. Kid Rock's Big Ass Honky Tonk
The Big Ass Honky Tonk from Kid Rock certainly earned its name with five floors, four stages ,and six bars, often reaching its two thousand-person capacity (and if not, expect a lot of bumping elbows). Inside awaits something for everyone: live music for boot scootin', a steakhouse menu for people on a dinner date, 4K TVs on every floor showing the sports, and a rooftop bar. While sure to provide an unforgettable experience particularly for those visiting the city, the big ass bar can sometimes feel overwhelming.
Where: 221 Broadway, Nashville, TN 37201
9. Redneck Riviera
If you're feeling extra patriotic, Redneck Riviera is the place to be. Built to celebrate "every hard working American," the bar places a special emphasis on America's military at its Heroes Bar on the ground level and rooftop, where all military and first responders can grab two-for-one domestic beers. The venue from former Lonestar singer John Rich is small, but offers plenty of booze, barbecue and rooftop views of lower Broadway.
Where: 208 Broadway, Nashville, TN 37201
8. Dierks Bentley's Whiskey Row
The fourth outpost of Dierks Bentley's Whiskey Row found its home among country music peers in Nashville in early 2018. The multi-level venue has a "country industrial" vibe with multiple floors of dining and entertainment, plus a rooftop bar. While smaller than its neighbors, the rooftop VIP areas often allow for sightings of your favorite Bachelor Nation contestant, influencer or country star, though space for regular tourists can be limited.
Where: 400 Broadway, Nashville, TN 37203
7. AJ's Good Time Bar
Step inside history at AJ's Good Time Bar, the oldest building on Broadway. What was once a record store, record label and even a Civil War hospital, is now an unfussy entertainment venue from country legend Alan Jackson. Taking direction from its name, each of the venue's four floors promises a laid-back good time. Grab drinks from one of the lower floors before taking the spotlight on the nautical-themed third floor's "Hullbilly" karaoke stage or pulling up a chair on the rooftop. It's always 5 o'clock at AJ's.
Where: 421 Broadway, Nashville, TN 37203
6. Luke's 32 Bridge
The entire corner of Third and Broadway comes alive inside Luke's 32 Bridge. Drawing inspiration from Luke Bryan's Georgia roots, the bar and restaurant features recipes that might remind patrons of Southern home cooking, plus craft cocktails and live music spanning multiple floors. With a rooftop overlooking two bustling downtown streets, Luke's 32 Bridge is the perfect spot to sip, sing and enjoy the (often very entertaining) people watching. Pro tip: the rooftop connects to Jason Aldean's, so might be able to hit two bars with one stone.
Where: 301 Broadway, Nashville, TN 37201
5. Blake Shelton's Ole Red
As a coach on the hit series The Voice, Blake Shelton has a knack for discovering musical talent. Now, his Broadway venue Ole Red packs its stages all day long with artists on the cusp of their big break. Shelton himself described Ole Red as a "music venue first," where visitors are treated to a concert experience from any barstool inside. Beyond the music, Ole Red serves up elevated bar food, craft cocktails and cold beer across its floors, with the city's tallest rooftop fashioning a relaxed, VIP experience.
Where: 300 Broadway, Nashville, TN 37201
4. FGL House
Located only a short walk from Broadway, FGL House from Florida Georgia Line is a multi-level dining and entertainment venue with live music booming daily. While the duo behind the bar may be on a break, it remains one of the best in the city largely thanks to its off-Broadway location, spacious layout and massive rooftop offering sweeping city views. The food and drink menus are inspired by the band's favorite dishes, plus cocktails mixed with their spirits brand, Old Camp Whiskey.
Where: 120 3rd Ave. South, Nashville, TN 37201
3. Nashville Underground
Brothers Joey and Gavin DeGraw (best known for his pop hit featured on One Tree Hill) earn the third spot on the list for their six-story venue, Nashville Underground. Despite what its name may suggest, the bar begins at street level and boasts one of the largest rooftops on the strip (a double-decker). The entertainment found within goes beyond live music and rotating DJ sets, as the venue also houses a mechanical bull, LED dance floor and a turf-covered rooftop game area.
Where: 105 Broadway, Nashville, TN 37201
2. Casa Rosa
The city of Nashville is in the running for the Bachelorette Capital of the World, and one of the queens of country music delivered exactly what the Broadway-bound brides-to-be need. Miranda Lambert's colorful Casa Rosa is brimming with photo ops – from its hot pink booths to opulent Western detailing. Flavors from Texas and music from Tennessee merge throughout its four stories, beginning in the lower floors of the cantina and carrying through its thoughtfully decorated stages and rooftop.
Where: 308 Broadway, Nashville, TN 37201
1. Jason Aldean's Kitchen + Rooftop
Three-time ACM Entertainer of the Year winner Jason Aldean debuted his four-level venue in 2018, which quickly became a Broadway standout. With nods to his most popular songs sprinkled throughout (think: a Big Green Tractor bar), each level promises a different experience. Grab a bite in the ground level's Southern-inspired restaurant, relax in the sports bar feel of the casual mezzanine level, and dance the night away at the largest rooftop patio on Broadway. Each spacious and thoughtful level earns Jason Aldean's Kitchen + Rooftop the number 1 spot on our charts.
Where: 307 Broadway, Nashville, TN 37201