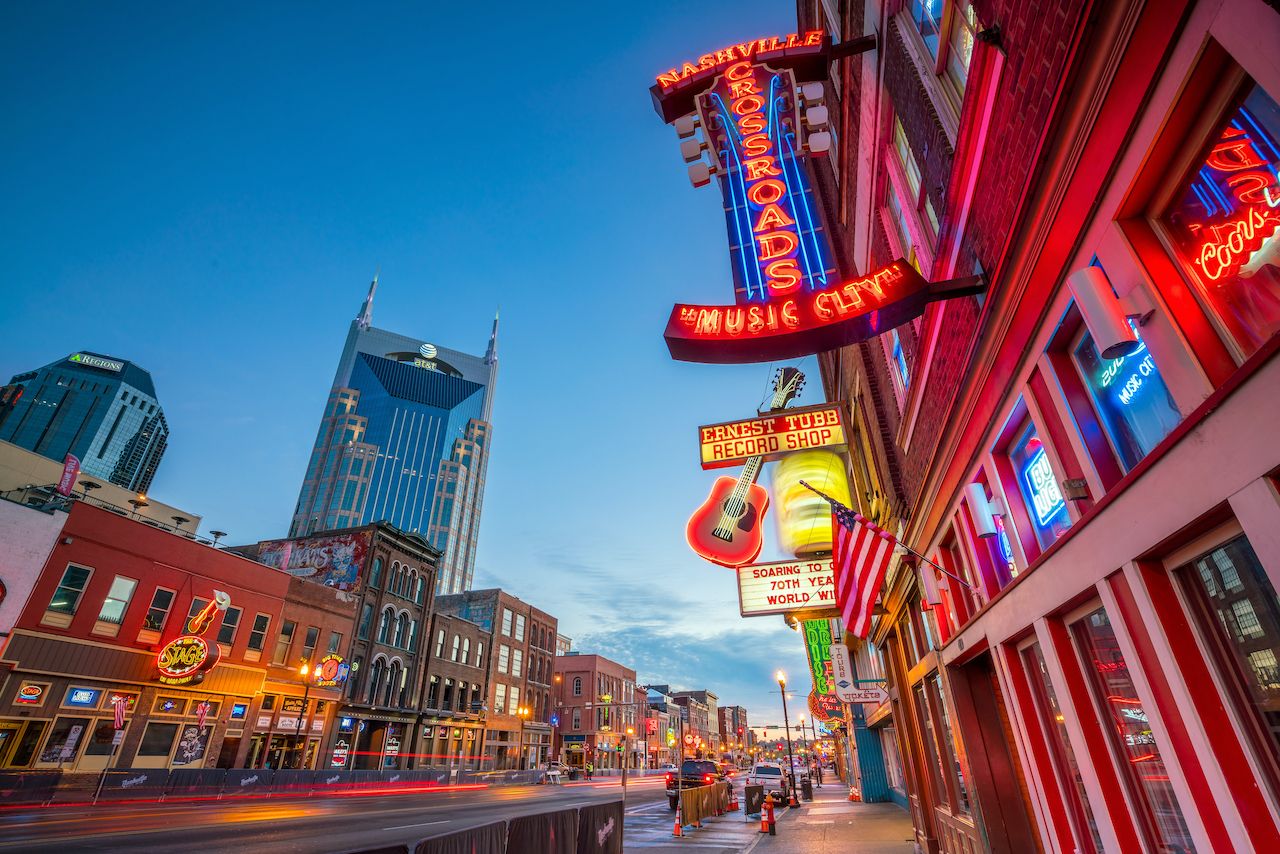 Nashville might not immediately conjure images of queer life. This is Music City — a party town famous for its honky-tonk style and country music stars; built around an art form that historically celebrates a straight, Christian crew of boot scooters. And yet queer culture here is more vibrant than Dolly Parton's Coat of Many Colors, with a patchwork of gay bars, clubs, and cafes around town and a history dating back nearly a century.
The city's first two recorded gay bars — the Jungle and Juanita's — opened in Downtown Nashville in the 1950s, where they served as havens for LGBTQ+ Nashvillians until the early 1980s. A historical marker on Commerce Street and 7th Avenue memorializes their now-demolished buildings.
Today, you'll find most LGBTQ+ establishments split between artsy East Nashville and the 1500 block of Church Street, located north of Music Row. A few of the city's low-key queer haunts are further afield, so plan on driving or taking a ride share if you want to see them all. Each offers something unique — be it Cheers-style camaraderie or high-level drag — making it worth exploring as much of the scene as possible. These are seven spots you won't want to miss.
Canvas
On October 31st, Canvas bid adieu to Church Street, where the quintessential queer space served an eclectic crew of Nashville's alphabet mafia for the past 11 years. The new East Nashville location, which opened in mid-November, isn't the divey dream it once was, but a sleeker spot with an elevated cocktail menu and Southern-style kitchen fare. If you're looking for a showstopping sipper, order the smoked old fashion — it's a flame-soaked spectacle far from the simple vodka-soda-style drinks slung at other queer bars in the city. For food, try the pulled pork tacos, fried chicken sliders, or fries smothered in nacho cheese, barbecue sauce, and sour cream. After knocking back a couple cocktails, you'll be craving the carbs.
Address: 1105 Fatherland St, Nashville, TN 37206
Play Dance Bar
If Nashville's gay bars were Zodiac signs, Play would be a Gemini: the building connects two spacious rooms that feel like completely different bars. On one side, a non-stop roulette of drag queens lip sync to everything from Taylor Swift's latest anthem to Gretchen Wilson's Redneck Woman (a head-bobbing crowd-pleaser). On the other side, a thumping dance floor lures locals with its non-stop pulse of hip-hop and pop. The crowd skews young (Play is an 18+ establishment), and weekends welcome a mixed bag of LGBTQ+ folks and allies, who bump and belt to Lil Nas X and Beyoncé with abandon. The bar's $15 cash-only weekend cover might seem steep, but it's worth it — you won't find buzzier crowds on Saturday night.
Play is one of three LGBTQ+ businesses on Church Street owned by the same team, which include Tribe and Suzy Wong's House of Yum, a weekends-only drag brunch bonanza where giggling bachelorette parties often rule the roost.
Address: 1519 Church St, Nashville, TN 37203
Tribe
Tribe is a gulp-and-gab gay bar where groups gather to chat on the three-tiered outdoor deck, shoot rounds of pool, or pregame before hitting Play's dance floor, conveniently located next door. This is also the best place to imbibe on weekend afternoons. The bar opens at 12:00 PM on Saturday and Sunday, and when hunger calls, you can chow down on a flatbread or burger from the kitchen. To survey the scene from above, head to the upper-level porch. The view of Hustler Hollywood (a sex shop sporting a neon sign) might seem like sacrilege on a street named "Church," but the breezes up here are heaven on a hot summer's night.
Address: 1515 Church St, Nashville, TN 37203
Trax
Trax doesn't look like anything special: it's housed in a dingy brick building on Bianca Paige Way (named for the late local drag icon and HIV/AIDS activist) and far removed from the city's other gay bars. Still, this dive overflows with queer Nashvillian charm. On a given evening, the crowd can range from cowboy-booted bears and twinkle-eyed Vanderbilt grads to off-duty drag queens and leather-loving daddies; Sunday often feels like a family reunion for Nashville's LGBTQ Black community. Join the gang by hopping into a soul-infused electric slide on the super-teeny dance floor, clinking beer cans around the U-shaped bar, or taking a smoke break on the expansive back deck. There aren't any frills, and that's the best part: the perpetually unpretentious vibe makes this spot sparkle. This is also the gay go-to for last-call libations. Unlike most bars, which close at 2:00 AM, Trax serves heavy pours until 3:30 AM.
Address: 1501 Ensley Blvd, Nashville, TN 37210
Lipstick Lounge
This cheery East Nashville mainstay sticks out for all the right reasons. In a residential area replete with beige houses, the Lipstick Lounge pops with cherry-red awnings and a lavender paint job. Most importantly, this is the city's first and only lesbian bar, serving the entire queer community since 2002. Framed paintings of Marlene Deitrich and other famous queer women grace the downstairs bar, where regulars gather for nightly karaoke and rowdy weekend brunches. If off-key crooners covering Patsy Cline sounds like torture, don't worry — you can beat the racket on the side patio or head upstairs to the Upper Lip, a relaxed cigar bar-and-cocktail lounge open Thursday through Sunday.
Unless you're staying in East Nashville, you'll likely need a car to get here, but once you've arrived, you won't need to leave. The Lipstick Lounge knows how to treat a lady — with fried pickles, quesadillas, corn dogs, and a menu of other pub grub classics that ensures everyone is happy and well-fed.
Address: 1400 Woodland St #1939, Nashville, TN 37206
Pecker's Bar and Grill
Pecker's is big — with 2500 square feet of outdoor space and a main room large enough for Friday's line-dance jamborees — but the locals make this roadhouse-style watering hole feel cozy. Friendly bartenders are quick to strike up conversations, and regulars are always at-the-ready with a smile. Check out the locally-made queer art adorning the walls before heading outside to bask in the sun's glow during happy hour. Most folks come here around supper time to take advantage of the kitchen's greasy-grub menu, or for special events like bingo and the occasional corn hole tournament. Don't expect an all-night rager — this is an all-are-welcome establishment for chatting and chillaxing.
Address: 237 Hermitage Ave, Nashville, TN 37210
D'Andrews Bakery and Cafe
If you're looking for a morning pick-me-up near Broadway's neon lights, head to this gay-owned bakery and coffee shop run by Nashville native David Andrews. The sunny sweets store isn't a ROY-G-BIV mecca but an LGBTQ+ third space separate from bar culture, where queer folks can congregate without judgment. Choose a treat from the display case (the fudgy Jack Daniels cake is a decadent delight), order a breakfast sandwich on fresh focaccia, and wash it down with an espresso or nitro cold brew. A glass divider separating the kitchen from the dining hall means you can watch Andrews baking buttery biscuits and made-to-order eggs for his adoring customers.
Address: 555 Church St, Nashville, TN 37219
Honorable mentions
Most of Nashville's gay bars don't pick up steam until the weekend, but there are plenty of queer-friendly establishments worth checking out while waiting for the fun to begin. Diskin Cider, the city's first craft cidery, occasionally serves up drag brunch for $25 a head, which includes the show and a family-style meal. For a sit-down dinner or boozy brunch, try the Mockingbird, a gay-owned restaurant dishing global plates infused with Nashville style. Then there's White Limozeen, a Dolly Parton-themed bar atop the Graduate Hotel, where you can sip fruity cocktails, admire the pretty-in-pink decor, and snap pictures in front of a larger-than-life chicken-wire sculpture of the gay icon herself. (They also offer one of the best brunches in Nashville, if you miss out on the nightlife.) It's the closest you can get to Dollywood, Parton's camp-tastic theme park, without leaving Music City.