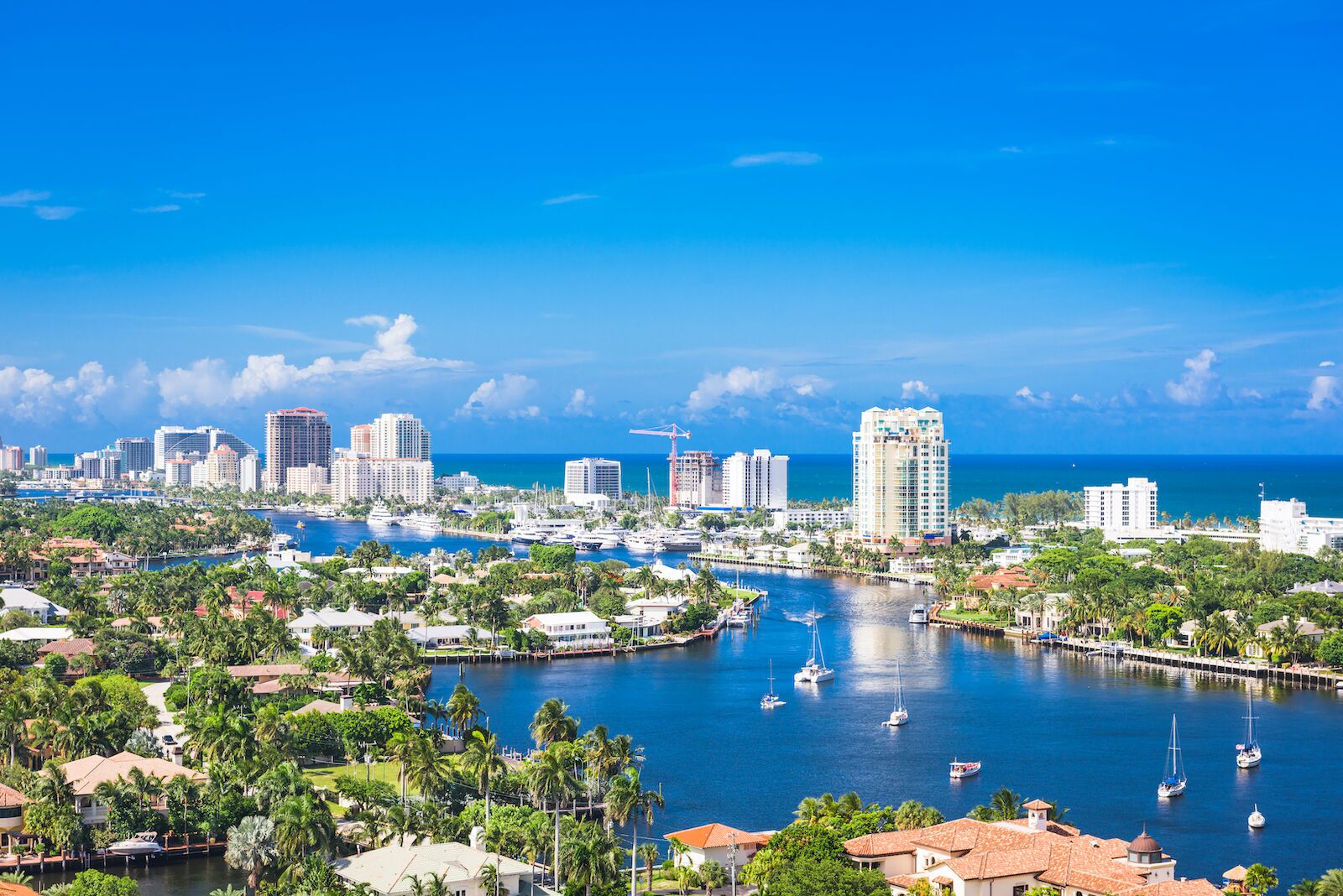 People come to Ft. Lauderdale for all kinds of reasons. Sometimes it's to enjoy the beach when the weather at home gets cold. Sometimes it's because they have outstanding warrants in 15 states. But one thing nearly all visitors to the Venice of the Americas have in common is that they're looking for great seafood. After all, when your city is literally filled with waterways there's no excuse not to have exquisitely fresh fish. Seafood restaurants in Ft. Lauderdale offer delightful dishes ranging from lobster rolls and crab legs, to sushi, and tuna tacos — as well as gorgeous views of the water. So whether you're looking for fine dining on the Intracoastal or fried catfish on a canal, seafood restaurants in Ft. Lauderdale have you covered.
The best seafood restaurants in Ft. Lauderdale everyone should try
JWB Steak and Seafood
View this post on Instagram
As you might expect at a Margaritaville resort, the JWB in this name is a reference to the initials for Jimmy Buffet. But don't let the celebrity name trick you into thinking the food is anything less than spectacular. This beachy-yet-elegant steak and seafood house in Hollywood Beach offers a massive raw bar full of globally-sourced oysters, complemented by regional classics like Rhode Island Calamari and jumbo lump crab cakes. The surf and turf is obviously the move if your stomach and your wallet are bottomless. But those in the know opt for the off-menu sushi offerings, one of the best kept secrets in Ft. Lauderdale.
Where: 1111 N Ocean Dr, Hollywood, FL 33019
Rivertail
View this post on Instagram
Chef Jose Mendin made a big name for himself with his Pubbelly Sushi restaurants in Miami. He shifted gears when opening his first restaurant north of the county line, though, crafting a menu of dishes inspired by seafood specialties the world over. At Rivertail, you'll find passion fruit ceviche next to smoked fish dips, lobster rolls, tuna tataki, and Scottish salmon. Or you can opt for shrimp and grits and clams carbonara bucatini. All of it's served right next to the New River in downtown Ft. Lauderdale, making it ideal for a date or just enjoying some delicious food with a view.
Where: 4 W Las Olas Blvd Ste. 120, Fort Lauderdale, FL 33301
Finster Murphy's
This unassuming shop in a SE 17th Street shopping center has become a favorite fish market for at-home seafood chefs. The fresh catches and variety of cuts at Finster Murphy's are unparalleled in Ft. Lauderdale, and the chefs who work back in the kitchen do all of them justice. Though they only serve food during the daytime, you can stop in for a lunch special between 11:30 am and 2:30 pm, and ask for any piece of fish you like blackened, fried or sauteed. The market also makes a mean tuna burger, which is almost as tasty when grilled at home as it is when prepared onsite.
Where: 497 SE 17th St, Fort Lauderdale, FL 33316
Southport Raw Bar
Almost nothing about the city's best raw bar has changed since it opened over 40 years ago. Boaters still tie up and stumble inside for a big plate of fresh shucked oysters or Old Bay shrimp at Southport Raw Bar. Salty locals still tell stories of old Lauderdale while gazing out at the canals, while post-brunch Sunday parties keep their buzzes going with cold draft beer and fresh fish. If you're looking to relax and enjoy the warm weather and world class seafood, no place in the city is better. Though if you want to venture into the more-elaborate dishes on the menu, the mahi-mahi tacos and beer-battered fish and chips never steered anyone wrong.
Where: 1536 Cordova Rd, Fort Lauderdale, FL 33316
Kelly's Landing
Generally speaking – but especially during football season – folks who live in South Florida are a little leery of New England transplants. The glaring exception is this standout lobstah spot on SE 17th Street called Kelly's Landing. Yes, you'll find the lobster rolls and clam chowder you'd expect, served alongside local beers from Beantown. But you'll also find regional specialties that aren't quite as ubiquitous on Florida menus, like Ipswich clams and steamers. Keep an eye on the daily specials too, as Tuesdays bring two-for-one Maine lobster tails, and Thursdays feature a special "captain's" wine list.
Where: 1305 SE 17th St, Fort Lauderdale, FL 33316
15th Street Fisheries
View this post on Instagram
For the quintessential Ft. Lauderdale waterside seafood experience, make it a point to eat at 15th Street Fisheries. Downstairs, you can enjoy casual dining and cold beers at Fisheries Dockside, an ideal locale to kick back in your flip flops and indulge in fried shrimp while you feed the tarpon who live next to the marina. There's also a lively bar that makes for a fantastic happy hour hangout if you want the experience without a full meal. Upstairs is the best fine-seafood-dining-with-a-view in Ft. Lauderdale, where you'll find miso seabass, King Crab legs, and two-pound Maine lobsters on the menu.
Where: 1900 SE 15th St, Fort Lauderdale, FL 33316
Catfish Deweys
If you're looking for a restaurant that will remind you of a roadside seafood shack you'd find somewhere along the Gulf Coast of Mississippi , where the fried catfish is better than stuff you find in five star restaurants, this is the spot. Catfish Deweys menu isn't big – essentially you'll be choosing between variations of catfish, shrimp, and crab legs – but stick to the staples and you'll walk away happy. A 16oz catfish fillet with hush puppies is satisfying, though if you want more you can also opt for the all-you-can-eat catfish, still under $20. For pure value and experience, Catfish Dewey's is tough to beat. Just don't go in expecting a white tablecloth, or any tablecloth at all.
Where: 4003 N Andrews Ave, Fort Lauderdale, FL 33309
Boatyard
For years, Bimini Boatyard was known citywide as a waterside drinking establishment whose food was mostly an afterthought. But in the mid-2010s, a large local restaurant group took it over, dropped the "Bimini," and revamped the menu, creating a place equally as lauded for its food as its atmosphere. Now you can post up under the patio's shady center tree and scarf down yellowfin tuna tacos, spice-crusted salmon, and jumbo shrimp scampi. Or go local and try the Florida paella, made with local fish, shrimp, clams, mussels, calamari and house-made chorizo.
Where: 1555 SE 17th St, Fort Lauderdale, FL 33316
Coconut's
View this post on Instagram
Not that this spot smack on the Intracoastal doesn't have all the things one looks for in a first-rate Ft. Lauderdale seafood joint – stellar views, fresh fish, and a fantastic wine list. But ask anyone in the city why they love Coconut's and you'll get one answer: Scoobies. What are Scoobies you ask? They're fried blue crabs served in a magical concoction of butter, olive oil, crushed red pepper, and garlic, served with a side of bread to sop up the sauce once your crabs are devoured. If you do get past the Scoobies, the linguini and clams make for a perfect follow-up before adventuring on to key lime pie.
Where: 429 Seabreeze Blvd, Fort Lauderdale, FL 33301
Rustic Inn
View this post on Instagram
Old Florida disappeared faster than an afternoon thunderstorm, but you can still find it alive and well inside the Rustic Inn. What began in the 1960s as a little roadside saloon has transformed into a destination seafood house, thanks mostly to the cult popularity of its garlic crabs. Though immersing yourself in the dark and cool interior gives you a good sense of what the place was like when it was a simple dive bar, enjoying an order of King Crab legs or Key West shrimp on the waterside patio is far more enjoyable. Especially when said seafood feast is accompanied by a frozen rum runner or pina colada.
Where: 4331 Anglers Ave, Fort Lauderdale, FL 33312