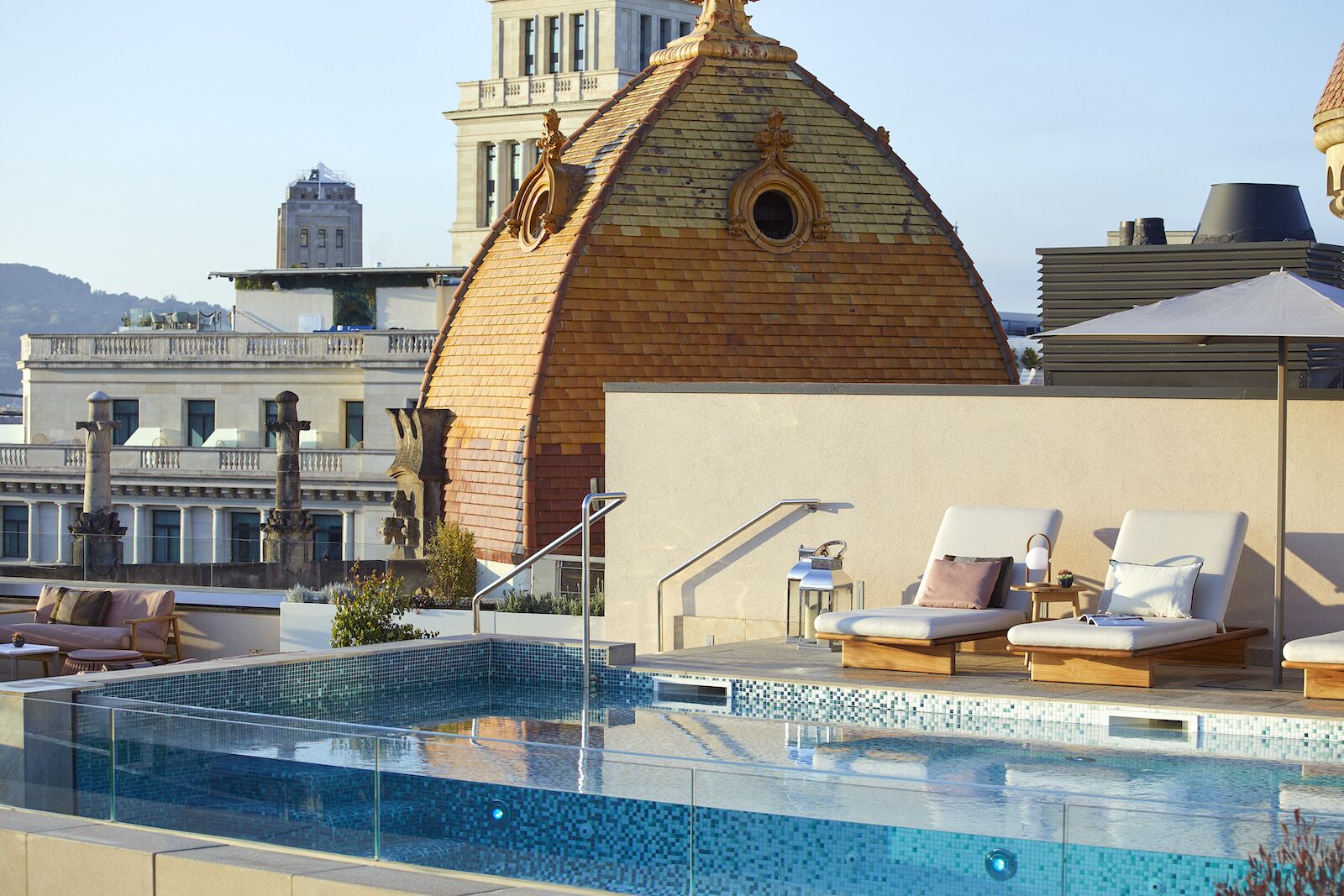 The newly opened ME Barcelona hotel is a meeting point — and perfect resting place — for artists, creatives, and young entrepreneurs alike. This luxury hotel features contemporary art and modern architecture, the latter of which was finally completed after a massive six-year renovation. There are 164 rooms spread across 14 floors. Certain rooms come equipped with full sitting areas and free-standing bathtubs, as well as client-controlled heating and air conditioning, and a full mini bar.
As nice as those are, the rest of the hotel will draw you out of your room. The hotel has three different food concepts, a rooftop pool, an on-site spa, and a large gym. Enjoy a Mediterranean-inspired dinner at ME's on-site restaurant, BELBO, which serves veggie-heavy dishes from plants cultivated on the hotel's vegetable garden. Cocktail lovers should grab a pre-supper libation at the restaurant's neighboring bar, Luma. Even people who are self-proclaimed breakfast skippers should check out ME's expansive and mouthwatering morning selection. The hotel's expansive gym features Technogym machines and a variety of equipment, though the crown jewel of ME remains its rooftop heated swimming pool. Best of all, pets are welcome.
But what makes ME Barcelona the perfect home base for a trip to Barcelona is the location. It's situated on Passeig de Gràcia on the border of Barcelona's historic city center (Gothic Quarter) and Eixample, which is home to the newer neighborhoods of Sants, Gracia, and beyond.
Follow this guide for a mix of the various things to do, places to eat, and bars to drink at in Barcelona's hottest neighborhoods.
Things to do in Barcelona
See the Sights with a local guide: There's no better way to check out the local art and history scene than with a local guide. A number of local-led tours can be found on Airbnb for as little as 20 euros per person – a small price to pay for the amount of history (and walking) you'll get in. Most tours pass by the Sagrada Familia, as well as other major Gaudí creations like the La Pedrera and Casa Batlló. Plus, with cultural context and historical tidbits shared by a local guide, seeing these sights with context makes the jaunt all the sweeter.
Where: Various Addresses
Hit the Beach at Barceloneta: While Barceloneta is far from Spain's most beautiful beach, its convenient location and slew of places to grab cheap drinks and eats makes it a must-stop on a Barcelona trip. Accessible by metro, this beloved local beach gets crowded, so head over on the earlier side to enjoy the most calm moments of the day – and don't forget to bring your own towel (though bikini tops are most certainly optional).
Where: Platja de la Barceloneta
Shop local eats at La Boqueria Market: While there's no shortage of great places to eat and drink in the Barcelona, hitting the La Boqueria market to check out the city's rich supply of bright-hued produce and local meats, cheeses, and seafood promises a sensational sensory overload. Come hungry, leave satiated.
Where: La Rambla, 91, 08001 Barcelona
Visit a UNESCO World Heritage Site and listen to live music: For architecture fans and music lovers alike, a visit to Palau de la Música Catalana is simply essential. This UNESCO World Heritage site concert hall was built by Lluís Domènech, a contemporary and teacher of Gaudi. The building pays homage to the Catalan pride felt (and still experienced) by many at the turn of the century. Stop in for a show, gaze upon the building's magnificent facade, and take in an extra dose of history while at it.
Where: C/ Palau de la Música, 4-6, 08003 Barcelona
Grab your city views (and perfect Instagram shot) at Parc Güell: While many young visitors flock to Gaudí's Parc Güell as their first stop, it's undeniable that the park is both beautiful and extremely overrun by tourists and trinket sellers – plus the obligatory Instagram shot will cost you a few euros entrance fee. That said, this is a must see for first-time city-goers, just don't budget too much time here. Simply take in the park's beauty, grab your shot, and find an under-the-radar place to eat and drink nearby.
Where: Parc Güell, 08024 Barcelona
Where to eat in Barcelona
Bar Cañete: For the tapas bar of all tapas bars, look no further than Bar Cañete. Beloved by locals and tourists alike, this vibrant joint beautifully meshes traditional and modern tapas in a variety of sizes, ranging from cured meats to fluffy tortillas to fresh seafood and beyond. Reservations are available for groups of four and larger, but beyond that it's first come, first serve so arrive early.
Where: Carrer de la Unió, 17, 08001 Barcelona
Can Solé: It's hard to believe that Can Solé was originally a soap store when you consider its immense success as a tapas and seafood spot today. Officially a restaurant as of 1903, this classic restaurant serves locally caught seafood in a variety of styles, from fresh and salty to mixed into traditional paella and beyond. Seafood lovers, this one's a must.
Where: C. de Sant Carles, 4, 08003 Barcelona
Bar La Plata: While Bar La Plata may only have four items on their menu, they're all the best of the best within their respective categories. Located just around the corner from the city's old port, this third-generation establishment focuses on fried sausage, tomato salad, and anchovies, the latter of which are available in salted or fried formats. If any of the above strike your fancy, you don't want to miss this place.
Where: Carrer de la Mercè, 28, 08002 Barcelona
Can Fisher: Looking to enjoy your fresh seafood beachside? This laid-back fish joint is as good as it gets. Best known for its massive paella, catch of the day, and freshly shucked oysters, this extensive outdoor restaurant overlooks the beautiful Bogatell Beach – a quiet reprieve from the chaos of Barceloneta. Grab a chilled bottle of white wine and the rest is history.
Where: Av. del Litoral, 64, 08005 Barcelona
El Chigre 1769: El Chigre 1769 is the rare restaurant that can do it all. Both Catalonia and Pyrénées influenced, this part-vermuteria (vermouth bar), part sidreria (cider bar) beautifully combines the art of meshing flavors in the food and drinks spheres. Whether freshly caught shellfish or rustic pork dishes are more your thing, the answer is to be found here – alongside a long pour of cider and finished with a splash or few of vermouth, of course.
Carrer dels Sombrerers, 7, 08003 Barcelona
Federal Café Gòtic: Sitting down and enjoying a solid coffee or cappuccino for a morning or midday break is essential. Few places are as perfect for this as Federal Café Gòtic. Located in the eponymous Gothic Quarter, this coffee spot serves up fresh pastries, omelets, and avocado toast in a light and airy ambiance equipped with WiFi and strong, caffeinated beverages.
Where: Passatge de la Pau, 11, 08002 Barcelona
Where to drink in Barcelona
Two Schmucks: Deemed a "five-star dive bar" by World's 50 Best, Two Schmucks is a hit for those with an affinity for well-made cocktails, sherry, and natural wine. The bar's friendly staff and the sophisticated drinks they serve are a complete contrast to the grungy, graffiti-covered walls and sneaker-adorned ceilings. The gooey grilled cheese toastie is simply unmissable.
Where: Carrer de Joaquín Costa, 52, 08001 Barcelona
Dr. Stravinsky: Another hit on the World's 50 Best list, Dr. Stravinsky promises to please both cocktail lovers, chemistry nerds, and nature-focused foragers alike. Situated in a bi-level space just around the corner from the Picasso museum, the thoughtfully curated cocktail menu combines housemade elixirs, syrups, and other ingredients with off-the-beaten-path booze and mixers alike. For an unforgettable concoction that'll satisfy your booze craving, this is your spot.
Where: Carrer dels Mirallers, 5, 08003 Barcelona
Wine lovers, listen up: if there's one address you absolutely need to know in Barcelona, it's Bar Brutal. Located behind the wine-shop-wine-bar combo Can Cisa, this vino-focused establishment is a must-visit for natural wine lovers and food lovers alike. Spearheaded by Venice-born twins Max and Stefano Colombo, the bar's Catalan-driven menu beautifully weaves Italian nuances into the cuisine, and as great as the food is, the wine list promises to wow both even wine connoisseurs.
Where: Carrer de la Princesa, 14, 08003 Barcelona
If vermouth is your thing, Morro Fi needs to be on your list. This small vermuteria has given new life to vermouth drinks with beverages served both over ice and in cocktails. Enjoy these bittersweet concoctions with pickled veggies, tinned fish, or locally procured cheeses – even salty potato chips will do the trick. Don't be afraid to ask the team for a rec.
Where: C. del Consell de Cent, 171, 08015 Barcelona
Paradiso: For a speakeasy-style bar that over delivers, head to Paradiso. Located in the El Born neighborhood, this 50 Best achiever has captured the hearts of novice cocktail drinkers and serious mixologists alike, thanks to the team's emphasis on high-quality ingredients and a serious execution of the classics. Simply head through the back door of the neighborhood pastrami shop to access this hidden oasis. Word has it that there's actually a speakeasy within the speakeasy in the bathroom.
Where: Carrer de Rera Palau, 4, 08003 Barcelona
Boadas: Deemed Barcelona's oldest cocktail bar, Boadas is a must-visit for an immediate blast to the past. Founded in the early 1930s, this martini-focused hub continues to serve world-class cocktails in an art deco-inspired space. It's even been said that founder Miguel Boadas learned the way of the cocktail game in Havana at the Hemingway's beloved Cuban bar Floridita.
Where: Carrer dels Tallers, 1, 08001 Barcelona