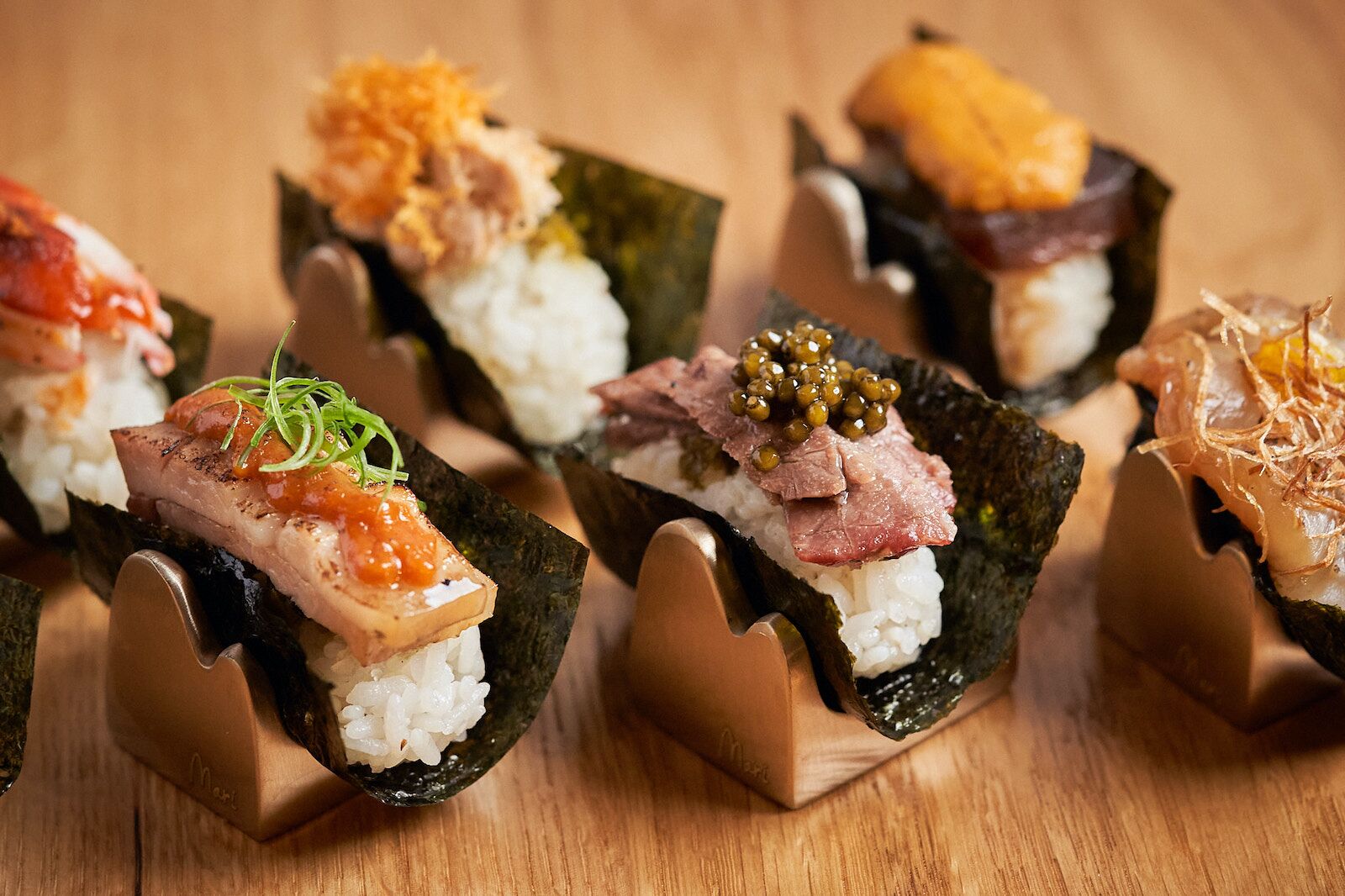 As of November 2022, New York City has 72 Michelin-starred restaurants, one of the most highly decorated cities in the country, when it comes to restaurant accolades. While the coveted star can drive the price of a dinner out of the majority of New Yorkers and tourists' reach (at Masa, the most expensive Michelin star restaurant in New York City, dinner costs nearly $600 per person), nearly half have tasting menus for under $200. There are even a few affordable Michelin star restaurants in New York City where you can enjoy the entire experience for under $100 (including the tip), as long as you are willing to skip wine and cocktails.
The distribution of affordable Michelin star restaurants in New York City is unevenly distributed throughout the five boroughs. The Bronx and Staten Island are not represented at all. 63 of NYC's 72 Michelin-starred restaurants are located in Manhattan. Nearly all of those are below Central Park. Brooklyn has eight, while Queens (the borough that Andrew Zimmern claims would be the world's greatest food city if it were not one of the boroughs) has just one.
Another noticeable trend is that the list is mostly populated by New American, French, Japanese and Korean restaurants. Most are dinner-only as well, with only a few offering takeout. Though they are affordable, relative to the most expensive Michelin restaurants in New York City, dinner at any of these restaurants might still require saving up or splurging for a special occasion. Either way, affordable Michelin star restaurants in New York City are still worth dressing up for.
The most affordable Michelin-starred restaurants to book for dinner
1. Claro
Claro is where Oaxaca meets Brooklyn in the heart of Gowanus. This Southern Mexican restaurant is chef T.J. Steele's love letter to the state where he spent years living part-time. With a $78 four-course dinner menu and three-course brunch at just $48, Claro is the most affordable Michelin-starred restaurant in NYC.
Price: $48 – $78
Where: 284 3rd Ave, Brooklyn, NY 11215
2. Oxalis
Oxalis, on the the most affordable Michelin star restaurants in New York City, has Sunday brunch for just $50. You can enjoy the $150 carte blanche menu in the dining room, while the prix-fixe option for $65 is available at The Bar. Reservations are encouraged but not required.
Price: $50 – $150
Where: 791 Washington Ave, Brooklyn, NY 11238
3. Red Paper Clip
Located in the heart of the West Village, Red Paper Clip is one of just seven affordable Michelin star restaurants in New York City with a tasting menu under $100. While the menu is subject to change, the focus is on Taiwanese and American flavors. Subtle twists to classic dishes include cavatelli with nori (seaweed) and a spicy sichuan carpaccio starter. Chef and owner Kevin Chen is a native New Yorker who grew up in the food business.
Price: $90
Where: 120 Christopher St, New York, NY 10014
4. 63 Clinton
Named after its location on the Lower East Side, 63 Clinton offers a seven-course seasonal menu for $92. Veteran NYC chef Sam Clonts chooses what goes on the modern American menu: You'll find options like smoked corn and short ribs. Want to add a luxury twist to your meal? Order the caviar hand roll for $55.
Price: $92
Where: 63 Clinton St, New York, NY 10002
5. Batard
The two-course tasting menu at Batard starts at $79. Located in the chic Tribeca neighborhood,  the prices at Batard go up incrementally depending on how many courses you want (up to four). The menu incorporates Mediterranean flavors into fishes like venison, branzino, and poached halibut, with black burgundy truffles available for an additional $10-45.
Price: $79 – $105
Where: 239 W Broadway, New York, NY 10013
6. Dirt Candy
Also located on the Lower East side, Dirt Candy is famous for its vegetarian tasting menu for $95. While the menu changes with the seasons, you can always count on interesting options (like mustard greens sorbet) throughout your meal. Each dish showcases a different vegetable, from bell peppers to kale to mushrooms. The wine pairing is an additional $50.
Price: $95
Where: 86 Allen St, New York, NY 10002
7. Joomak Banjum
At Joomak Banjum, both tasting menus start at under $200. The standard four-course option starts at $95, and you'll have a few choices for each course, including octopus and duck galbi. Caviar is an additional $30. For something less flexible but more elaborate, try the eight-course French, Japanese, and Korean-centric Ugly Duckling tasting menu, which highlights dishes like a beef tartare banh mi, and a raspberry and cashew eclair.
Price: $95 – $170
Where: 312 5th Ave, New York, NY 10001
8. The Four Horsemen
This Williamsburg wine bar has a $110 tasting menu, but you won't get any hints about what it features on the website. If your group is less than five, you can also order from the a la carte menu where plates are mostly under $30. 20% gratuity is added regardless of the party size.
Price: $110
Where: 295 Grand St, Brooklyn, NY 11211
9. Contra
At Contra, most plates, from the caviar and tofu to the scallop, are under $30, but there's also the "carte blanche" tasting menu option for $120. With the latter, options change daily; right now guests can enjoy a mushroom tart and monkfish, among other choices. And regardless of which option you choose, the combinations tend to be daring. Ever tried potato ice cream?
Price: $120
Where: 138 Orchard St, New York, NY 10002
10. The Musket Room
Located in the trendy Nolita (once part of Little Italy) neighborhood, The Musket Room has a $125 tasting menu. There are two options: omnivore or vegan. Both come with seven courses, but the omnivore option has a handful of supplemental options. The dishes here are rich and luxurious – think ricotta mousse, quail, and foie gras.
Price: $125
Where: 265 Elizabeth St, New York, NY 10012
11. Sushi Ginza Onodera
With the possible exception of French fine dining spots, sushi restaurants are the most well-represented when it comes to Michelin starred restaurants in New York. The seasonal omakase lunch menus at Sushi Ginza Onodera's New York location are between $130-180, depending on how many nigiri you want to try. The 17-course chef's selection will set you back about the same amount as a Midtown hotel during summer, and includes options like fatty tuna, barracuda, and king salmon.
Price: $130 – $450
Where: 461 5th Ave, New York, NY 10017
12. Jua
Jua is a Korean wood-fired grill restaurant located ten blocks south of Koreatown. The seven-course tasting menu is $135. You can see the options on the website, which includes caviar and smoked mackerel, but there are no more detailed descriptions. Uni and wine pairing are available for an additional $28 and $95.
Price: $135
Where: 36 E 22nd St, New York, NY 10010
13. Kochi
Korean for "skewer," Kochi has a nine-course tasting menu of traditional Korean fare, each one of which is served on a stick. Drinks pairing is an additional $95. Courses include sweet pumpkin soup and crispy shrimp. While there's no vegan-friendly menu, Kochi can accommodate vegetarians with at least one day's notice.
Price: $135
Where: 652 10th Ave, New York, NY 10036
14. Mari
Also located in Hell's Kitchen, Mari is chef Sungchul Shim's second restaurant. The $135 tasting menu is focused on Korean handrolls with kimbap ingredients. Variations include pine mushrooms, snow crab, and duck hand rolls. Sool pairing is an additional $105.
Price: $135
Where: 679 9th Ave, New York, NY 10036
15. Family Meal at Blue Hill
A departure from the upscale tasting menu at Blue Hill at Stone Barns, Family Meal at Blue Hill in Manhattan charges $145 per person and serves family-style portions. There's no set food menu, and the restaurant specifies that the atmosphere is casual. All the dishes are meant to be shared. You can get the wine and cocktail list from the website.
Price: $145
Where: 75 Washington Pl, New York, NY 10011
16. L'Abeille
Located just south of the Holland Tunnel entrance, L'Abeille has a $145 discovery menu with an optional $95 wine pairing. The French restaurant, which opened back in March, also has a more extensive tasting menu for $195. This is decadent, complex French food: Grilled mackerel, roasted venison, foie gras in flan form are all featured on the tasting menu. There's also a bar-only a la carte menu.
Price: $145 – $195
Where: 412 Greenwich St, New York, NY 10013
17. Sushi Nakazawa
Sushi Nakazawa's omakase menu includes 20 pieces of nigiri. It's $180 to sit at the sushi counter, but you can save $30 by grabbing a table in the dining room. There's also a DC location.
Price: $150 – $180
Where: 23 Commerce St, New York, NY 10014
18. Sushi Yasuda
For indoor dining, the omakase menu isn't available to preview online. The restaurant also offers affordable takeout options: There is an 18 piece omakase for $175 or a 12 piece for $110 – a steal if you consider that the fish is flown in from Japan. If you're really on a budget and looking to sample, try takeout.
Price: $150 – $250
Where: 204 E 43rd St, New York, NY 10017
19. The Modern
If you're willing to drink in moderation and forgo the optional white truffles from Alba, you can do lunch at The Modern for under $200. Chef Thomas Allan's dinner menu is an upgraded version of the standard tasting menu with a few surprises for an extra $100. But it's well worth the splurge: The restaurant is located in the Museum of Modern Art, with views of the museum's gardens. Tasting menu options for lunch include crispy sea bass and roasted scallops.
Price: $150 – $250
Where: 9 W 53rd St, New York, NY 10019
20. Oiji Mi
Oiji Mi's has a five-course prix-fixe menu of contemporary Korean fare with a Japanese influence. Diners have three options for each course. Pork, sea urchin, and squid are all featured ingredients. Bingsu is one of the dessert options.
Price: $145
Where: 17 W 19th St, New York, NY 10011
21. Gabriel Kreuther
This is the Strasbourg-native chef's namesake upscale French restaurant across from Bryant Park. It's on the first floor of the Grace Building, where 42 crystal storks hang from the curved, platinum-colored ceiling, representing the street. They point toward Alsace, where Kreuther is from. The prix fixe menu is $155 for three courses and $185 for four, and includes dishes like tuna tartare and yellowtail crudo.
Price: $155 – $255
Where: 41 W 42nd St, New York, NY 10036
22. Le Pavillion
Le Pavillion is Daniel Boulud's restaurant at One Vanderbilt. The three-course tasting menu is  seafood and vegetable focused, so expect cuttlefish, oysters, and tuna. There's no additional cost for the views of Midtown.
Price: $135
Where: One Vanderbilt Ave, New York, NY 10017
23. One White Street
Located around the corner from Ghostbusters Headquarters, this Tribeca restaurant has downstairs and upstairs menus. For the $168 tasting menu, you need to make a reservation for the latter. Wine pairing will set you back an additional $96. Simple, but satisfying, dishes like stuffed chicken and brussel sprouts are featured on this menu. Downstairs, the menu la carte.
Price: $168
Where: 1 White Street, New York, NY 10013
24. Aquavit
Aquavit is unique among NYC Michelin-starred restaurants for a couple of reasons. First, the focus is on Scandinavian fare in a Nordic-inspired setting. Those flavors inspire dishes that feature cod, fennel, and fluke. It's also located above 50th street. The standard tasting menu is $175. Add a Ben Franklin for the chef's tasting menu.
Price: $175
Where: 65 E 55th St, New York, NY 10022
25. Caviar Russe
One may not expect to see a restaurant bearing the name Caviar on a most affordable list. But Caviar Russe's Midtown location offers a three-course tasting menu for $175. The menu features all the greatest hits of upscale New York City dining: lobster, king crab, oysters, tuna – plus caviar, of course.  The six and nine-course tasting menu options, however, are on par with overseas airfare prices.
Price: $175
Where: 538 Madison Ave, New York, NY 10022
26. Hirohisa
Echizen-born chef Hirohisa Hayashi is both a chef and certified sake sommelier. His restaurant united the concepts of kappo (which refers to a casual setting in which chef and diner are in close proximity) and kaiseki cuisine. The omakase menu is $180, with the optional sake pairing for an additional $95. In addition to sashimi, which depends on what is available that day, you'll also enjoy a cauliflower puree, oyster, and crab gravy among other small bites. You can easily spend double that for lunch as the menu is a la carte.
Price: $180
Where: 73 Thompson St, New York, NY 10012
27. Torien
Torien is the sister restaurant to Tokyo's Torishiki. It's located just a couple blocks from 2nd Avenue, where Joey Ramone sang about eating chicken vindaloo. At Torien, you'll be eating several different parts of the chicken during the 13-course tasting, which is priced at $180.
Price: $180
Where: 292 Elizabeth St, New York, NY 10012
28. Le Jardinier New York
French for "gardener," Le Jardinier's seasonal expression menu is $185 with an optional $95 wine pairing. The standard lunch and dinner menus are a la carte and will cost more than $185 for an appetizer, entree, and dessert. The dinner menu showcases fresh, vibrant vegetables and plants, from Asian pear to heirloom beets.
Price: $185
Where: 610 Lexington Ave, New York, NY 10022
29. Frevo
As long as you can avoid the tempting truffle supplements, Frevo's tasting menu comes in at $186, with optional wine pairings ranging from $11 – $250. The restaurant also features an adjoining art gallery, where works are showcased and cna be viewed by the public for a few hours everyday, or by appointment. The tasting menu itself claims to focus on simplicity, showcasing ingredients like a sage butternut squash and wagyu accompanied by algae. The team is unable to accommodate vegetarian, vegan, seafood-free, fish-free, or lactose-free diets.
Price: $186
Where: 48 W 8th St, New York, NY 10011
30. The River Cafe
The River Cafe is located a stone's throw from the most iconic pizza street in New York City. And anyone who has taken the NYC Ferry to DUMBO has passed by this curious spot with arguably the best ground-level view in Brooklyn. The fixed price menu is $190. Jackets are required. Seafood is the star here, and the menu features tempting bites like wild shrimp, and sea scallop ceviche.
Price: $190
Where: 1 Water St, Brooklyn, NY 11201
31. Clover Hill
Picturesque Brooklyn Heights is not known for affordable dining options, but Michelin-starred Clover Hill has a $195 tasting menu. While the menu is seasonal and very short, you can expect high-end ingredients like truffles, caviar, and smoked sturgeon.
Price: $195
Where: 20 Columbia Pl, Brooklyn, NY 11201
32. Kanoyama
Located in the trendy East Village, Kanoyama has an omakase tasting menu for $195. The fish options change daily depending on what's available from the fish market. Reservations are required.
Price: $195
Where: 175 2nd Ave, New York, NY 10003