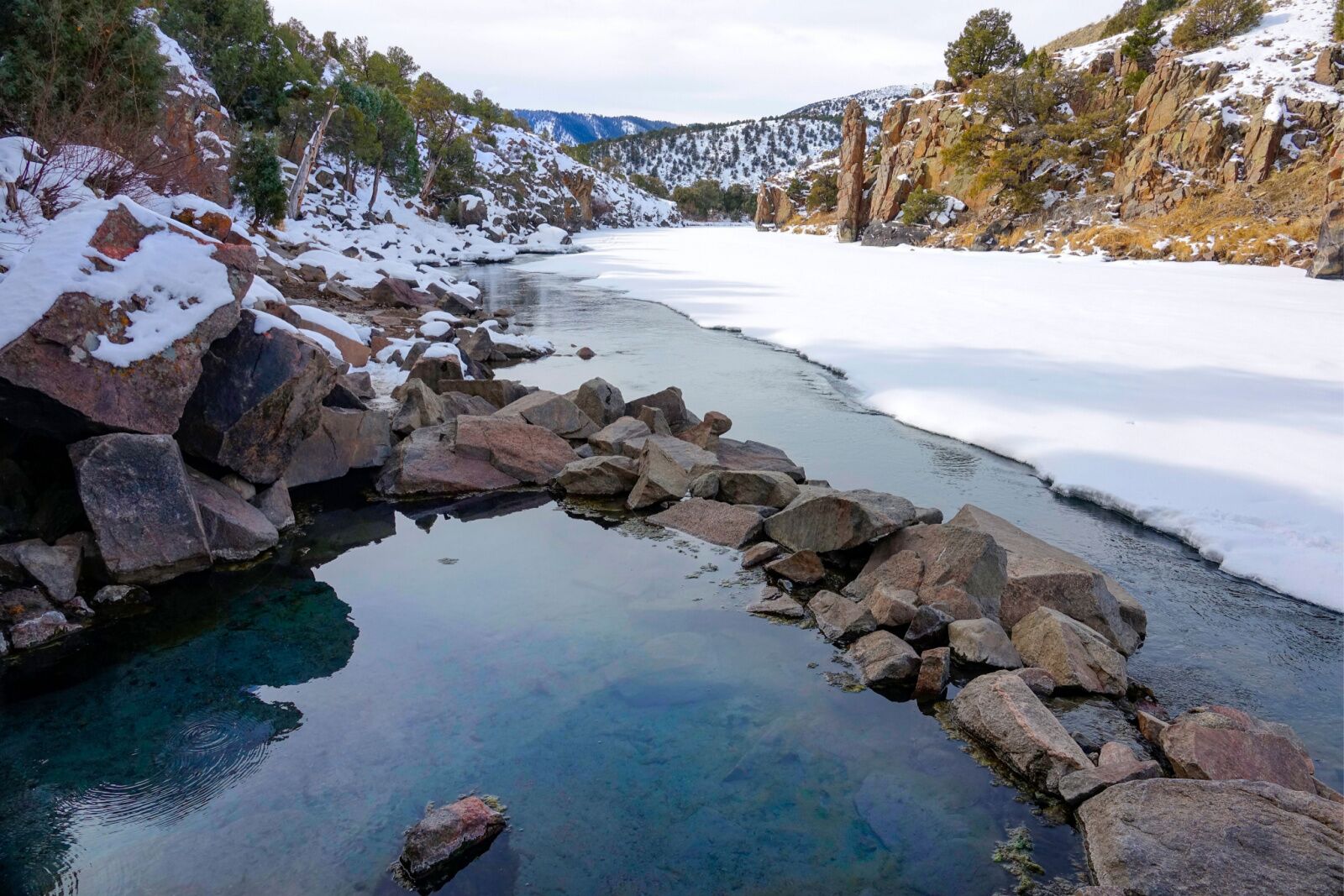 A hot springs vacation might conjure images of exclusive (and expensive) resorts equipped with luxurious spas, offering long menus of relaxing healing massages at not-so-relaxing prices.
But insiders know it need not be that way. Some of the most beautiful hot springs in the US are deep in natural, remote areas, far from the carefully-curated world of luxury resorts and spas. Soaking enthusiasts will find thermal hot springs created by heated groundwater that rises to the earth's surface all over the US. At all natural hot springs, the groundwater is heated to some degree through contact with magma or hot rock deeper toward the earth's core. Eventually, pressure sends it back up to the surface.
The subterranean phenomenon may be violent and high-pressure underground, but above ground, it creates relaxing, restorative hot springs that make perfect outdoor baths — and many happen to be in some of the most picturesque locations in the country. These are the most beautiful natural hot springs for your soaking bucket-list.
Chena Hot Springs, Alaska
Just under an hour from Fairbanks, Chena Hot Springs is a geothermal spa that feels more like a summer camp than a spa. It has an indoor and outdoor hot tub and a geothermal Rock Lake, all surrounded by dense forest. In addition to the pools, Chena has an excellent restaurant serving locally-caught seafood and fresh vegetables grown in the onsite greenhouse.
Perhaps most enticingly, there's also an ice museum on the grounds. It's the world's largest year-round ice environment, featuring over 1,000 tons of ice formed into impressive sculptures. The hot springs are perfect for travelers looking for a respite while adventuring through Alaska or after a long drive on the Dalton Highway – the most remote highway in the US.
Hot Springs State Park, Wyoming
Nothing quite beats the feeling of bathing in a hot spring — except, of course, bathing in a hot spring for free. Hot Springs State Park in Thermopolis, Wyoming, is a completely free experience, featuring indoor and outdoor mineral hot springs rising up from the earth at 128 degrees. Fortunately, they're cooled to around 104 degrees.
It's one of the most remote hot springs in the US, in the north-central part of Wyoming. So getting to the park isn't exactly simple or convenient for most, but that's what makes the views so special. Visitors will be surrounded by wildlife (including bison) grazing through the stunning remote scenery of the state park, with the Bighorn River flowing alongside the springs. There's no overnight camping in the park, so visitors will need to be out by 10 PM.
Benton Hot Springs, California
What's the one thing that could potentially alleviate the sting of losing money at the roulette table? Dipping into a desert hot spring and letting all your troubles wash away, perhaps.
Benton Hot Springs, on the California side of the state border with Nevada, is about four hours from the Las Vegas Strip. The springs are home to 11 hot soaking pools, but the real reason it's one of the best US hot springs is that visitors can camp just steps away from the springs. Whether it's pitching a tent or pulling up in an RV, visitors can camp by the springs and even rent them for overnight use. Each private hot tub has different views of the surrounding mountains and desert-like landscape, and none disappoint.
Benton is one of many hot springs in the Mammoth Lakes/Mono County area, but many are remote and unmapped. Do your due diligence and you'll find many more tucked into the area's stunning mountains.
Radium Hot Springs, Colorado
It's easy to compile a long list of great hot springs in Colorado alone. The state is famously an outdoor person's paradise, and that holds true for outdoor relaxation, as well.
And Radium Hot Springs on the Colorado River, near the town of Kremmling, is one of the best. Unlike some of the state's more high-end and expensive spas, the mineral pools at Radium Hot Springs are free, located in rugged surrounds reached via a short hike. The springs are particularly attractive in winter when snow covers the surrounding hills. It's about .75 miles each way to the springs and the trail is easy to find online. Just don't get it confused with the more developed Radium Hot Springs in the Canadian Rockies.
Trail Creek Hot Springs, Idaho
Near Lake Cascade State Park, the Trail Creek Hot Springs are ideally situated for taking in the stunning Idaho scenery, including natural rock formations and giant pine trees. While the springs are very popular among locals (and it's easy to see why), there are so many different pools that visitors don't need to worry about overcrowding. Boulders surround the pools, which are connected to the paths by wooden boards, lending to the natural feel of the place. While summer is probably the best time to visit, winter is also quite picturesque. The sight of snow settling on the rocks and trees makes a warm dip even more refreshing.
The springs are in Boise National Forest and fairly easy to find as they're listed on most major hiking trail apps and websites.
Spence Hot Springs, New Mexico
With four geothermal and mineral-rich pools, Spence Hot Springs is an oasis in Jemez Springs, New Mexico. The main spring sits on a hillside above the Jemez River, flowing into a primitive rock-soaking pool before cascading into two more rock pools that get gradually cooler. It's one of the least-known hot springs in the country, probably because it's in a state known for being relatively hot.
The springs are on the edge of a collapsed super volcano, the Valles Caldera, from where the water originates. Millenia ago, ancient seawater became infused with calcium, lithium, magnesium, iron, and other minerals while underground, creating the geothermal waters visitors can enjoy today.  The town of Jimez Springs has a range of lodging options, more developed spas, and hikes leading out to the primitive spas for easy-trip planning.
Strawberry Parks Hot Springs, Colorado
Steamboat Springs, Colorado, is a name familiar to skiers and snowboarders, but many might not be aware of the hot springs just outside the popular resort town. Strawberry Parks Hot Springs is on Hot Springs Creek, with 104-degree mineral water. The privately owned springs are in a stunning location, so it manages to maintain a wild and rustic feel while also offering private massage huts, watsu therapy, heated changing cabins, and picnic areas. The whole experience takes place surrounded by Colorado's famously beautiful forests and mountains, so it's worth a weekend trip from Denver (about three hours away).