Stokksnes is the kind of Icelandic landscape you dream of — endless black sand dunes topped with green grass, soft gray waves lapping up on a smooth black shoreline, all framed by a jagged black mountain. No matter what kind of weather you have, this place is going to look spectacular.
The Stokksnes peninsula was high on my list of places to visit on my Iceland road trip, and especially so for Amanda, my travel companion on this trip. We powered through our long day of driving from Egilsstaðir, knowing that Stokksnes would be a late afternoon visit.
And it was astounding. Our trip to Iceland was nothing short of superb (though it did cost a pretty penny), with some of the best landscapes I've ever seen.
Looking back with the perspective of time and distance, Stokksnes was one of the best places we visited.
While easy to reach, Stokknes is one of relatively few outdoor attractions in Iceland that charges an entry fee. Here's what you need to know about visiting.
Visiting Stokksnes on an Iceland Trip
The Stokksnes Peninsula was one of the earliest settled places in Iceland, with arrivals dating back to the 9th century. Later, during World War II, Stokksnes served as a British army base.
Today there's still a working NATO radar station at Stokksnes, which the Iceland Air Defense System uses to monitor Iceland's airspace.
How far is Stokksnes from the Ring Road?
Stokksnes is a ten-minute drive from the Ring Road, making it an easy stop.
Can you visit Stokksnes on a day trip from Reykjavík?
Stokksnes is a six-hour drive from Reykjavík — too far for a day trip unless you're a masochist.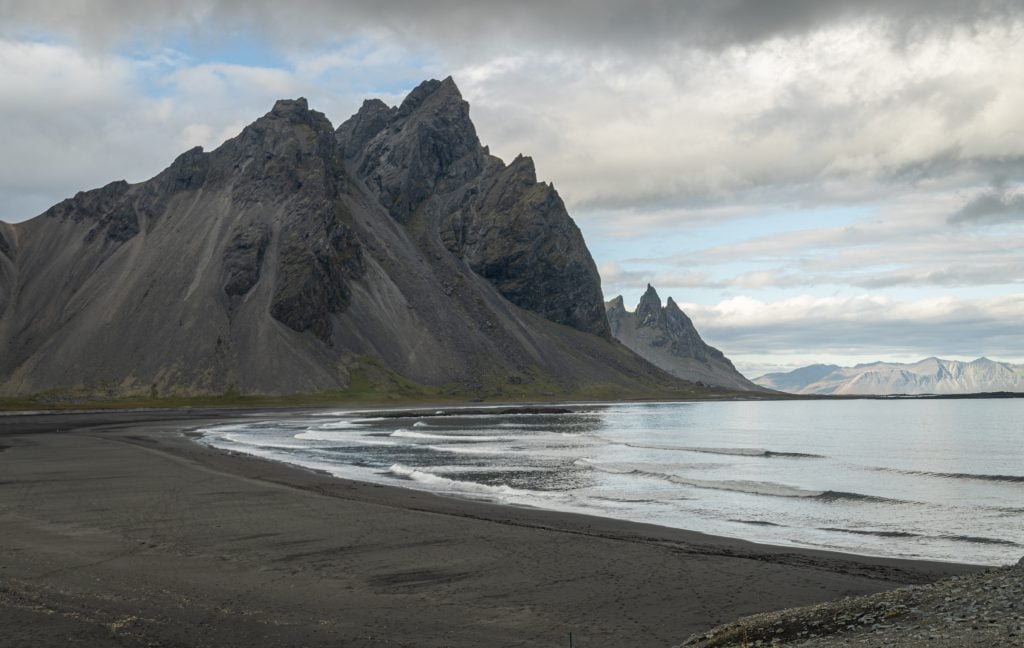 How to Get to Stokksnes
If you're driving the Ring Road counterclockwise, Stokksnes is about a 25-minute drive from the town of Höfn (pronounced "Hup" — yes, seriously). Höfn has a lot of accommodation and food options, so it makes a good base when visiting Southeast Iceland.
If you're driving the Ring Road clockwise, as we did, Stokksnes is about a 90-minute drive from Djúpivogur. On the way, don't miss the viewpoint by the Hvalnes Lighthouse — the lighthouse is okay, but the mountain in the background is a fantastic background for photos. (I actually photographed a family there, perfectly framed by the mountain!)
Either way, it's about a 10-minute drive from the Ring Road.
As you drive in, your first stop will be the Viking Cafe. It's here that you pay the fee: 900 ISK ($6.23) per person. Yes, you must pay the fee, regardless of whether you're on foot or in a car. This is private property, unlike many other popular places in Iceland.
If the cafe is closed, there's a machine outside where you can pay with a credit card.
The cafe is a remarkably cozy place, and part of me yearns for a big slice of cake. Another time.
They're also a guesthouse! You can book their rooms here.
We scan our ticket at the turnstile and giggle at the graffiti.
After leaving the Viking Café and passing the fields full of sheep, we drive across a causeway, still water on each side, and get to a parking area by the sand dunes.
If you head to the end of the road, you have a view of Stokksnes Lighthouse, once part of a military base. Honestly, this is one of the less photogenic lighthouses in Iceland and pales in comparison to the beach and sand dunes, so we chose to skip it.
From there you can set off to Stokksnes Beach.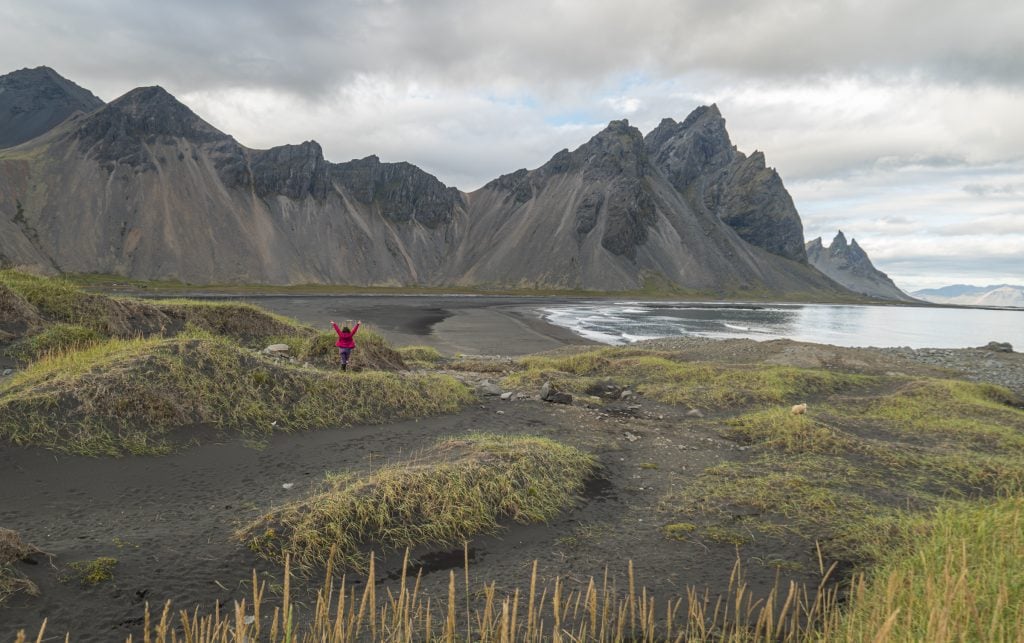 Black Sand Dunes
I've seen a handful of black sand beaches in my life, from Santorini to Stromboli — but none quite like Stokksnes. Here the sand forms small hills, green grass poking out between each of them.
Amanda and I park our car and head out onto the dunes, taking photos continuously. We are stunned to be the only people out here! Shooting to our hearts' content, knowing we won't have to photoshop any randos out of the shots when we get home.
One thing that I realize quickly, though, is how important a wide angle lens is to fit in all of Vestrahorn. My big camera's lens isn't wide enough, but the iPhone takes surprisingly great wide angle photos (including the one at the top of this post).
We've got cloudy conditions, which is fantastic, but I know the dunes would look sparkling on a sunny day, too.
Here are some photos from the dunes.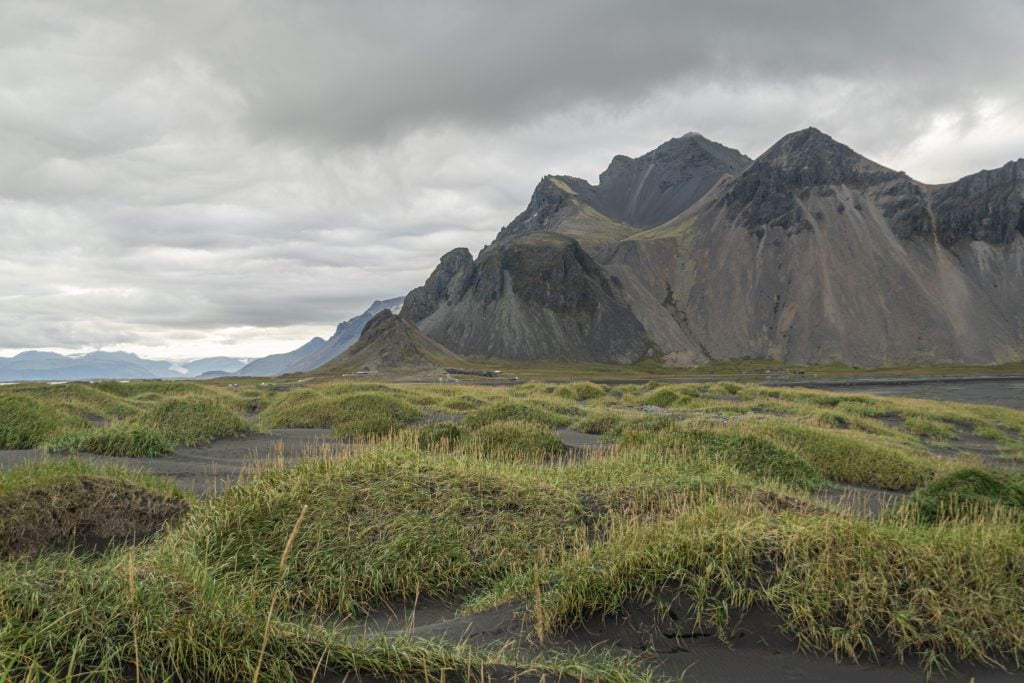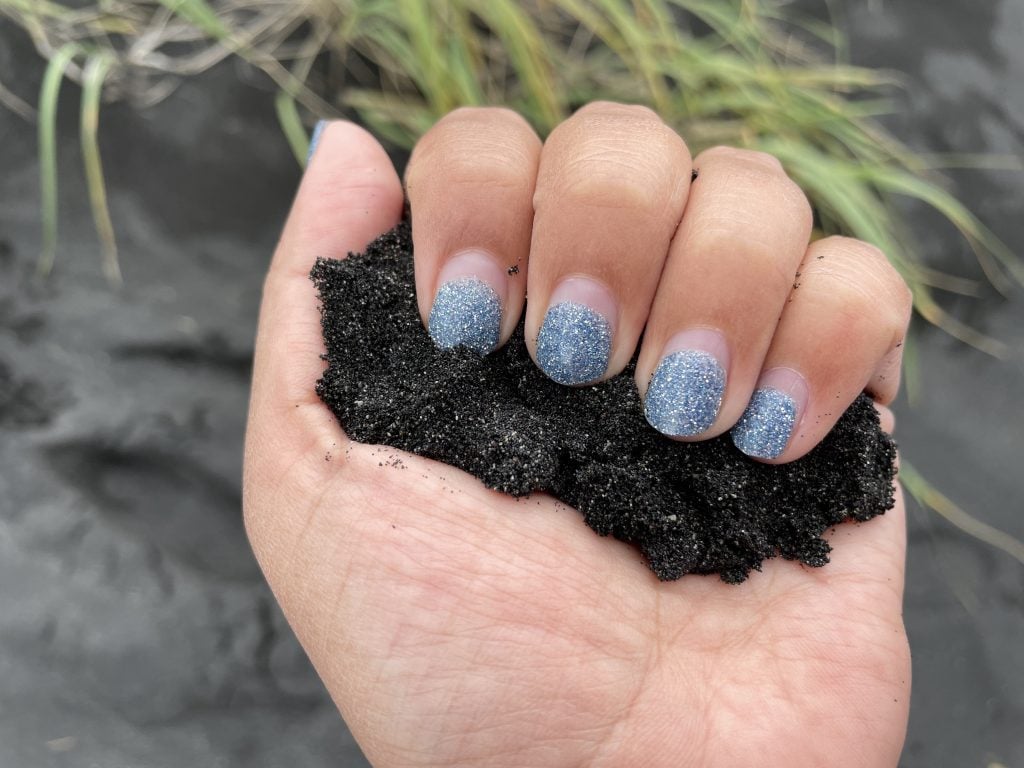 From there, we head onto the beach.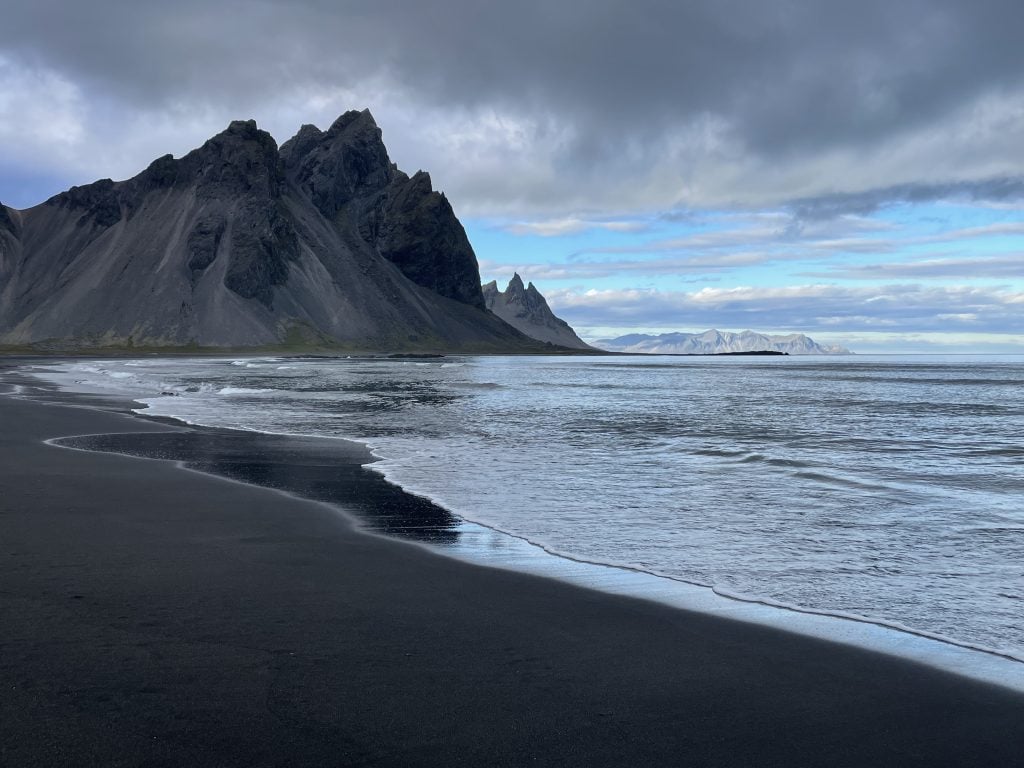 Stokksnes Beach
The beach here is fantastic — tiny, gentle waves that barely disrupt the surface. It's a far cry from Reynisfjara Beach in Vík, the most famous black sand beach in Iceland, where dangerous rogue waves are commonplace (and some travelers have lost their lives as a result).
Even so, you never know if a sneaker wave can arrive here, so stay aware and don't get too far into the water.
If you're looking to get perfect reflection shots of Vestrahorn Mountain, it won't be here — head further down toward the Viking Village, where there are some calmer bodies of water that provide the mirror-like effect you're looking for.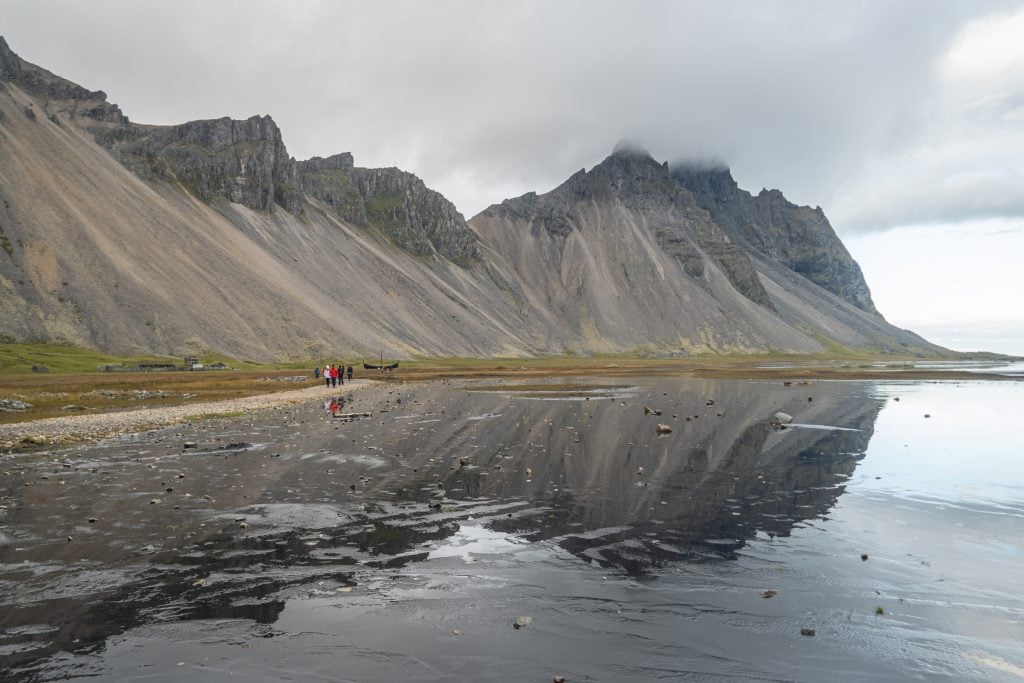 Vestrahorn Mountain
The whole time, majestic Vestrahorn Mountain looms in the background. Next to it is Brunnhorn Mountain, called Batman Mountain, shaped a bit like the Batman symbol.
You can definitely hike Vestrahorn Mountain, and there are maps of hiking trails at the Viking Café.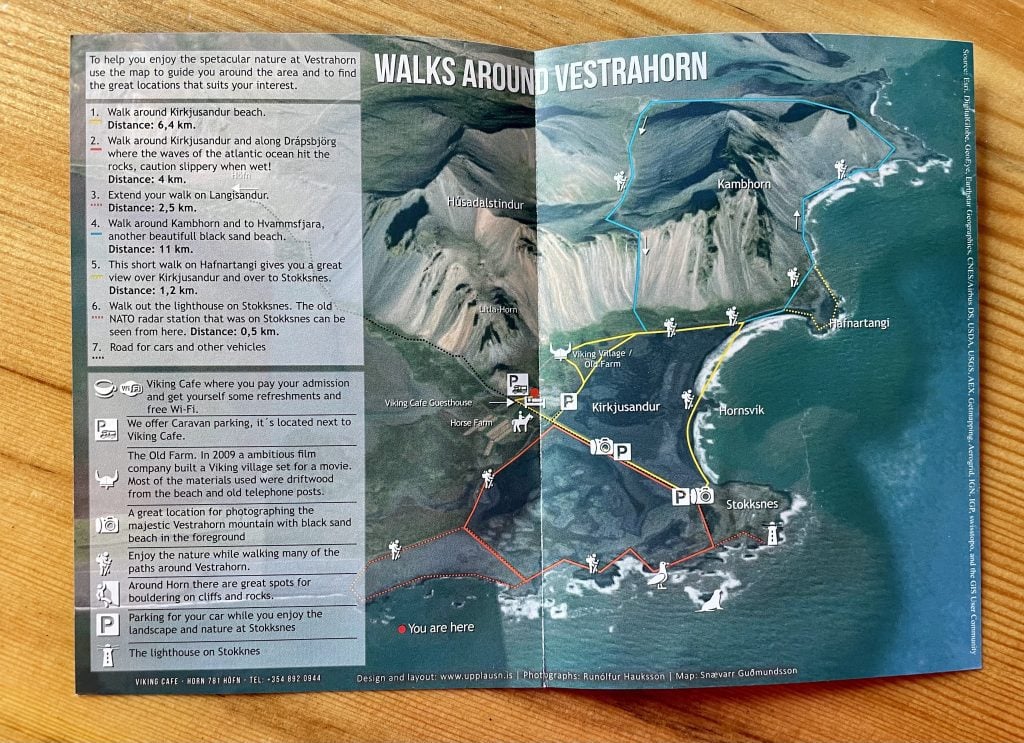 If you're up for a challenge, the longest trail is an 11 km (6.8 mile) loop journey across Vestrahorn Mountain itself. Departing just past the Viking Village at the foot of the mountain, it takes you around Kambhorn to Hvammsfjara and back to where you started.
For something a bit more doable, you can take the 4 km (2.5 mile) walk around Kirkjusander and along Drápsbjörg for even more photogenic views of the mountain.
Either way, remember that the weather can turn on a dime, and only hike if you have the appropriate gear and resources.
Viking Village
Last but not least is the Viking Village. This village was originally built in 2010 for Icelandic director Baltasar Kormakúr, but was never used. The village was essentially abandoned and remains here today.
Feel free to walk around the Viking Village, but do not go in any of the buildings. They are not maintained and going inside them could be dangerous.
One movie that was successfully filmed at Stokksnes was the Bollywood film Dilwale.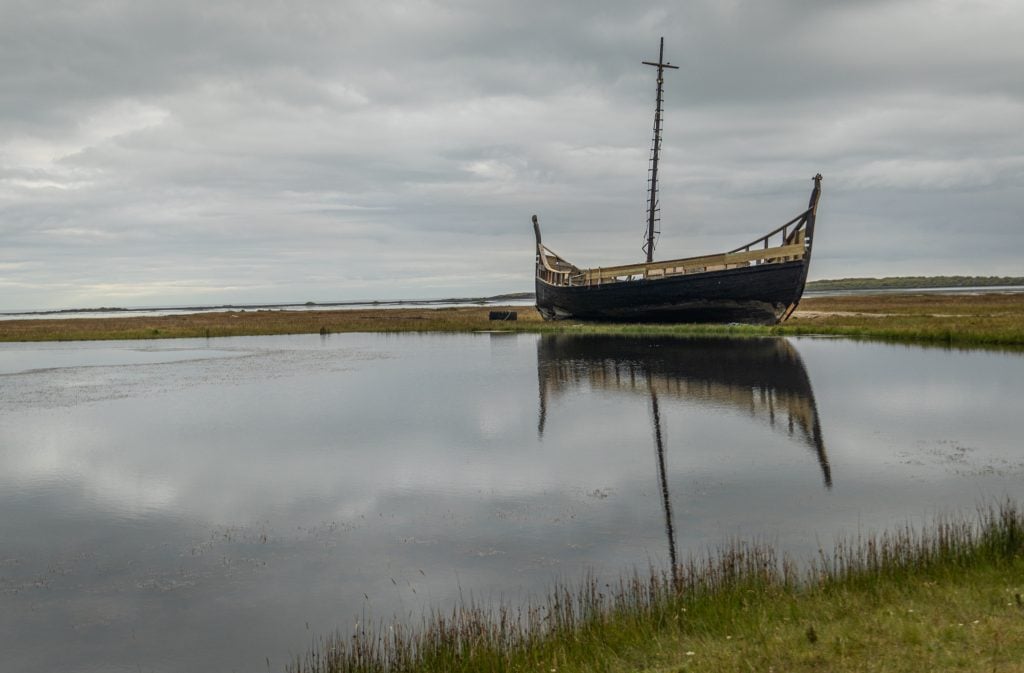 How Much Time to Spend at Stokksnes
I would allot for a minimum of 90 minutes at Stokksnes. The time really does add up when you factor in buying your tickets at the cafe, driving down to the edge, enjoying both the sand dunes and the beach, and walking over to the Viking Village.
This is not a get-in-and-get-out destination. But if you were short on time and still wanted to experience Stokknes, I would recommend spending the bulk of your time on the sand dunes with a little bit of time on the beach. You can axe the Viking Village and lighthouse without feeling too guilty about it.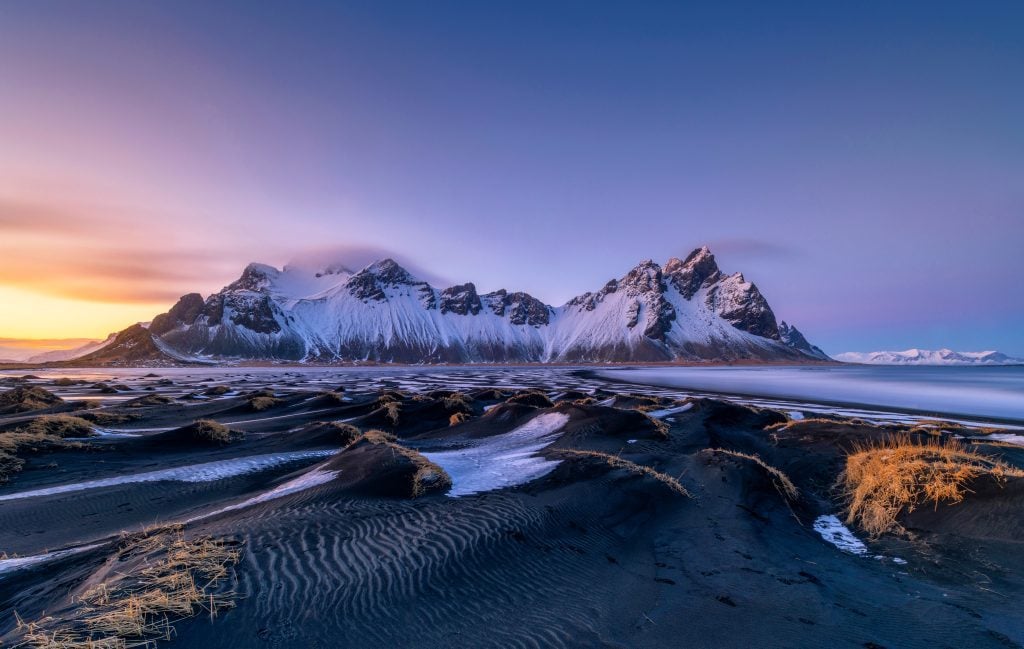 Stokksnes in the Winter
While the best time to visit Stokksnes is during the summer, you can also visit during the winter months! Like everywhere else in Iceland, check before you go, as the weather can be unpredictable and close roads.
And remember that you're working with limited daytime hours in the winter, though you'll be rewarded with an elongated golden hour. Vestrahorn looks fantastic in the golden light.
But if you're a photographer, you'll love the chance to catch the mountain peaks and sand dunes under a fresh dusting of snow. And if you're able to photograph Vestrahorn Mountain, underneath the Northern Lights, I will be SO JEALOUS!!! This is a spot with little light pollution, so if you get an Aurora Borealis alert, head straight here!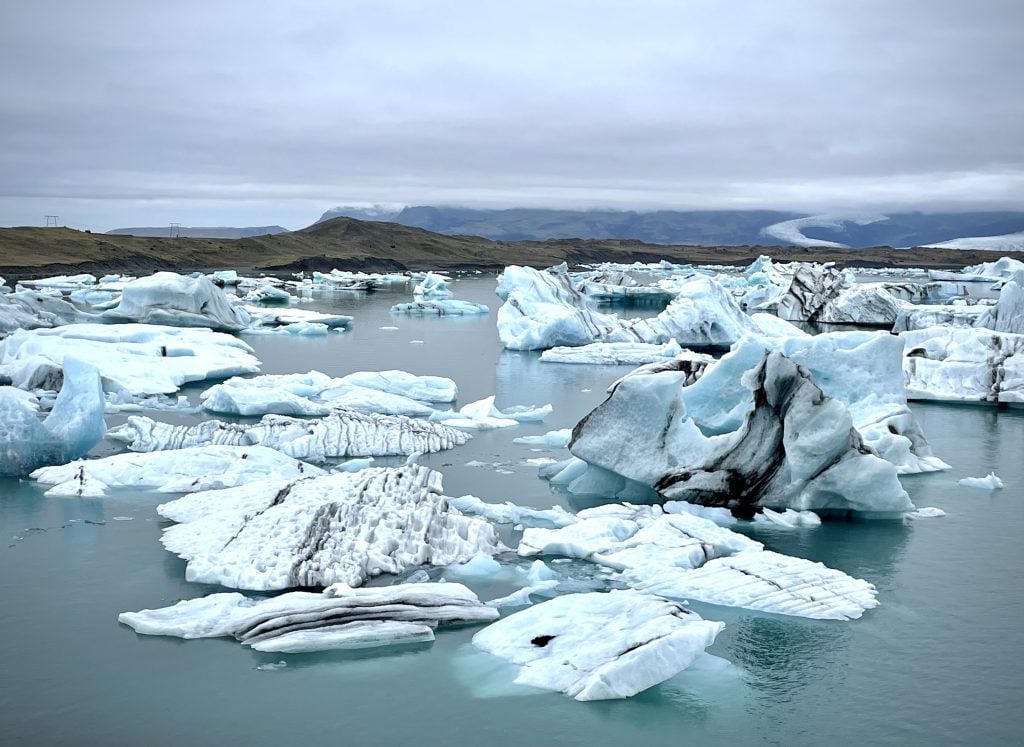 More Cool Spots in Southeast Iceland
Southeast Iceland is one of my favorite parts of Iceland — it's where the waterfalls and canyons of the South meet the fjords and mountains of the East! A lot of people barrel through here quickly, but you will be glad you spent time here. Natural wonders abound on the southeastern Icelandic coast.
Jökulsárlón Glacier Lagoon is arguably the most popular destination in the region, where large chunks break off the glacier and come to rest in the lagoon. Boat trips are popular thing to do here. Jökulsárlón is a bit more than an hour's drive from Stokksnes.
Don't miss Diamond Beach nearby, a black sand beach strewn with large icebergs that have floated down from the lagoon. A rough gravel road five minutes down the road will take you to Fjallsárlón, another glacier lagoon that is much quieter (and we preferred over Jökulsárlón.) It's beautiful in a more subtle way.
Múlagljúfur Canyon, just west of Fjallsárlón, is one of my absolute favorite places in Iceland. A magical canyon and one of the most beautiful places I've ever seen. You have to drive a rough gravel road to the trailhead, but it's worth it.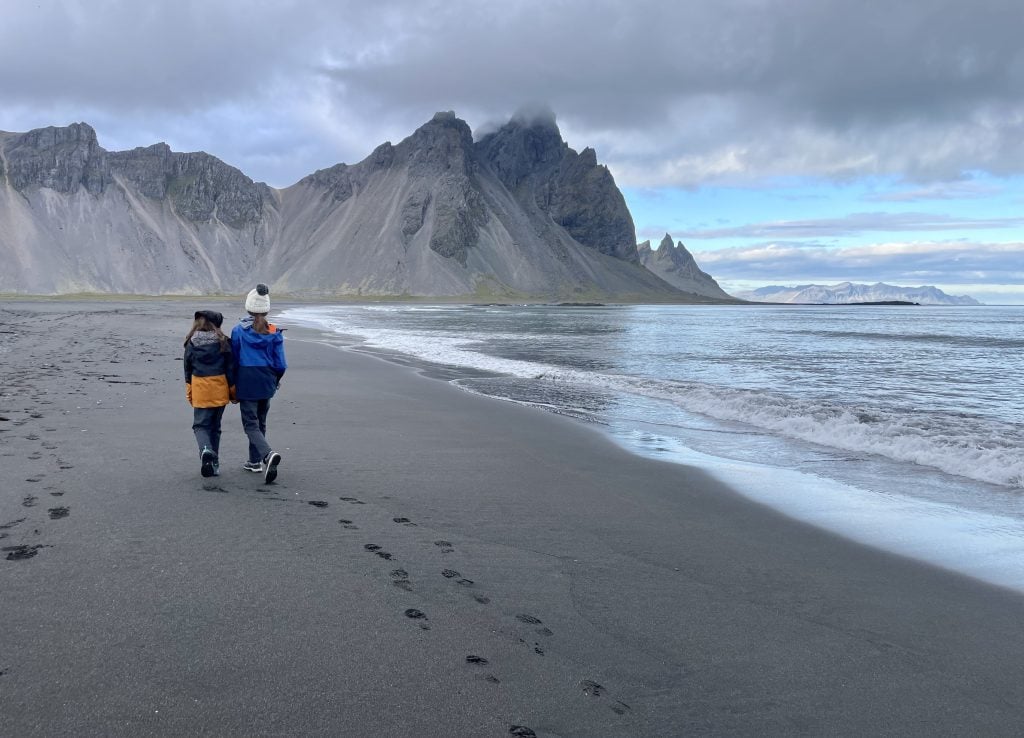 Where to Stay Near Stokksnes, Iceland
The town of Höfn (pronounced "Hup") is a good spot to stop for the night in Southeast Iceland. It's about a 25-minute drive from Stokksnes.
Höfn Guesthouse is a top-rated budget option (I was originally going to stay there on my last trip). For something special, Fosshótel Vatnajökull is a little further than Höfn, but just spectacular.
While you're in Höfn, be sure to try langoustine somewhere. It's the local specialty, and a delicious standout in a country of oft-unremarkable cuisine. Amanda and I enjoyed buttery, herby langoustine sandwiches at Z Bistro.
Alternatively, there are many hotels and guesthouses randomly along the road. I stayed at one of them — Hotel Smyrlabjorg in Hornafjördur — on my most recent trip to Iceland. It was decent for the most part, but had neither phone signal nor wifi, so I probably wouldn't stay there again.
Want to stay even closer to Stokksnes? Stay at the Viking Cafe! You can book them here.
And if you're camping, there is a campsite called Vestrahorn Camping very close by that includes admission to Stokksnes in your stay.
See more places to stay in Höfn here.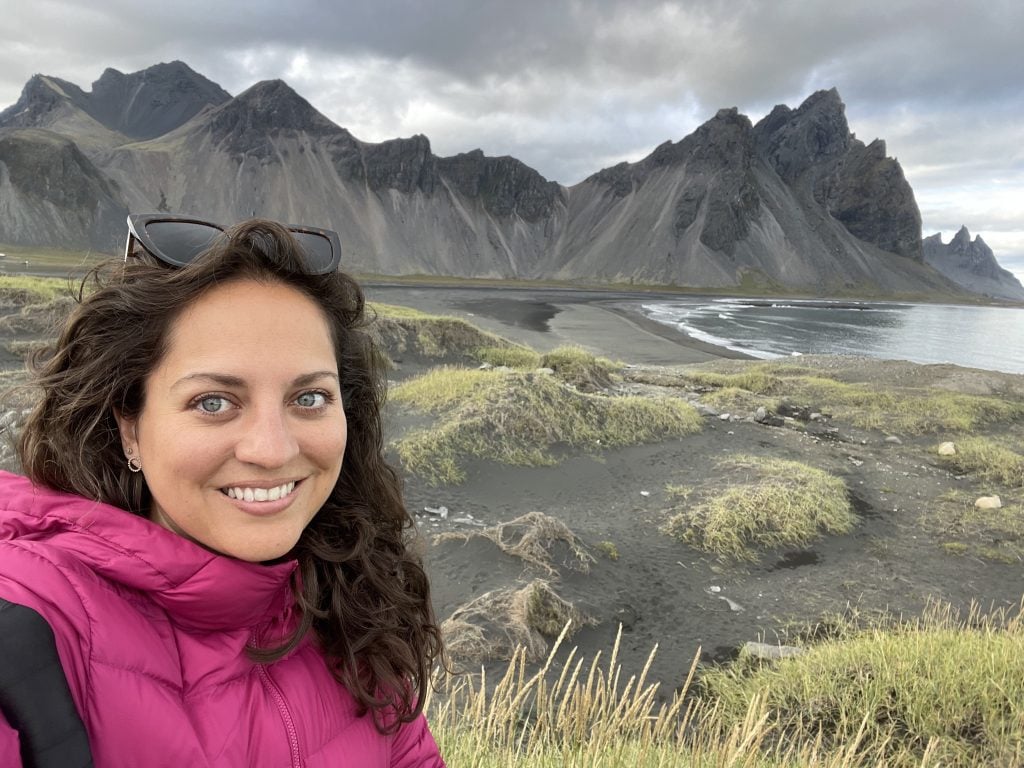 Is Stokksnes Worth It?
Oh yes, Stokksnes is worth it! This is one of my favorite places that I visited in Iceland, and these photos are some of my most treasured from this trip.
Go to Stokksnes, even if you're short on time. Even if you're not much of a photographer. This place is magical.
More on Iceland:
My Favorite Places in Iceland: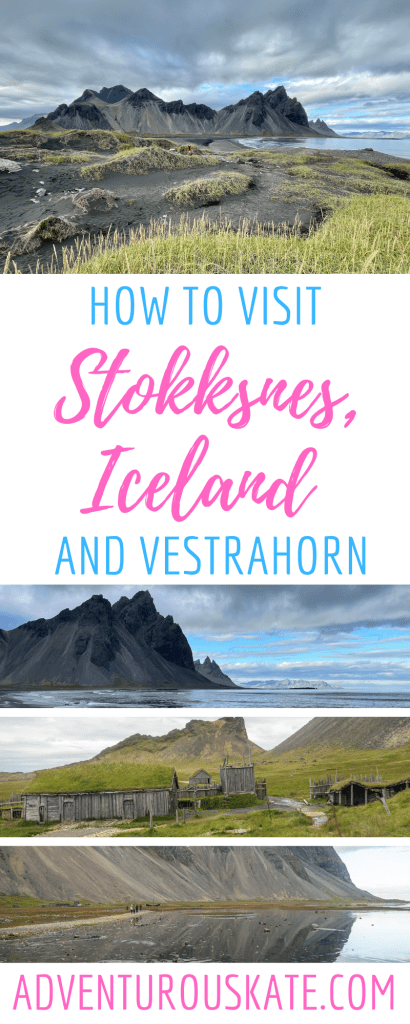 Have you been to Stokksnes? Any tips to share?
The post Visiting Stokksnes and Vestrahorn Mountain, Iceland appeared first on Adventurous Kate.