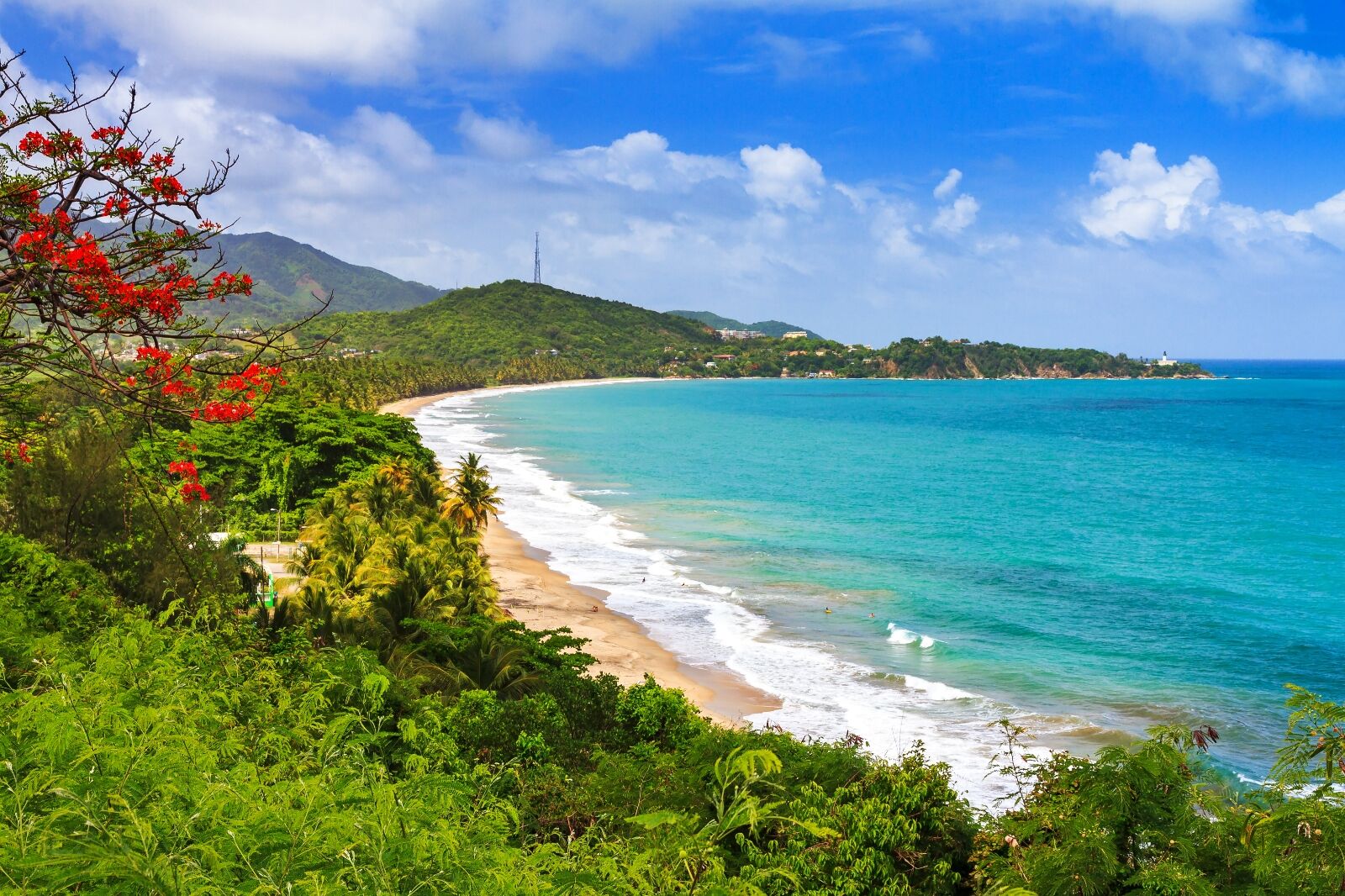 Puerto Rico is a year-round vacation destination with warm weather, annual festivals, and endless natural wonders. Many people think they should avoid Puerto Rico during hurricane season, but even in those months, guests are still winning. Prices are lower, crowds are thinned out, and the likelihood of a storm affecting a trip is slim. Day to day, life is good on the island, but here's the best time to visit Puerto Rico depending on your interests. 
Best time to visit Puerto Rico for beaches
North Coast — March to July
The North Coast of Puerto Rico has beaches along the Atlantic Ocean. Between April and June, the water will be warm and inviting. It's not yet hurricane season, and the weather is mild enough to plan a full day at the beach. 
Weekends, in general, are crowded as most people head to the sand for a Medalla (local beer) and relaxation. Sundays are the most popular days. 
Piñones is a popular spot because the water is flat and shallow. It's shielded by reefs and rocks that block the waves and make for easy swimming. The same goes for Playa Mar Chiquita, a half-moon natural pool in Manati formed by two natural rock outcroppings. 
South Coast — November to March
The South Coast is bordered by the Caribbean Sea. As a result, the water on the South Coast is a couple of degrees warmer. There is a desert climate in the south, so it can also be drier. 
Locals tend to avoid going in the water during "winter months" as it's too cold for them. On the South Coast, there is a high concentration of protected mangrove areas for exploring via kayak and islands that make for fun day trips like Gilligan's Island and Caja de Muertos. 
When to avoid sargassum — November to April
Sargassum has been a growing issue in Puerto Rico. While at its worst during the summer months, the season has extended, and it's not uncommon to find sargassum as early as April. There's an unpleasant sulfur smell that comes from the decomposing grasses and it can attract biting sand fleas, in addition to being an eyesore.
Sargassum gathers most along the East and Southeast coast, in places like Fajardo and resort communities like Palmas del Mar. Some hotels will make an effort to clear it for their guests, but all beaches are public in Puerto Rico, so no set company or government agency has ownership or responsibility over its removal.
Best time to visit Puerto Rico for fauna and flora
Sea turtle nesting season — March to August
Up to a thousand sea turtle nests have been counted on Puerto Rico's shores, including nests for the leatherback turtle, the world's largest and critically endangered sea turtle species. During this time, locals block off nesting areas. Guests should be cognizant of disruptive elements like artificial light, bonfires, and the use of motor vehicles. Those wanting to volunteer can do so through organizations like Para la Naturaleza, a local nonprofit.
Jellyfish season — November to February
In general, jellyfish can be anywhere that the water is calm since they don't like wind or waves. They are present year-round but are more prevalent in the winter months, particularly in January. 
If you are swimming, keep an eye out. If you see something that looks like a trash bag, swim the other way. Jellyfish stings rarely warrant a trip to the emergency room but can definitely put a damper on a trip. 
Sunflowers and wildflowers — June to October
Farms like Finca de Rustica in Naguabo have wildflowers that bloom best in the summer months and are a favorite backdrop for photo shoots. The same goes for Finca el Girasol on the South Coast, open on weekends and featuring rows of bright yellow sunflowers that you can peruse at your leisure. 
The Flamboyán tree, brought to Puerto Rico by the Spaniards, is one of the island's most iconic trees, with large red flowers and hints of yellow emerging from within. The tree blooms between June and September and is a sight to behold.
Best time to visit Puerto Rico for adventure
Ziplining — November to June
Puerto Rico is home to the third longest zipline in the world, at Toro Verde Adventure Park. Recently, they also opened an urban zipline in Distrito T-Mobile. There are ziplines throughout the island like Rainforest Zipline Park in El Yunque, the national rainforest. 
Ziplining is a year-round activity. Generally, you want to aim for a day with clear skies for the best visibility and need to arrive by 3:00 PM. For the best chance of this, avoid the rainy months. 
Canyoning and natural pools — November to April
Puerto Rico is full of mountains throughout the center of the island. One of the most popular activities is canyoning. Tour providers like Tanama River Adventures take guests rappelling, tubing through rivers in underground caves, and on expeditions to explore by foot to waterfalls. 
Natural pools are filled with freshwater and are usually refreshing on a hot day. They're a welcome contrast to beaches, as they're usually isolated getaways. Places to explore include multiple Charco Azuls, Charco del Hippie, and natural rock slides at Las Paylas and Las Tinajas. 
Be wary of the rainy season for these activities, as it can cause the terrain to be muddy and water levels to rise. 
Bioluminescent bays — December to April
Puerto Rico has three of the brightest bioluminescent bays in the world. Mosquito Bay in Vieques, Laguna Grande in the northeast in Fajardo, and La Parguera in the southwest in Lajas.
For the best visibility, the water should be calm and there should be no ambient lighting. Because of this, the winter months provide the best viewing conditions, although there's never a bad time to cross this activity off your bucket list. Aim to go during a new moon, not a full moon, to better see the contrast of dinoflagellates as they glow in the water. 
Pink lakes — November to April
The Cabo Rojo Salt Flats are Puerto Rico's own pink lakes and are best appreciated on a sunny and clear day, as cloud cover impacts the perceived brightness of the water. During the dry season, there is less rain to dilute the organisms in the water which contributes to its unique coloration. Without a high concentration of microorganisms, the water can appear reddish-brown. For the brightest, rosy hues, visit during the winter months.
Best time to visit Puerto Rico for sports
Golfing — November to April
Puerto Rico is known as the golf capital of the Caribbean, with high-end golf courses throughout the island. 
The PGA Tour stops here every year, at the end of February or beginning of March. The cool weather from November to April makes being outside for 18 holes pleasant, and many golf courses like The Wyndham Rio Mar and Royal Isabela, have ocean views.
Surfing and bodysurfing — October to March
 
The surf scene in Puerto Rico is thriving, especially during the winter months. Winter swells in the Atlantic Ocean make for epic waves and draw in professionals from around the world. 
The Rincon Beach Festival was held in March 2022 and the Corona Pro Surf Circuit was held in October 2022. Festivals vary every year but generally, Rincon and Aguadilla are a hub for the sport and offer lessons and recreational surfing year-round.
Snorkeling and diving — April to August
Snorkeling is also a year-round activity, but it's best to aim for a day when there are calm waters. The summer months are inviting for being out in the water for a prolonged period. 
You can snorkel on your own or with a boat tour that takes you further from the shore. If you can, head to the island of Culebra to spot starfish, manta rays, and sea turtles galore.
Kiteboarding and kitesurfing — November to April
Kiteboarding and kitesurfing are popular pastimes on the island, particularly on windy days. These can occur at any time, and most kitesurfers are ready to go when the weather is right, but the winter months are often the most promising.
The best part is you don't need a wetsuit. For those aiming to practice jumps and tricks, check out flat water locations like La Parguera and Las Picuas. 
Best time to visit Puerto Rico for food
Lobster season — October to June
Puerto Rico has spiny Caribbean lobster as opposed to the bright red Maine lobsters people usually envision. The biggest difference is Caribbean lobsters don't have juicy claws filled with meat. It's mainly the tail you'll be eating. 
That said, you can find large hauls and feast on lobster stuffed with seafood at places like La Casa del Pescador in Vega Baja and La Parrilla or Las Picuas 123 Seafood in Luquillo. It will depend on the catch of the day so if lobster is what you're craving, call ahead to confirm availability. 
Quenepa season — April to September
Quenepas are similar to lychees in that you peel off the outer skin with your teeth before eating the fleshy fruit inside. There is a seed in the middle, and they come in sweet and sour varieties. They're known for their many health benefits and you'll often see streetside vendors selling them by the branchful. 
Quenepas can only be eaten when they're ripe in the summer. In the past, there has been a festival in Ponce dedicated to quenepas and taking place in August or September. 
Breadfruit season — July to September
Breadfruit, known as pana, is a versatile and abundant crop. They're commonly used on the island to make tostones, mofongo, and the flour can be used for baked goods, from cakes to waffles. The trees produce a bounty about two to three times a year, so you'll also find it in the winter months, and it can be easily frozen to use for future recipes. 
The Festival de la Pana is an annual event held the first week of September in Humacao and allows you to celebrate and indulge in this starchy fruit in various forms. 
Pasteles season — November to January
Puerto Rico has an extended holiday season, starting right after Thanksgiving and ending with the San Sebastian Street Festival in Old San Juan in mid-January. During this time, Puerto Rican grandmothers everywhere will be preparing pasteles, a mashed blend of root vegetables, usually tossed with chicken or beef and wrapped in a banana leaf before being boiled. 
Certain places compete to have the biggest pastel on the island, like ¿Mami Que Hay Pa Comer?, a restaurant in Coamo famous for its 18 inch pastel.