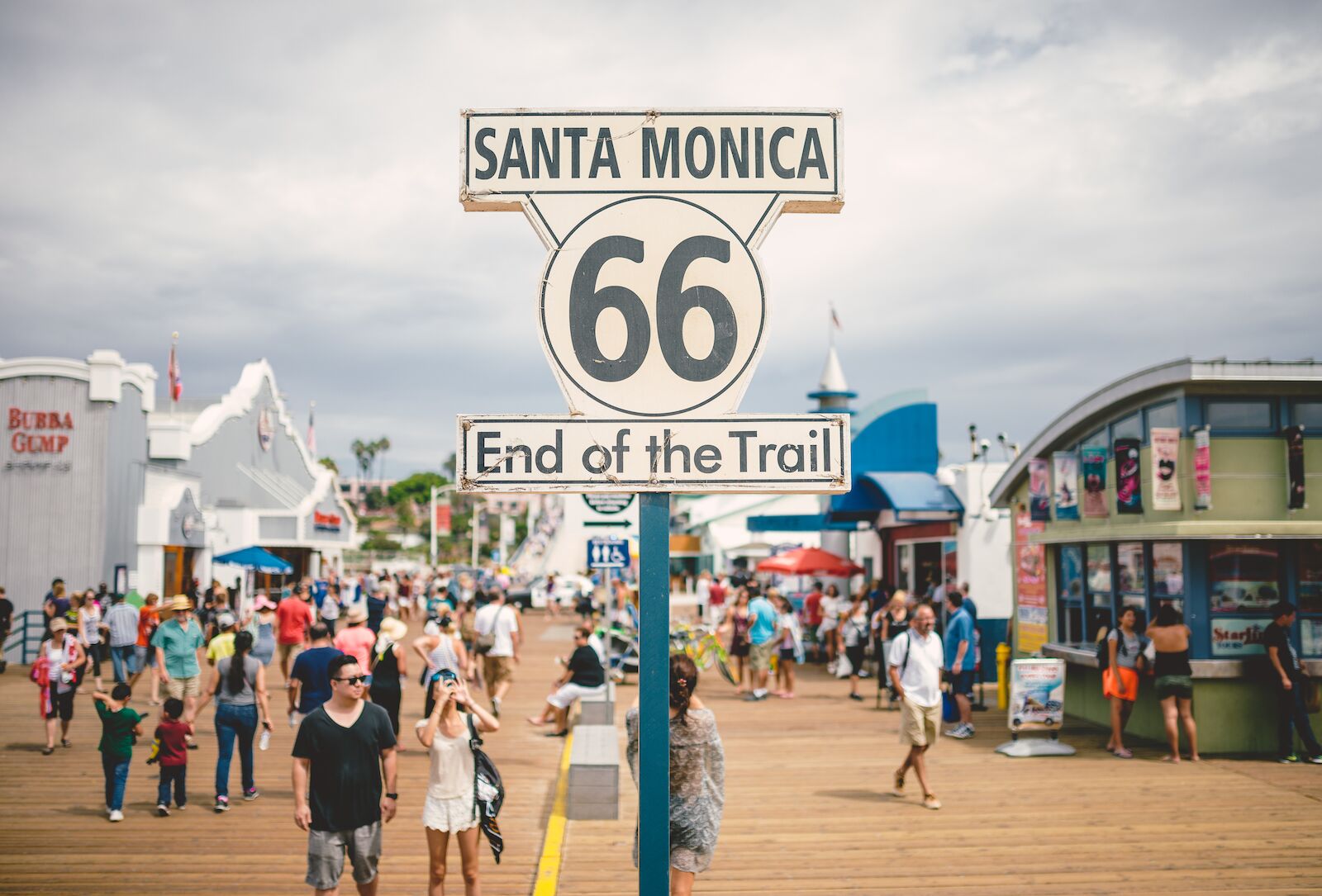 When most people think about planning a trip to Los Angeles, they think they need to shell out extra money toward renting a car to get around, which they'll then spend most of their free time stuck in, driving the notoriously crowded and busy streets while fighting for paid parking opportunities. But here's a little-known secret about LA — carry $3.50 for a day pass on the LA Metro and there's no need to worry about parking or driving.
Even if you don't hike in Los Angeles, there are plenty of neighborhoods in Los Angeles that are perfectly explorable on foot and offer ample public transportation access. Here are nine neighborhoods across Los Angeles that, once there, offer visitors the opportunity to embark on a leisurely stroll and boast enough enjoyable spots to eat, sleep, and adventure to last an entire trip.
We hope you love walking through Los Angeles. Just so you know, Matador may collect a small commission from the links on this page if you decide to book a stay. Listed prices are accurate as of the time of publication.
Santa Monica
Santa Monica is one of the most walkable neighborhoods in LA. This seaside city features a nice mix of historic and storied establishments like the iconic but ostensibly haunted hotel, The Georgian, alongside a collection of newer, trendy destinations, all made for exploring on foot. It's the last stop on the Metro J (Silver) line, which means travelers and locals can take the train into town all the way to and from downtown and step off here, never having to worry about driving or parking.
Close to the Metro stop, the Santa Monica Pier and Pacific Park are classic spots for anyone seeking some vintage fun in the form of amusement park rides and arcade games. Explore the dozens of gorgeous murals, or stroll along the 3rd Street Promenade, which comprises three open-air, car-free blocks anchored by the outdoor shopping destination, Santa Monica Place.
Dine at Vamos. Vamos., a margarita and nacho bar recently opened on Main Street. Stay at the Fairmont Miramar Hotel & Bungalows which is just a short 2-block stroll away from the Santa Monica Farmers Market and adjacent to the iconic bar, The Bungalow, which is one of the most legendary spots to experience LA nightlife on the West Side.
Pasadena
Visitors can take the Metro L (Gold) Line to Pasadena and explore a range of attractions on foot. Old Pasadena is a particularly walkable district with a storied past. The 22-block district includes a collection of restored buildings spanning from 1875-1949 as cited in the National Register — and today is still a hub of entertainment, shopping, and dining featuring more than 300 businesses. Weave through the pedestrian-friendly streets and step into the historic alleys to enjoy a sense of authenticity and character throughout the neighborhood.
Stop at Russell's, a classic breakfast and weekend brunch spot. Get some self-care in at Lather's first boutique — a modern apothecary experience that includes an essential oil blending bar and in-store sampling sink. Be sure to try one of the many boba shops offering a delicious selection of milk teas, and browse the diverse offerings of arts and entertainment, including galleries, live music, and nightlife. It's an impressive collection of destinations to explore on foot.
Venice Beach
Venice Beach dates all the way back to the early 1900s, originally developed and designed by the eccentric millionaire Abbot Kinney as a Los Angeles beach destination resort, paying homage to its Italian theme with canals and pedestrian footbridges to explore. These canals still exist today, as well as the boardwalk — which is an internationally renowned attraction, offering those who are feeling beachy and bohemian dozens of craft booths to explore and nearly endless entertainment from enthusiastic street performers.
Right on the boardwalk adjacent to the iconic "Venice" sign and the Samesun Venice hostel is Winston House, a restaurant, bar, and live music venue that is a local standby for dining and dancing. Nearby, The Waterfront is a fantastic place to lounge for a boozy brunch and cuisine that's made from ingredients sourced from local farms. Lastly, Abbot Kinney Boulevard is a mile-long strip with some of the trendiest fashion outlets, beautiful street art, and impressive food venues, just a few minutes' walk from the beach.
Culver City
The highly walkable enclave of Culver City has quickly become a creative capitals with recent arrivals of media studios like Apple TV, Amazon Studios, and HBO. Visitors can take the Metro E Line (Expo) to Ivy Station and explore this newly developed mixed-use outdoor space which has welcomed a number of local businesses like LA Ale Works. Ivy Station is also home to the area's newest hotel, The Shay, which opened this past year and is a perfect spot for relaxing between adventures or refueling at the on-site wood-fired comfort food restaurant, Etta.
Across the street from this complex is another relaxed shopping complex, Platform LA, which was built to showcase the talent of independent brands like Margot — which concocts delicious rooftop cocktails. Next, explore the Culver City Arts District, which runs along the main street of Washington Boulevard and features dozens of coffee shops, ice cream shops, and local outposts like Hi-Lo market. In the main downtown area at the convergence of Washington and Culver Boulevards, check out Citizen Public Market, a trendy new concept occupying a 1929 building with a diverse selection of eateries.
Hollywood
Hollywood has long been known as the entertainment capital of the world, serving as home to well-known landmarks including like the Walk of Fame and The Dolby Theatre — and you can still feel the "Old, Golden Age of Hollywood" in an area known as the Vinyl District. The name acts as a tribute to the district's long history in the music industry with a dozen recording studios, record shops, entertainment labels and more making this district their home. Recently, The Vinyl District has experienced major development, adding new dining concepts and luxurious, boutique hotels.
Stay at the Thompson Hollywood or its adjacent sister property the tommie Hollywood — both of which feature rooftop bars and host weekend events like free rooftop yoga classes. Grab a drink at Grandmaster Recorders which is a modern rooftop lounge with beautiful sights of the Hollywood skyline — though it's most famous for having hosted legends like David Bowie, Stevie Wonder, the Red Hot Chili Peppers, and more in its building recording studio. Beauty & Essex occupies 10,000 square feet of the Dream Hollywood, including a beautiful ground-floor courtyard and second-level patio for outdoor dining with opulent decor choices like purple suede bar chairs and elegant pearl chandeliers.
West Hollywood
Vibrant and fabulous West Hollywood technically encompasses less than two square miles of geography between nearby upscale neighborhoods Beverly Hills and the Hollywood Hills — but its wide sidewalks and hundreds of businesses accessible on foot make it one of the most walkable places to be in Los Angeles (plus, there's even a city-supported free shuttle service). There are three distinct neighborhoods that make up WeHo — The Sunset Strip, The Design District, and Santa Monica Boulevard — each of which features its own personality.
The Sunset Strip has stood as a legend in pop culture for decades as being a rowdy playground for Hollywood's elite and has seen significant revitalization these past few years, including the introduction of new luxury hotels including The Pendry and its rooftop restaurant, Merois. On Santa Monica Boulevard, which is affectionately referred to as "the rainbow district," step into the newest installation of Bottega Louie, which has won restaurant design awards for its beautiful interior and exterior style, and impeccable pastries. In the Design District, which covers the Southwestern portion of the area skirting Melrose Avenue, Craig's is a known celeb hangout hotspot. If you choose the stay in West Hollywood, consider La Peer Hotel, with its restaurant hotspot Issima.
Beverly Hills
Beverly Hills is a site of the future purple (D) line Metro extension, which will make this neighborhood significantly more accessible to people via public transportation from downtown LA and into the West Side. Stroll around the scenic Beverly Gardens Park, which features a collection of notable art sculptures, various specialty gardens, and fountains to admire. Visit The Beverly Hilton, known for its old-Hollywood history and current status for hosting big-name events like Golden Globes Awards ceremonies, Grammy celebrations, and more.
Stroll down the glamorous Rodeo Drive with its big, clean sidewalks along the three palm-dotted blocks containing 100 of the world's most luxurious brands. This internationally renowned street is anchored by The Beverly Wilshire (yes, where Julia Roberts basked in some epic pampering a la "Pretty Woman") where grabbing a drink outdoors at THEBlvd includes unmatched people-watching opportunities.
Mid City: Fairfax/Beverly Grove/West 3rd Street
The mid-city neighborhood consists of the walkable Fairfax, Beverly Grove, and West 3rd Street districts. The future purple (D) line Metro extension is scheduled to be completed in the next few years, adding to future accessibility. Once in the area, stop at the Original Farmers Market which has stood for nearly 100 years serving fresh produce and local cuisine at dozens of farmstand booths.
Adjacent to this historic market is the outdoor, upscale mall, The Grove, which feels like a trip abroad and offers some of the best shopping opportunities in the neighborhood. Short Stories Hotel on Fairfax across the street is a great spot for drinks and small plates fireside, and an even better place to crash. Spend a night out exploring the West 3rd Street shopping and dining district.
Downtown Los Angeles
Downtown Los Angeles is extremely walkable and is the main hub of public transportation at Los Angeles Union Station. There are a few different districts within "DTLA" — including Bunker Hill, Little Tokyo, the Financial District, the Historic Core, the Arts District, and South Park, among others. In Bunker Hill, stop into The Grand LA — home to the newly unveiled Conrad DTLA, which is a perfect home base for staying and seeing the nearby museums like The Broad or The MOCA and the enormous Music Center.
This complex is one of the nation's largest performing arts centers and home to four iconic theaters — Dorothy Chandler Pavilion, Ahmanson Theatre, Mark Taper Forum and Walt Disney Concert Hall, as well as local restaurant Abernethy's, which serves a unique, ever-changing menu showcasing local LA chefs. The Historic Core is home to the iconic Grand Central Market, which has been serving a range of diverse cuisine to LA locals and visitors for more than a century. In the Arts District, explore craft breweries like Angel City Brewery or Arts District Brewing Company. And the South Park neighborhood is also home to LA Live, the complex where the Crypto.com Arena and the GRAMMY Museum live.