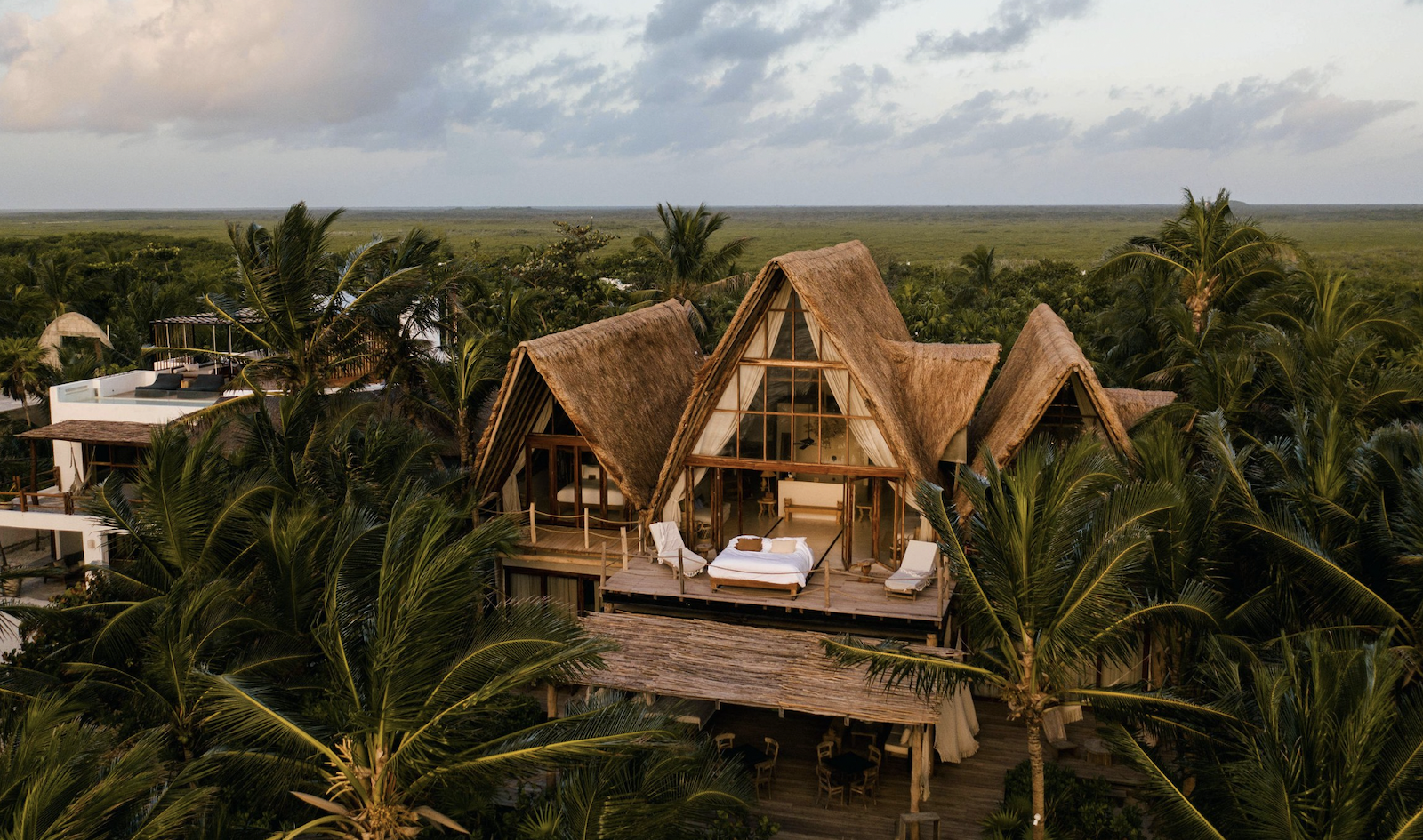 The town of Tulum, on Mexico's Yucatán Peninsula, is divided more or less into two sections: Tulum Town and Tulum Beach. The former is where most locals live, while the latter is a strip of luxury resorts, beach clubs, restaurants, and shops along a strip bordering the Gulf of Mexico to one side and dense jungle on the other.
We hope you love the spaces and stays we recommend! Just so you know, Matador may collect a small commission from the links on this page if you decide to book a stay. Listed prices are accurate as of the time of publication.
It's in Tulum Beach that you'll find La Valise Tulum, a luxury hotel that exemplifies what the Tulum wellness scene is known for: natural materials, organic food and drink, wellness experiences like beachfront yoga, and a blending of indoor and outdoor spaces to connect travelers with nature. And perhaps no aspect of La Valise Tulum does that better than the resort's Master Suite.
@visit Picture yourself waking up here: a private oasis between the jungle and sea of Tulum, Mexico. It's always okay to stay in bed a little longer when it looks like this! Tag someone you would visit with! La Valise #Mexico ♬ original sound – Visit
With tall ceilings, eco-chic furnishings, and an oversized soaking bathtub for two, it's easy to take a look at the room and instantly hit the "book" button — it's clear it's one of the best hotels in Tulum. But the real pièce de résistance is the plush, king-size bed that anchors the room. The bed is mounted to a track, allowing it to roll through the room's massive wall of doors and be fully outside on the covered, ocean-view deck. It allows guests to sleep outside, falling asleep to the sound of waves. It's about as romantic as it gets.
Tulum Beach is approximately 90 minutes south of Cancun and offers guests access to jungle adventures. Popular activities in the area include touring Mayan ruins like Chichén Itzá, though there's an impressive Mayan ruin at the Tulum Archaeological Zone at the north end of the beach. Aside from beach clubs, snorkeling, paddling, and other beach-based activities, Tulum is also known for its many cenotes: jungle sinkholes opened to the sky where guests can swim, snorkel, freedive, or even scuba dive. Some cenotes are dotted with underwater caves, while others are more open, with clear water, interesting rock formations, and even small fish.
The adults-only La Valise Tulum is at the southern end of Tulum Beach, so it can be a little trafficky driving there on your own from further north. Fortunately, guests don't need to drive at all as the hotel can arrange everything from five-day cultural itineraries (with visits to ruins and art classes) to spirit-focused escapes with sound healing, snorkeling, and a traditional cacao ceremony. Guests can also arrange visits to Vesica, an extremely high-end beach club built around a beautiful cenote with a menu of food and experiences based on health and wellness.
Rates for the Master Suite start around $550 a night in the off-season. Fortunately, La Valise Tulum offers a range of other lovely rooms, including second-floor options with woven hammocks or ground-floor bungalows with private plunge pools.

More like this