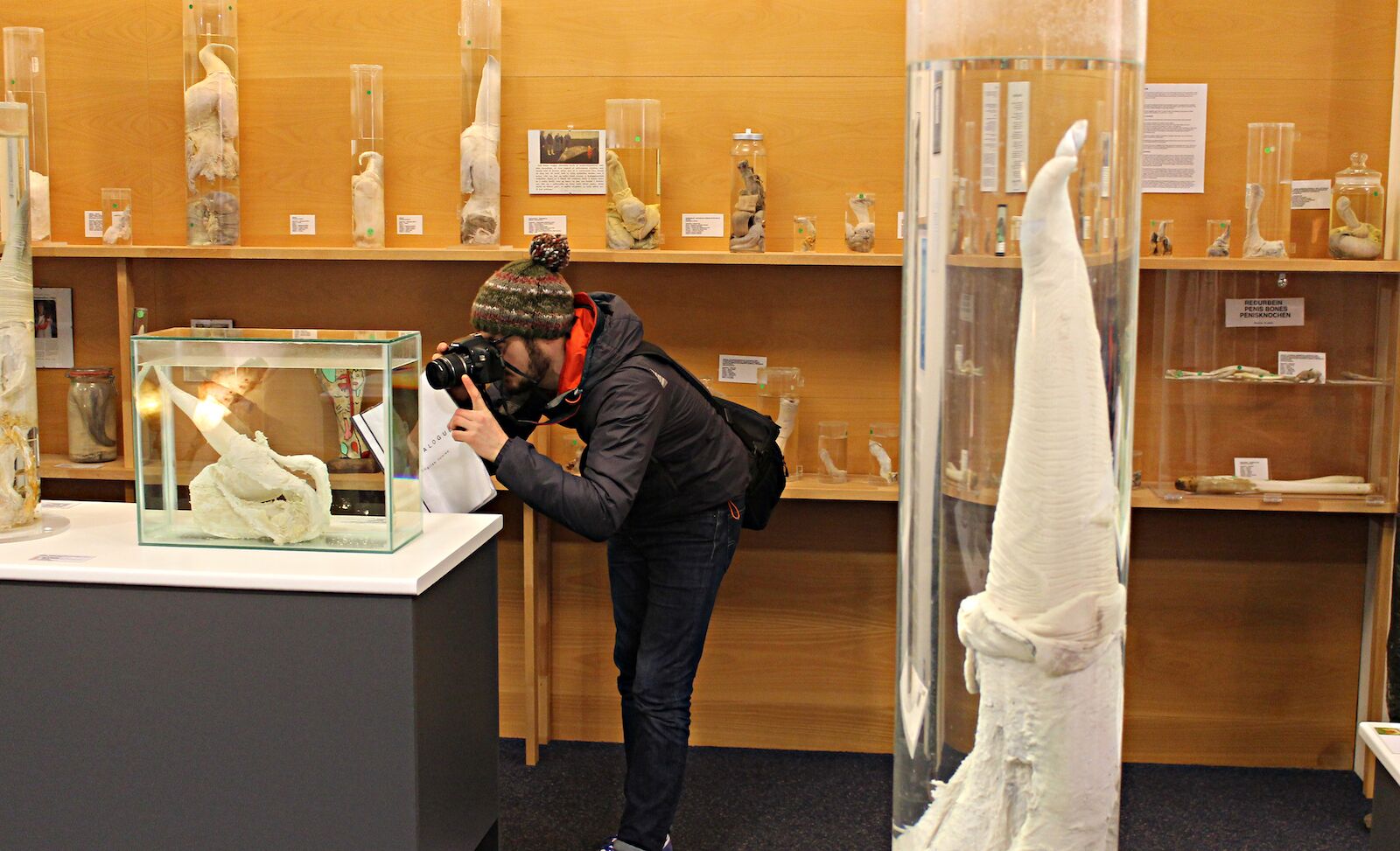 Museum manager Thordur O. Thordarson (Þórður O. Þórðarson) doesn't play favorites at his establishment but, he admits, "Our walrus phallus always gets a fun reaction. Those guys are packing!"
Phallus. Packing. Walrus. The Penis Museum might not be your grandma's idea of a cultural institution, but as Thoradarson promises, "you will get a totally unique museum experience."
---
---
How did Iceland's Penis museum come to be?
The Icelandic Phallological Museum (phallological meaning related to the study of penises; the museum is also commonly called the Penis Museum) began as a private collection in 1974. Sigurdur Hjartson found himself with an abundance of maritime penises during his tenure teaching at a school near a whaling station in West Iceland; friends who worked at the station started gifting them to him as a joke. Hjartson's curiosity grew beyond the joke, however, and he began teaching himself preservation techniques and started wondering if he could collect a specimen from every species in Iceland. By 1997, Hjartson's collection totaled 62 specimens and he received a grant from the city council to establish a public display. In 2004, the museum was relocated to Húsavík, a village in northeastern Iceland, and then moved back to Iceland's capital of
Reykjavik
in 2011. After a second move in 2020, the museum now resides on the first floor of a classy building in the city center, in a space almost three times larger than its previous location.
How long does it take to visit the Penis Museum?
While the specimens on display at the museum may seem super-sized, the gallery itself is quite petite. "Average time to check out the exhibit is about 40 minutes to an hour," says Thordarson, "and that does not include the time if people order food." Small in size, however, does not equate to lacking in passion, and Thordarson urges visitors to "give themselves the time to read the information presented with the exhibits; if people just rush on through they're [going to] miss most of the humor and of course, learn a lot less."
How much does it cost to visit the Penis museum?
Standard tickets are 2500 Icelandic Krona (ISK) as of publishing, or approximately $18. If you've made your way to Reykjavik and not yet discovered the eye-watering price of most entertainment, this might catch you off guard. Discounts are available for children under 13, pensioners, and people with disabilities. But can you really put a price on the experience of visiting a penis museum?
What's the best time to visit the Penis Museum?
Given its small square footage and central location, there isn't really a bad time to visit the Penis Museum, though you can expect it to fill up more in the afternoons during peak tourist season (mid-June through August). The museum is open daily from 10 AM to 7 PM (hours may vary slightly during holidays so check their website and Facebook page for updates). I visited around 10:30 on a June weekday with plans to stay for lunch; the museum was nearly empty when I arrived but started to bustle by the time I finished lunch around 12:30.
"It´s hard to say about the best time to visit the museum but as we have a bistro which serves sweet and savory meals, as well as drinks, the afternoon or late in the day is as good as in the morning," says Thodarson. He adds that you could even enjoy the exhibits with an adult beverage in hand — while ordering a cocktail at a penis museum is an obviously enjoyable pun, the bar ups the game with a selection of small-batch draft beers including IPA (Icelandic Penis Ale), Dick Johnson, and Moby Dick Pale (Wh)Ale.
Within close vicinity of the Penis museum you'll find the
art museum
,
Museum of Photography
, the
Settlement Exhibition
, and the
Icelandic Punk Museum
, as well as restaurants ranging from casual to high-end, including the beloved hot dog stand
Baejarins Beztu Pylsur
.
The Penis museum serves food, but what should I order?
One of the most noteworthy improvements to the museum in its newest location is that it now features a phallus-themed bar and café, The Phallic. Largely for this reason, I'd recommend timing your museum visit around brunch, lunch, or cocktails, though I suppose one doesn't need a designated time to indulge in penis-themed dishes. You also have the option of visiting the café without purchasing a ticket to the exhibit.
Waffles are big in Iceland, and during my visit I enjoyed the penis-shaped waffles topped with caramelized bananas and ice cream. For his part, Thodarson "heartily recommend(s) the reindeer meatball savory penis waffle." If you're not hungry, a cappuccino featuring appropriately themed latte art, or one of the phallic-themed beers on draft, should hit the spot. Expect menu prices to be on par with most Icelandic restaurants, i.e. pricey.
Is there an age requirement to visit the Icelandic Phallological Museum?
There are no age restrictions. The exhibit makes a conscious effort to avoid the salacious, and there's really very little that is sexy about the museum, unless you're particularly fond of formaldehyde-preserved organs in jars.
"I feel that guests are generally surprised to see how serious we are about the subject and that we are actually a serious and tasteful museum, not a small sideshow," says Thordarson. "What we want most people to know is that we are a proper museum which deeply appreciates all of our visitors."
Tickets for children under 13 are even free, provided they're accompanied by an adult.
Is the Iceland Penis museum actually full of penises?
Yes and no. It turns out that there's much more to a penis than meets the eye. In addition to the approximately 300 penis specimens on display, you'll also find historical artifacts, oddities, and artwork. Perhaps more importantly, you'll find a wealth of knowledge you likely weren't expecting. Go for the novelty, sure, but expect to learn plenty. I found myself engrossed in the detailed descriptions of the mating habits of the species on display, as well as the anthropological and historical context of the artifacts on show. The museum holds a specimen from every mammal found in Iceland, making it fascinating for outsiders; they also have specimens from 16 types of whale, seven kinds of seal and walrus, and 46 different land mammals, including humans.
When I visited the Penis Museum, my docent advised me to take my time in the last room of the exhibit, and indeed this turned out to be my favorite part of the museum. This room perfectly embodies the tongue-in-cheek vibe of the rest of the museum. I found myself giggling aloud, for example, at the competing mermaid specimens and description of mating habits of the Invisible Man.
The must-see items in the Penis museum
The Penis Museum is meant to be explored in a counter-clockwise direction. After passing through some turnstiles with your ticket, you'll enter the first room, which is more or less an introduction to phallology and includes things like walking sticks and canes made of bull penis, and spiced horse penis (once a delightful snack, to some.) After that, collections are grouped by type — ungulates, sea mammals, canines, rodents etc. You'll likely want to spend the bulk of your time (and photo-taking) in the cetacean and pinniped sections.
There is a human specimen on display. It's located in the second-to-last room, and by the time you get to it, it's not as shocking as you'd expect. After glancing at hundreds of species' specimens in the previous rooms the homo sapiens' is, in fact, just another thing in a jar. More fascinating, perhaps, is the story behind the donated penis as well as the multiple letters on display from individuals eager to donate their organs following death. Museum founder Hjartson had hoped that the museum could acquire its first human specimen prior to his retirement in 2012, sparking a competition of sorts between an elderly Icelandic man and a younger American man to become that first specimen (the story plays out in the oddly emotional 2012 documentary The Final Member). Also in this room are ancient recipes for enhancing erections and phallic artifacts such as carved figurines and a certified plaster mold of Jimi Hendrix's penis.
In the final room of the Phallological Museum you'll find a collection of 24 folkloric specimens, most of which come from unique tales specific to Iceland and the Arctic region. This provides a good space to decompress if you've hit your limit on preserved members for the day and places the museum in the broader context of the curious, imaginative, and open culture of Iceland.

More like this