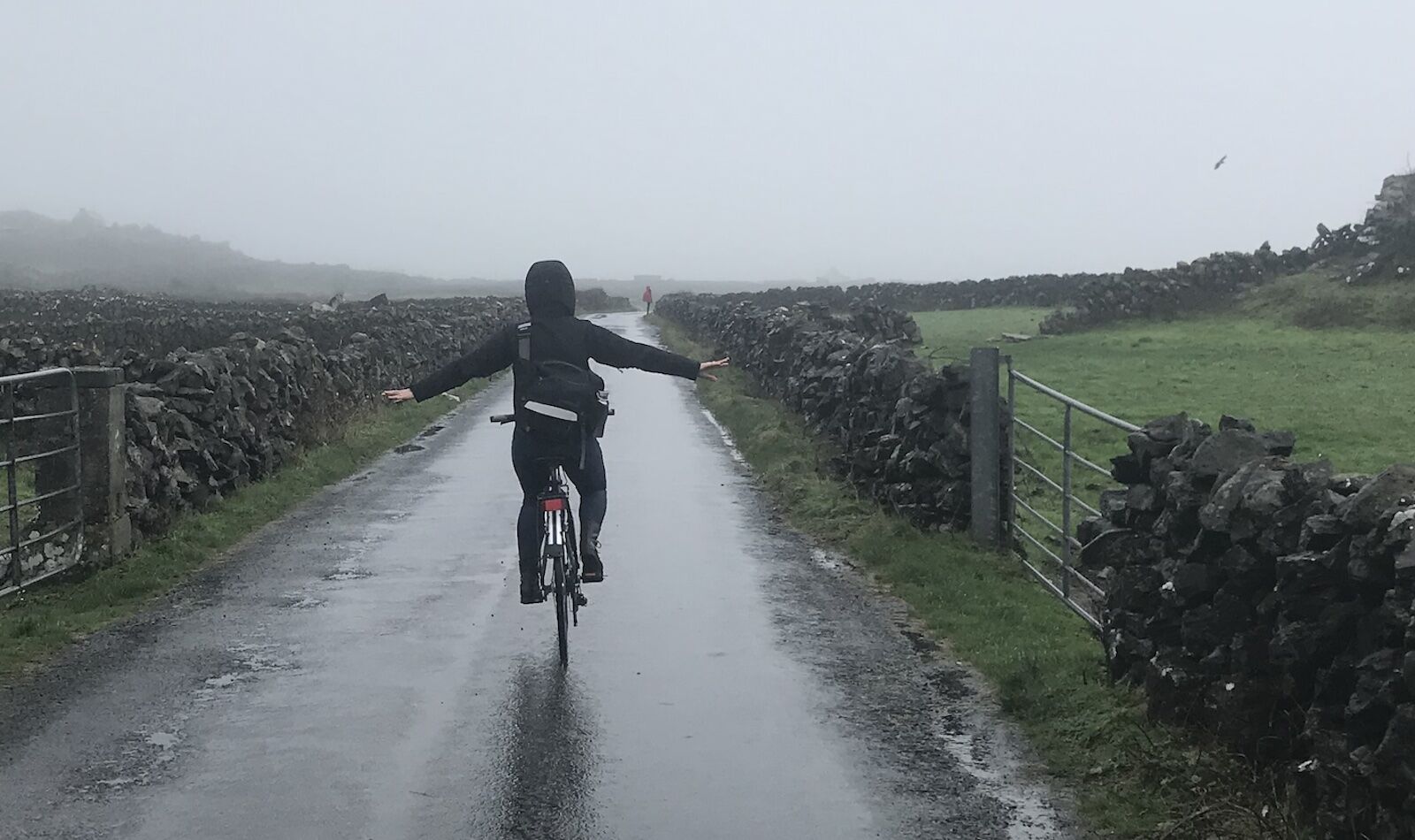 Few items describe themselves so perfectly as a rainjacket. We know exactly what we're getting. Or, so we thought — until the 1980s, when the innovative geniuses working in product development at Patagonia decided to revolutionize the practice of keeping outdoorspeople dry in wet conditions. Its first fleece jacket hit shelves in 1985, followed eight years later by its first fleece jacket made of recycled bottles (for context, it wasn't until the 2010s that clothing made of plastic bottles hit the mainstream). Between then and now, Patagonia has released dozens of rain jacket concepts. Some are geared towards expedition use while others are simpler, intended for daily wear during a routine afternoon storm. Matador decided to put the brand's rainjackets to the test to determine which is best for what outdoor activity. The results of our deep dives lie below, penned by hands (and minds) as dry as Jair Bolsonaro's heart.
We hope you love the Patagonia ran jackets we recommend! Just so you know, Matador may collect a small commission from the links on this page if you decide to make a purchase.
The best three-season Patagonia rain jacket: Granite Crest
The good: Classic look, adjustable hem and hood, underarm vents, kept me dry in heavy rain, made with recycled materials
The bad: A bit pricey, thin fabric may be more prone to rips and tears (but there's a repair program)
The Granite Crest Rain Jacket from Patagonia has everything I want in a three-season rain jacket I can wear year after year and for all kinds of activities. Basically, that means it's not overengineered or overdesigned. It's a solid-color jacket with a straight cut and features you need, but doesn't have a bunch of bells and whistles to weigh it down or drive up the price. It's a super waterproof, super lightweight jacket, and a classic design that'll be just as stylish 10 years from now as it is today.
The most important factor in deciding which Patagonia rain jacket to buy should obviously be how well it protects agains rain, and I put the Granite Crest Jacket through some serious testing.
And rest assured: it's very, very waterproof. Most waterproof materials (like GORE-TEX) use a rating system between 0K and 20K. A zero rating means it's not at all waterproof, and 5K means it's suitable in conditions where rain won't be pounding against the fabric, like in snowfall or light rain and mist. A 5-10K rating is usually good for light rain, and 10-15K is good for pretty heavy rains. A 20K rating is only needed in heavy, relentless rainfall — the type of storm where it feels like someone dumped a bucket on your head.
Patagonia uses a proprietary technology called H2No®, and it doesn't publish ratings like other waterproof fabrics do. But Patagonia does test their fabrics to mimic 30 years of use — and the materials have to still maintain a 10K rating after that test is finished. So it's safe to say it's going to keep you dry.
I wore it paddling and backpacking in pouring rain in Alaska and rocked it while mountain biking in rain at Whistler Mountain Resort's world-famous mountain bike park. I also wore it during everyday tasks like walking my dog or running errands. And even during an Alaska summer deluge, my clothing underneath stayed dry, even after a few hours of hiking.
I did notice that the outer layer of the jacket seemed wet, and I thought to myself that my layer underneath would definitely be soaked — but nope. All that was wet under my jacket was around my wrists, where I had forgotten to tighten the Granite Crest Jacket's cuffs. I don't know how this H2No technology works, but it did an excellent job of keeping rain limited to the top layer of my jacket, which is exactly what a rain jacket should do.
I wouldn't hesitate to recommend this jacket to any of my friends. The sizing seems fairly standard: I'm 5'7″ and wearing a size small with a few layers underneath in most of these photos. -Suzie Dundas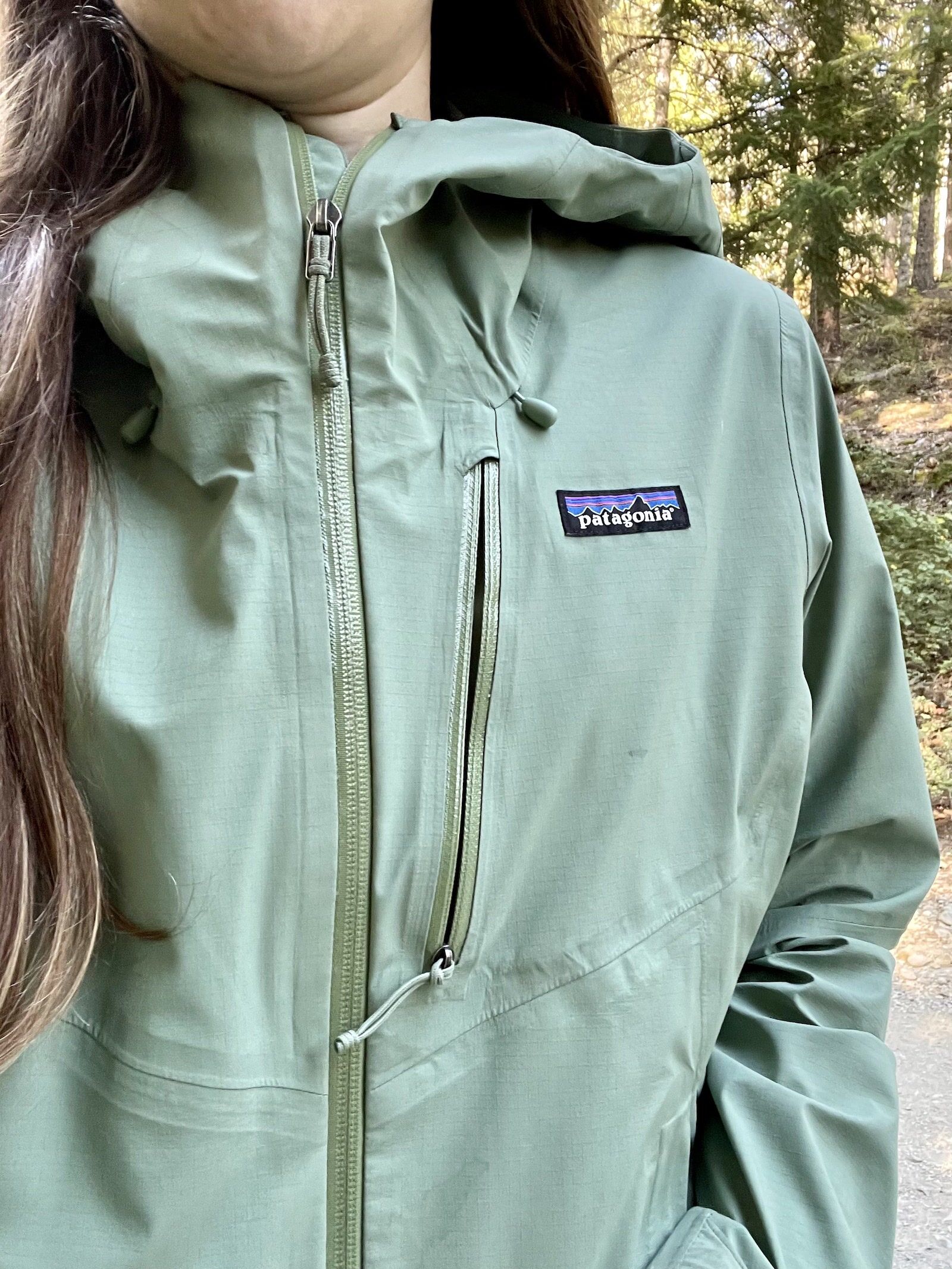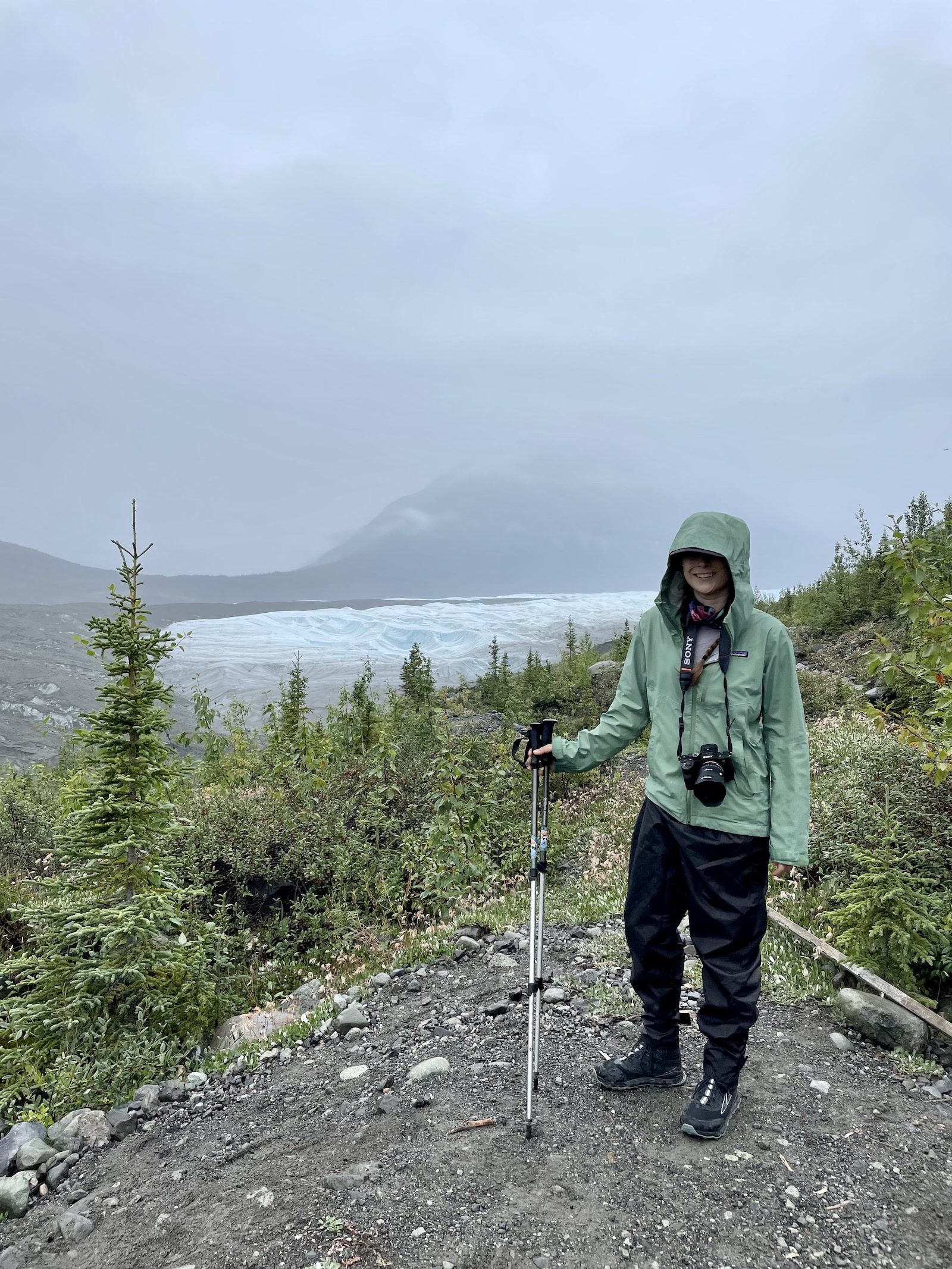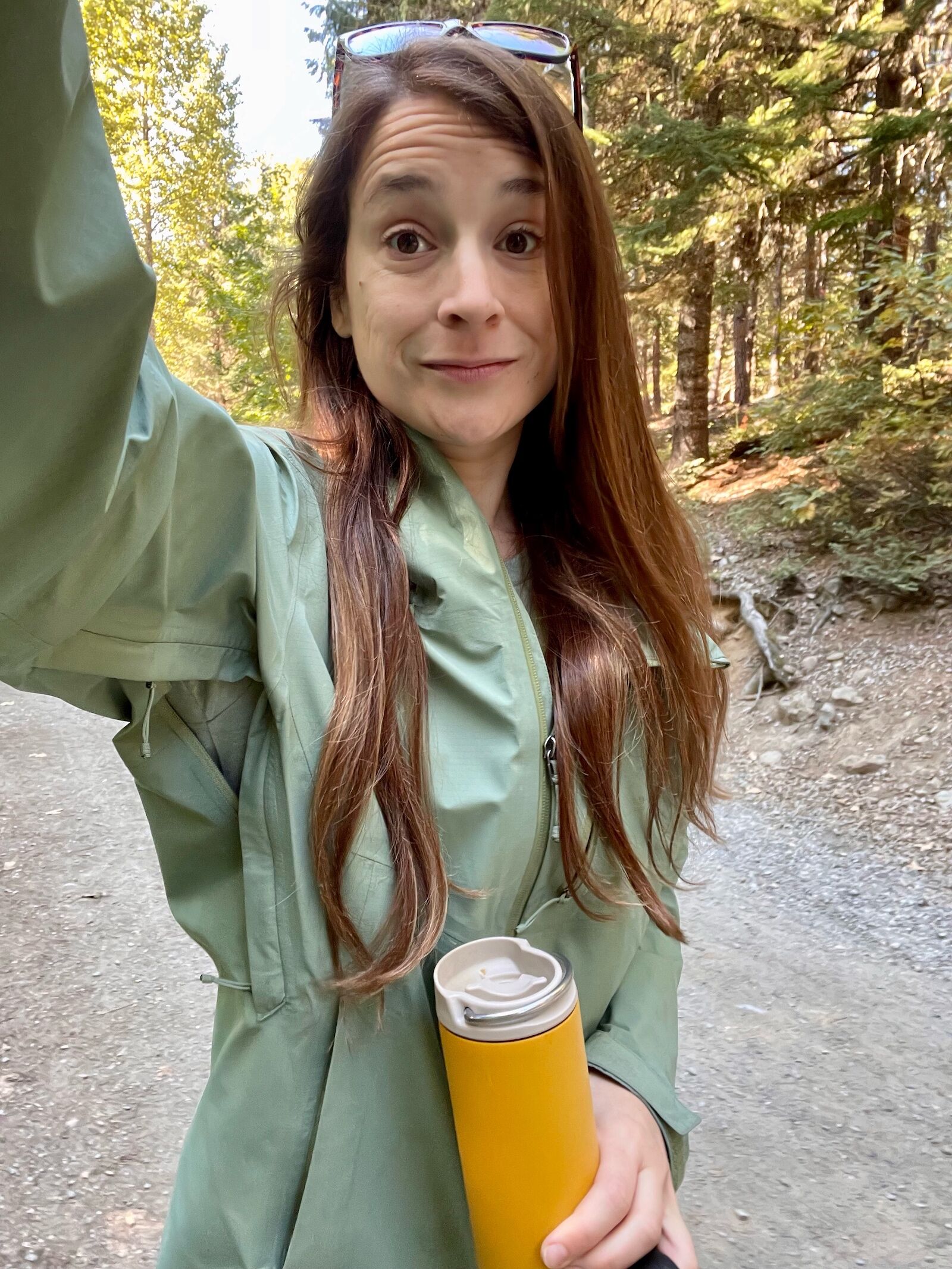 Buy Now – Women's
Buy Now – Men's
The best Patagonia rain jacket for trail running and backpacking: Storm Racer Pullover
The good: For being lightweight and thin, this jacket is burly. With the zippers and waist tightened, the jacket protects your head and entire upper torso — meaning you won't get wet, even if, as Forrest Gump described in so much detail, you encounter big ol' fat rain, rain that flies in sideways, or rain that comes straight up from underneath.
The bad: The jacket feels awkward, at best. Fully zipped, it encases the head with so much precision that you may feel that you're wearing a space suit. It also looks semi-ridiculous, but fortunately, the outdoors community isn't gunning for fashion prizes.
Initially, I didn't know what to do with the Patagonia Storm Racer Pullover. The first time I wore it was on a day hike during a light afternoon rain shower, the kind that reliably hits the Colorado high country on summer afternoons at about 3:00 and moves on by 3:20. It kept me dry, for sure — to the point that it seemed like overkill. I was with my wife, and during the 30 minutes I had it on, she commented no less than four times about how ridiculous I looked.
Its next use came during a morning dog walk on a day that promised nothing but solid rain from start to finish. The Storm Racer fit the bill more appropriately this time, as the raindrops were big and heavy and the only word that could be used to describe my surroundings was, "wet." The jacket again kept me dry. I again felt out of place, however, as though I were a bright blue jelly bean from a nether world maneuvering my way through a local park as lost as a, well, puppy.
It was as I sat to take notes on my two initial experiences with the Storm Racer Pullover that it hit me. This jacket should live in my backpacking pack. That's where it belongs — among hardy gear that is great to have when you're in the backcountry and unpredictable weather hits, but that is out of place among the afternoon hiking setup. This is a piece that, when 10 miles from the trailhead, just when you think all hope for an enjoyable endeavor is being carried back down the trail by rapidly-intensifying rainfall, you remember that you have tucked in the bottom of the pack and think, "Oh, hell yes. You've knocked me down but not out, rain, and I'm going to enjoy this night at camp or this run down the trail even despite you."
I've since tested the Storm Racer on such occasions and have reliably been glad I had it with me. On the spec side, the Storm Racer Pullover is built for trail running and backpacking. It fits underneath an outer layer but doesn't have to be worn that way. It compacts into its own sack to sit in your pack until called upon (as noted above). The underarms are ventilated, for when it's raining but not cold, and you can either rock the chest zippers all the way up over your chin like a nylon balaclava or unzip it slightly to allow for more air circulation around the neck and shoulders.
It fits and looks best when worn with other waterproof gear (a blatant mistake I made was lacking such gear on my initial hike with the Storm Racer). Waterproof pants/shorts and camp hats, for example, pair well with this piece. It's also built to zip over a double water bottle holder on the chest, making it ideal for long runs. It's made of 100 percent recycled nylon and is Fair Trade Certified, with Patagonia's trademark H2NO technology keeping you dry. -Tim Wenger
Buy Now – Women's
Buy Now – Men's
The best insulated Patagonia rain jacket: Off-Slope Jacket
The good: Doesn't look like a ski jacket, insulated, big pockets, cinchable waist, fabric made from recycled fishing nets, collar separate from hood
The bad: Snug around the shoulders, a bit stiff/bulky at first, expensive
It may seem like ski jackets and winter rain jackets would be the same, but they're actually quite different — you don't need your winter rain jacket to look like you just finished a half-pipe lap. That is to say: it doesn't need to be brightly colored and covered in oversized pockets.
Patagonia knows that, and they created a waterproof jacket made for rainy winter wear — not on-the-slopes wear. In fact, it's called the "Off Slope Jacket." It's a Patagonia rain jacket with thick insulation for winter wear, made with a two-layer H2No® material. It's probably not quite as suited to heavy downpours as the Granite Crest Jacket recommended above, but few jackets are. I wore this one on rainy, cold evenings in British Columbia and stayed quite dry during extended walks. So it'll definitely keep you dry in heavy snow and at least moderate, ongoing rain showers.
One of the features I liked best about this Patagonia rain jacket is the drawcord waist. It not only adds a bit of style (and is rather flattering, as compared to most insulated jackets), but it also makes it quite a bit warmer. I'm wearing a small, and it's plenty roomy in the body — but tightening the drawcord cuts down on the amount of cold air between my body and the jacket.
I also particularly liked the design of the hood, which hangs separately from the collar. So you can zip the collar all the way up for extra warmth around your neck even if you don't want the hood fully on.
Of the many Patagonia rain jackets I've tested, the Off Slope Jacket is the only one where the sizing hasn't been perfect. I'm 5'7″ and wear a size small, but I have a tall torso and broad shoulders. I found that I could have used an extra inch or so across the back shoulders, and an extra inch or two of circumference around the armpit holes. It feels a bit snug around my shoulders when I'm wearing a thicker shirt underneath. However, I think this is truly because I'm on the taller and slimmer side and have big shoulders — unless you meet all those criteria, it'll probably fit well. And if you do meet those criteria, consider sizing up, but just know it'll be a bit roomy in the body (as shown the photos above). -Suzie Dundas
The best Patagonia ran jacket for everyday use: The Torrentshell
The good: The Patagonia Torrentshell rain jacket is a daily driver that can be used for just about any activity. It fits tight, looks smooth, and Patagonia's H2NO technology protects from the wet elements with precision.
The bad: There isn't much negative to say about the Patagonia Torrentshell jacket. My only complaint is that when not zipped up entirely, the right front chest column tends to fold over (see photo below).
Truth be told, I bought the Patagonia Torrentshell jacket not because of its specs, or because of the reviews of prior users. I didn't even buy it because I trusted the brand — at the time of purchase, I'd never owned anything from Patagonia before. As an early-career journalist who prioritized beer money over brand-name gear, the stuff was simply too expensive. What finally pushed me over the edge was Patagonia's unabashed and unapologetic environmentalism. I wanted to be a part of it. So, about a decade ago, I threw down just over a bill for a Torrentshell because I needed a new rain jacket. Since that day, I've become as unabashed in my support of the brand as it is in its support of the planet.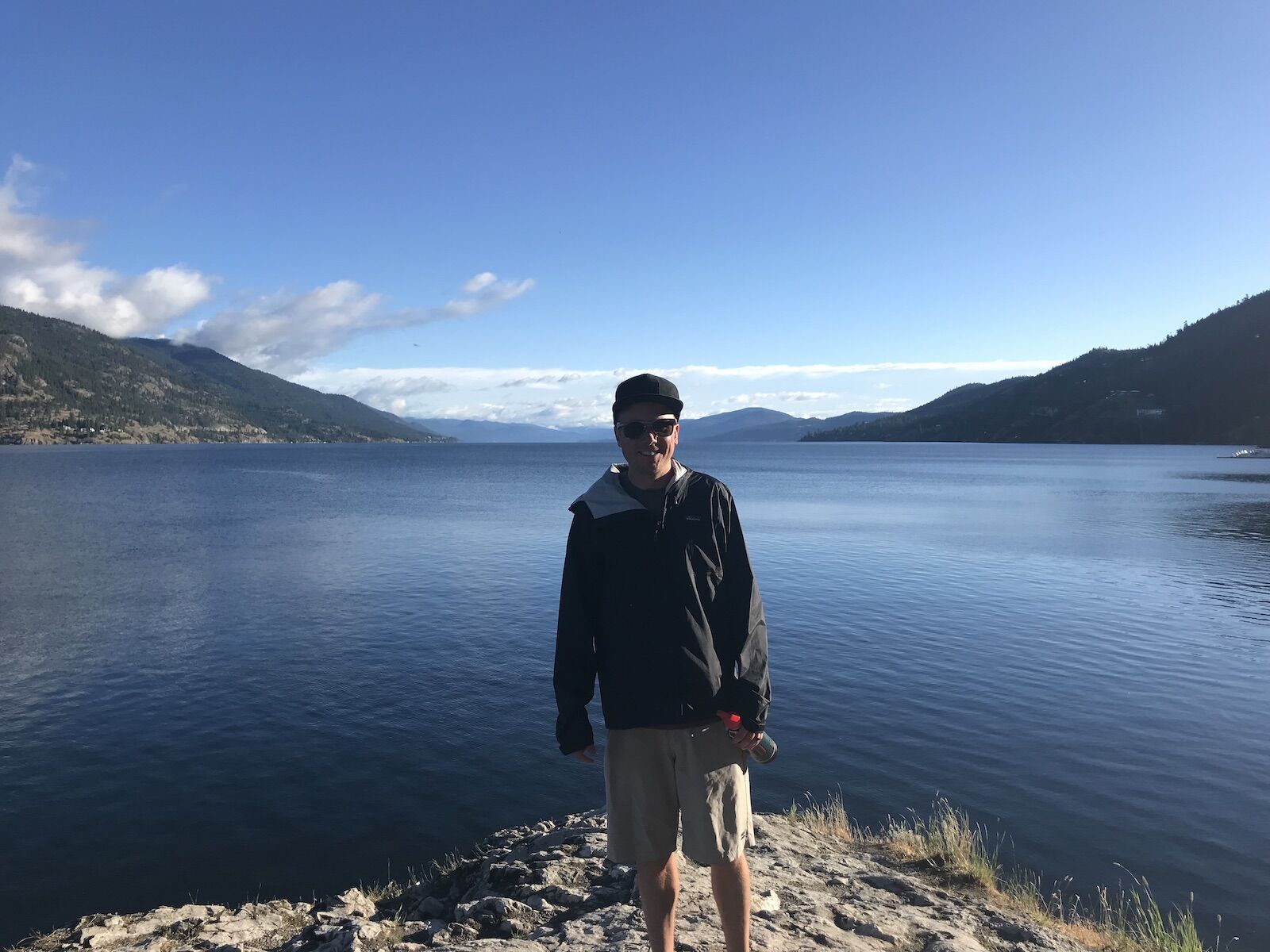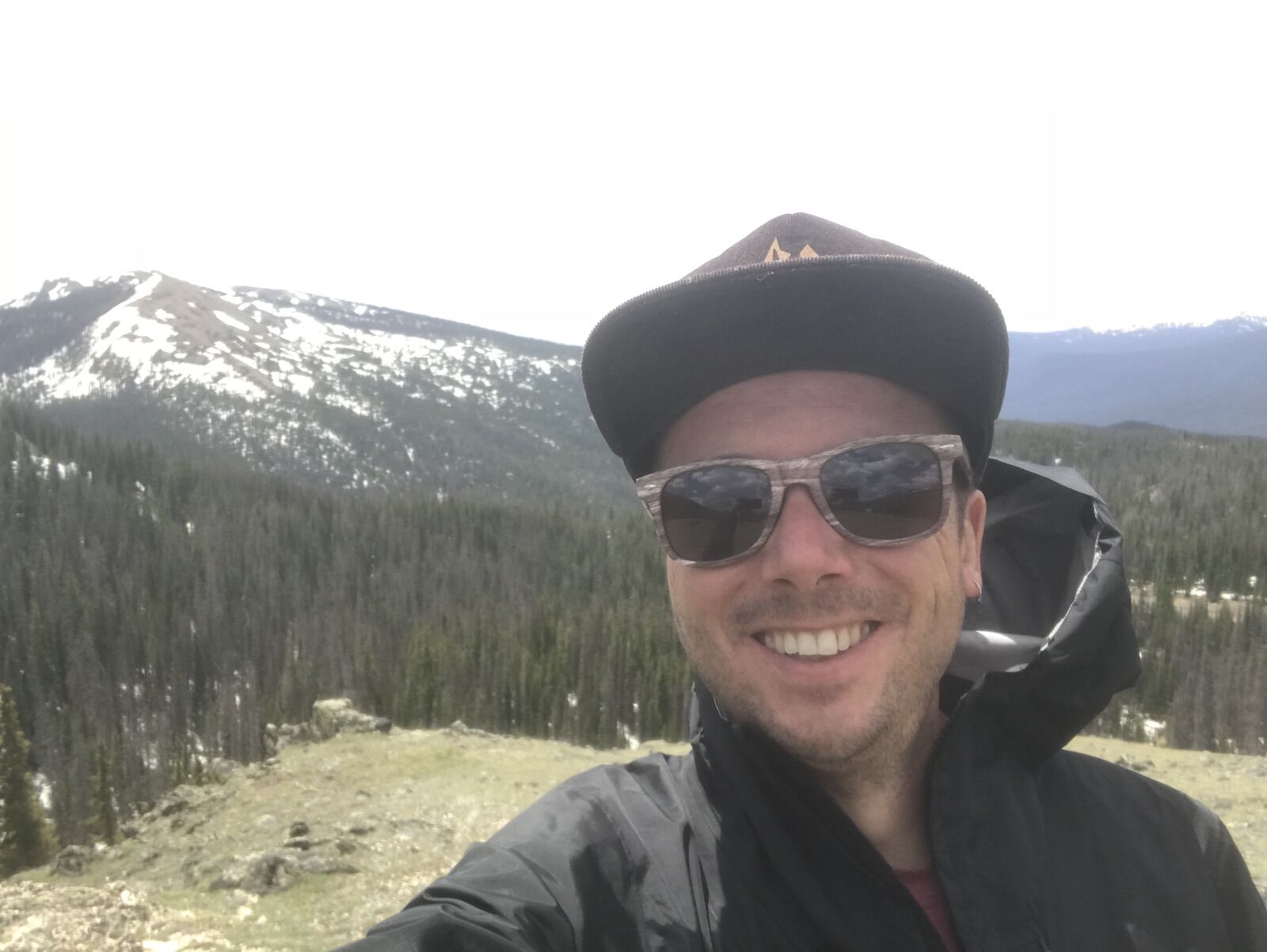 Here's why: I've worn this jacket hundreds of times. It's been with me on international story assignments, multi-day backpacking trips, late-spring splitboarding expeditions, and more dog walks and day hikes than I could count. Through it all, its DWR and sustainable nylon have kept me dry and protected from the wind. The jacket still looks unworn, like it's broken in but not beat up, unlike the cheaper gear I'd become used to as a teenager and early 20-something. After some 10 years of solid use, I'm confident the jacket has at least as many years left in it. From spring through fall, I keep the Torrentshell jacket rolled up in my day pack, where it's reliably called upon to keep my plans on track without having to re-adjust due to impending weather.
The hood works best when the jacket is fully zipped. This keeps your head encased inside so that your hair (or in my case, scalp) don't get wet. The bottom cut on a Torrentshell that's appropriately sized for its wearer hovers just below the belt, making it as fashionable as it is functional. No one likes to feel like they're wearing a poncho, after all.
The bottom line is this: If you need a dependable rain jacket that is versatile, durable, and worth every penny, the Patagonia Torrentshell is that jacket. –Tim Wenger
Buy Now – Women's
Buy Now – Men's
The best Patagonia rain jacket for mountain biking: Dirt Roamer Jacket
The good: Bike-specific design, big back pocket, Fair-Trade, breathable, stretchy, waterproof, dropped back hem
The bad: No listed waterproof rating, lack of front pockets is a bit annoying for wear off the saddle, small zipper pulls
Most people serious enough about mountain biking that they'd buy an expensive jacket just for mountain biking in the rain probably already know what features they want and which are a waste of (fabric) space.
Fortunately, the Dirt Roamer rain jacket from Patagonia seems like it was designed by people who live for brown pow days.
The slim-fit jacket is extremely lightweight but very windproof, which is exactly what mountain bikers need when they're sweating on the uphill and know they're going to get cold at higher speeds on the way down. It's small enough to roll up and store on the external straps of my hip pack, something I can't do with bulkier or more rigid waterproof jackets. It also has more fitted elastic cuffs so the sleeves don't bunch up your arms when you're sending it, and the brimmed hood is thin enough to just fold it up and tuck it inside. And the dropped back him keeps your low back covered when you're in downhill mode.
The dirt roamer has a large low back pocket as you'd find on most mountain and road biking bibs, and the hood adjusts with one hand so you don't have to take your hands off the bars. The slim fit won't add any drag or get hooked on any rogue tree branches, and the soft, breathable material adds waterproof protection without adding heat — it feels like riding in a thick T-shirt, rather than a plasticky jacket. The most noticeable thing I didn't like were the zipper pulls, which are a bit hard to grab while wearing gloves.
As with all Patagonia rain jackets, there's no listed waterproofing rating, but I've worn it in the heaviest rain you'd want to mountain biking in (constant rain that alternates between light and moderate) and I've stayed dry. It's basically a super-light windbreaker that feels like a softshell jacket, but with the dryness of a rain jacket.
Though it's quite stretchy, you may want to size up if you don't like slim fits or have broader, larger shoulder. -Suzie Dundas
Buy Now – Women's
Buy Now – Men's
The best Patagonia rain jacket for cardio activities in cold weather: the Storm Shift Jacket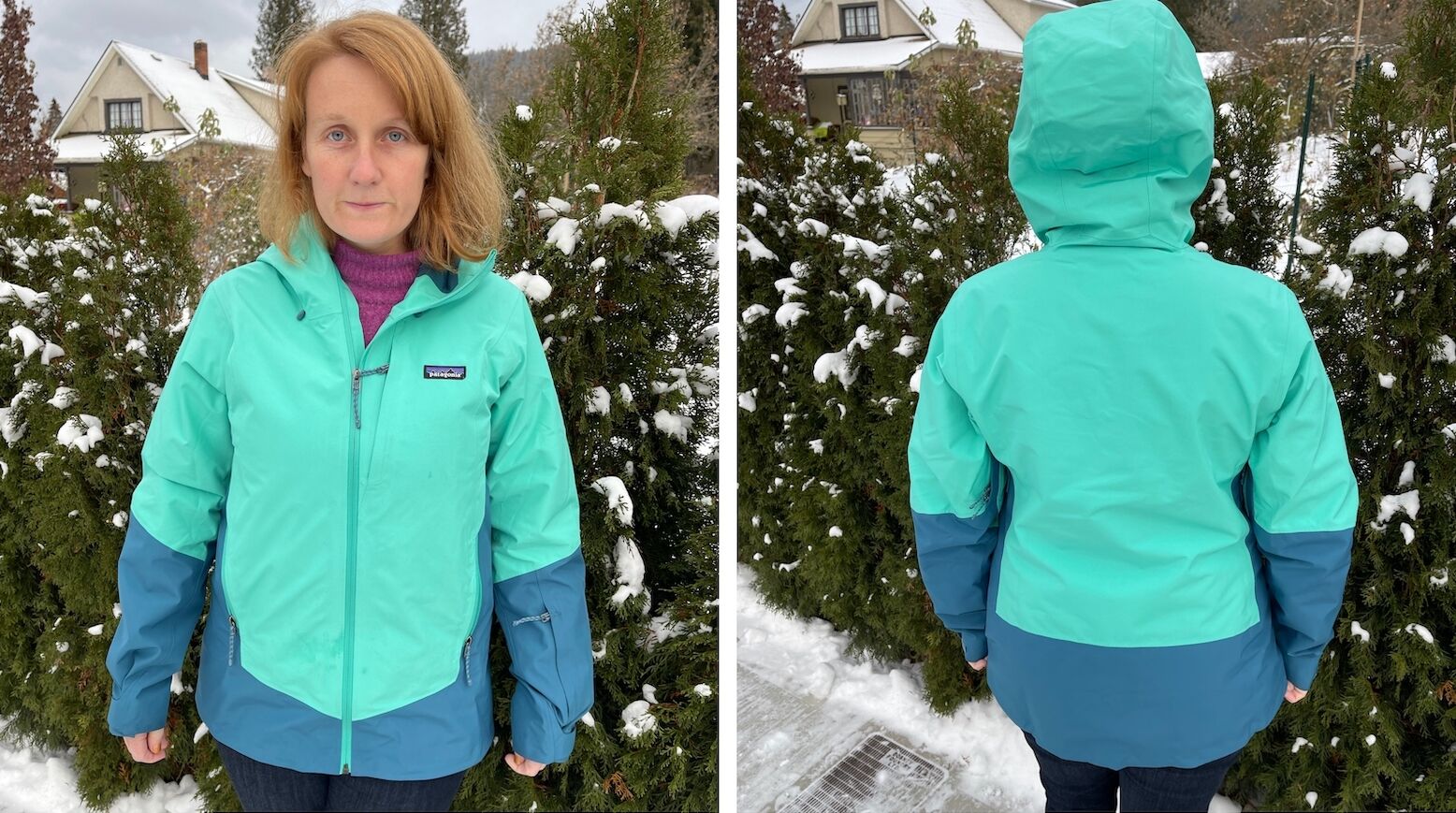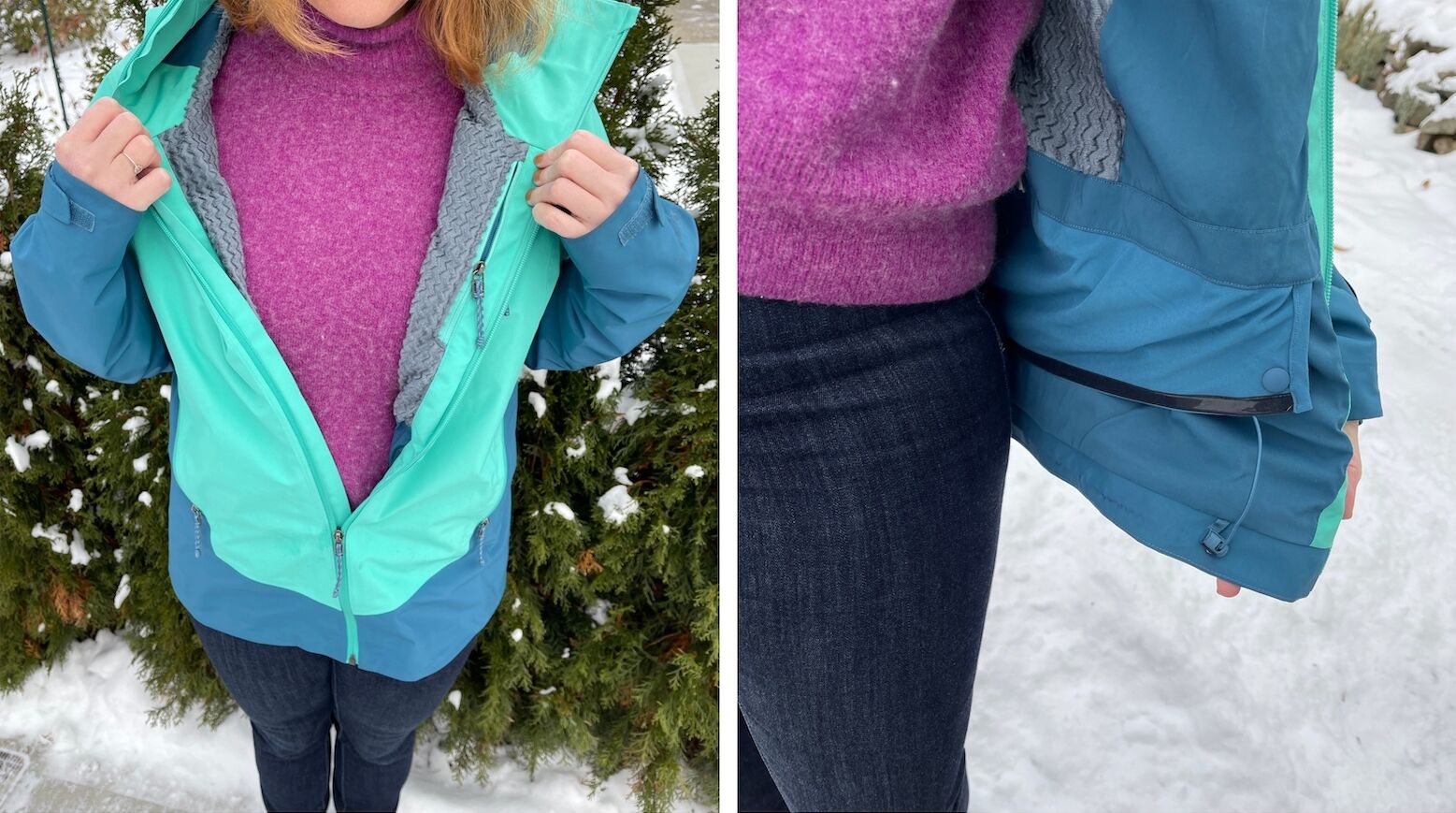 The good: Extremely waterproof and windproof, thin and light yet surprisingly warm, numerous pockets strategically placed to ease of use, versatile for most activities and seasons, easily packable.
The bad: Long in the arms no matter the size, choices of color are very limited, pricey.
Although meant for skiers and boarders, the Storm Shift Jacket works for every outdoor activity and in most seasons. Yes, it has all the features you need if you spend a lot of time playing in the snow, like a Gore-Tex outer layer that is super waterproof, a high collar to keep the wind off your face, a large hood to fit over your helmet (the hood also has a RECCO reflector that emits a radar signal which makes you findable by professional rescuers), a snow skirt with a solid rubber seal, pit zips for ventilation, and multiple pockets for your ski pass, gloves, hat, phone, wallet, etc. But many of those features can be used when the hill is closed, and despite all the bells and whistles, this Patagonia jacket has a classic look that works just as well on the streets as it does on the slopes.
I've used my Patagonia Storm Shift Jacket every day since early November even though my local ski hill hasn't opened yet. I've been wearing it for biking, hiking, and walking, since the weather shifted to rain, wind, and later snow and freezing temperature in early November. The Gore-Tex exterior, the large hood, and the high collar have been keeping me dry and warm while I walk the 40 minutes needed to get downtown daily and in any type of weather. The snow skirt is very discreet and you don't notice it's there at all when you don't use it. The multiple pockets are practical for carrying all your essentials, such as your phone, keys, tissues, hat, and gloves.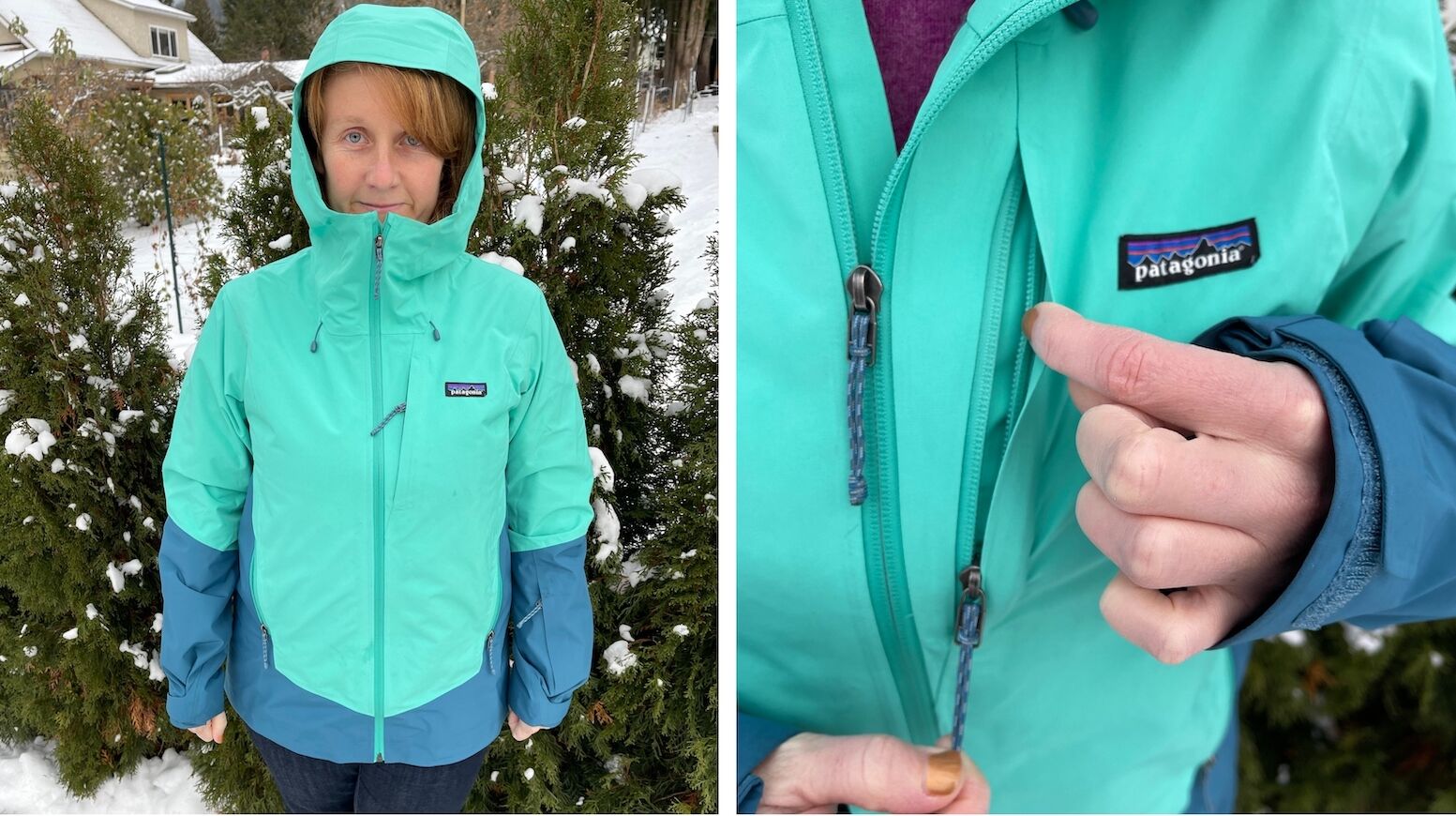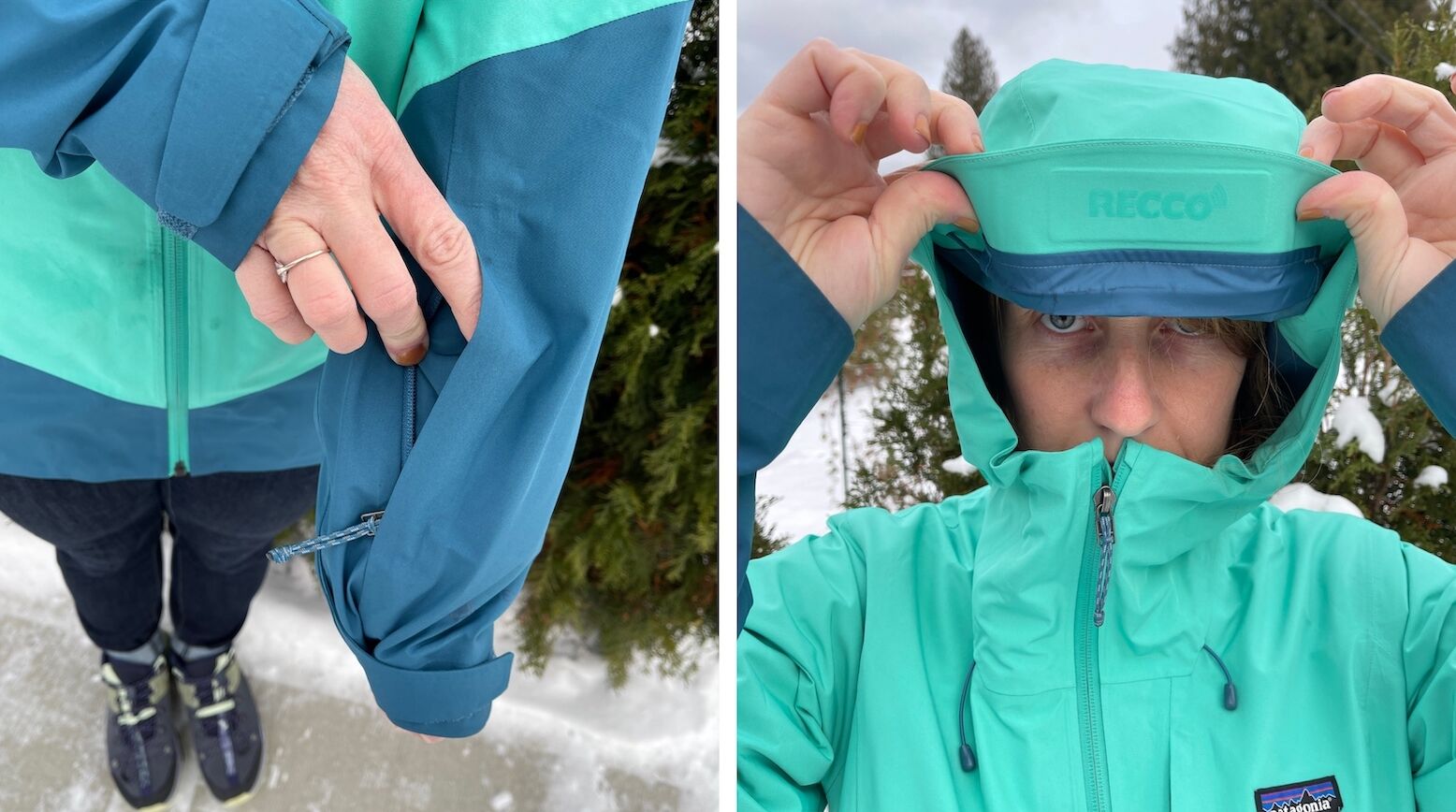 But what makes this Patagonia jacket truly versatile is how thin and light it is for a ski jacket. The unusual gray zigzag liner keeps the jacket super slim, making it easily packable (just fold and roll to fit it in your luggage). My previous ski jacket, a Bench model in a similar but nicer color combination and in the same medium size, has a thick fleece liner that made it very bulky in comparison. While I could not wear thick sweaters under my Bench jacket, it's not an issue with Patagonia's Storm Shift. And don't be fooled: a thinner liner does not mean that it's not as warm — the Storm Shift Jacket keeps you toasty in below-zero temperatures, just like it's meant to.
Despite being an excellent jacket, the Storm Shift has two downsides. For one, the arms are a little too long and lack the inner cuffs with thumb holes that prevent the wind from blowing in. There is a velcro system that helps tighten the end of the sleeves, however. Second, there are only four colors available for the women's Storm Shift Jacket and three of them are plain boring (gray, brown, and muted blue). I chose the Fresh Teal model, the brightest on offer, but it's a little too 90s fashion to my taste.
Because it's so easy to pack and so waterproof, I'd argue that you should use this Patagonia jacket in every season, whether you're hiking in the chilly alpine in the spring or late summer, biking in the rain in the fall, skiing or boarding in winter, or just plain walking when it's wet and windy. For me, it's an all-in-one jacket and it's now the only one I own. After all, with a price tag of $479, it should be versatile. — Morgane Croissant

Buy Now — Women's
Buy Now — Men's