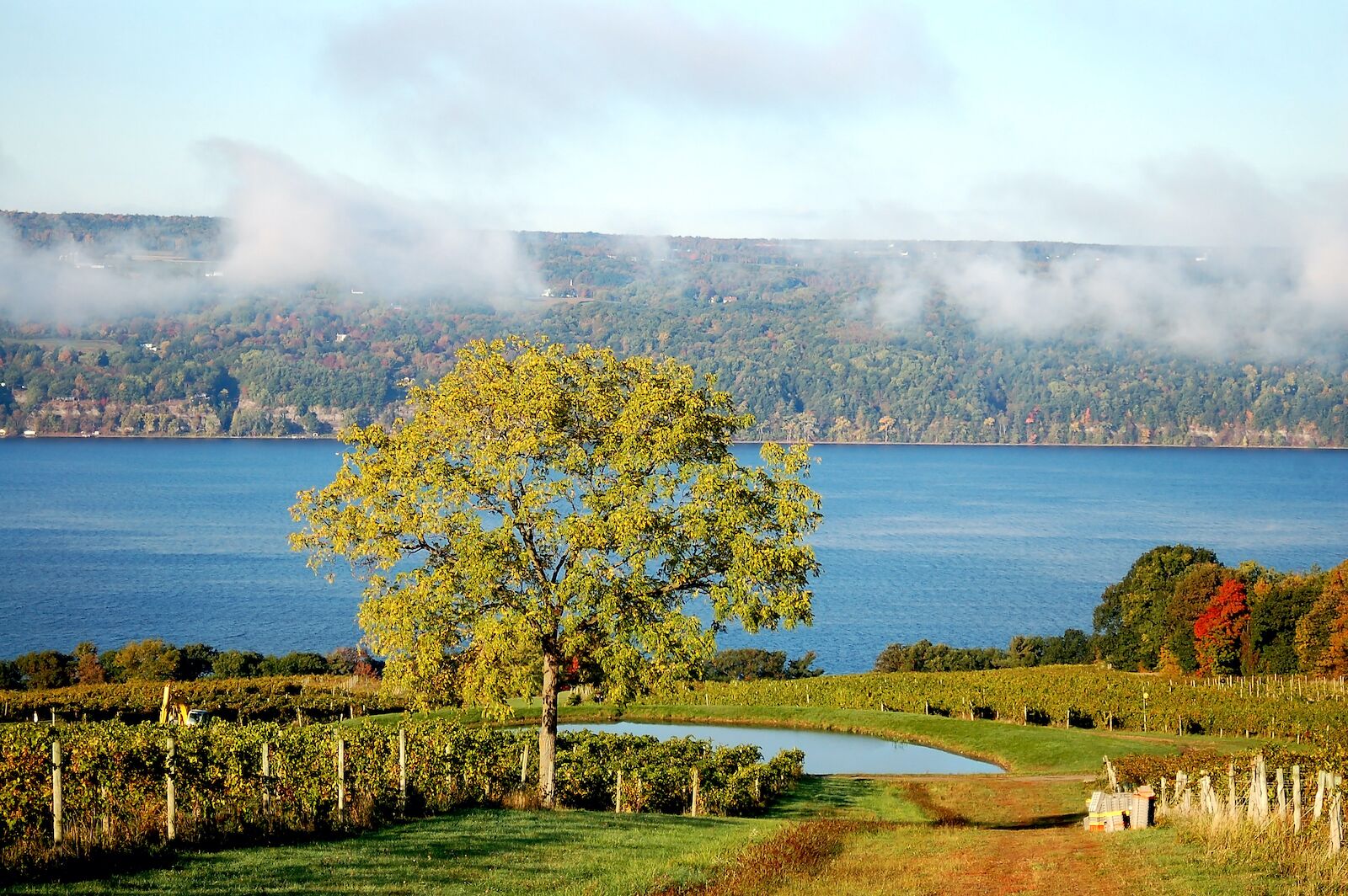 Upstate New York offers more than stunning mountain ranges and sporting events. Head west of Buffalo, and you'll encounter the state's 11 Finger Lakes. Ranging in size and location, the lakes earn their title; each one appears thin and lanky, finger-like in form. Yet while the lakes may seem delicate, their depth of offerings is vast. More than 100 wineries span the region, each with sweeping views, snaking vines, and fresh lake air — and the region is legendary for its cider, too. Finger Lakes wineries located near Keuka and Seneca lakes offer enough activities and tasting to keep you entertained for a weekend or longer. Smaller fingers like Conesus and Hemlock are ideal for relaxing day trips.
The Finger Lakes are known for cool climate wines that are capable of enduring even the coldest and longest of New York winters. Vitis labrusca grapes, like concord, are a common varietal. Riesling, chardonnay, and pinot noir have also become staples of the region, though these wines fall under the vitis vinifera umbrella and have proven more challenging to grow upstate. To overcome New York's harsh weather, the region's winemakers have learned to rely on their surroundings; each Finger Lake tempers New York's cold environment, creating a microclimate that alters the growing season. Because of the lake effect, vinifera grapes — as well as other varietals — can flourish in an otherwise restrictive climate.
Clearly, each Finger Lake does more for the region's wine than simply offering up a nice view. Finger Lakes wineries in Seneca, Canandaigua, and Cayuga are plentiful, and you can easily stretch a 40 mile drive around Cayuga — the region's longest lake — into a multi-stop road trip. Or, start slightly smaller, and pick a lakeside vineyard along Keuka's fork. Here are the Finger Lakes wineries every visitor to the region should check out – even if it takes you more than one trip. The region's pristine scenery is in full-focus at each of these Finger Lakes wineries — no matter how much wine you sample.
Finger Lakes wineries everyone should know
Deer Run Winery, Conesus
As Conseus Lake's oldest operating winery, Deer Run Winery is run by a father-son team. They have been experimenting with various wine-making techniques since 2003. Their vineyard sits on a five-acre farm, where it grows about 20 percent of the grapes used for its wines.  The remaining grapes come from an assortment of the area's other vineyards, so the wine-making process is truly a regional affair. For a hyper-local taste, pick up a bottle of Conesus White.
With a full cafe menu, Deer Run is primed for a leisurely, boozy lunch, as well as tastings and tours. It's located on the northern end of Conesus — the region's westernmost lake — so a stop here will appeal to anyone starting their wine tour from Rochester or Buffalo, or looking to stretch their Finger Lakes outing as far west as possible.
Where: 3772 W Lake Rd, Geneseo, NY 14454
O-Neh-Da Vineyard, Hemlock
Head east of Conesus to encounter holy ground. A wine tasting at O-Neh-Da is akin to a religious experience — literally. As one of the world's few remaining sacramental wineries, O-Neh-Da was founded in 1872 under Bernard McQuaid, the then-Bishop of Rochester. Since then, the winery has produced bottles for churches throughout New York state, and even delivered altar wine to Pope Francis back in 2015. Beyond sacramental wines, O-Neh-Da also sells cabernet, chardonnay, and riesling, among other varieties. Each of the bottles consists of natural, pure grapes that make a stop at Hemlock worthwhile, no matter your denomination.
As one of the oldest wineries in America, O-Neh-Da, which overlaps with Eagle Crest Vineyard, has plenty to offer. The winery is 100 percent solar powered. Come for weekend wine tastings, as well as live music performances and events. If you book for a private party, you can enjoy your wine with pizza made from a wood-fire oven.
Where: 7107 Vineyard Rd, Conesus, NY 14435
Arbor Hill Grapery & Winery, Canandaigua
Naples, New York is known for grapes. Every year, the village puts on a grape festival, which simultaneously bodes well for grape pies and the town's wines. Just west of Lake Canandaigua, Arbor Hill Winery takes full advantage of the beloved fruit; the winery boasts both wines and wine sauces made from the region's grapes. Pick up a bottle of semi-sweet traminette and a wine syrup of your choosing.
In the tasting room, you can order flights of wine suited to your preferences or opt for a guided tasting that walks you through your choices. Beyond the wine barn, the grapery's complex also consists of a retail shop, as well as the eatery Brew and Brats. The latter is the perfect option for satiating your hunger, and sampling the best of the Finger Lakes through a beer can in addition to a wine glass.
Where: 6461 NY-64, Naples, NY 14512
Heron Hill Winery, Keuka
This winery overlooking Keuka Lake will transport you from Upstate New York to a European vineyard. Elevated just enough to offer glimpses of the fork in Keuka, Heron Hill has plenty of seating that comes with your choice of vista. On a nice day, opt for an outdoor picnic table directly in line with the vines. Meanwhile, fall's crispest days may be better suited to the indoor tasting room, where a peek out the window will align you with the great outdoors. If you're one to patiently nurse a wine flight, you may even spot bikers making their way around the lake.
Heron Hill offers tastings at both its Keuka flagship location and its Canandaigua tasting room. You'll have your pick of wines to sip at your leisure, though Canandaigua also offers tours that explain how those wines made it to your glass. Plus, the winery is pet-friendly, so you don't have to leave your furry friends behind.
Where: 9301 Co Rd 76, Hammondsport, NY 14840
Dr. Konstantin Frank, Keuka
Hailed as a pioneer of vinifera grapes, Dr. Konstantin Frank — the vineyard's namesake — planted some of the first European grapes on the east coast. Back in the 1960s, Dr. Frank, as he's known, experimented with over 60 iterations of vinifera. The Keuka vineyard has since honed in on a few signature wines and offers 11 total varieties, all planted on 70 acres alongside the lake. Visitors can pick up a bottle of riesling produced on vines from 1958, as well as chardonnay from 1962.
To taste the difference for yourself, you can visit Dr. Konstantin Frank for an in-house wine tasting, a wine-paired dinner, or a grab-and-go bottle. While the signature winery overlooks Keuka, the vineyard also owns a 60-acre plot along Seneca Lake.
Where: 9749 Middle Road, Hammondsport, NY 14840
Belhurst Estate Winery, Seneca
If you've ever fantasized about drinking like a king, don't miss Belhurst Estate Winery. Housed in a castle, this winery sits on the north end of Seneca Lake, and is a popular stop along the Seneca Wine Trail. The vineyard sells whites, reds, roses, and dessert wines, so you can have your pick. Stay for a tasting to alternate between sips of sauvignon blanc, dry rosé, and cabernet sauvignon. Belhurst also offers 30-minute tours to educate visitors on the wine-making process.
Doubling as a hotel, this winery is perfect for a late-in-the-day happy hour, where you can watch the sunset over a flight. Belhurst also gives guests the option of a wine-and-cheese pairing, so go ahead and turn that snack into a pre-dinner aperitif. If you're still hungry afterward, stay for dinner and embrace the luxury side of the Finger Lakes.
Where: 4069 W Lake Rd, Geneva, NY 14456
Lamoreaux Landing Wine Cellars, Seneca
On the east side of Seneca Lake, Lamoreaux Landing boasts more than 119 acres of vines — all suited to sustainable, in-house wine production. Over the course of three generations, the vineyard has bottled wines like riesling, chardonnay, and cabernet franc. Enjoy your choice of drink from the vineyard's indoor tasting room or from any Lamoreaux's outdoor tables overlooking scenic Seneca. The vineyard also grows gewürztraminer, merlot, and cabernet sauvignon. Or, opt for a tasting to sample a series of cool climate wines. You really can't go wrong.
The winery offers daily tastings right from its estate. With 10 wine varieties grown on-site, Lamoreaux sells more than 90 kinds of wine, so you'll have no shortage of options. Pack a picnic lunch to enjoy from an outdoor table, and get to sipping.
Where: 9224 NY-414 Lodi, NY 14860
Hermann J. Wiemer, Seneca
Hermann J. Wiemer winery takes full advantage of its setting. Situated in a sprawling field, the winery produces more than 90 wines. Guests can purchase a bottle from the estate or head to Seneca's east side to Standing Stone Winery, a nearby vineyard acquired by Hermann J. Wiemer's owners in 2017. Standing Stone has plots of riesling and chardonnay that date back to the 1970s, making Seneca a wine lover's paradise — whether you're visiting the lake from the east side or the west.
At a Hermann J. Wiemer tasting, you can sample wine by the glass, bottle, or flight. In-house wine experts will walk you through your choices, which you can try from inside the estate's converted barn. The barn combines the rustic Finger Lakes ambiance with a sleek, chic interior — not unlike the estate's balance of historic vines and contemporary wines.
Where: 3962 NY-14 Dundee, NY 14837
Bright Leaf Vineyard, Cayuga
East of Cayuga, Bright Leaf Vineyard is a winery that takes its name seriously. The leafy, 14-acre plot is primed for sunshine and that Cayuga Lake breeze, creating the optimal environment for ventilation and grape growth. The vineyard has both an upper and lower field suited to different kinds of soils. You'll find the white varietals — riesling and chardonnay — planted along the uphill (read: cooler) block, while the reds originate closer to the lake. There, the rich soil yields the likes of merlot, lemberger, and pinot noir.
Guests can get to know Bright Leaf wines with a flight of four, two-ounce wines. While you can't bring your own food to the vineyard, you can pair your wine with a chocolate tasting.
Where: 1250 Clearview Road King Ferry, NY 13081
Anyela's Vineyards, Skaneateles
Skaneateles is one of the easternmost Finger Lakes. A visit to Anyela's Vineyards offers breathtaking hills, local charm, and, of course, ample wine offerings. A three-generation winery, the vineyard uses a tried-and-true formula to combat Upstate New York's cold, winter climate. Before the harsh weather can set in, the staff removes vines from their trellises and buries them in the earth. Come springtime, the experts re-trellis the vines, giving them a new life.
Anyela's Vineyards offers daily tastings on-site, so you mix-and-match your favorite wines. Or, forgo the paradox of choice with a flight curated by the staff. Whatever you choose, raise your glass and drink in the view.
Where: 2433 W Lake Rd, Skaneateles, NY 13152